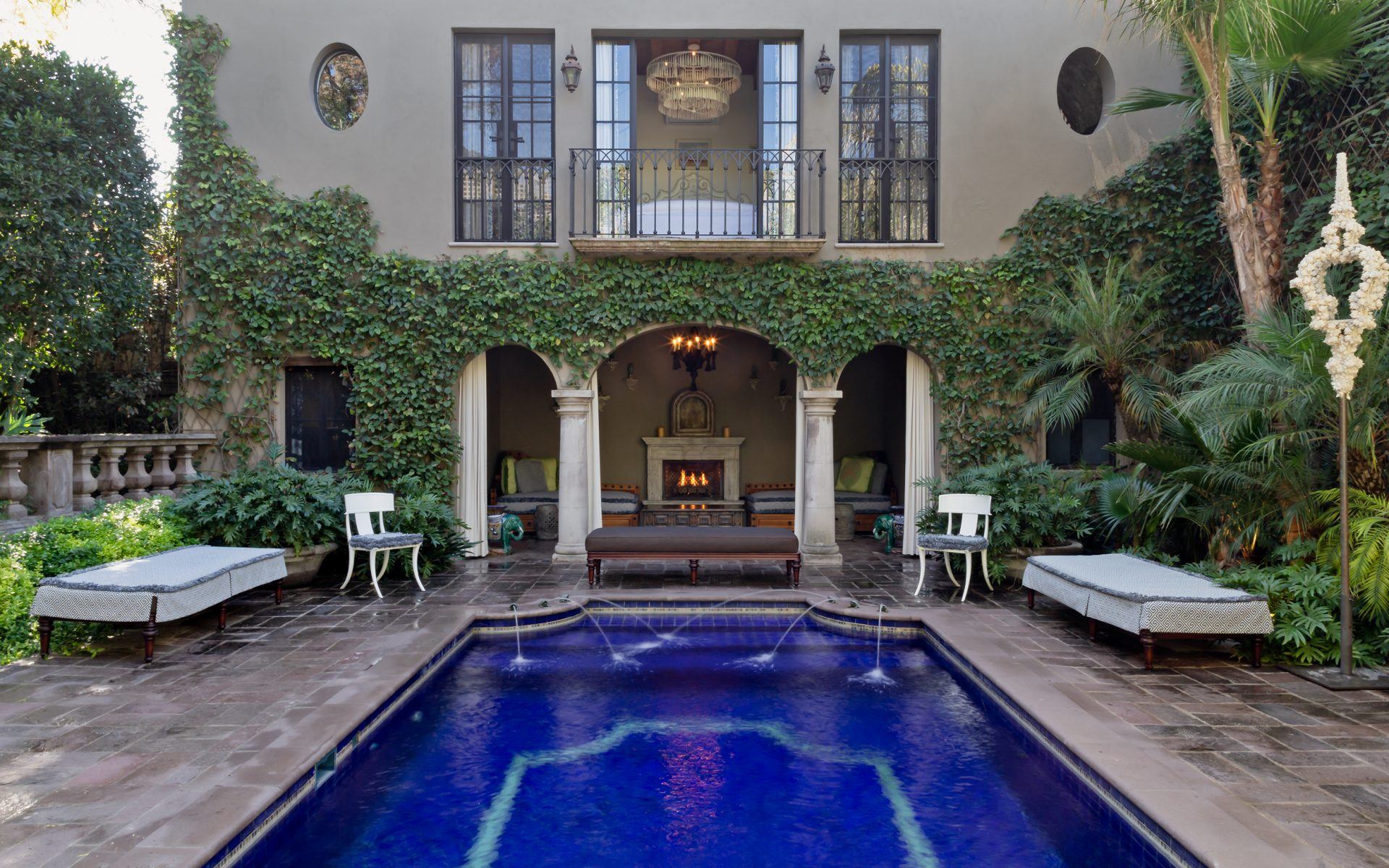 Why Designer Jeffry Weisman Treasures His San Miguel de Allende Compound More Than Ever
Named Casa Acanto, the magical retreat offers sweeping views of the 16th-century Mexican city as well as superfast Wi-Fi
Designer Jeffry Weisman and his partner in both business and life, Andrew Fisher, have made San Miguel de Allende, in central Mexico, a second home and source of inspiration since they first visited the UNESCO World Heritage–status town in 2011. It was on that initial trip that they not only fell for the city's 16th-century colonial charms but also bought a house there with a trio of towering jacaranda trees. Since then, they've turned it into the perfect retreat from their bustling San Francisco interiors firm, Fisher Weisman.
But with a growing circle of expats setting their sights on second or even permanent homes there, the duo has been keeping busy by renovating architectural gems for others who are enamored with the idyllic home in an 18th-century former tannery they created for themselves. The town also serves as the perfect hub for them to source expert craftsmen and artisans to work on their Fisher Weisman furniture collection, sold through Profiles at the New York Design Center.
Weisman and Fisher escaped there during the pandemic and have been ensconced in their glorious compound for over three months. The period has served as a wonderful opportunity for them to continue to be inspired, create, and even plan some renovations. Here, Weisman shares why he loves his Mexican home more than ever.
I've been here in San Miguel de Allende for three months, and my husband, Andrew Fisher, has been here since Paris with Deco Off in January. It's by the far the longest either of us has been here, and that's in many ways a gift, especially with all the space and nice weather. Here, we have a garden and lots of different areas, plus a 5,000-square-foot art studio a ten-minute walk away.
Recommended: Design Duo Tony Ingrao and Randy Kemper Love Their East Hampton Garden More Than Ever
Usually, we're just here for two or three weeks at a time and have lots of dinner parties here or with friends. Now we've been in the house for months on end. We're experiencing the interior and garden in different ways. We watched spring unfold in the garden from beginning to end, and we never had that the time or focus before. 
Normally, the living room only gets used on a rare cold night for drinks before dinner. There's a large hidden  television in the room that ordinarily we turn on a couple of times a month. Now we watch something almost every night. Of course, that means we'll now need to swap it out for a bigger screen, and we'll need a bigger piece of art to cover it. Another change we'll make is the upholstery. What used to be comfortable for an hour or two during cocktails doesn't work for night-after-night Netflix.
We also decided to temporarily give up the dining room, which is really just used during the winter, and Andrew moved artwork and projects home and took that over. It made sense to commandeer the dining room. It's great because he's been cooking more, and he can check on very involved recipes while still working. We worked together on a commission for a pair of seashell chandeliers there too, which was really quite fun.
We've also been considering moving the kitchen to where the dining room is, so this gave us time to think that renovation through. Normally, if we agreed to do it we would have to decide quickly. There's suddenly the luxury of time to think through the plans, and they're almost done.
The thing about making changes is normally you notice something and think about it but don't have time to change or fix it. Now we have the opportunity to do things like replanting the garden, and Andrew also sculpted a new chandelier with coral motifs for the powder room. It's a fantasy piece and the kind of thing you don't do when you're rushing.
For my office work, I use the study in the master suite. We had added it between the master bedroom and bath, when we reconceived the suite a few years ago. I have a desk from our Fisher Weisman collection and all the printers and tech I need. It's astounding that in this 16th-century Spanish city we have fiberoptic cable under the cobblestones. I get so much work done, because it's so easy to focus here and have uninterrupted stretches of time.
Andrew and I have also been designing our collection while here. We actually developed more pieces than we have in the past year. Since the workrooms and artisans are here we can check in on progress and make tweaks. Most of them didn't shut down because they're small families working together or craftsmen working out of their own home workrooms.
I'm so grateful for the expanded creativity and ability to be completely present this time has given us. It's hard when you're always traveling and packing another suitcase. I haven't been in one place for three months in the past 20 or make that even 40 years. It has been such a gift creatively.
Next Post