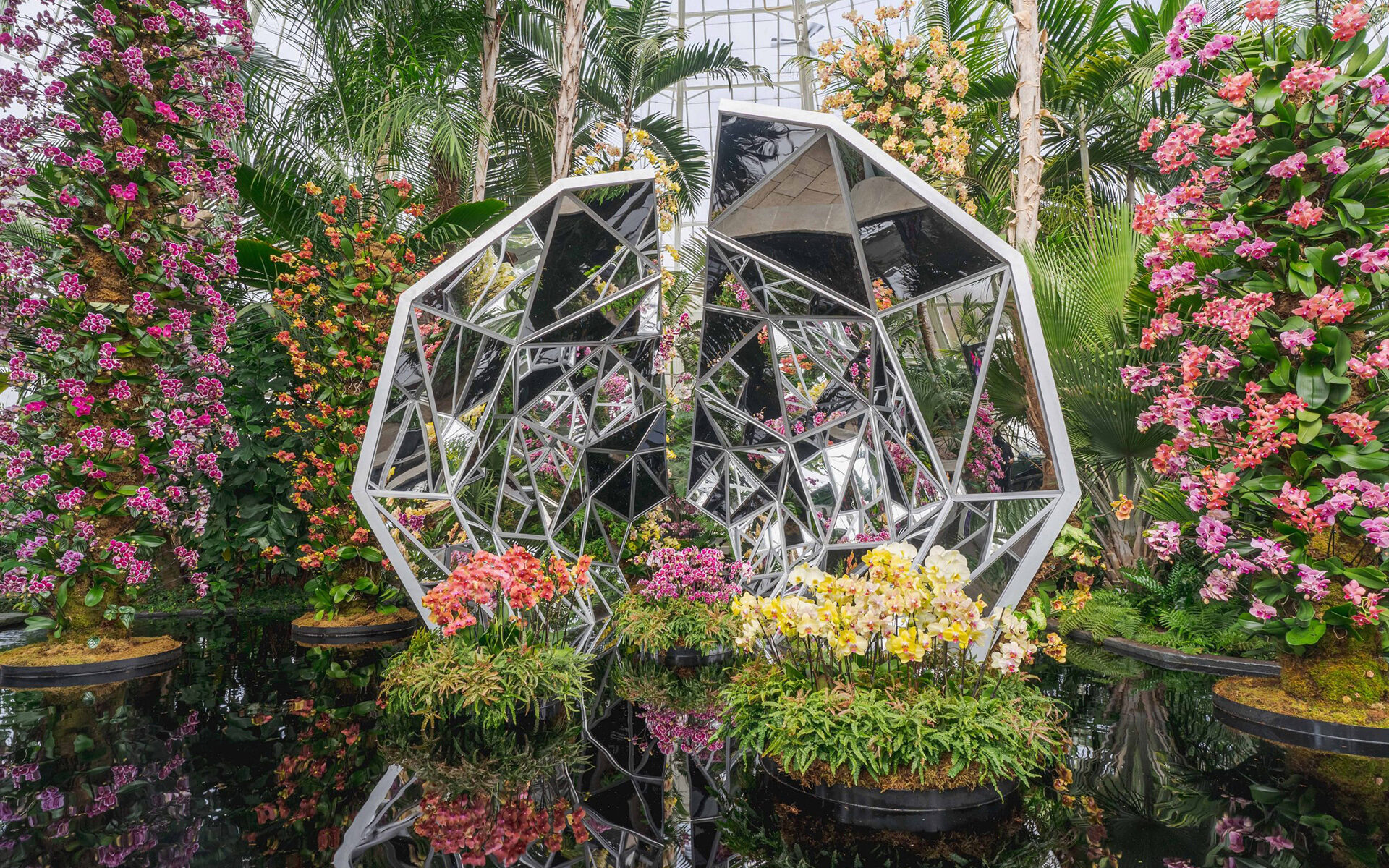 The Orchid Show Returns with Another Striking Jeff Leatham Installation
The renowned floral designer once again elevates the New York Botanical Garden with a striking mirrored art installation and painterly groupings of exotic blooms
While the northeast is still slogging through winter and the seasonal gray skies, a colorful taste of spring is brightening the Bronx as the New York Botanical Garden's annual Orchid Show makes a spectacular return. Now in its 19th year, the highly anticipated event, on view February 26 through May 1, once again welcomes extraordinary floral designer Jeff Leatham, whose intoxicating installation Kaleidoscope transforms a number of galleries within the historic Enid A. Haupt Conservatory with a large-scale mirrored sculpture and plethora of orchid species.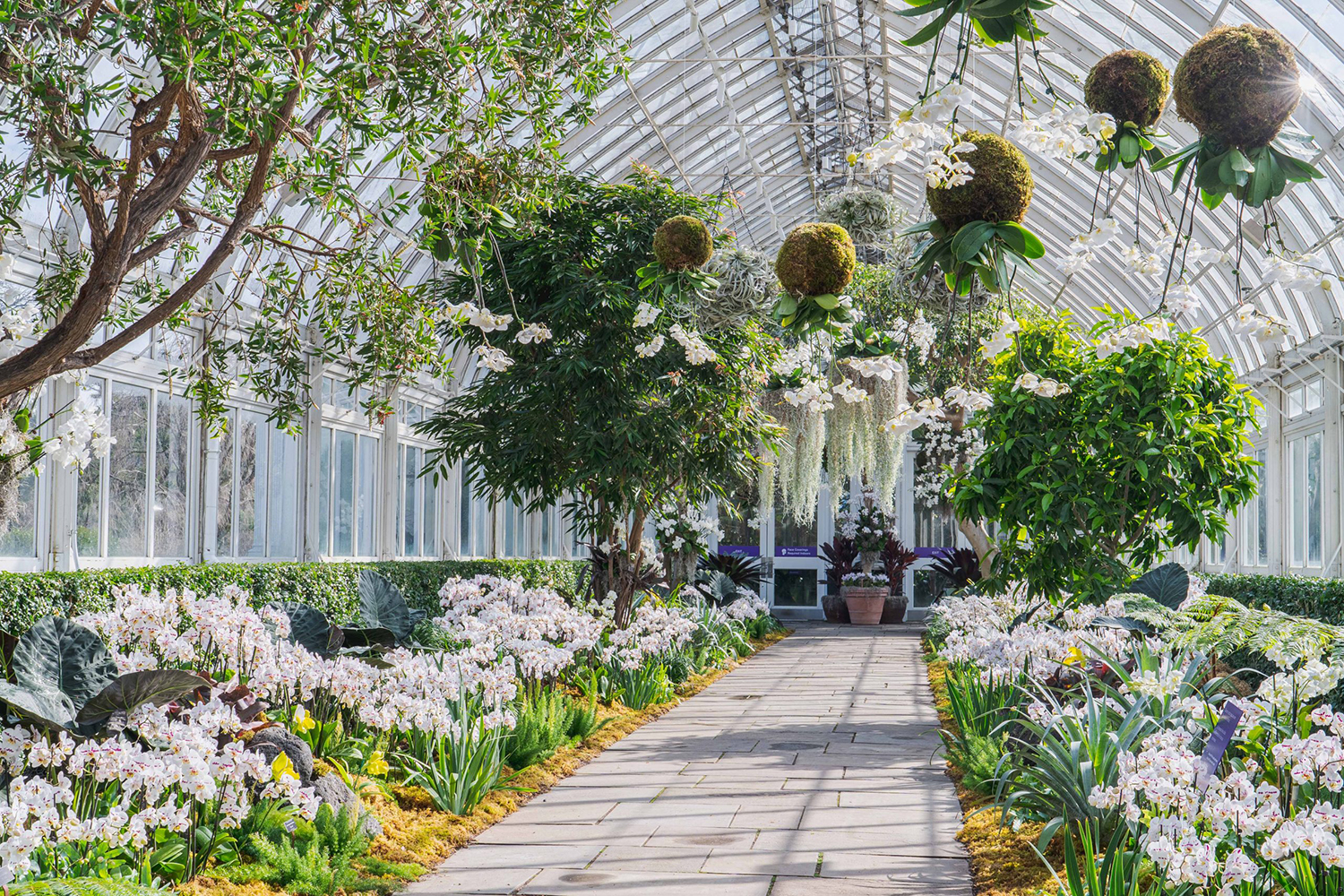 "I am thrilled to bring Kaleidoscope back to the New York Botanical Garden in 2022—much like when you look into a kaleidoscope, the view is never the same," Leatham said in a statement. "My reinvention of Kaleidoscope will be totally different installations than two years ago. Every turn will display a new vision, while maintaining the thematic element of every gallery focusing on a different color experience. With this design, visitors will appreciate the beauty of orchids and see NYBG's conservatory in exciting new ways."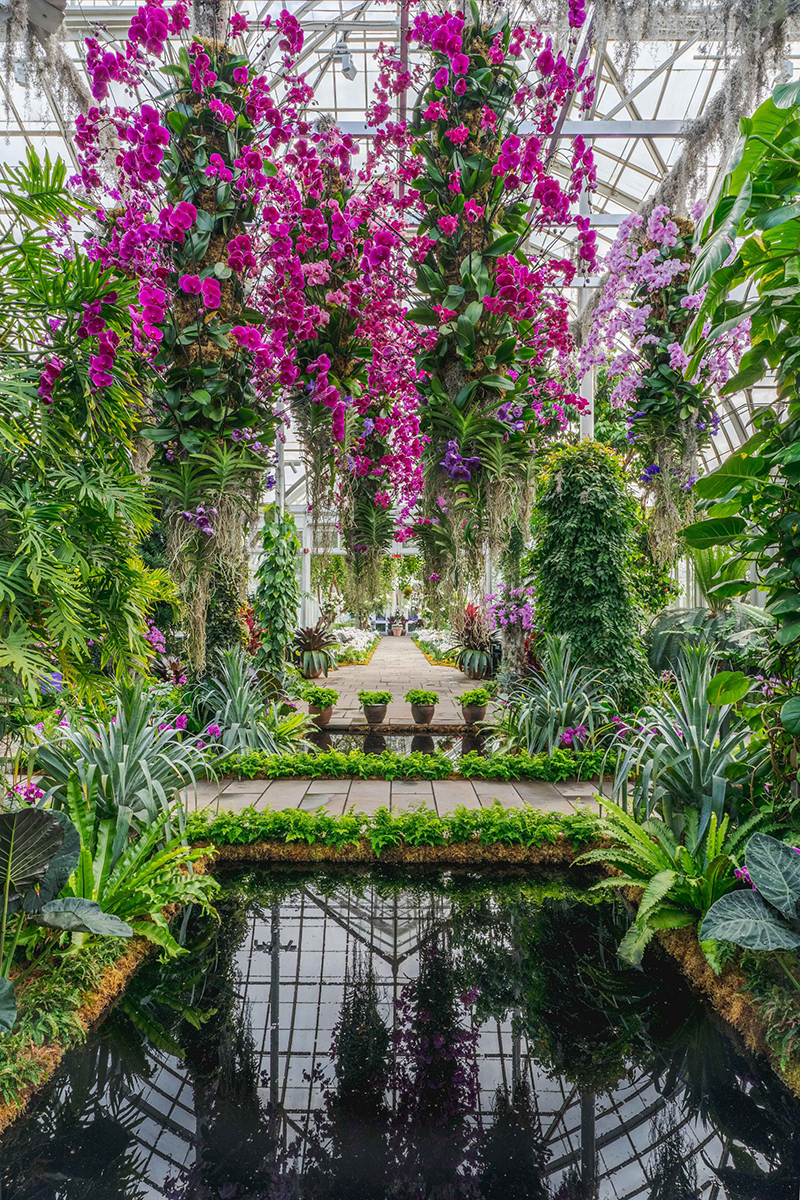 Leatham's initial Kaleidoscope installation in 2020 was cut short due to the pandemic; this year's iteration once again opens with one of the designer's signature prismatic sculptures, surrounded by orange, yellow, and purple flowers with towers of leafy greens.
"I'm not just a guy that works with flowers—I love art, I love creating, painting, sculpture work," Leatham told Galerie at the 2020 event, which featured a large-scale mirrored sculpture of a vanda coerulea, a species of orchid known for its big, round petals, crafted in collaboration with Paris artist Michel Amann. "That's the first time we made one that's not an animal and the first water-feature sculpture. We really wanted to get them at hello, and I feel like that's what we did."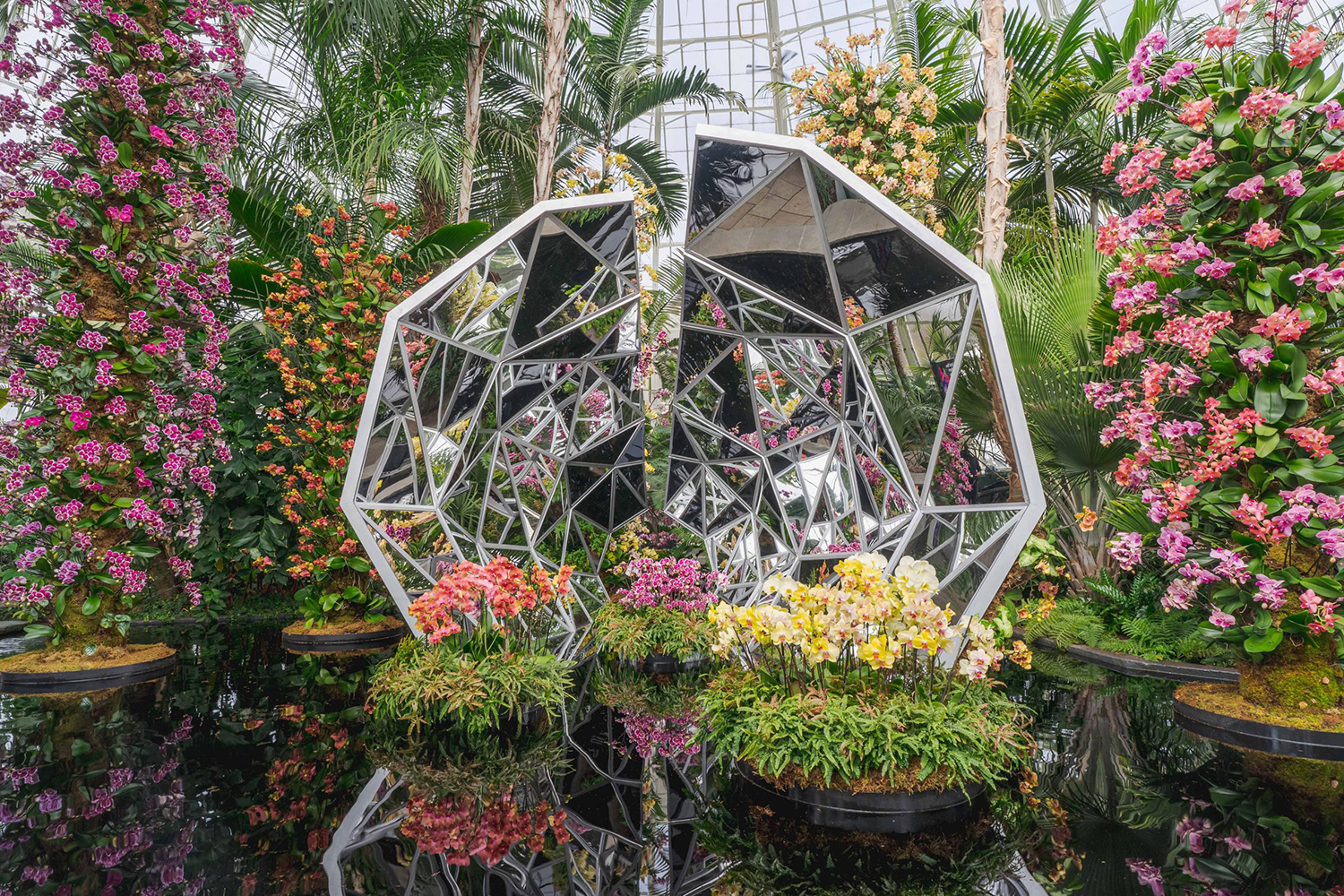 Working in tandem with horticulturists from NYBG, including Senior Curator of Orchids Marc Hachadourian, Leatham artfully composed orchids from around the world, including many of the garden's rarest specimens, filling the conservatories with explosions of color. In another area, elegant white orchids line a pathway and stretch down from botanical globes suspended overhead. "Part of this is not just about the color but also the fragrance and getting that full sensory experience of the exhibition as you move through," Hachadourian previously told Galerie.
"The Orchid Show: Jeff Leatham's Kaleidoscope" is on view February 26–May 1 at the New York Botanical Garden.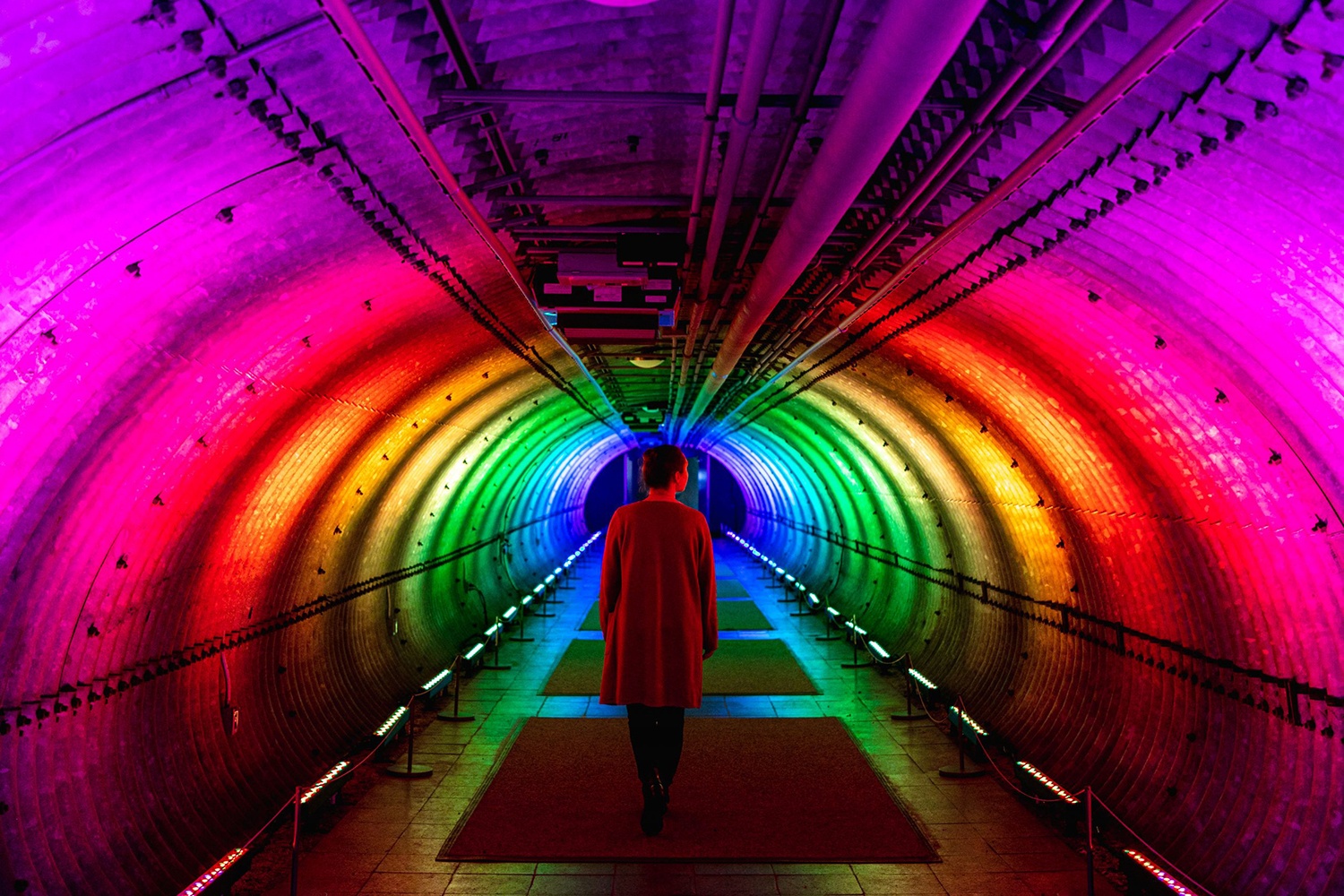 Next Post