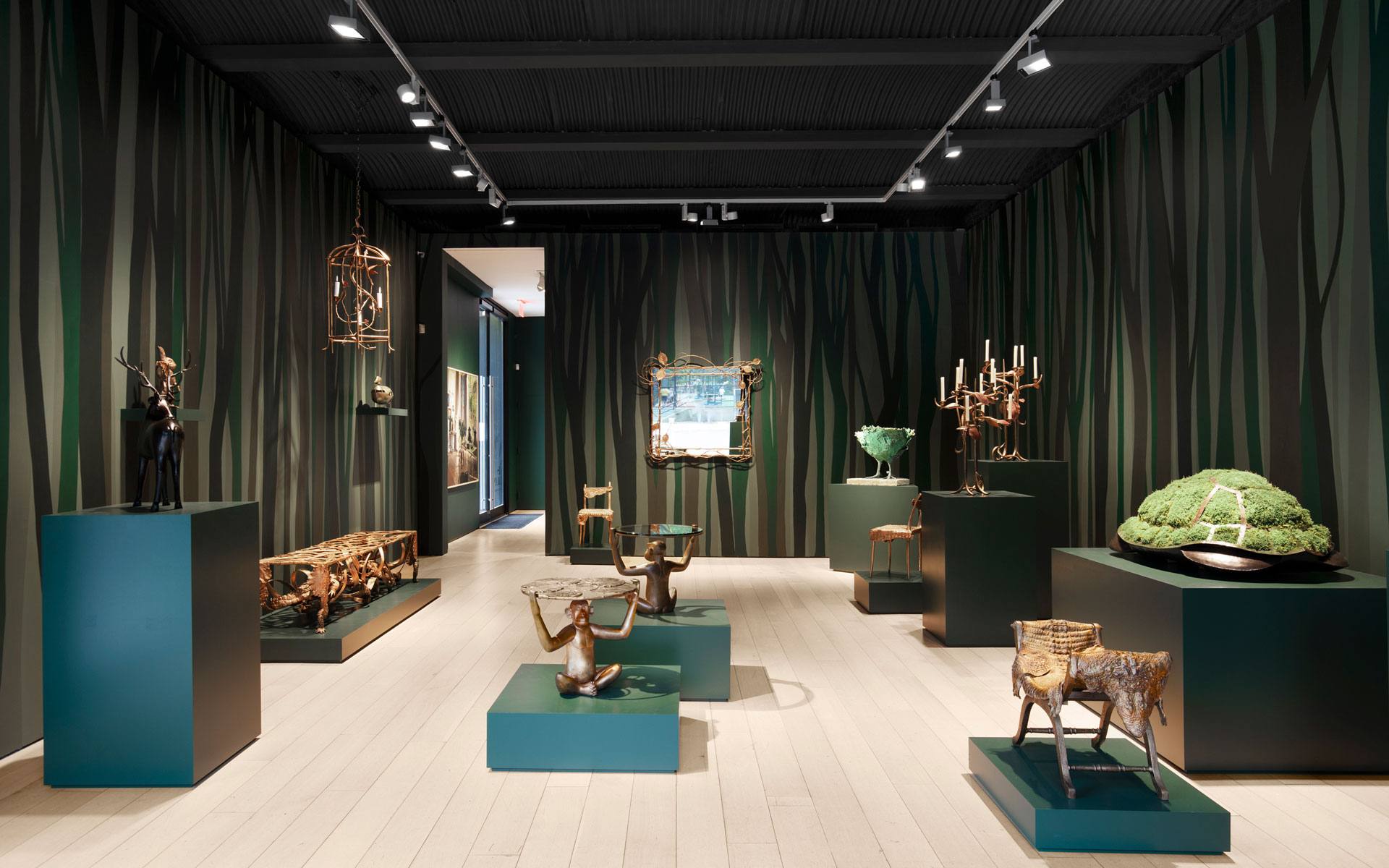 Interior Designer Brian McCarthy Curates a Magical Les Lalanne Exhibition at Kasmin
A collection of 20 artworks provides an immersive look into the legendary French artists' unique practice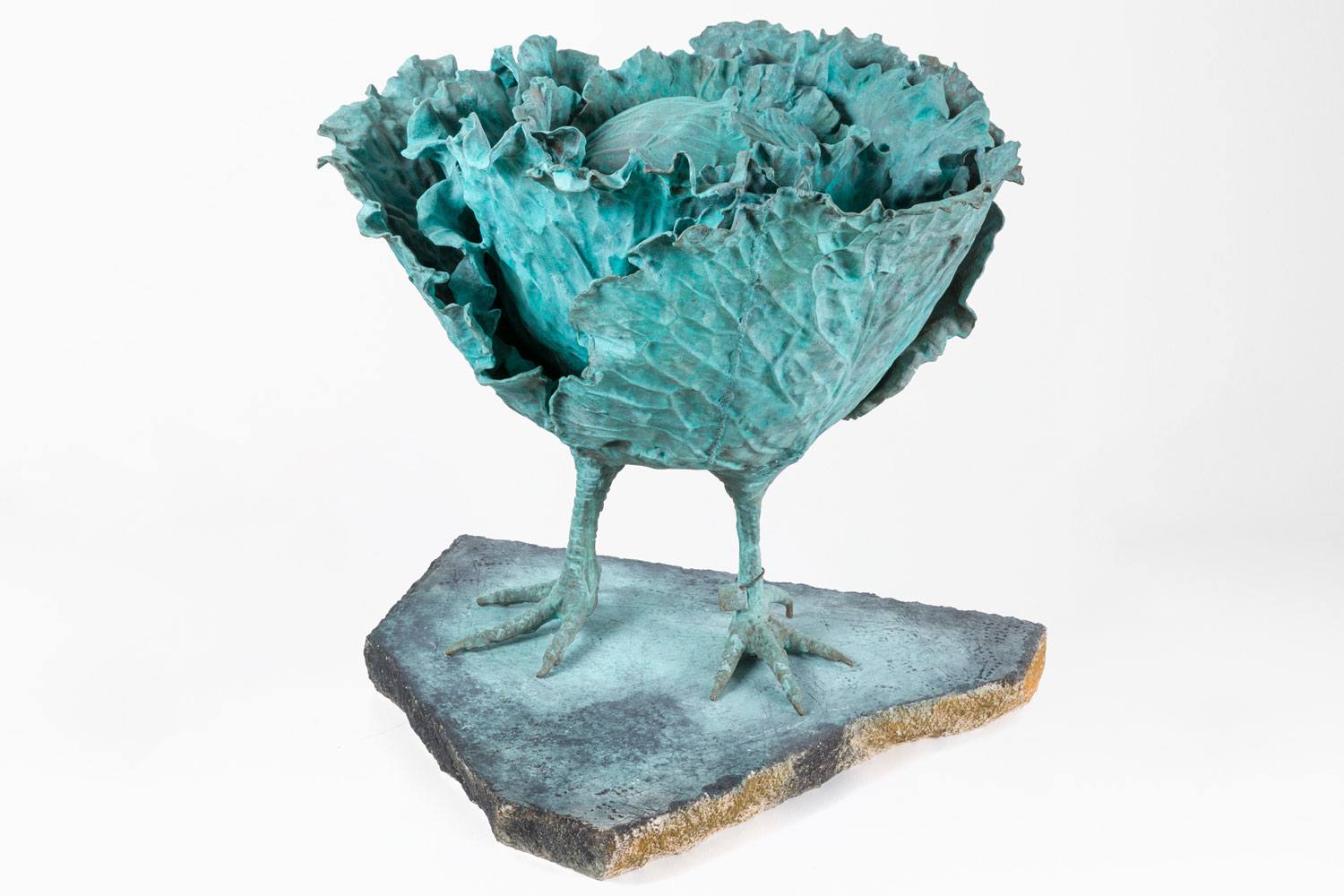 Visiting the new exhibition on the work of Les Lalanne, which recently opened at Kasmin gallery on Tenth Avenue in New York, is like stepping into another world. Not just because it's been months since many have walked into a Chelsea gallery, but also because of the thoughtful curation executed by interior designer Brian McCarthy. Far from the typical white-cube experience, McCarthy has conjured a forest of green walls in which to display a selection of 20 surreal sculptures and furnishings by the legendary French artists Claude and François-Xavier Lalanne, who lived and worked together for some five decades.
"This show is everything that everyone needs right now," McCarthy tells Galerie. "You walk in and feel like you're in a bear hug." That feeling of warmth and happiness comes from the design and the whimsical, imaginative flora- and fauna-driven artworks, each of which is perched on its own special pedestal at varying heights. "Coming out of this surrealist moment in time, they created their own habitat and environment."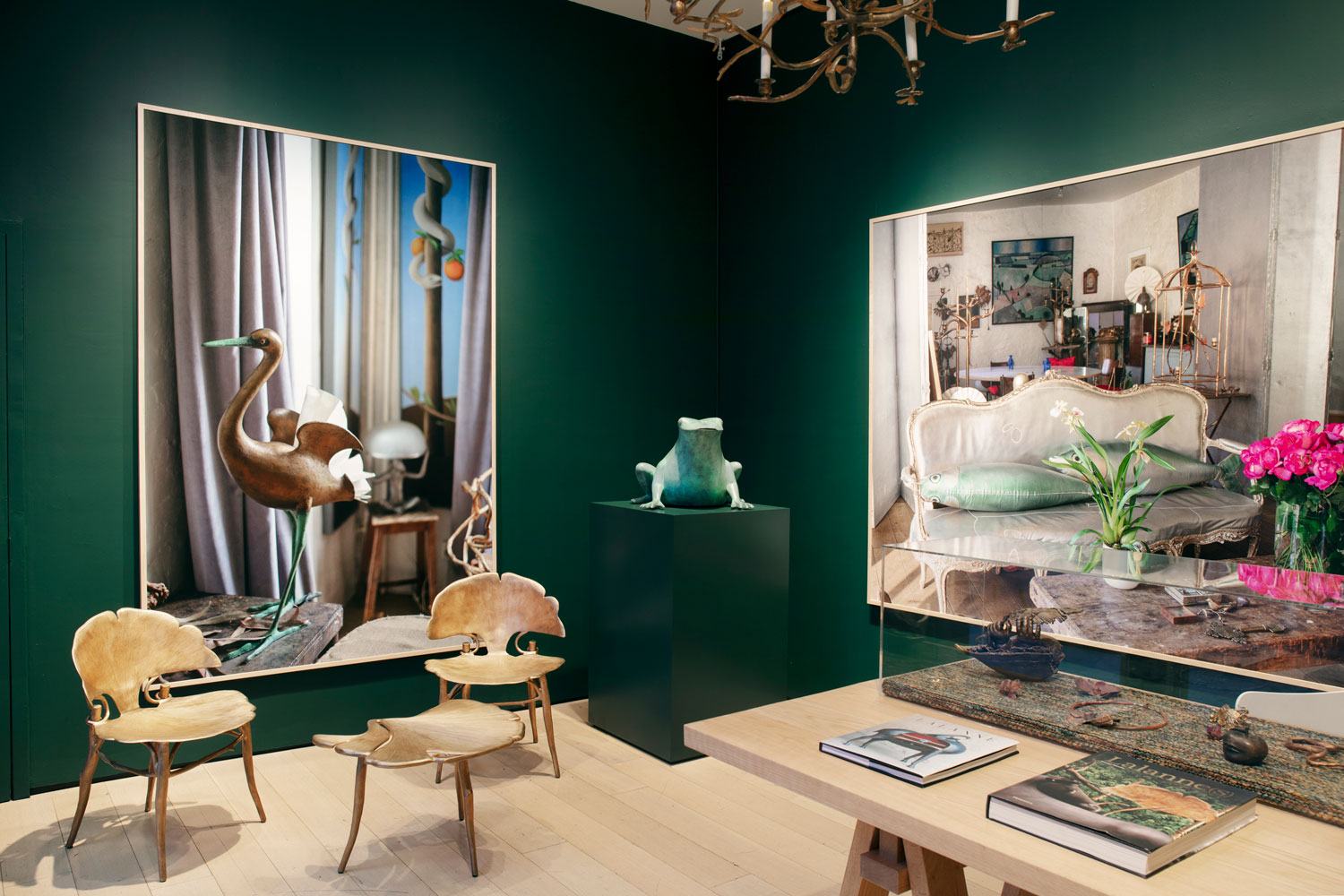 The show also gives a peek into their own personal spaces via large-scale photographs of the duo's home and studio in Urly, France, shot by the gallery's late founder, Paul Kasmin, who was a close collaborator and friend. "The photographs are incredible," says McCarthy of the blowups in the gallery's entry. "They're so sumptuous and enveloping. I know Paul and Claude would be very happy with the way that this has been done."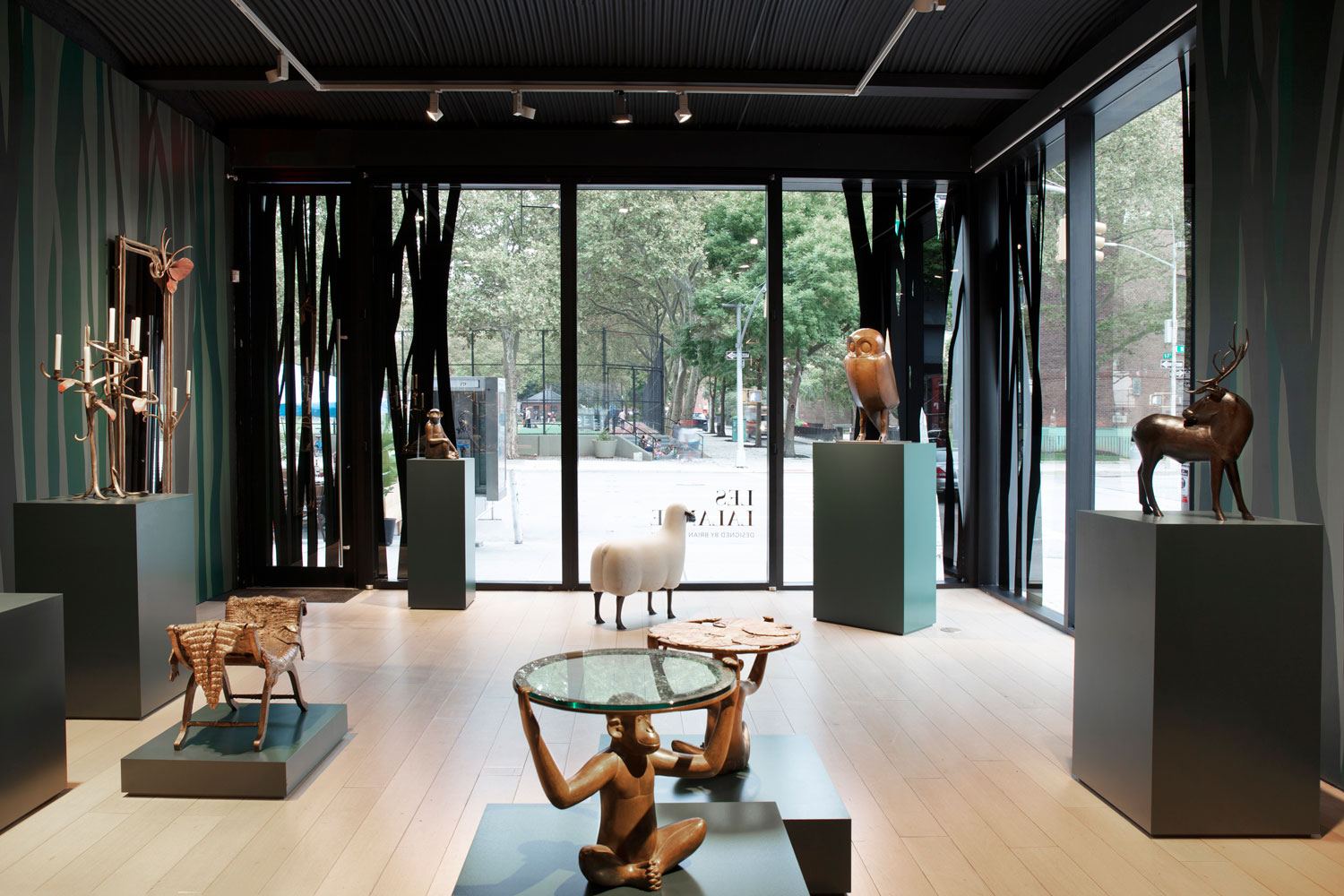 After receiving the available works for the show from the gallery, McCarthy made a preselection of pieces and then full-size maquettes to decide on the arrangement on pedestals. "One of the most pivotal lessons I learned from Albert Hadley was the skyline of the room. The point in making maquettes is that we could arrange it around the two spaces of the gallery and move things forward and backward. As you start putting things together, they all have their own dialogue. Some need more space than others. It's like conducting a symphony."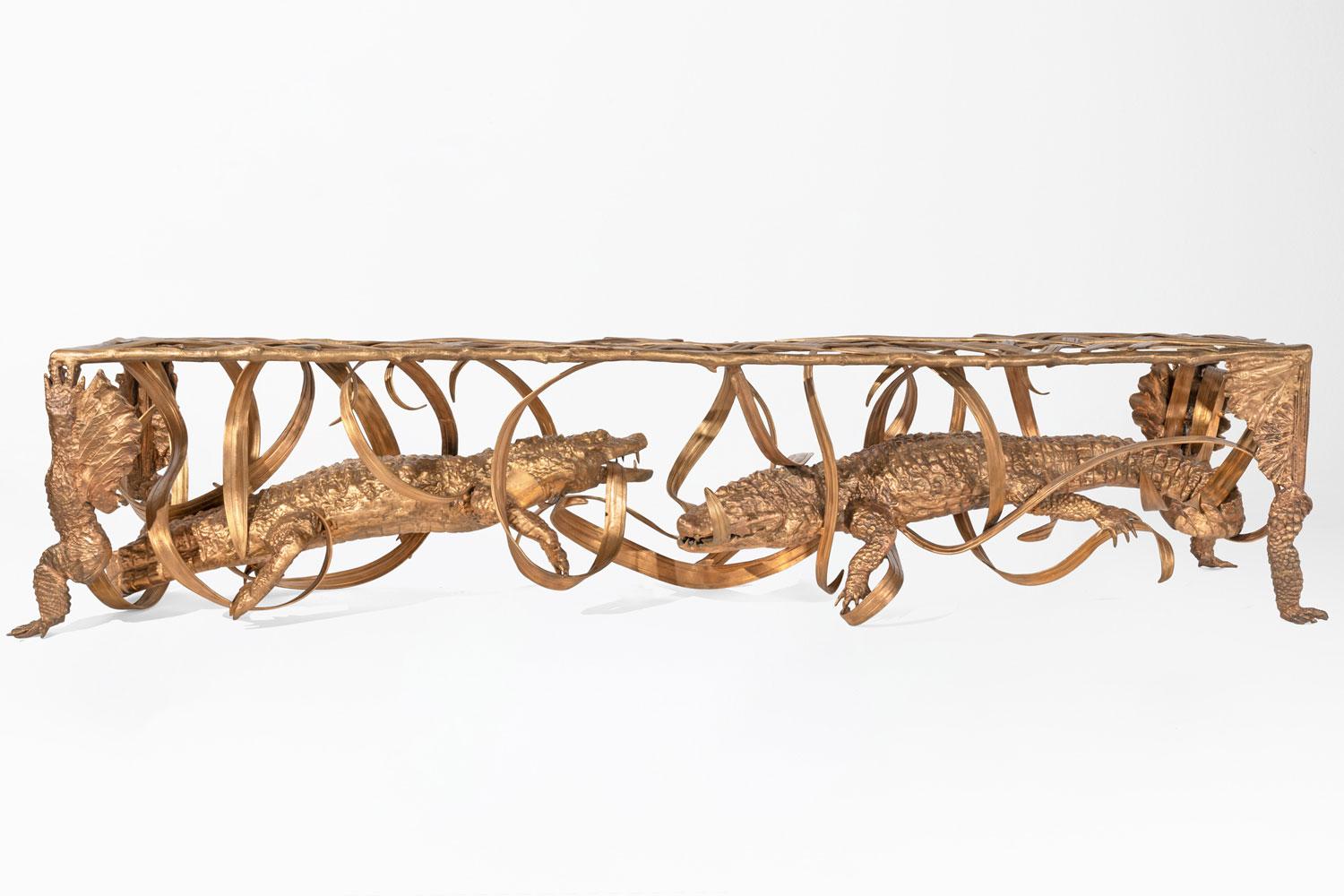 Of all the pieces in the show, McCarthy would take home Choupatte (2014). "It's fabulous. That's the piece I would want and would regret never buying one," says the designer, who already has several pieces in his personal collection. "I love the quality of fantasy of their work. How can you ever tire of something like that?"
Everyone who enters is offered their own Alice in Wonderland moment, absorbing the warmth and imagination of not only Les Lalanne but McCarthy's artful eye as well, imagining how they too may live with the pieces in an interior setting. After months of lockdown at home, it's a breath of fresh air in the form of a fantastical dream.
"Les Lalanne" is on view by appointment at Kasmin through October 3 at the gallery's 297 Tenth Avenue location. 
Next Post