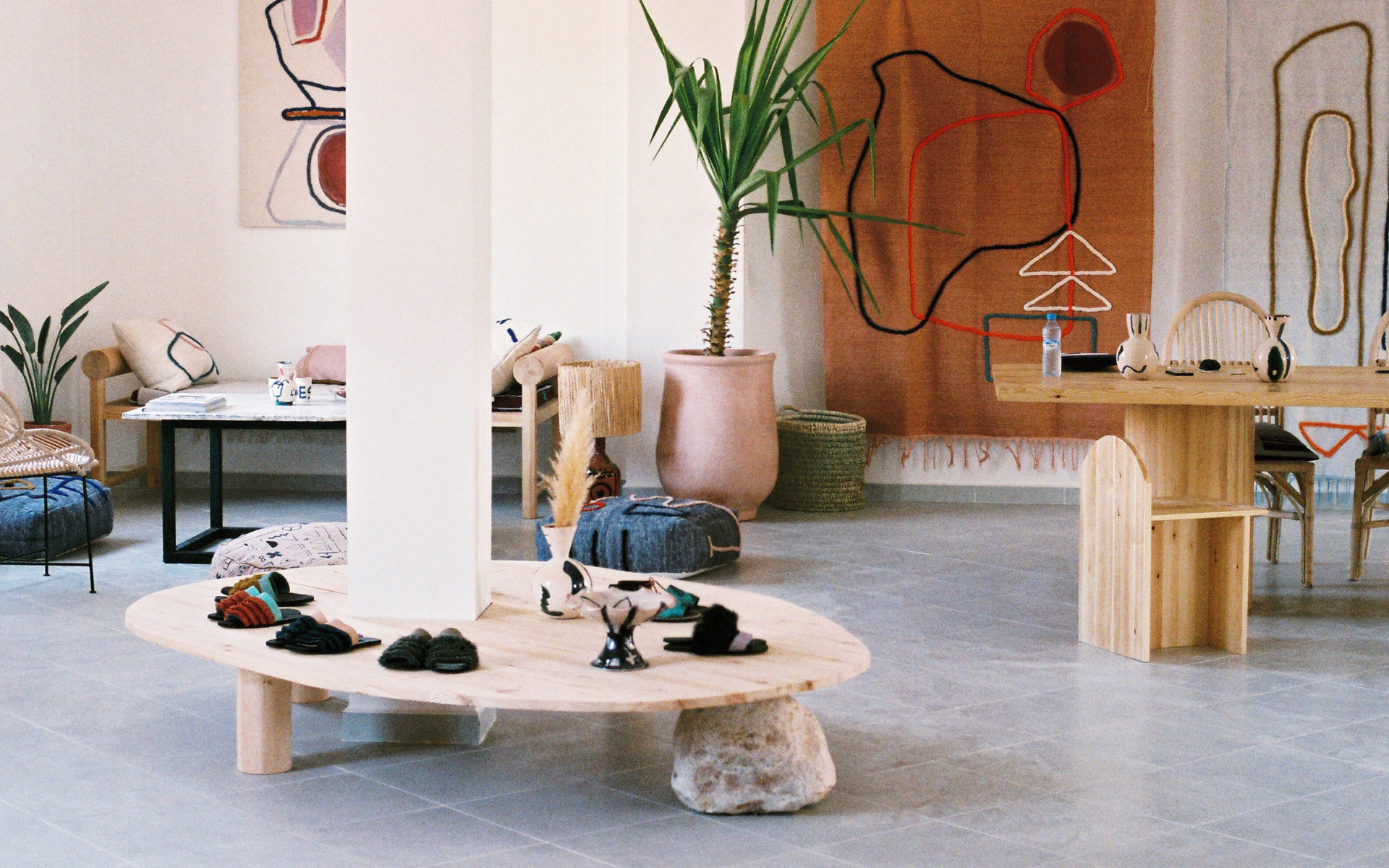 Inside Laurence Leenaert's Chic Marrakesh Studio
The Belgium-born textile artist is inspired by the customs and rituals of her adopted home
Bold, graphic prints are one of the hallmarks of Laurence Leenaert's superchic accessories and textiles brand LRNCE. Launched in Belgium with just a line of artisanal handbags, the four-year-old label has grown into a bohemian lifestyle brand coveted by the fashion and design set (Garance Doré is a known fan) for its blend of old-world craftsmanship and contemporary flare. The range includes embroidered rugs and wall-hangings; ceramics splashed with minimal, geometric paintings that nod to Joan Miró; and a sprinkling of ready-to-wear pieces such as kimonos, bags, and sandals. The brand as a whole is the result of a spiritual awakening of sorts—one that came by way of the Sahara Desert.
In 2014, after studying fashion at the Royal Academy of Fine Arts in Ghent, Belgium—a branch of the school that begat the famed "Antwerp Six" group of designers—Leenaert traveled to an oasis-like village in southern Morocco called M'hamid El Ghizlane. With a long-held curiosity about African lore, she was immediately entranced by desert life and found herself returning shortly thereafter, sewing machine in tow, in search for inspiration. One year later, she sold all her belongings, packed hundreds of pounds worth of production materials, and left Belgium for good—sights set on Marrakesh.
In the two years since then, Leenaert hasn't looked back. Though she had access to a thriving arts community in Belgium, she feels closer than ever to the handmade process in Marrakesh. It's the dichotomies in her new life that continue to energize her: the frenetic energy of the streets versus sunny tranquility. "Once I was back in Belgium, I realized I couldn't live there any longer," Leenaert tells Galerie. "To wake up every day with the sunlight and palm trees is already affecting my life a lot. The harmony of the city, the colors, and the way people get dressed gives me rest. And on the other side: the chaos in the medina, no rules in traffic, the people who are so open and invite each other all the time to have lunch or dinner. It's so alive and gives a lot of energy."
Today she works out of a bright, airy studio-showroom space in the center of the buzzy medina. Her process is slow, setting aside time each day to paint and develop new techniques. "For a long time I've been curious about African tribes and cults. There is something triggering me, and I want to bring my world and the world far away from me together," she reveals.
It is important that her production and sourcing stays close to her newfound community and, with a centrally located studio, she has unrivaled access to skilled hands. "The products are made all over Marrakesh. Every product has his atelier with artisans who produce from scratch everything. Every day I pass by in the ateliers to see, help, and develop new pieces… I like to be as much as possible in contact with people. When I listen to their stories, I try to dig as deep as possible to extract the essence of their origins, which is the fruit of my inspiration."
If you can't make it to Marrakesh, Leenaert is showing her wares at Maison et Objet in Paris, from January 19–23 and at NY NOW in New York, from February 3–6, 2018.
Next Post