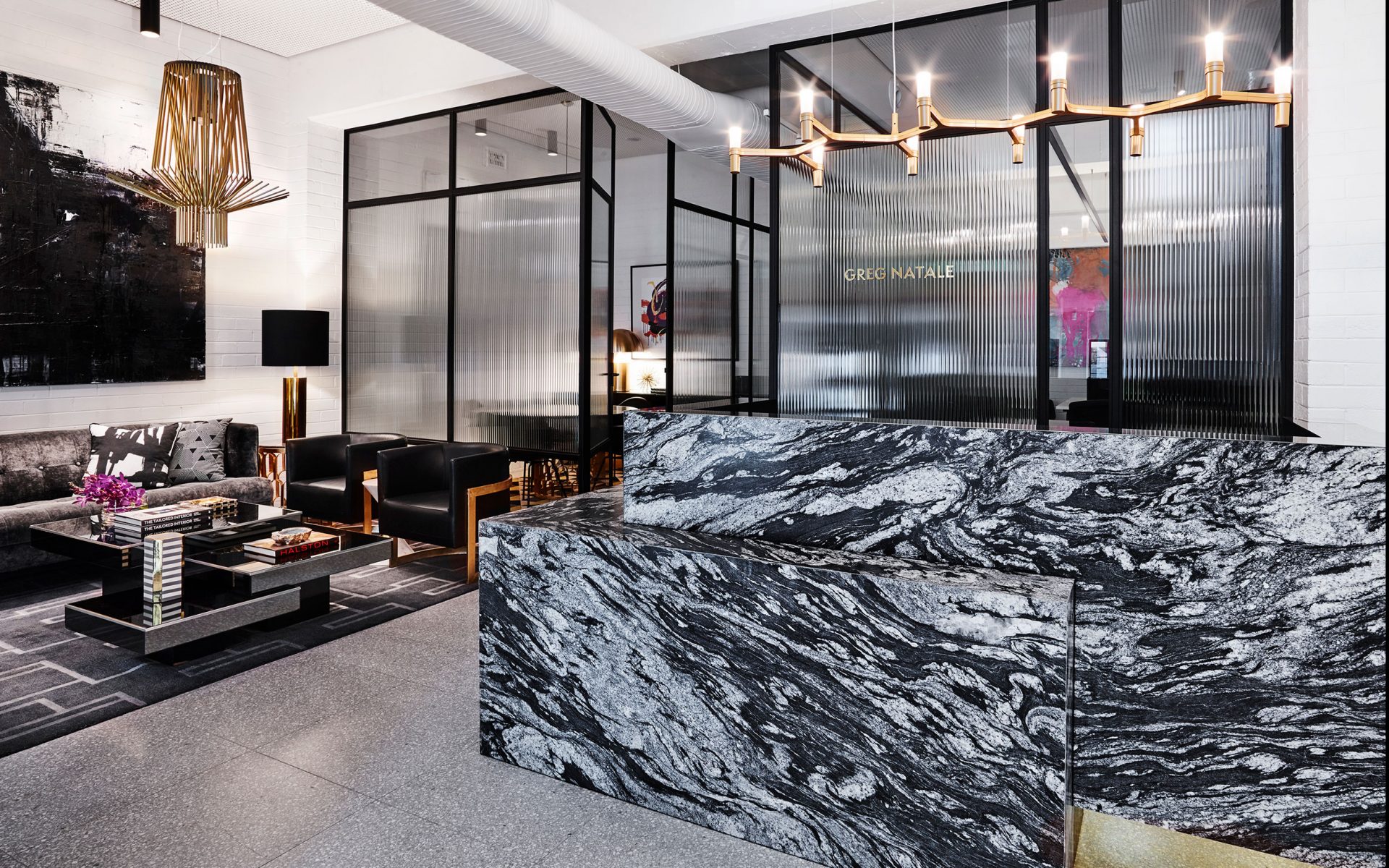 Inside Designer Greg Natale's Chic Sydney Office
The Australian designer's sleek new headquarters features imaginative art and bold design touches
Offices are an important way of showcasing work culture, but they hold even more relevance for designers, serving as a living mood board and showpiece all in one. For Australian talent Greg Natale, it was time to move into a space he could be proud to show off to his growing list of clients. That meant moving the headquarters to Sydney's Surry Hills neighborhood, a once gritty, industrial suburb that has emerged as a hip, creative hub for designers and architects.
Originally built in the 1960s, the 4,000-square-foot space now serves as a sophisticated laboratory for Natale's 18 staff members. The ground floor houses the meeting room, showroom, and warehouse for his online store, while the upstairs area is dedicated to a design studio, terrace, his office, the kitchen, and breakout area.
"It's a space that I love sharing with my clients," says Natale. "Another advantage is that the creative environment helps us do amazing things."
So, what's next for this busy office? There's a book by Rizzoli out in September, a coconut wax candle line with Cocolux Australia, and a new collection with Bisazza. The team is continually working on new products and accessories, and in the next 12 months there are plans to introduce new brass, marble, ceramic, and shell pieces. Also in the pipeline are residential projects and a new Snaidero showroom in Sydney.
Here, tour the imaginative office, filled with warm, livable touches.
"To make the office seem more like a home, I used the furniture I would use in residential projects. It's a curated mix of custom and vintage pieces. My favorite piece of furniture in the whole place are these vintage B&B Italia black marble coffee tables. They are the first pieces I bought when I started my office in 2002, and they've been with me along. They're the starting point for the whole office."
"I've always been obsessed with Paul Rudolph's house for Halston, with its black-and-white vibe. It's perfect in the boardroom, because if I'm presenting something, I don't want the interior to compete with it. I love the vintage pendant light, which I bought from a dealer in L.A. through 1stDibs, and the vintage Florence Knoll table."
"Art really finishes off an interior, and I always push my clients to invest in art. I've curated all the artwork for the office. This artwork is by a friend Scott Petrie, and it was commissioned for this particular space."
"The whole office is terrazzo. I have Italian parents, and it's no secret that Italians love a tile. It's very practical and timeless—it doesn't date."
"I don't think there's any timber in the office, but the space still has warmth. There's also not one scrap of dry wall. I stripped the building to the core when I bought it and added a subtle texture to everything. I have an acoustic perforated ceiling on the ceiling, and all the glass is ribbed. Everyone loves the polished plaster in the entry and the boardroom as well as the exposed brick work, which is much rarer in Sydney than it is in New York."
"I didn't want my own office at first, I used to prefer to just walk around. The space features a Herman Miller desk paired with a pink rug I designed. Pink is my favorite color. I know it's very popular lately, but I've always loved pink. It's a very classic accent color."
"The RETNA rug by Marc Philips in my own office is an art piece in itself. I bought at a charity function in L.A. two years ago. I don't allow anyone in my office to walk on it! I'm joking."
"What is it about Andy Warhol? So iconic and strong. I love pop art and that era of art—all those American artists. The pieces are so fun and they suit a kitchen area. The space boasts tall ceilings that I could use the whole portfolio."
"The kitchen looks like black stained wood, but it's actually a laminate. I love black kitchens and I needed a tough material with commercial durability with timber tone. For the backsplash, I wanted to keep element of original building."
"I launched a collection with Bisazza with this malachite tile. It's a big hit and when clients see it here they want it for their own homes."
"If I don't keep things tidy and ordered, I can't think. It's a discipline thing. There can be messy drawers but I need clean surfaces to think properly. Once it gets too untidy I call the rubbish man to take it away."
SaveSave
SaveSave
SaveSave
SaveSave
SaveSave
SaveSave
SaveSave
SaveSave
SaveSave
SaveSave
SaveSave
SaveSave
SaveSave
SaveSave
SaveSave
SaveSave
SaveSave
SaveSave
SaveSave
SaveSave
SaveSave
SaveSave
SaveSave
SaveSave
SaveSave
SaveSave
SaveSave
Next Post