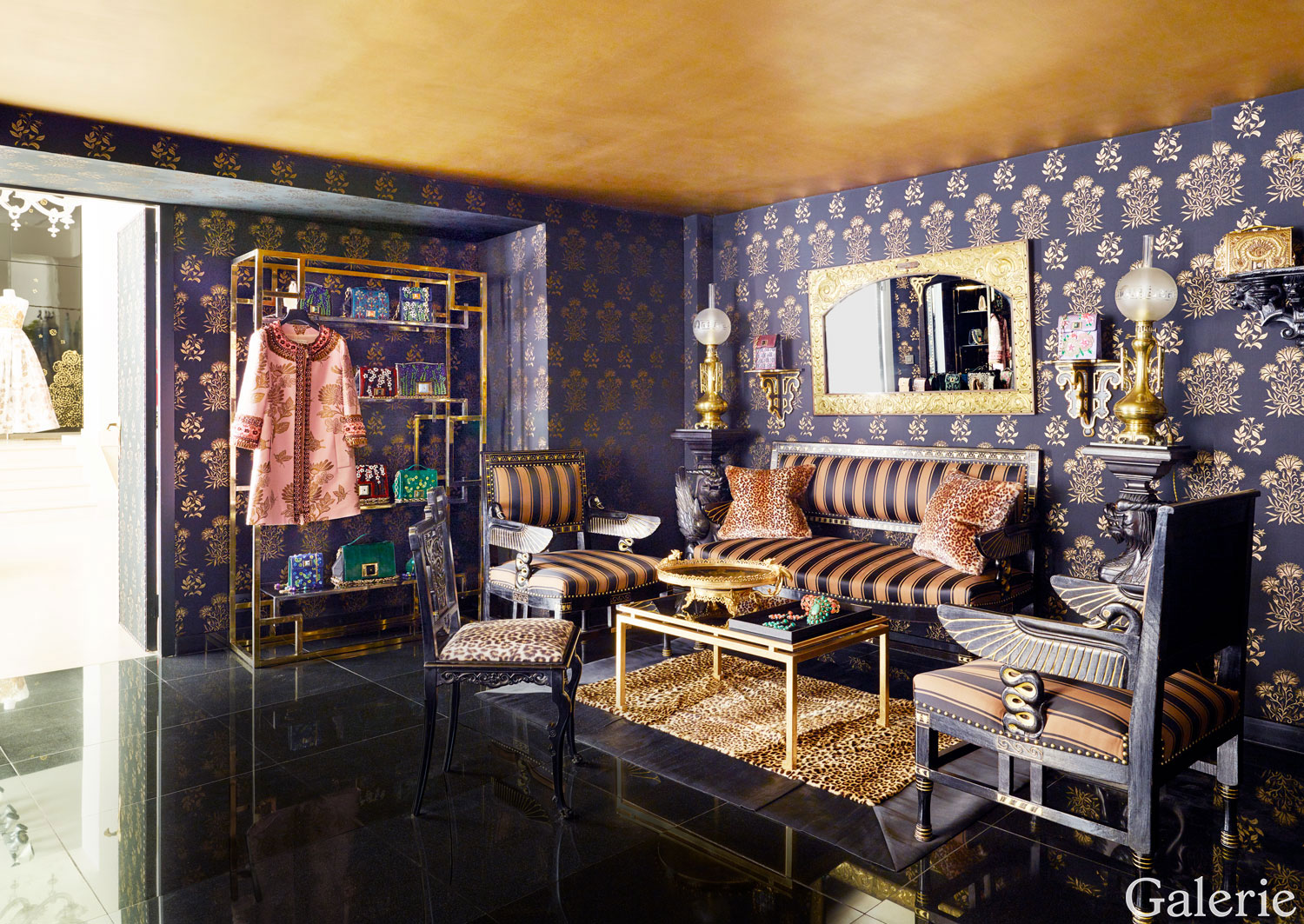 Inside Andrew Gn's Glamorous Paris Atelier
The fashion designer's salon is as exquisite as his creations
Paris-based fashion designer Andrew Gn has a passion for ceramics. He bought his first piece as a teenager and now owns thousands. "I have eclectic tastes," he says. "I can just as well buy something from the 1950s by Georges Jouve as a Kangxi piece from the early 18th century." So it seems fitting that when Gn decided to redecorate his showroom, he turned for inspiration to one of the most famous rooms ever conceived for displaying porcelain: the Peacock Room, which was created by James McNeill Whistler for the London residence of 19th-century British shipping magnate Frederick Richards Leyland and is now housed in the Freer Gallery of Art in Washington, D.C. The result is a sumptuous black-lacquer wall at the back of the showroom with gold chrysanthemum-like motifs similar to those used by Whistler. "I didn't add the peacocks," he says. "I thought they would be too much." 
The showroom, which Gn uses for receiving clients as well as for press events and intimate dinners, is situated in Paris's trendy Marais district and occupies the ground floor of a grand mansion built in 1623 for a secretary and treasurer to Louis XIII. (Next door is the Paris outpost of the Marian Goodman Gallery.) At first, Gn gave what was originally a raw-concrete space a very contemporary makeover (think white walls and minimalist furnishings), but when he relocated his office, atelier, and stockroom to a building across the street, he knew it was time for a little more pizzazz.
"I wanted an interior on the same level as my fashion," says Gn, whose clients include Jessica Alba, Emma Stone, and Jennifer Lopez. The clothing he creates may be ready-to-wear, but it is uncommonly intricate and luxurious. His new cruise collection features a fabric inspired by 18th-century kimono textiles and Indian maharaja brocade jackets. A naturalistic theme appears on another of the showroom's walls in the form of a mural, entitled Tree of Life, representing mythical birds, gazelles, and pomegranates, commissioned from the Iranian artist Roshanak Varasteh. "I was looking for something a little exotic and fantastique," Gn adds. 
The showroom is divided into two spaces. The smaller one, low-slung with a dark and moody palette, is used to present accessories and bags. They perch like jewels atop ornate brackets mounted on walls clad with a custom-made black-and-gold woven fabric influenced by both Persian miniatures and the designs of William Morris. Most of the furnishings date from the late 19th and early 20th centuries—a nod to the era that saw the birth of fashion houses. "I wanted to revamp the idea of the salon de couture," Gn explains. A Liberty sofa is paired with chinoiserie-style chairs (by master ébéniste Gabriel Viardot) and a Napoleon III chest, which Gn bought at auction. "The very next day I received a call that 'someone wanted it desperately, but couldn't get on the phone to bid. He's willing to offer three or four times what you paid for it,' " recalls Gn. "I didn't care. It was perfect for here."
The most striking objects in the loftier main space are what appear to be a pair of Murano-glass chandeliers but were originally one piece. The 18th-century fixture came from a Florentine palace and was delivered in a dozen or so numbered trunks. "The dealer explained that the family would travel from palazzo to palazzo and sometimes take the furniture with them," recounts Gn. "So everything could be dismantled." Upon their arrival in Paris, it took workmen nearly two weeks to put the pieces back together.
Like many of the showroom's other elements, the chandeliers pay homage to the past, and Gn seems particularly pleased with the anachronistic ambience he has created. "It's not what you would call a normal shopping experience," he explains, "and that's exactly what I wanted. It's quirky, unusual, and very eclectic." andrewgn.com
Next Post