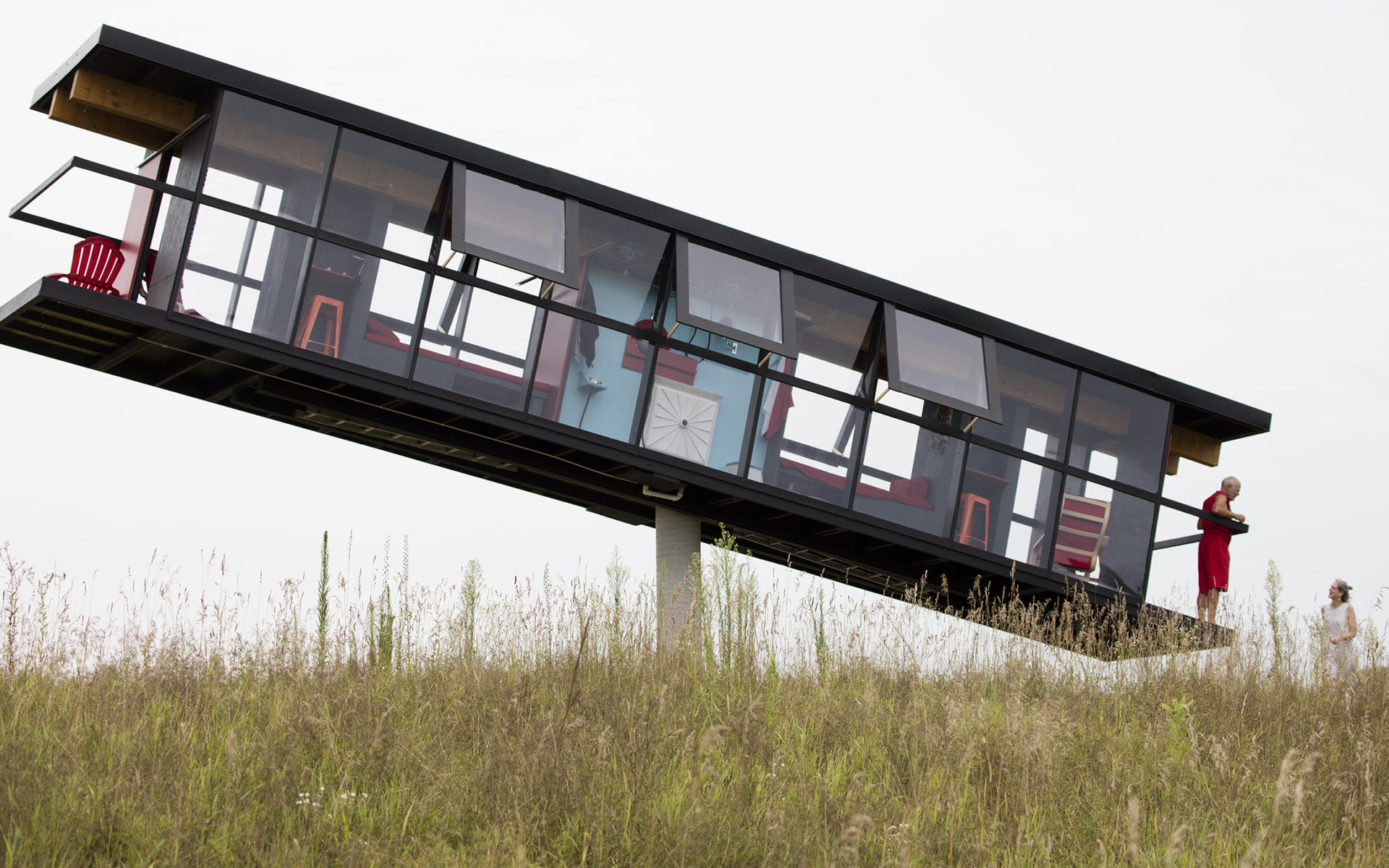 The Incredible Rise of Performance Art
New York's must-see performance biennial takes over the city November 1 through 19. As performance art hits the mainstream, here's what you need to know about the genre.
Although it has a history that extends back at least a century, performance is finally achieving mainstream recognition within the art world. This year alone, major events like Documenta, the Venice Biennale, Art Basel Switzerland, and Skulptur Projekte Münster boasted significant performance programming. Construction on The Shed, a center for performance and other experimental art forms, picked up speed in New York's Chelsea district and is slated to open by 2019. —perhaps the best-known performance artist to date, who has brought the medium to new heights of public consciousness thanks to her and collaborations with celebrities like Jay Z—announced in August that she would be starting a school in Upstate New York devoted entirely to performance.
And Performa, a biennial festival devoted exclusively to performance, has become a "must-see," if maybe hard not to see this year: The seventh edition will feature commissions by nearly 30 artists spanning venues and even billboards across New York City from November 1 through 19.
Additionally, the biennial has commissioned an expansive project by artist Barbara Kruger, whose signature red, black, and white activist text works will cover a skate park, school bus, and public billboard, with more activated sites and performances announced as the event gets under way.
Founder and art historian RoseLee Goldberg says the success of Performa is largely due to the fact that it presents specially commissioned works by artists of all stripes, who perhaps don't always work in performance—like Kruger—bringing them to larger audiences. "Barbara has such a following already among critics and collectors, but her work is also gaining traction with a whole new generation," Goldberg says. "I wanted to activate the whole city with her work—it's a beautiful exposure to what she's about and also what performance art about: shifting perspectives."
Goldberg suggests that there's not only an increased number of artists willing to experiment with the medium these days, but also a greater awareness and inclusion of performance within the canon of modern to contemporary art history. To be sure, this has a lot to do with her efforts. In 1979, she penned—and to this day continually updates—the definitive history of performance art. When she founded Performa in 2005, she says it was specifically to address the lack of recognition the art world gave performance work. "I felt that no one was really paying attention to the depth and weight of performance projects, both past and present," she says. "I don't think people realized how integral it is to art history writ large."
Indeed, in the early 20th century, Italian Futurists like F. T. Marinetti staged live events as a way of raising the movement's public profile. Dadaists riffed on pop culture and music-hall performances in their infamous Cabaret Voltaire. With the onset of conceptualism and related movements like Fluxus in the 1960s and '70s, which eroded the distinction between simple acts of everyday life and artmaking, performance started to take hold as its own medium, rather than an auxiliary outgrowth of traditional studio-based practices. Artists like Yoko Ono and Carolee Schneeman staged performances as political and feminist acts, as evidenced in their respective Cut Piece (1965) and Interior Scroll (1975) works. Others, such as Vito Acconci, adopted a more self-involved approach in performances like Seedbed (1972), in which he masturbated for eight hours a day, two days a week at New York's Sonnabend Gallery—out of sight, but not out of earshot—fueling his fantasies based on the sounds of gallery visitors.
What came to the fore as the practice of performance developed was the interplay between the interior and the exterior, the singular and the social, within a given space. Goldberg notes that this has been crucially important for the development of relational art, which took root in the 1990s. But it also underscores how performance is ultimately circumscribed by place, prompting to institute an architecture program, "Circulations," for this year's iteration of Performa. "Performance and architecture always go hand in hand. The built environment shapes our behavior and impacts our understanding of space," she says.
"Circulations" will comprise site-specific live performances and experiments throughout, such as the realization of François Dallegret's influential Environmental Bubble design for the first time since it was proposed in 1965. The Montreal-based architect will collaborate with Los Angeles–based architect François Perrin and choreographer Dimitri Chamblas to turn the inflatable structure into an active site of physical engagement in front of the Queens Museum. American architects and artists Alex Schweder and Ward Shelley will present the newly commissioned The Newcomers, a weeklong nomadic performance in which the duo will construct and disassemble a temporary bubble, reconstituting it in a new location every day so that they will have shelter under which to sleep.
But even though more architecture biennials and fairs have sprung up in recent years, there hasn't been a lot of overlap between them and their art counterparts. "Architecture has been a part of my thinking and writing on performance since I started my career. I really wanted to round out that conversation this year," Goldberg says.
Ultimately, she hopes that "Circulations" will establish a new critical benchmark for architecture and performance. That may sound like a lofty goal, but it's clear she's already succeeded in doing the same for performance in general. "There's such a rich dialogue around the medium right now, I'm blown away. It feels like a mission accomplished."
Performa runs across New York City from November 1 through 19, 2017. For a full list of programs and events, click here. 
Next Post