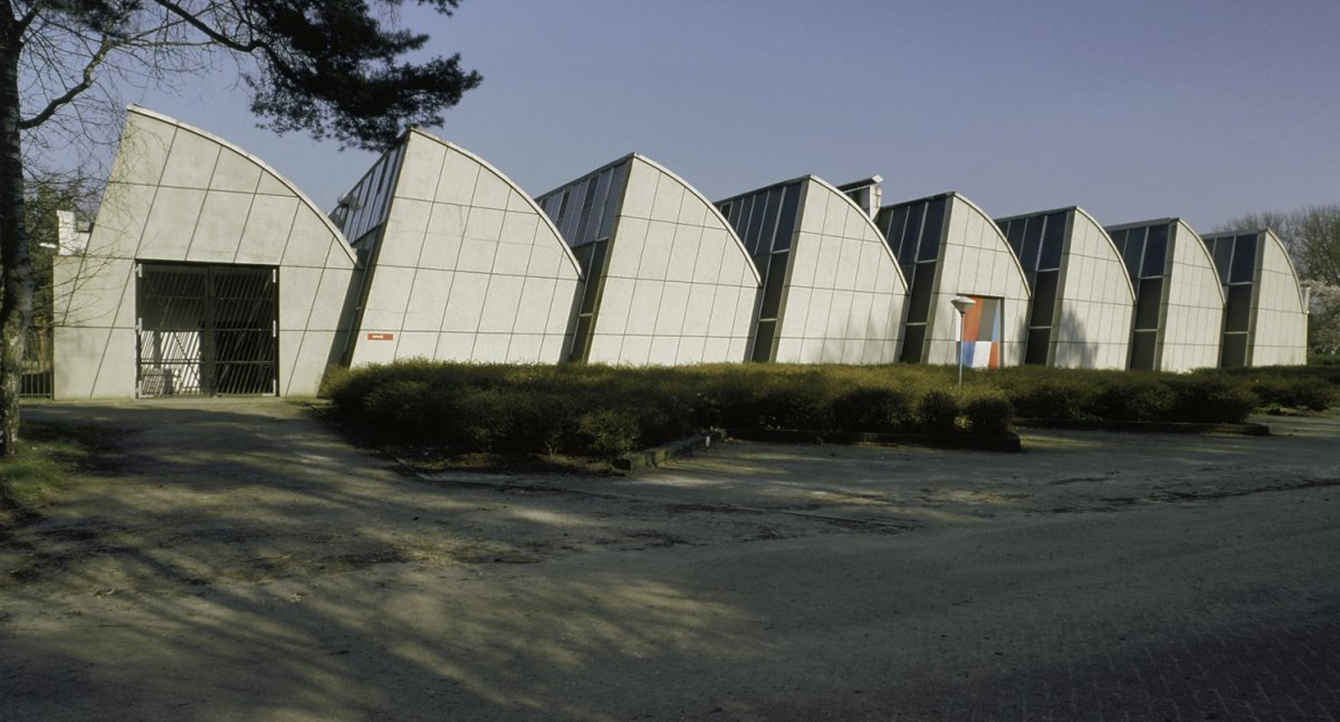 Landmark De Stijl Textile Factory Reopens in Holland
Gerrit Rietveld's only industrial building gives design aficionados another reason to visit the Netherlands
It's traditional for architects, at some point in their careers, to make a pilgrimage to Holland. Or more specifically, to visit the Rietveld Schröder House or other buildings by the legendary designer Gerrit Rietveld.
An architect, furniture designer, and friend of the artist Piet Mondrian, Rietveld was co-founder of the influential De Stijl design movement, and is considered the godfather of Dutch design—recognized for his Red and Blue chair and precise structures with bold, grid-like panels of color.
This month, Rietveld's only industrial building, De Ploeg in Bergeijk in the south of Holland, reopened after a massive renovation and almost a decade in disrepair. The region's Dutch Design Week, held every October in the nearby Eindhoven, draws nearly 300,000 visitors annually, according to tourism officials. It is hoped that the newly revived Rietveld will give design aficionados more year-round reasons to visit. Picture a Guggenheim Bilbao, with tulips.
Created in the 1950s, and originally commissioned by a socialist collective, the former fabric factory was lauded in its day for its people-friendly design and spatial planning. With soaring ceilings, huge skylights and an unusual sawtooth-pattern roof that allows sunlight to flood the space, the factory's design blurs the line between inside and outside—a Rietveld trademark. (The gardens surrounding the factory, in the process of being restored, were done by Mien Ruys.)
The building is now the exclusive headquarters of Bruns, a firm that designs museum buildings and exhibits around the world. Their expansive high-tech projects include the National Army Museum in London, Offshore Experience in Rotterdam, Konya Science and Technology Center in Turkey, and the Fifa World Football Museum in Zurich.
The town of Bergeijk was a mecca for artists at its height, drawing the likes of Donald Judd, Carl Andre, Sol LeWitt, and Christo, notes the firm's managing director Jan Brugmans. The restoration was a passion project for Brugmans, who found the beauty of the building inspiring, and noted the significance of respectfully reclaiming the landmark.
The new visitors' center, located at the front of the structure, is open to the public and offers a permanent exhibition about the building's history as well as rotating art exhibitions throughout the year.
Next Post