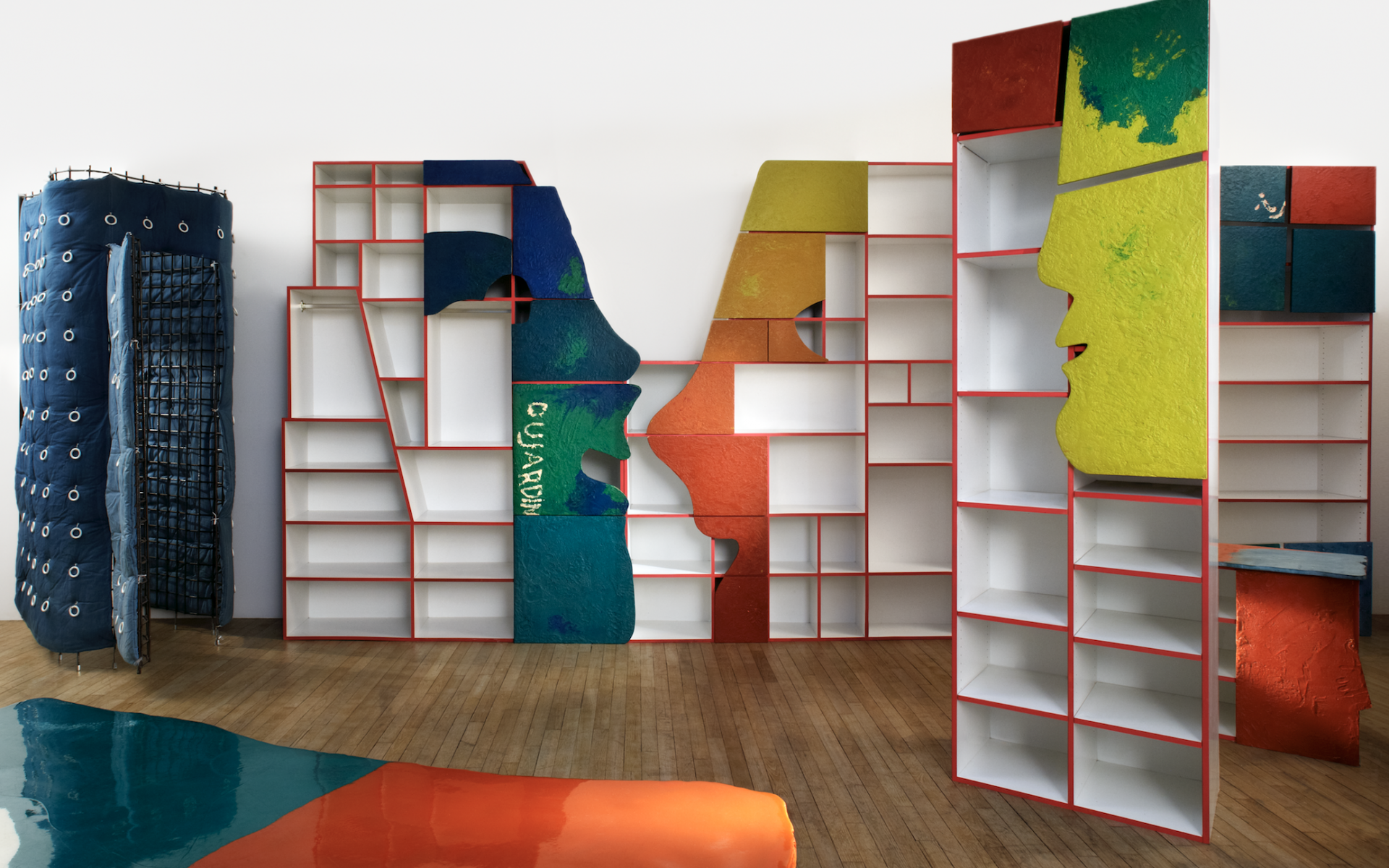 6 Rare Historic Pieces on Offer at Design Miami/Basel 2018
On view from June 14–19 in Basel, these treasures prove that good design never goes out of style
Gaetano Pesce
Laffanour Downtown, Paris 
As part of this year's Design at Large section, which is curated by celebrated French photographer François Halard, Laffanour Downtown is presenting a striking set of furniture by the Italian design legend Gaetano Pesce. In 1994, Pesce was commissioned to mastermind the architecture and the interior for Dujardin children store on the Belgian coast. Featuring his signature passion for whimsical aesthetics with everyday functionality, the result was a vibrant imaginary world. On display, visitors will find the original shelves and cloakrooms from the store, an example of how Pesce's designs are as relevant today as they were 20 years ago. "We're thrilled to be presenting this important piece," Laffanour's director François Laffanour tells Galerie. "Gaetano Pesce is still very much at the forefront of the world's current events."
César
Demisch Danant, New York 
Dealers Suzanne Demisch and Stephane Danant are particularly talented at tracking down 20th-century French designers for their beloved gallery in Manhattan. For their booth at Design Miami/ this year, they are bringing their usual curious assortment, but what caught our eye most was this handsome table by the iconic French sculptor César. Part of the avant-garde Nouveau Réalisme movement of the 1960s (which also included the likes of Yves Klein, Arman and Niki de Saint Phalle), César's innovative artistic practice extended to furniture. On display is a bold, surrealistic table— created in 1977—that features a striking gold base that seems to melt into the ground. Interest in the artist has peaked recently thanks to a major retrospective at the Centre Pompidou last year.
Recommended: The Ultimate Art Insider's Guide to Basel, Switzerland
Jorge Zalszupin
Nilufar, Milan 
The selection of pieces presented by Nilufar spotlights gallery director Nina Yashar's long-term research and support for vintage Brazilian finds. The Polish-born Jorge Zalszupin, who moved to Brazil after World War II, created sensual, modern pieces and worked closely with architects such as Oscar Niemeyer. The stunning pair of crimson horsehair armchairs on display here embodies distinct features of the era, like rich jacaranda wood, skilled craftsmanship, and architectural forms. While Brazilian modernism is undoubtedly experiencing a renaissance, Zalszupin's work is less known than his contemporaries such as Sergio Rodrigues or Joaquim Tenreiro.
Jacques Adnet and Jacques Lenoble
Galerie Eric Philippe, Paris
Blending the very best of art and design, this distinctive table from French designer Jacques Adnet's 1940s collection was made in collaboration with ceramicist Jacques Lenoble, and it's on offer at Galerie Eric Philippe. The piece is crafted from solid oak with a top featuring Lenoble's beautiful polychromatic ceramic tiles. Both Adnet and Lenoble were masters in their field: Lenoble comes from a long line of ceramicists as the son of Emile Lenoble, and the grandson of the master potter Ernest Chaplet, while Adnet's experimental use of materials in striking combinations such as wood, glass, parchment, metal, and of course, leather, give his pieces a distinct voice in today's market.
Recommended: 8 Emerging Artists to Collect at Art Basel 2018
Jean Prouvé and Jacques André
Galerie Jacques Lacoste, Paris 
This rare low table, part of a garden furniture line developed in 1936–37 by Jean Prouvé and his architect friend Jacques André, is on offer at Galerie Jacques Lacoste. The Vitra Museum in Germany has an armchair of the same model, which is currently on loan to the Centre Pompidou. This set, which includes a pair of armchairs, two stools, and two tables, was presented at the Exposition Internationale des Arts et Techniques at the Pavillon UAM exhibition in 1937.
Studio BBPR
Gate 5 Gallery, Monaco 
The erstwhile Studio BBPR was founded in Milan in 1932 by Gian Luigi Banfi, Lodovico Barbiano di Belgiojoso, Enrico Peressutti, and Ernesto Nathan Rogers. Beginning with their first architectural creations, the radical group adopted and developed, together with the architects of Gruppo 7, the burgeoning Italian rationalist style—one of Italy's best design periods—characterized by its clean geometric lines and the use of industrial materials. Here, Gate 5 Gallery presents a spectacular aluminum-and-glass chandelier from 1962 that would make a dramatic statement in any lobby.
Next Post