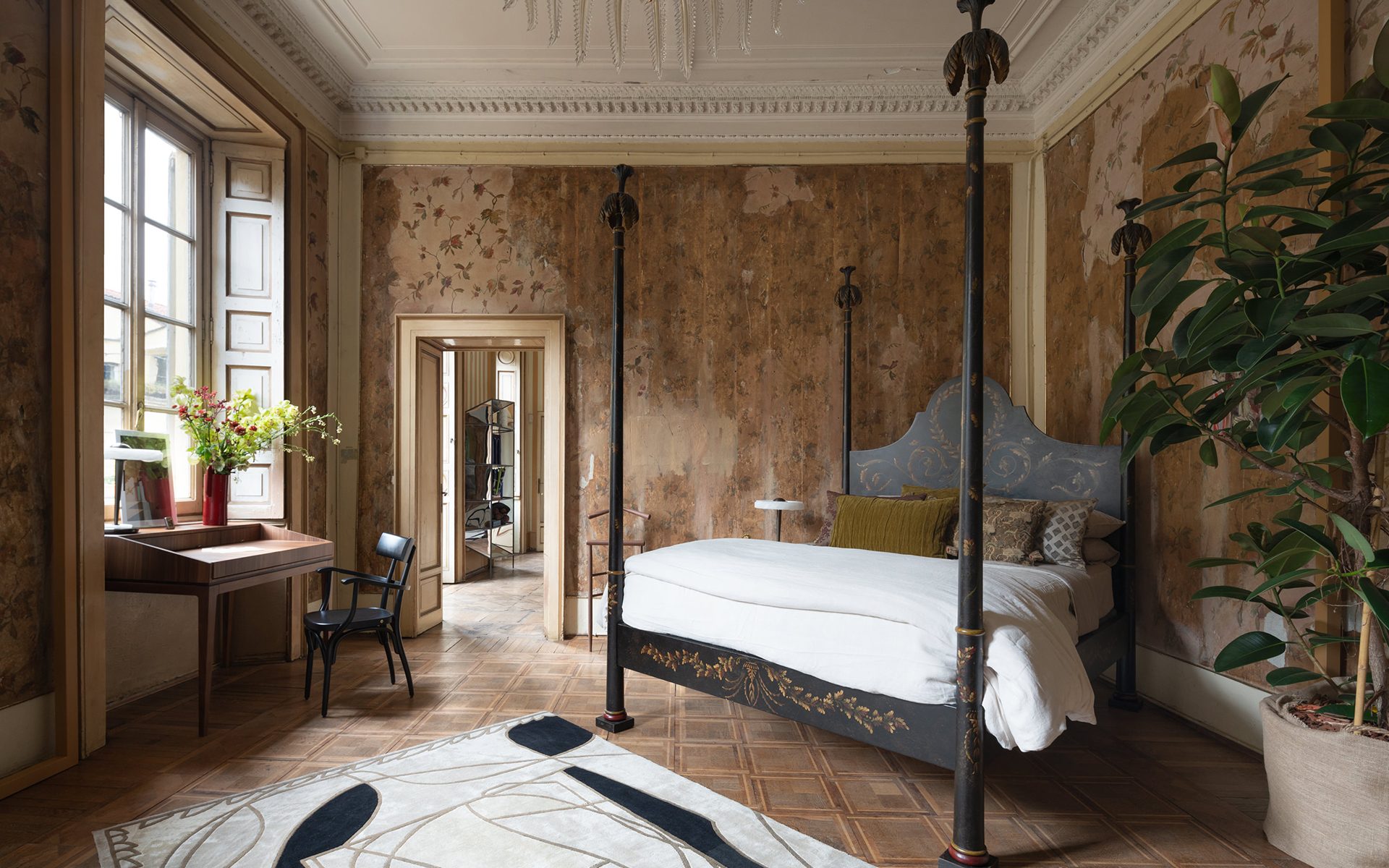 Highlights from Salone del Mobile and Milan Design Week
Themes highlighting water, poetic lighting, artful collaborations, and ceramics vied for attention
The numbers from the 61st edition are staggering. From the exhaustive itinerary of exhibitions, to product launches, dinners, and extremely long lines, Salone del Mobile and Milan Design Week returned to a pre-pandemic party atmosphere. This year's furniture fair included Euroluce, the biennial international lighting exhibition from April 18 to 23, and brought together almost 2,000 exhibitors and more than 300,000 attendees from 181 countries.
A festive spirit prevailed at Fuorisalone events, but behind the hullabaloo there were quiet spaces offering thoughtful work too. Serious design was camouflaged by super-sized, Instagram-worthy installations from global fashion brands such as Dior and Louis Vuitton, attracting hundreds of visitors willing to stand in queues. Hidden by walled courtyards and gates treasures were revealed, transcending mass appeal. Themes highlighting water, poetic lighting, artful collaborations, ceramics, and outdoor style vied for attention.
Here are a few highlights that caught our eye.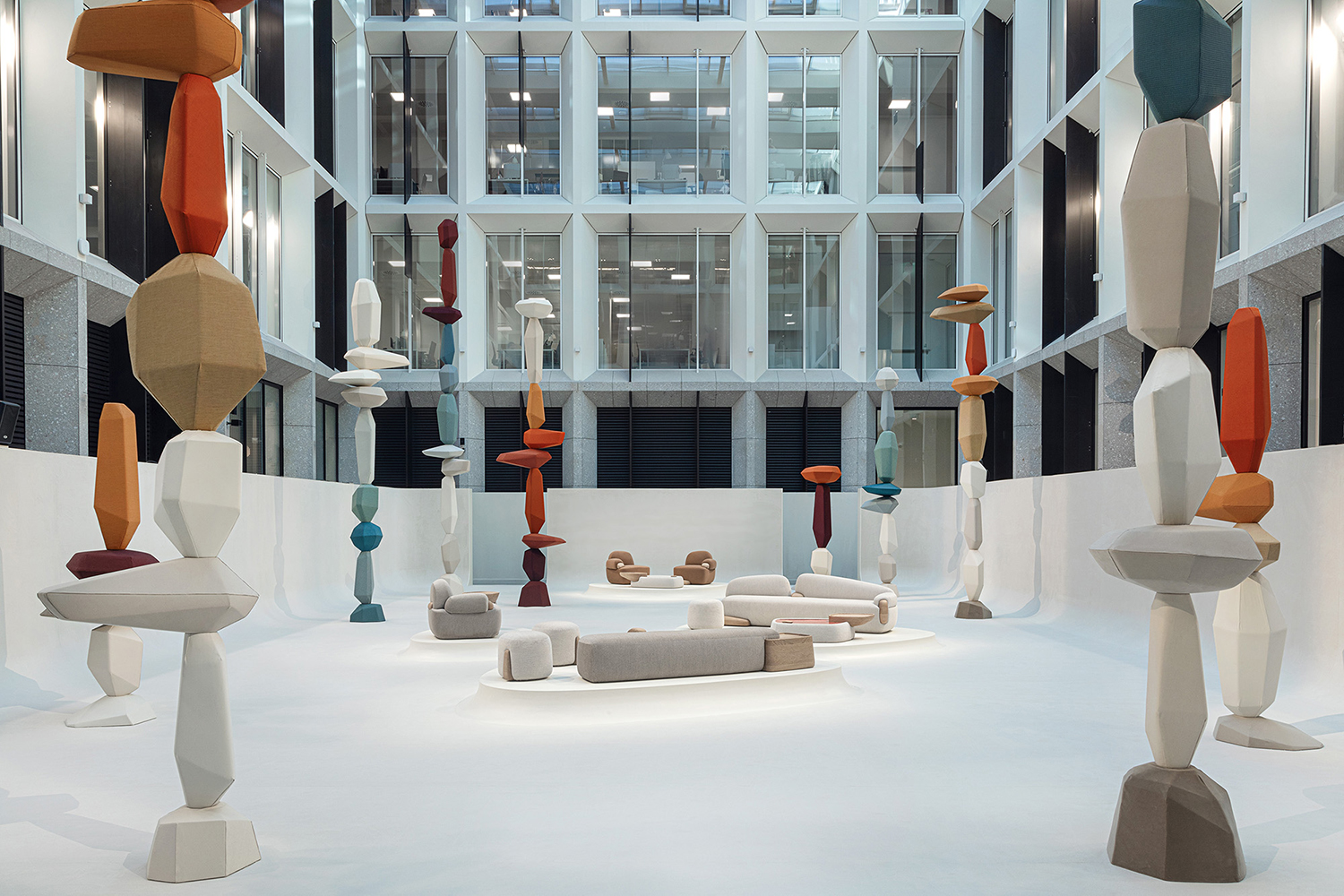 Artful Collaborations
Fine art commingled with design, luring like-minded creatives, architects, designers, retailers, and press into showrooms. New York artist Daniel Ashram partnered with Japanese designer Nendo with Break to Make prototypes of furniture that with a hammer could literally be chipped away. At Loro Piana, Argentinian artist Cristián Mohaded's totems "apacheta," made from the company's discarded fabric scraps, were juxtaposed with his new sofas, stools, bench, and tables. Nilufar Depot presented an exhibition of the Athens-based duo Objects of Common Interest's iridescent resin forms, which coincided with a dinner co-hosted by Florentine lifestyle brand Loretta Caponi and Italian artist Federica Perazzoli, celebrating their collaboration of a new linen tabletop collection. Portuguese artist Joana Vasconcelos's playful Bombom collection of multi-striped sofas at the Roche Bobois stand emphasized her artful musings now geared for outdoor escapes.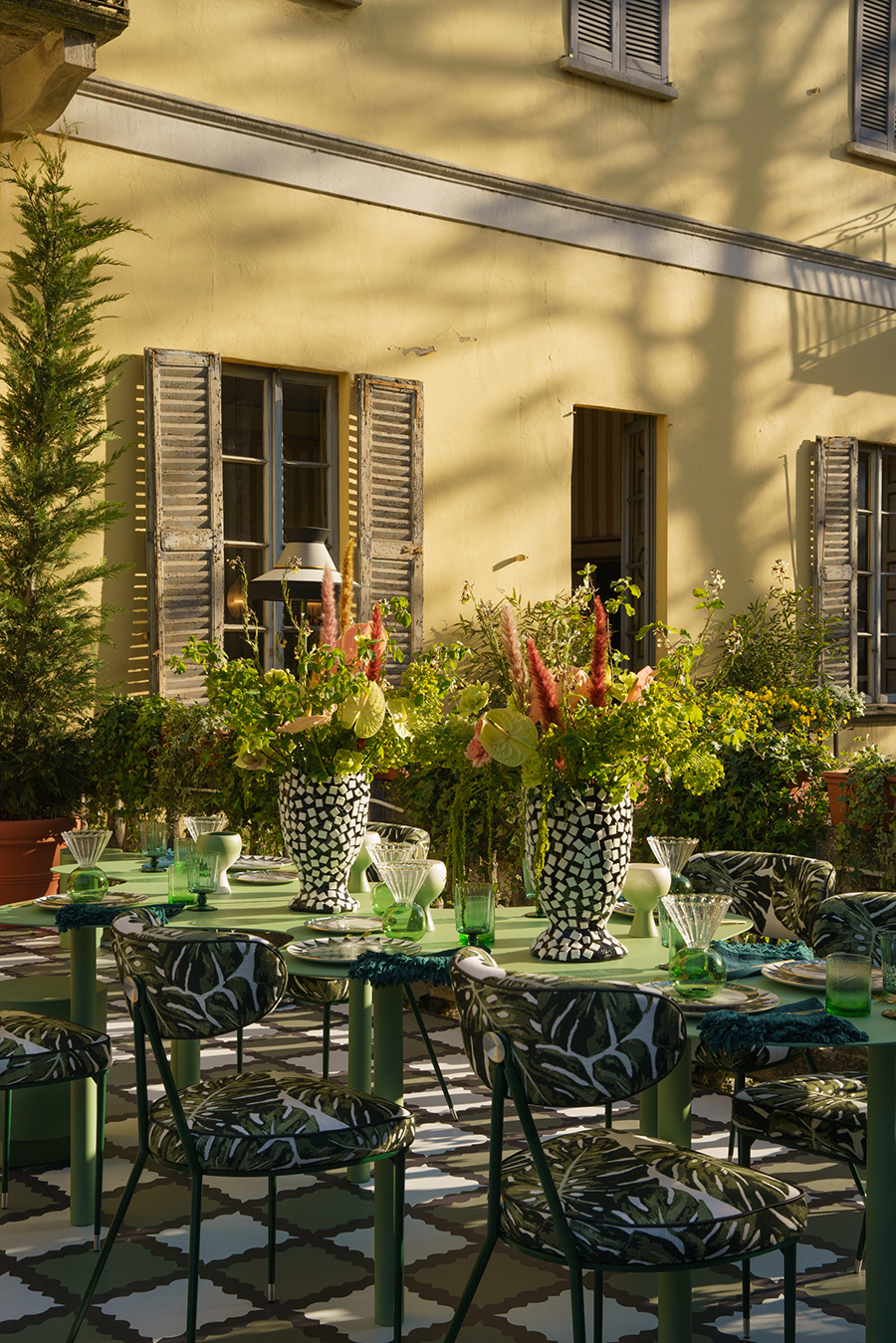 Inside Out
Many manufacturers created home furnishings now manufactured for outside including Poliform with their Perceptions Collection of sofas, chairs, and tables by Jean-Marie Massaud, Emmanuel Gallina, Marcel Wanders, and Soo Chan installed at the Cloisters of San Simpliciano. Missoni's Living Inside-Out was geared to a dual lifestyle. Online retailer Artemest presented six designers showcasing their artisan products in a 1930s house dubbed L' Appartamento, including Moniomi Design's terrace, which fused Miami with Milan chic. Italian designer Paola Lenti is the defacto leader in the expanding category and debuted a new flagship encompassing a gallery, spa, restaurant, and hotel, with some spaces opening end of this year. Notably, Lenti's Linea lounge, designed with Francesco Rota, is celebrating 25 years with a new iteration called Wave, manufactured from a version of Twiggy, Lenti's signature waterproof, high-tech yarn. "Bringing the indoors out continues to blur boundaries," interior designer Jennifer Cohler Mason said, stressing the trend.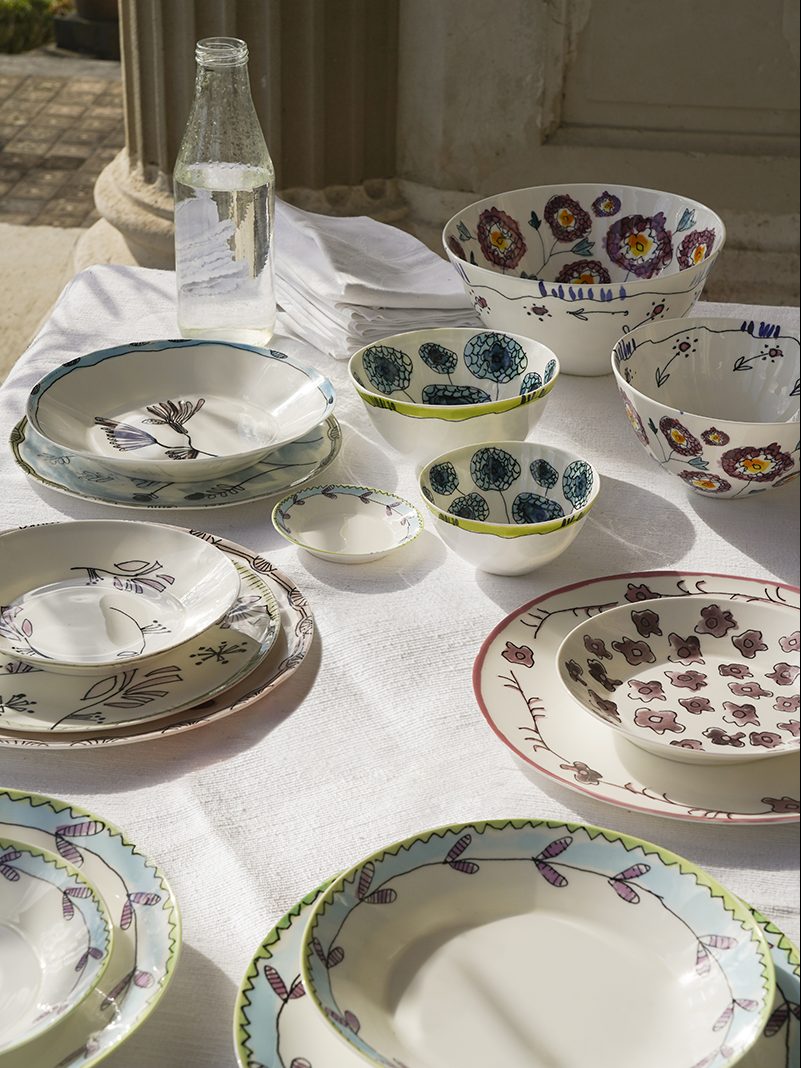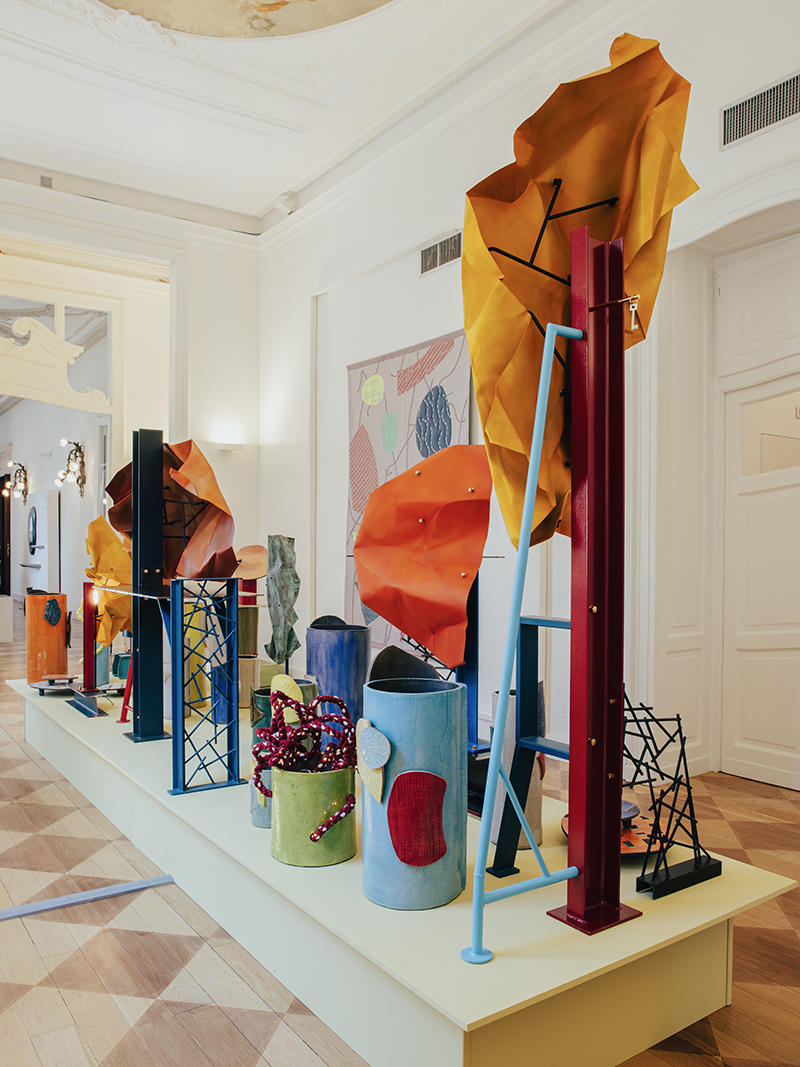 Fashion Plates
Porcelain and ceramics were center stage at the Masterly Dutch exhibition at Palazzo Giureconsulti, which featured Netherland design couple Kiki van Eijk and Joost van Bleiswijk's installation, A Forest of Collision and Raku. Curated by Spazio Nobile, the installation highlighted van Eijk's pottery pieces, which are based on an ancient Japanese low-fire technique. Sicilian-based artist Lola Montes Schnabel exhibited her hand-crafted ceramics for the home including tables, stools, wall panels, and candlesticks at Nilufar Depot. "Lola's ceramics capture color, joy, optimism and a world that is half fantasy," said interior designer Fawn Galli about the playful pieces made of clay. Armani/Casa showed handmade ceramics Tisbe candlesticks inspired by vegetation from the Mediterranean landscape. In a small courtyard studio in the 5-Vie neighborhood, Laboratorio Paravicini presented Samarcanda, hand-painted dishes made in the workshop that captured the spirit of the middle east. Fashion label Marni partnered with Belgian company Serax to unveil Midnight Flowers, a 120-piece collection of hand-painted porcelain plates, dishes, cups, saucers, and teapots envisioned by Francesco Risso, Marni's Creative Director.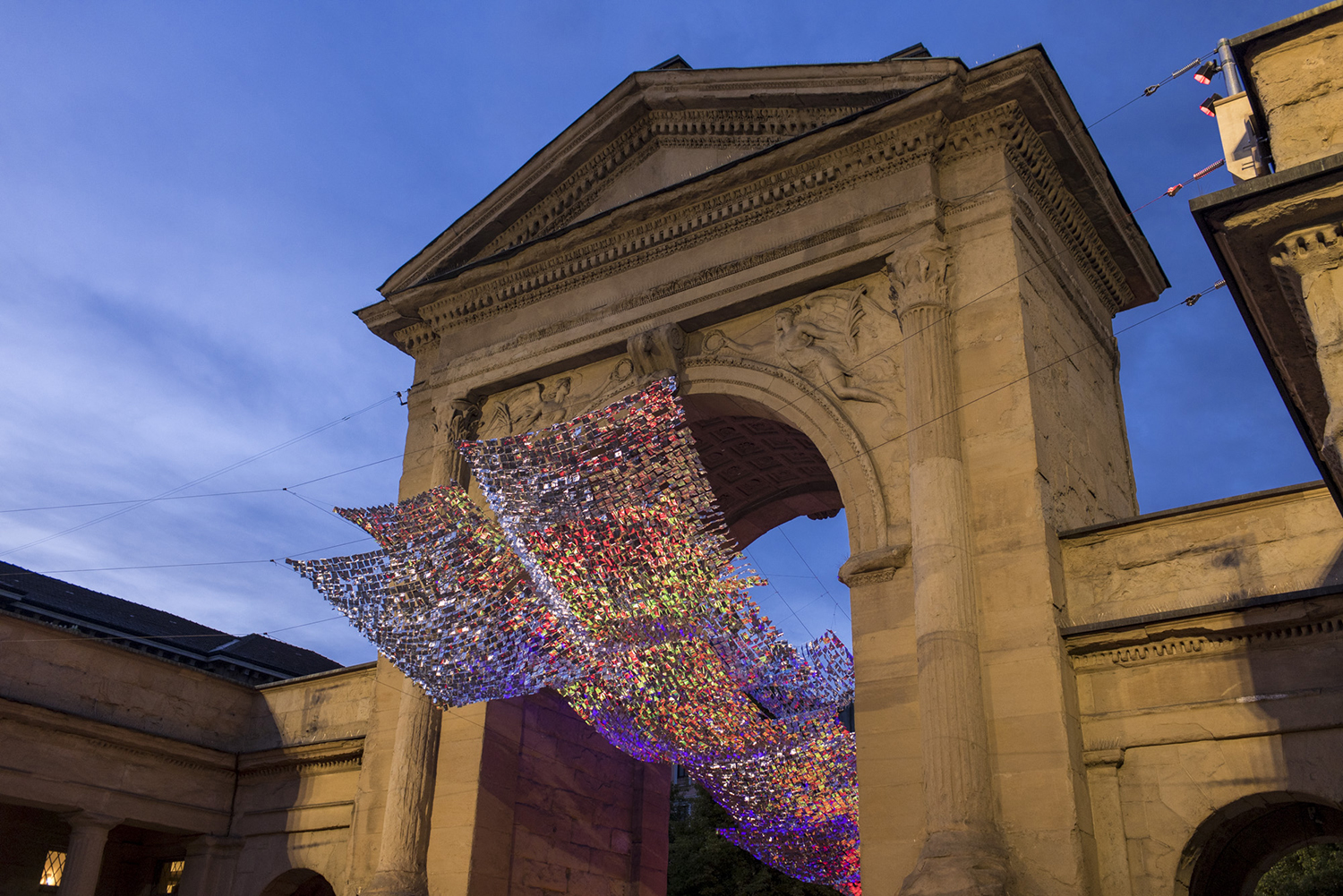 Poetic Lights
Light transcends space, as did German designer Ingo Mauer, who was memorialized with reflective panels installed under the arch in Porto Nuovo, a reminder of the gentle genius we lost after the 2019 Euroluce. This year's reformatted light fair also included presentations at Milan Design Week and Fuorisalone in town. Stacked glass cubes by Antwerp artist Linda Freya Tangeldner were seen at Cassina, where several versions of the artist's Wax, Stone Lights were installed alongside Tobia Scarpa's Eitie, originally designed for a wall for the former Cà Scarpa Church of Santa Maria Nova in Treviso. The streamlined tubular light is now offered in various configurations to form a pendant, table, and floor lamp. New York designer Lindsey Adelman presented her new collection of lighting LeLab at Alcova, a scrappy exhibition of independent design, while German designer Bodo Sperlein co-curated Illuminata, a multi-brand installation in the Chiesa Cristiana Protestante showcasing his new lights.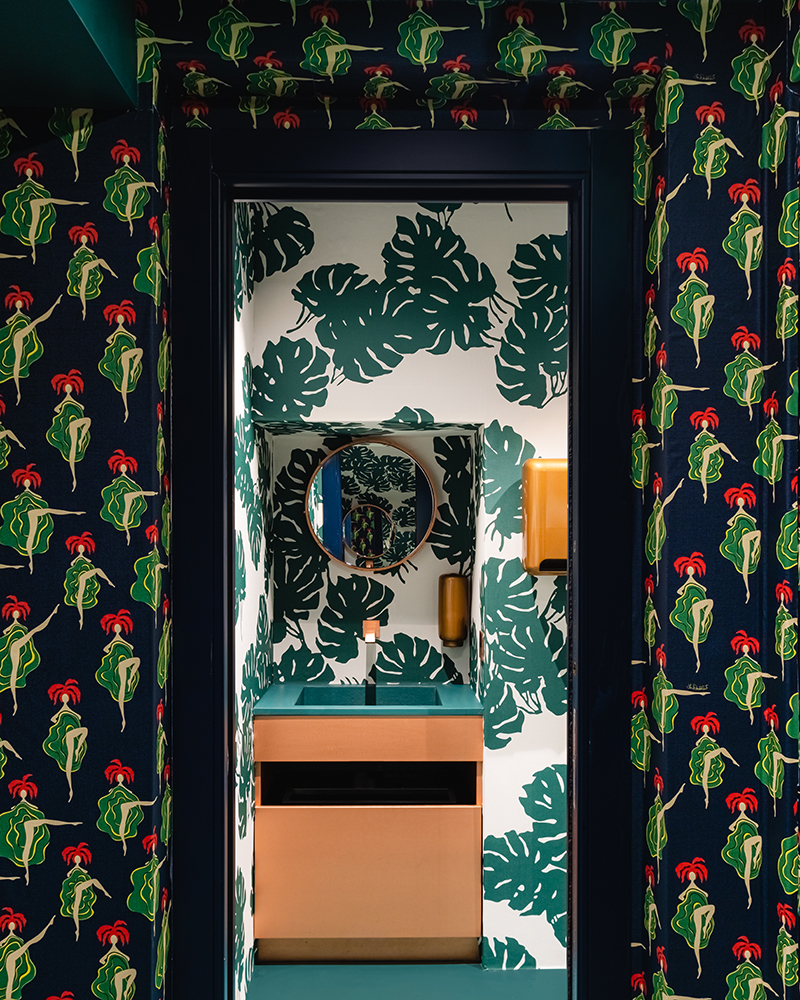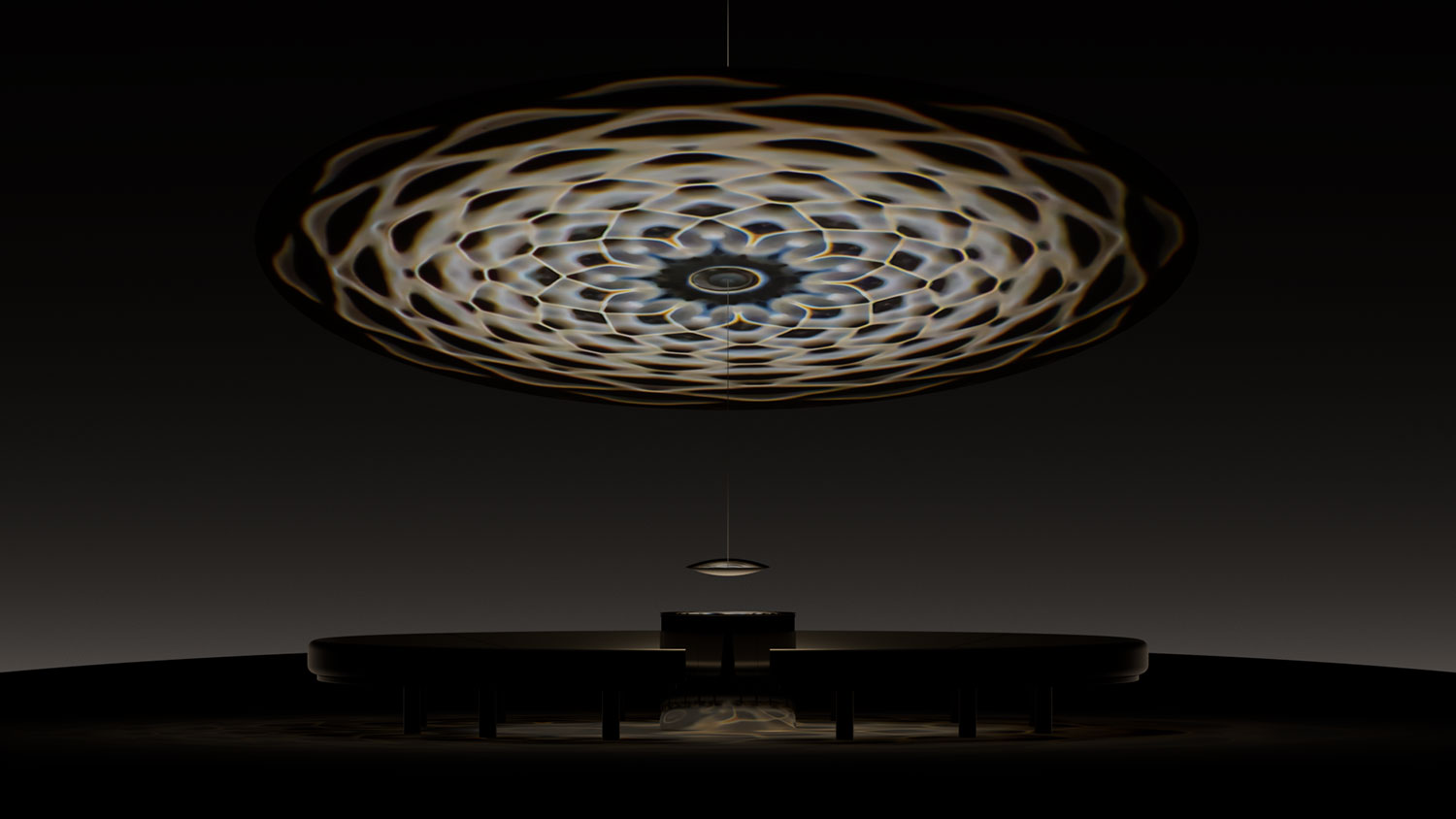 Under Water
A torrential mid-week downpour underscored the fluid element, climate change, and an occurring motif. Bath brand Kohler presented artist Janet Echelman's hanging sculpture over a pool, while fellow American JJ Martin launched her new La Double J wallpaper collection installed in bathrooms around the city, including chic boîtes such as Giacomo Bistrot. In the courtyard of the Pinacoteca di Brera, a relaunch of Grohe Spa incorporated a mirrored reflecting pool created by Lixil Global Design, the German brand's in-house team. "I think the most exciting thing I have learned is that water has memory. Water remembers the energy that is brought to it, and can hold that energy for long periods of time," said Los Angeles artist Lachlan Turczan about his mesmerizing and immersive Shaped By Water installation for Google. Turczan's was a much needed place for visitors to relax, meditate and contemplate the gurgling fountains and sensor manipulated ripples, synced with music in the round. All this reflection made for an inspiring week.
Next Post