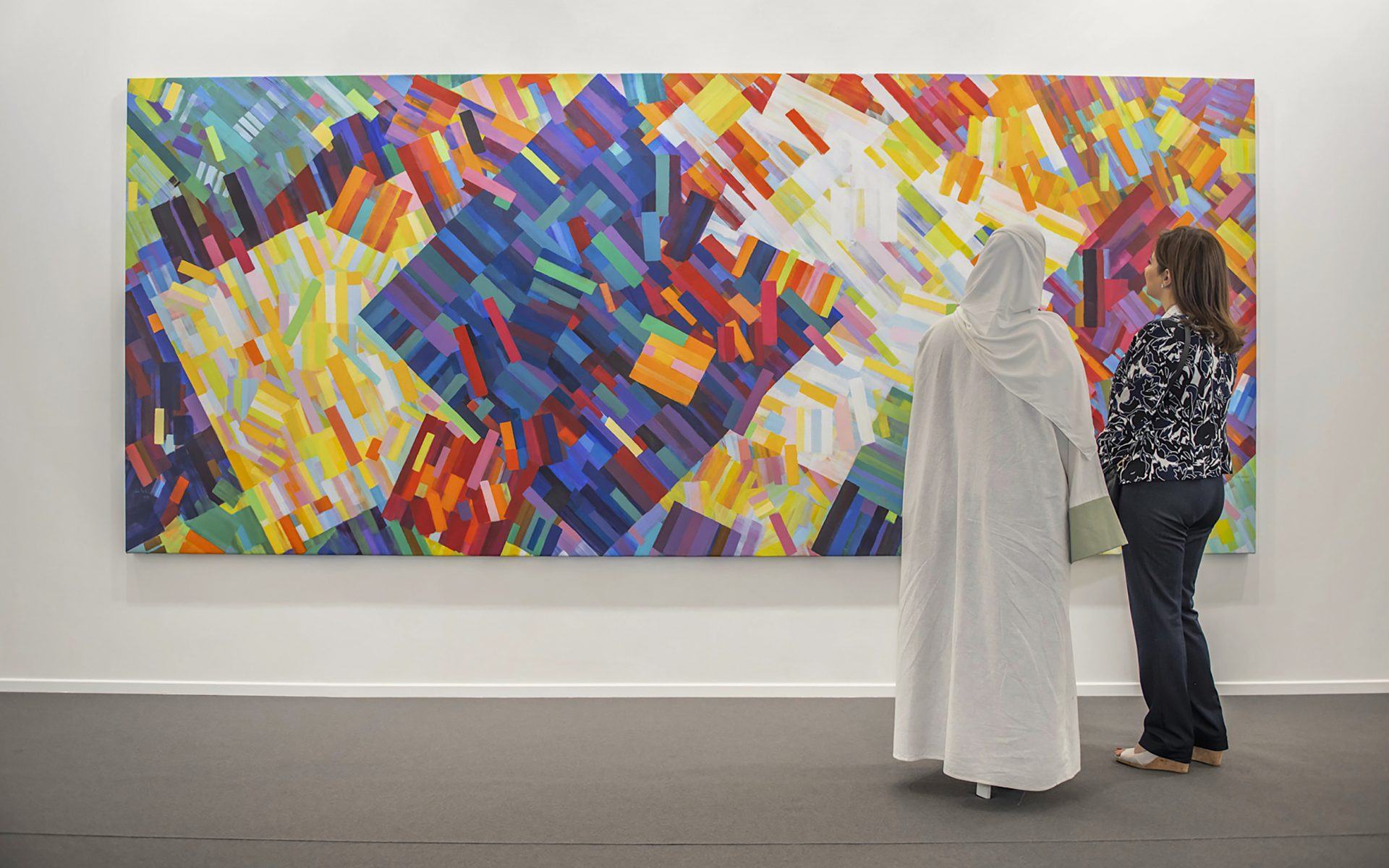 Highlights from Art Dubai 2019
Featuring 92 galleries from 42 countries, the fair presented its most extensive and internationally diverse program to date
Now in its 13th year, Art Dubai returned to the Arabian resort Madinat Jumeirah with the fair's most extensive and internationally diverse program to date. Featuring 92 galleries from 42 countries that are exhibiting works by more than 500 artists who represent 80 nationalities, the fair—which runs through March 23—offers a wide array of creative styles and concerns.
"Art Dubai is an international fair, but one that focuses on regional attributes and experiences," International Director Chloe Vaitsou, who previously worked for Frieze Fairs, shared with Galerie on opening day. "We have our blue-chip exhibitors, but it's really about discovery. You'll see things that you wouldn't find at the bigger fairs around the world."
The sector titled Bawwaba, which is Arabic for gateway, focuses on solo shows about immigration, identity and socioeconomics by artists or galleries from the Global South, while the Residents sector—in its second year—offers one-person exhibitions by Latin American artists who were invited to spend up to eight weeks making work to be exhibited at the fair in select studios in Dubai. Local galleries—including Ayyam and Lawrie Shabibi—also have strong fair presentations, as well as new exhibitions that just opened at their expansive Alserkal Avenue spaces.
International collectors packed the VIP preview—spilling out into a lavish dinner on the resort's Fort Island—and the fair organizers flew in curators and museum directors from the Tate, MoMA, Guggenheim, LACMA, Pompidou Center, M Woods and various other institutions to discover modern and contemporary art from faraway parts of the world.
Recommended: Highlights from the 14th Sharjah Biennial
India-born, Dubai-based collector Smita Prabhakar, who launched the Ishara Art Foundation at Alserkal Avenue with a survey of works by Zarina paired with Shilpa Gupta earlier in the week, told Galerie, "I've been involved with the fair since its beginning and always find new things that interest me. It's particularly strong in the presentation of works by artists from the Middle East and South Asia."
Best of Bawwaba
Turkish artist Gödze İlkin repurposes secondhand and inherited domestic fabrics like tablecloths, curtains and bedspreads in her stitched, painted and collaged wall hangings at Gypsum Gallery from Cairo. Metaphors for migration, the fabric constructions depict distressed characters with tuberous heads—referencing uprooted plant life and a spreading human cancer—moving through imaginary landscapes and spatial voids.
Nearby, Mumbai's Jhaveri Contemporary is displaying paintings and a sculpture from Pakistani-British artist Shezad Dawood's Encroachments project, which comments on the infiltration of American ideologies into urban Pakistani society during the Cold War. Consistent with Dawood's works commissioned for the newly opened Sharjah Biennial 14, his layered silkscreen, paint and collaged paintings feature such influences as denim and video games, while his vibrant model of the former United States embassy in Karachi, designed by modernist architect Richard Neutra, is customized with the colorful sprays of graffiti culture.
Residents Favorites
Brazilian artist Flora Rebollo drew upon the dynamic cultural mix of Dubai in the works she's presenting at Sao Paulo's Galeria Pilar. Her paintings on canvas and paper capture the nature of the place with images of camels and stars caught in the flashy colors of advertisements and urban lights and her disco-ball-inspired, sculptural motorcycle helmet conjures a late-night ride through the desert under a moonlit sky.
Cuban painter Luis Enrique López-Chávez also did his research before setting up studio in the city. Two of his paintings at Havana's Galeria Servando were poetically painted on oriental rugs, creating silhouette images of figures and words that maintain their floral patterning, while his abstract canvases of tile-like motives used trompe l'oeil effects to portray shafts of harsh desert light sublimely crossing their picture planes.
Local Picks
A Palestinian artist living in New York, Samia Halaby showed off her latest canvases composed with abstract forms, which she has been inventively exploring for the past 60 years, in a striking solo presentation at Ayyam Gallery. The largest painting on view, titled Simultaneous Depth, is representative of her style of layering geometric shapes that repeat and reverberate to keep the eye in continuous motion, while illuminating Halaby's abstract vision of traversing an urban landscape that she boldly inhabits.
Recommended: 10 Fantastic Finds from Jewelry to Painting at TEFAF Maastricht 2019
Lawrie Shabibi paired two generations of Arab artists exploring materiality in art— Mohamed Ahmed Ibrahim, who recently had a 30-year survey at the Sharjah Art Foundation, and Shaikha Al Mazrou, who won the Artist's Garden commission at the Jameel Art Center in 2018. Ibrahim's painting of a seated man colorfully captures legendary United Arab Emirates artist Hassan Sharif in repose and his crafty sculptures whimsically transform found objects with papier-mâché and paint, while Al Mazrou's painted metal wall sculptures play with conceptual art ideas of abstraction, repetition and illusion.
One to Watch
Kuwait-born Hamra Abbas, who grew up in Pakistan, draws inspiration from the 17th-century fresco paintings of Lahore and the contemporary wall-works of Sol LeWitt to represent fictional gardens and waterfalls in her inlayed marble sculptures at Karachi's Canvas Gallery, which is also participating in the Bawwaba section of the fair. Her Gardens of Paradise series portrays realistic renderings of lush flowers and plants from Mughal gardens, while her Waterfalls works interpret the serenity of the falls in abstract patterns.
Constructed entirely by hand, Abbas' art revives the inlay technique of using cut and fitted, highly polished colored stones to create images. It's known as "parchinkari" in India, where it was famously employed in the making of the Taj Mahal, and pietra dura in Italy, where it dates back to Roman times. Working with 17 chosen colors—ranging from black to white—Abbas makes the ancient technique vital again, creating dreamlike imagery that speaks to the moment while connecting us to the past.
Art Dubai runs through March 23.
Next Post