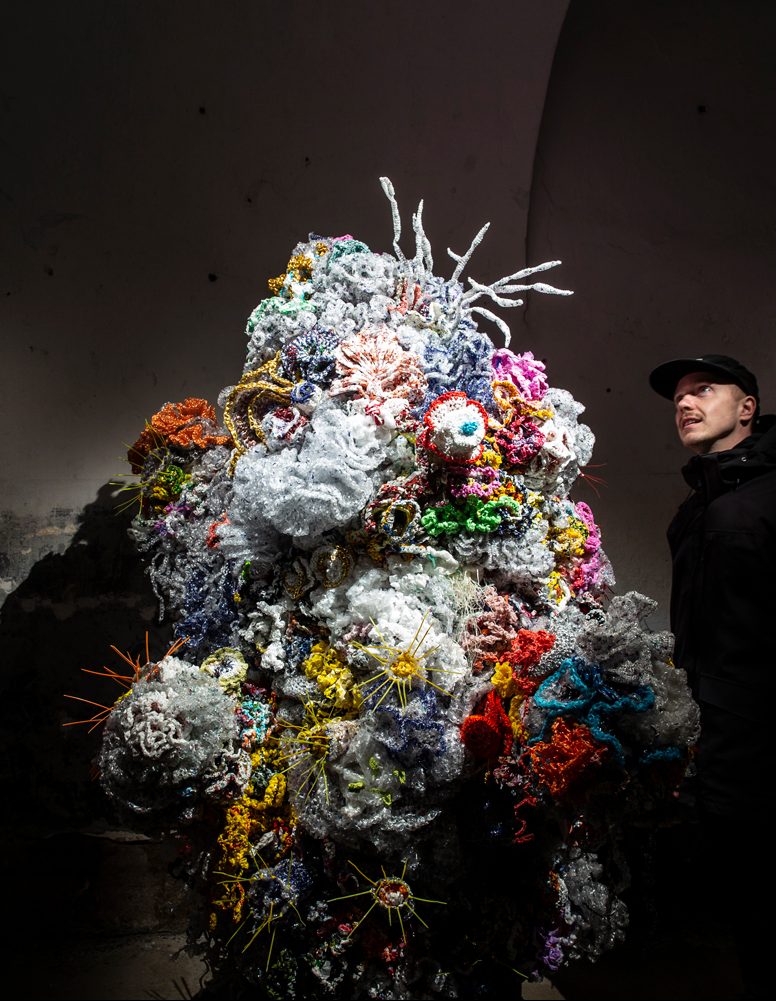 The verdant Baltic Sea island of Vallisaari rests within an archipelago just 15 minutes by ferry from the Finnish capital of Helsinki. But its juxtaposition of disused military architecture and bucolic landscapes might prompt thoughts of time travel. Sixteenth-century sailors docked and drank from its ponds; 200 years later, its inhabitants preferred alcohol, distilled and dispensed from a rustic tavern. Under Russian occupation, the island became the crucial military Alexander battery, built up with shelters and storehouses, which an independent Finland first developed into concrete and brick barracks during World War II. Closed to the public until 2016, Vallisaari has now transformed itself again, becoming a canvas utilized by a set of global artists for the inaugural Helsinki Biennial.
Although hardly a blank one. "The seasonal cycle of vegetation changes the landscape a lot, and the surrounding sea is different every day," says Helsinki Art Museum's head of public art, Taru Tappola, who curated the biennial with Pirkko Siitari. The reliable surprise of the natural world prompted the show's theme, The Same Sea, which Tappola says explores "our interconnectedness and mutual dependence, despite our differences."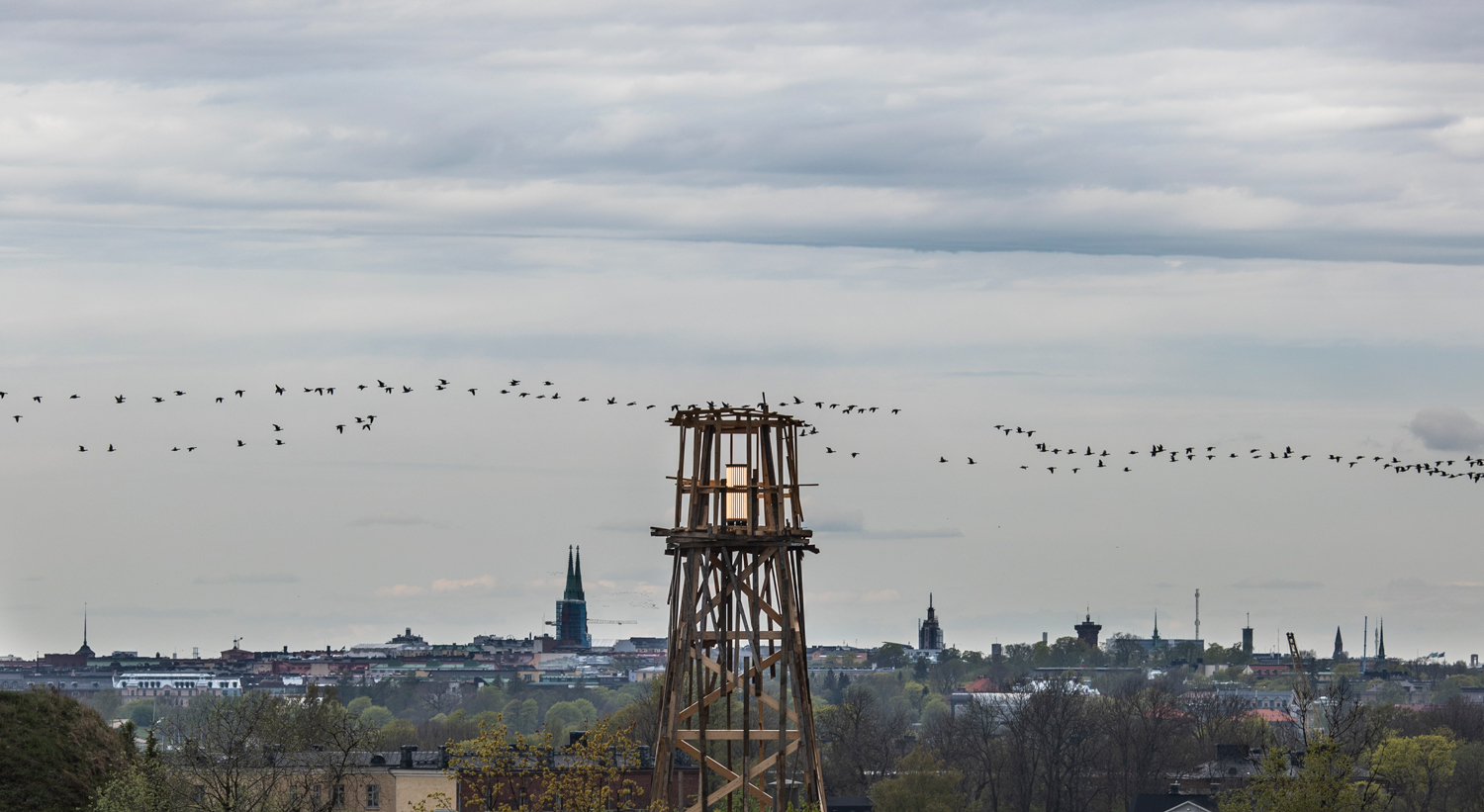 Some 75 percent of more than 40 artists' work is new commissions, and the curators sited about a third of it in the open air. Tadashi Kawamata harvested lumber and waste from the island to assemble Vallisaari Lighthouse, 2021, which rises from a deep elevator shaft and subterranean network of gunpowder cellars to serve as a provisional landmark for approaching visitors. Finnish artist Jaakko Niemelä greets them with a warning: for his Quay 6, 2021, scaffolding rises the same height as the Baltic might if Greenland's northern ice sheet melts, and it terminates at a wooden platform painted emergency red.
On dry land, Samir Bhowmik leads expeditions in a project called Lost Islands, 2021. "Participants follow—and form—an imaginary pipeline," says Tappola, running through various performances and multi-media installations to delineate how "the exploitation of natural resources is paralleled with the exploitation of the global south, and Black and brown people." There are vignettes of provocative beauty, as well, including Katharina Grosse's Shutter Splinter, 2021, for which the German artist swathed the exterior of a contaminated schoolhouse in vivid pigments that will leave ghostly traces in the surrounding vegetation when the schoolhouse is demolished this fall.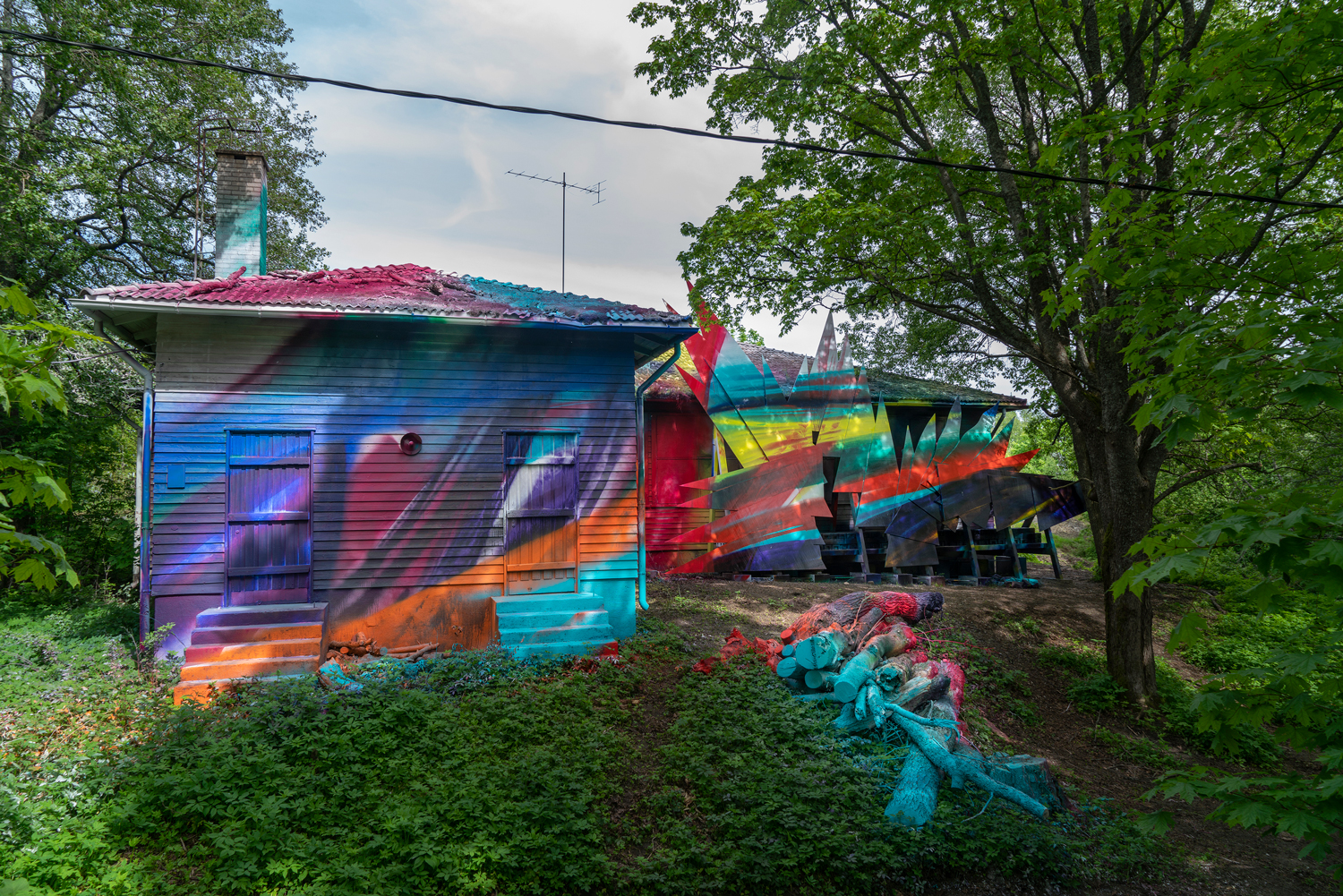 A different kind of eerie presence haunts Hanna Tuulikki's video installation Under Forest Cover, 2021: in a gunpowder cellar, within a thicket of silver birch, Tuulikki's vocal improvisations of traditional cow calling songs summon the fabled Finnish liminal space called metsänpeitto. Nearby, Kenyan filmmaker Wanuri Kahiu—whose is currently suing the Kenyan government over its banning of her same-sex love story Rafiki, the first Kenyan film shown at Cannes—shows her 2009 Afro-futuristic short Pumzi, which takes place a generation after a global water war. "It offers a fresh, non-victimized portrayal of African people, and a glimpse of hope despite its dystopic story," Tappola says.
Displacement and the memories it leaves behind created They Walked on Water, 2018, housed within an abandoned residence to which 19th-century pilots and their families were forcibly relocated, and then removed, and in which military personnel and their families lived until the island was entirely abandoned in the 1990s. For the installation, photographer Uwa Iduozee made portraits of people who immigrated to Finland in the 20th century from the United States, the United Kingdom, Somalia, Sudan, Ethiopia, and Nigeria; the writer Maryan Abdulkarim interviewed them for the accompanying wall texts. "The history of the space, and of predominantly-white Finland as a whole, resonates interestingly with the images of Black and brown people," Tappola says, "who are still sometimes (and by some) thought to be 'from somewhere else.'"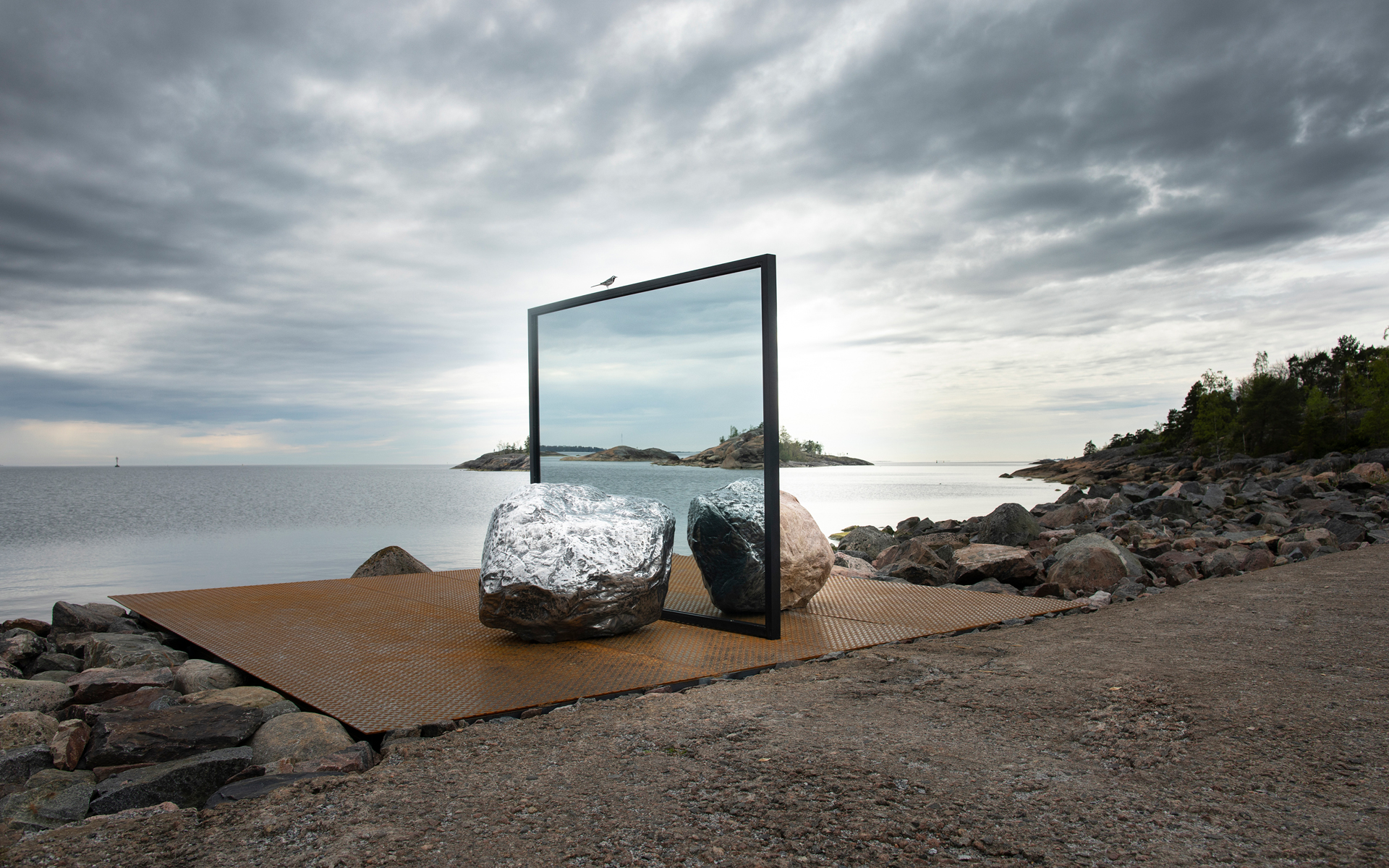 The issue of belonging to one place or another resonates in Alicja Kwade's Big Be-Hide, 2019, a melancholic installation juxtaposing a boulder and its double, made of metal, separated by a mirrored steel sheet. "She chose the site, a land bridge connecting Vallisaari to a neighboring island," Tappola says. "It's a border between the open, rough sea on one side and a protected harbor on the other, playing on identicalness and difference. It was very demanding to install, but the site is striking!" And wonderfully reflects the Biennial's maritime metaphor.
The biennial runs through September and extends to the nearby UNESCO World Heritage Site Suomenlinna island, as well as throughout mainland Helsinki. The city's beloved Kaivopuisto park offers a hilltop for Niskanen & Salo's A Scene, 2021, for which the pair planted blinking lights around Vallisaari's coast. "Each light has been assigned a note, and when the lights blink in their own rhythm," Tappola says. "They play a meditative music which changes slowly during the day." It's the ideal place to stop and contemplate what Vallisaari might turn into next.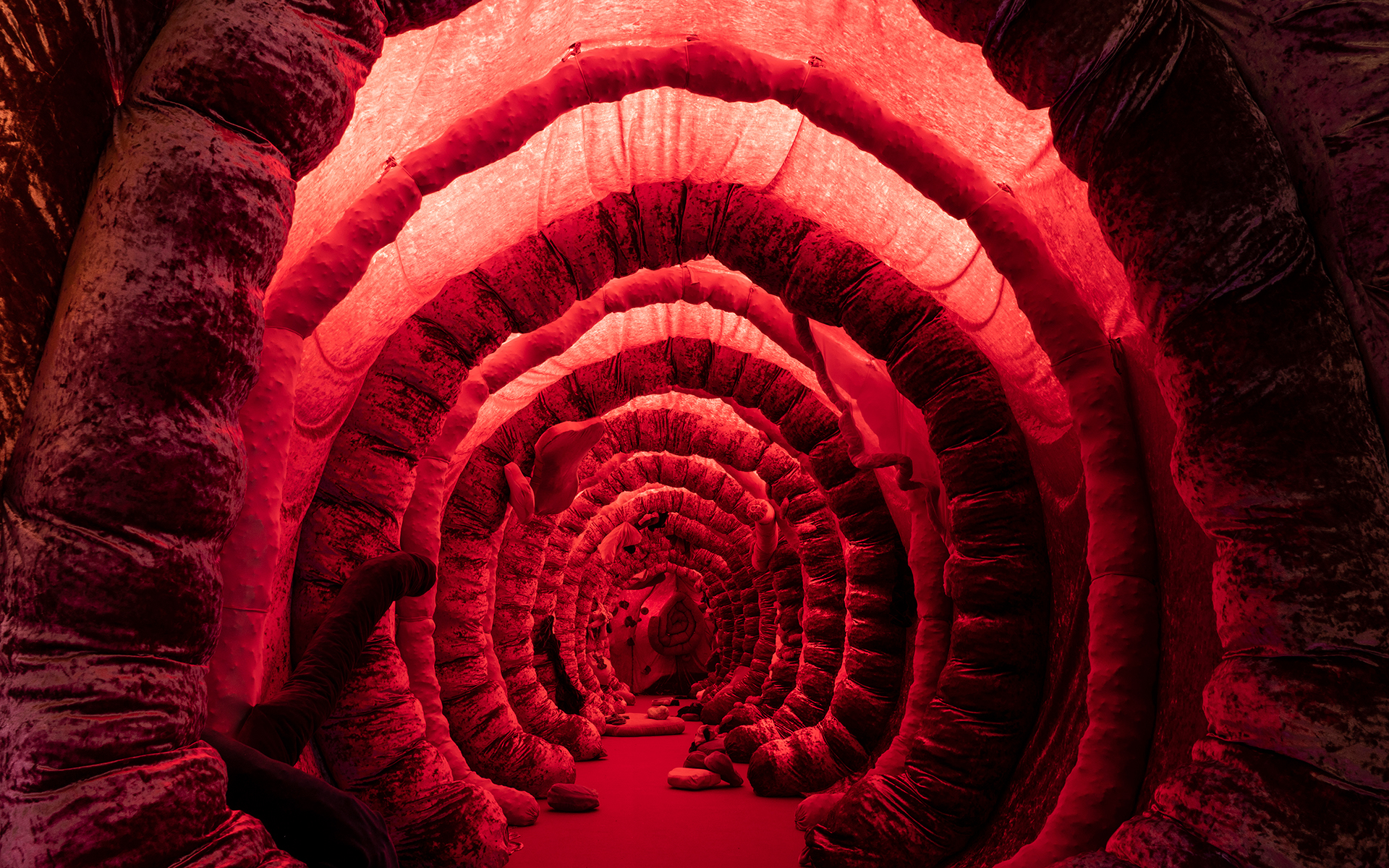 Next Post