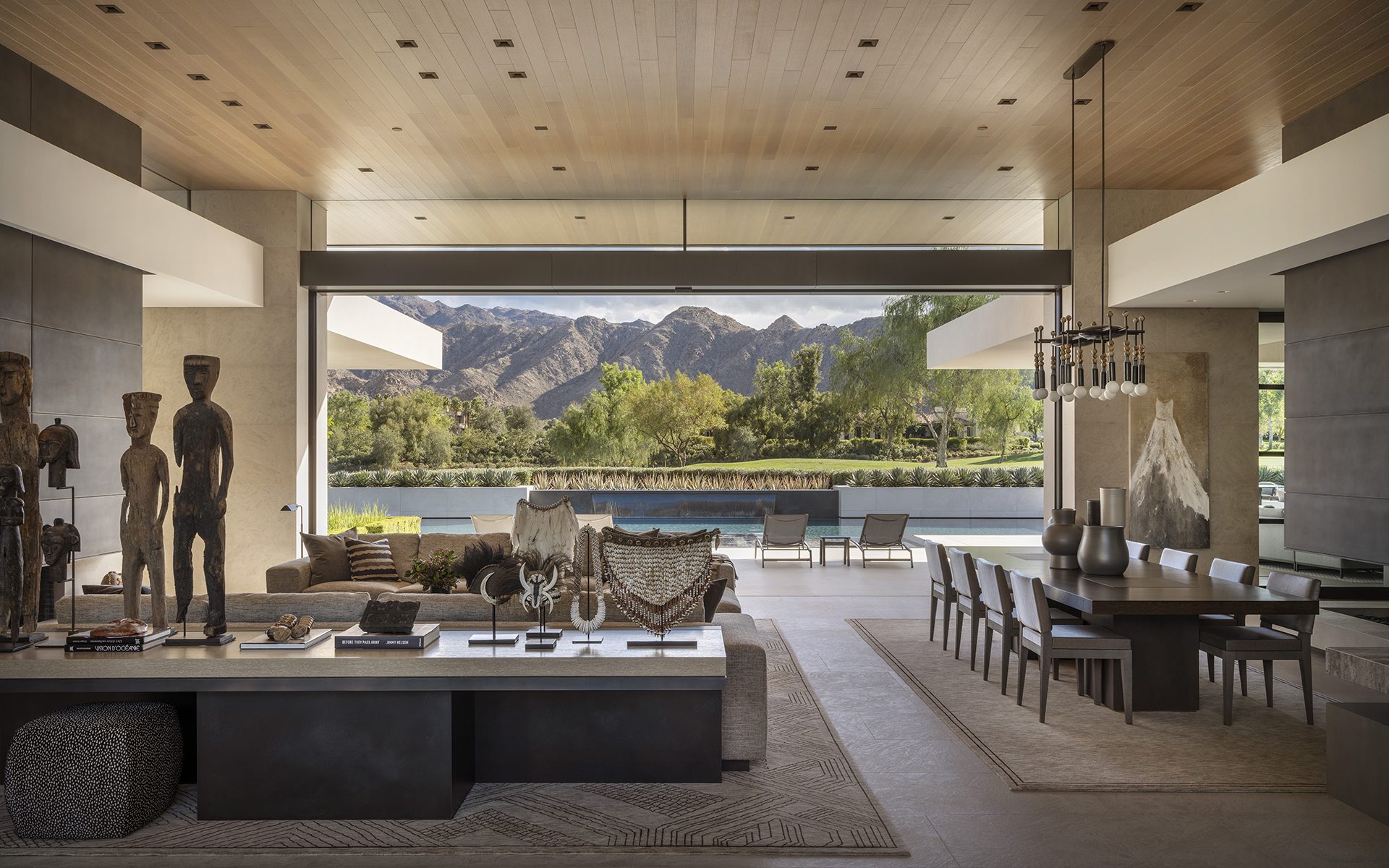 This Airy California Residence Brings Together a Powerful Collection of Art and Artifacts
Interior design studio Lucas teamed up with architect William Hayer to create an ultramodern residence filled with bespoke furnishings
When an international couple with residences in Manhattan and the Hamptons decided to relocate to the California desert, the wife came with a fully formed vision of the dream home she wanted to build. Working with William Hayer of Hayer Architecture and Seattle interior design studio Lucas, helmed by siblings David, Suzie, and Rachel Lucas, the goal was to create an open, airy space that would take advantage of the breathtaking scenery as well as offer unique opportunities to display the homeowners' extensive collection of African sculpture, artifacts, and objets, much of it acquired from galleries throughout France.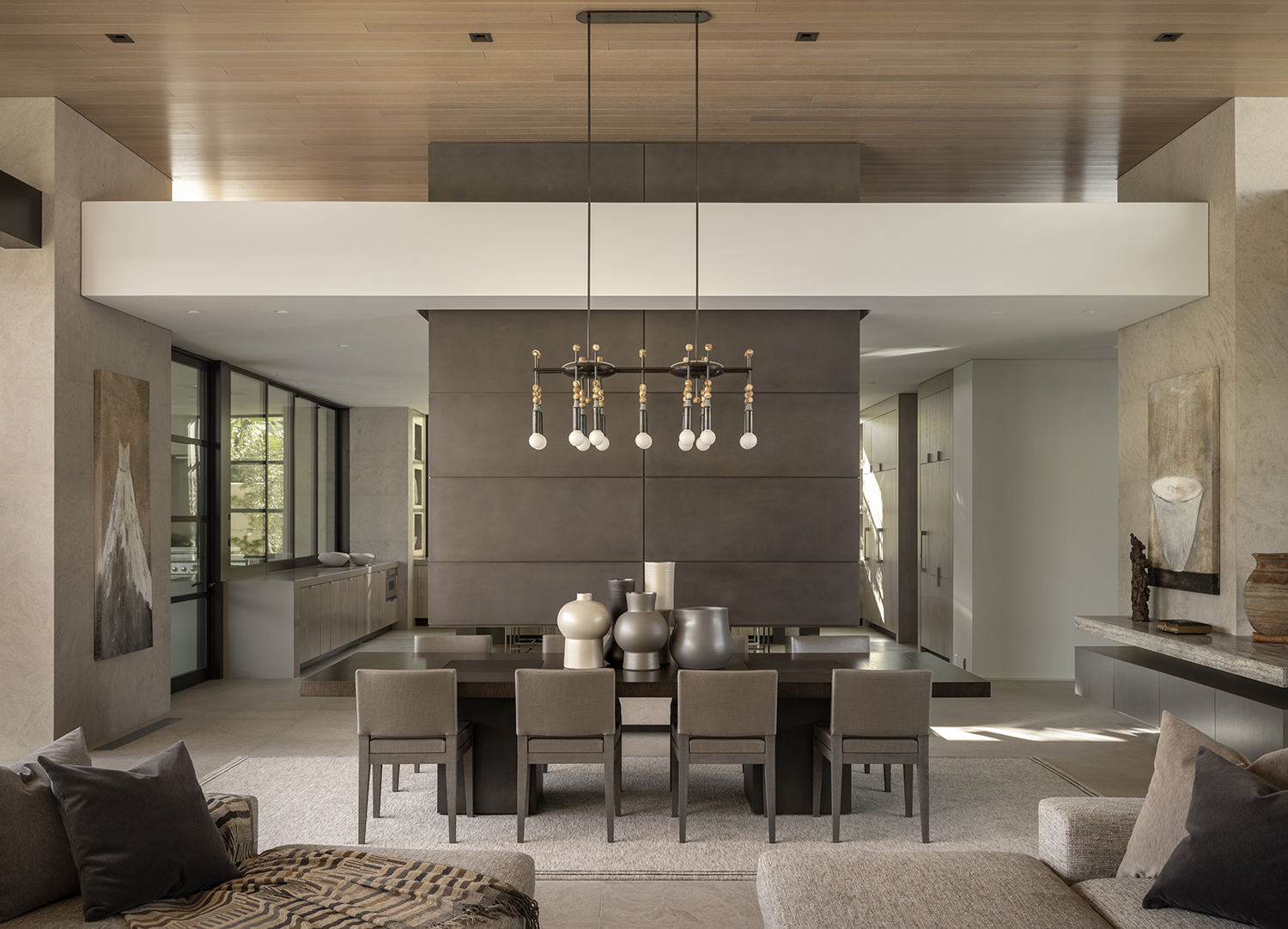 "Right off the bat, we knew they wanted super clean, contemporary architecture and a very monotone palette," says Suzie of the 13,500-square-foot structure that's entered through oversized shou sugi ban and steel doors. "Everything in this house is one tone, and that was important to them because she wanted that as the background for this collection that she was bringing from New York."
"The vision was so clear it wasn't even like referencing something else," recalls David of the four-bedroom, seven-bath residence. "She came with her very specific, organized collection. Going into it, we knew every single piece of art that was going into this house."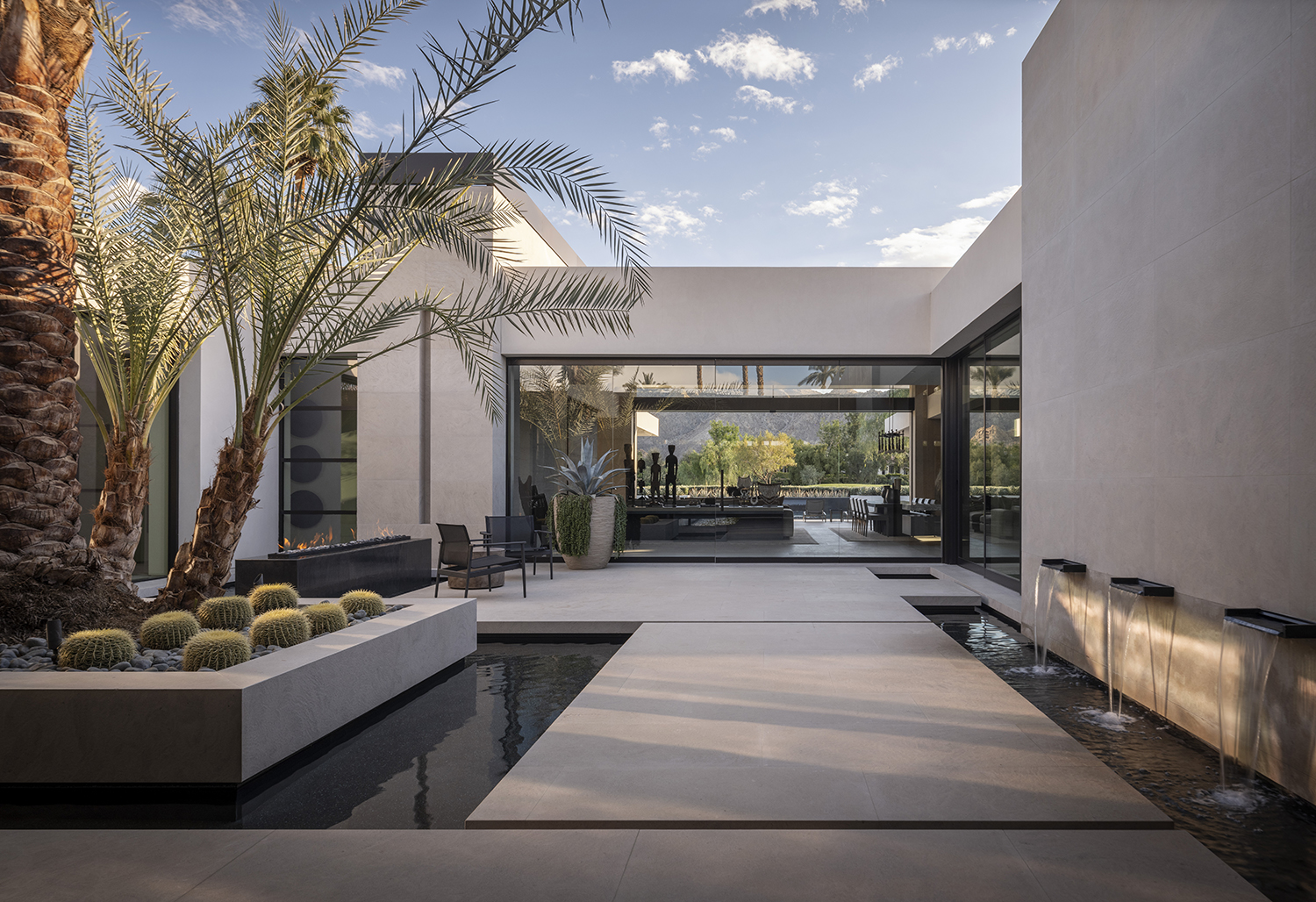 One of the wife's earliest requests were multiple display surfaces for her carefully curated selection of treasures. In the living room, one of the first pieces that visitors encounter is a large-scale custom console that holds a formation of towering antique Senufo and Dogon African wood figurines and faces as well as a selection of antique carved wood Sumba guardian statues. Its controlled height allow the works to stay front and center while still offering a relatively unobstructed view of the picturesque Santa Rosa Mountains beyond.
In the main bedroom, floating shelves display a collection of tribal necklaces from Papua New Guinea and a large feathered headdress from the Sioux Lakota tribe—its colors informing the specific shade of cashmere used for accent pillows—while the dining room holds a pair of Clotilde Ancarani canvases.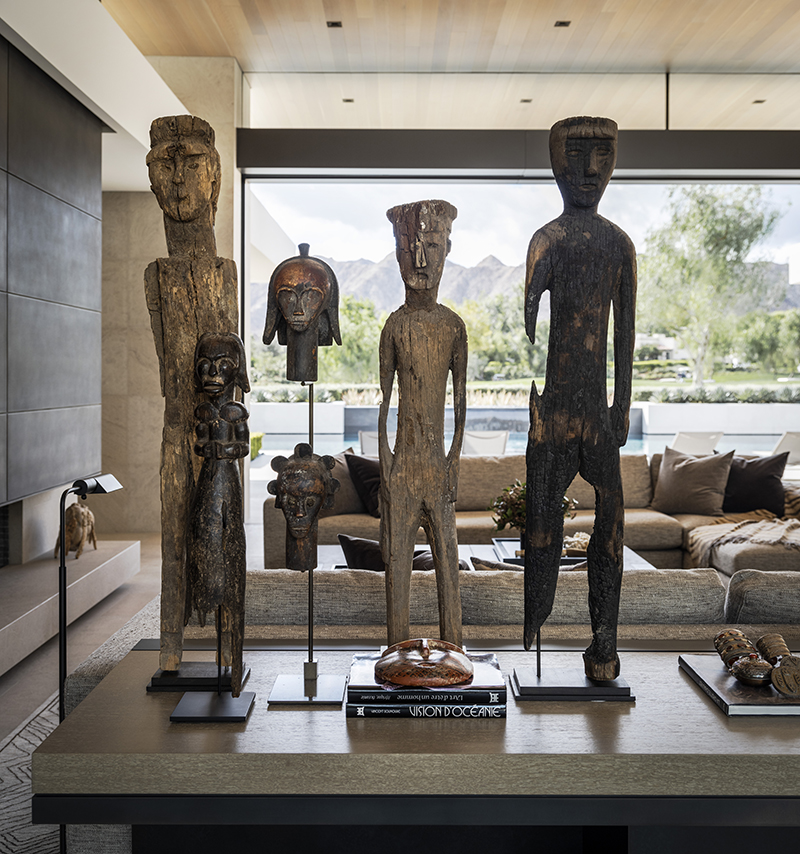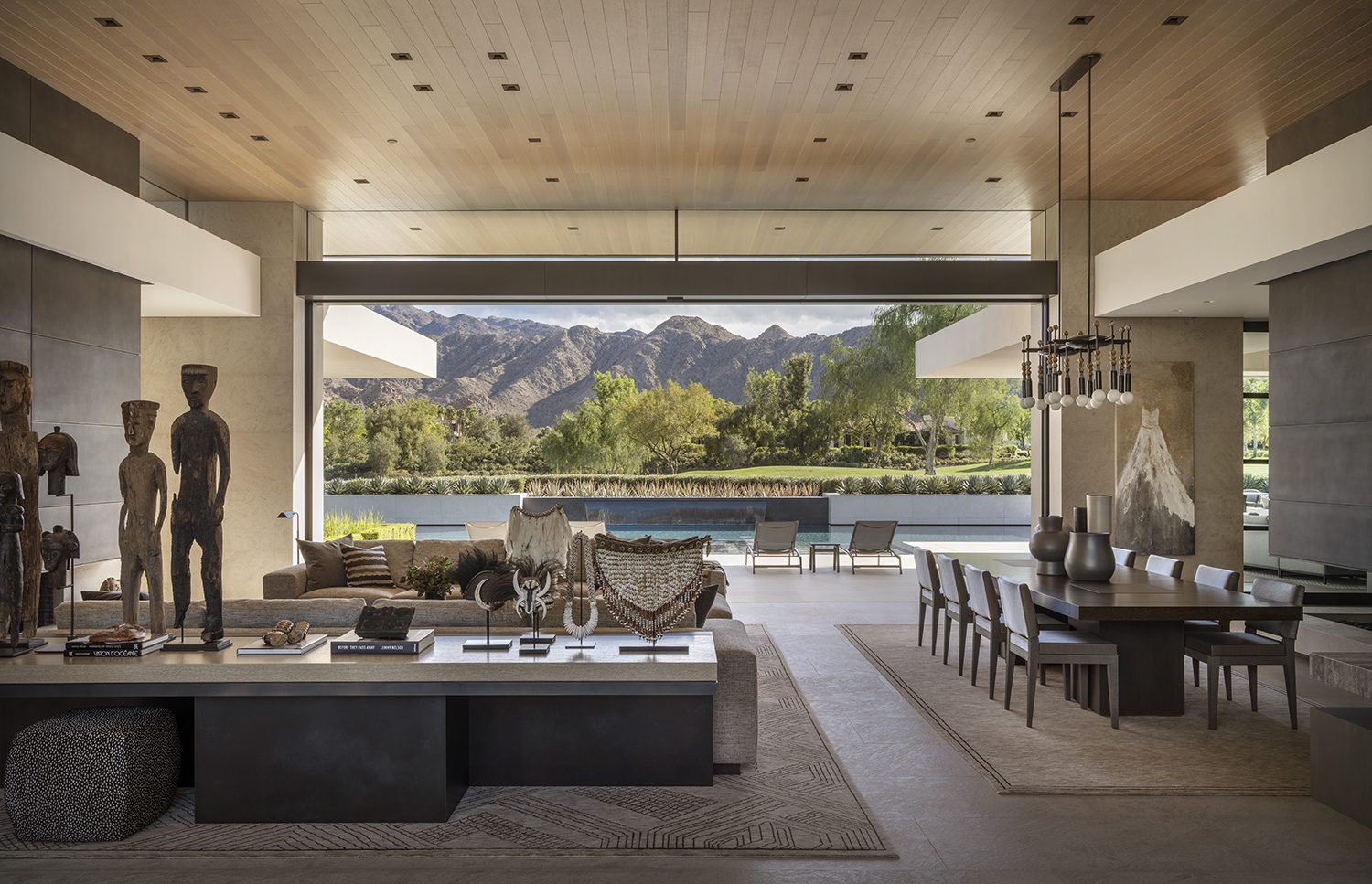 "When you build a house like this, everything has to be tailored to that space"

David Lucas
One of the only acquisitions made for the property was a massive sculpture by Jacques Le Bescond, originally intended to be installed in an interior alcove but relocated to an area alongside the swimming pool once the designers situated an antique Bamana/Dogon tunic in the space. "I bought it for her, but I kind of wanted to keep it," says David of the garment. "I didn't want to give it up, but once we saw it in the house, I knew it absolutely had to be here. And once we saw it in this location, it was the perfect spot for it, and we'll have to find a different place for the Le Bescond sculpture."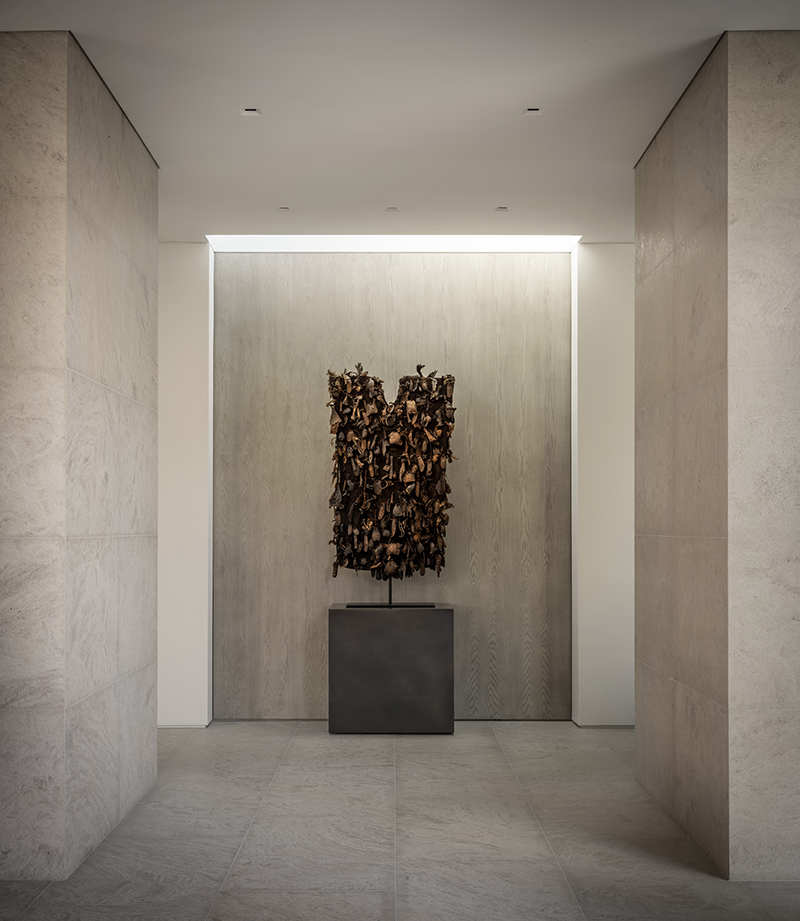 Complementing the earthiness of the art collection is a gentle balance of warming, textural materials including wood with exposed grain implemented on the ceiling, as well as plaster and brushed limestone on the walls. "We did things where we brought a little bit of that texture and materiality to the space so that it didn't come across as sleek," says David. "It still comes across as warm and textural."
Texture comes heavily into play in the custom furnishings, especially in the pair of  living room sofas upholstered in a Dominique Kieffer fabric, the dining room's oak and metal table, and the suede headboard in the primary bedroom. "When you build a house like this, everything has to be tailored to that space," explains David. "Especially for somebody like the homeowner, where the proportions of things was so important, everything had to really fit and make perfect sense."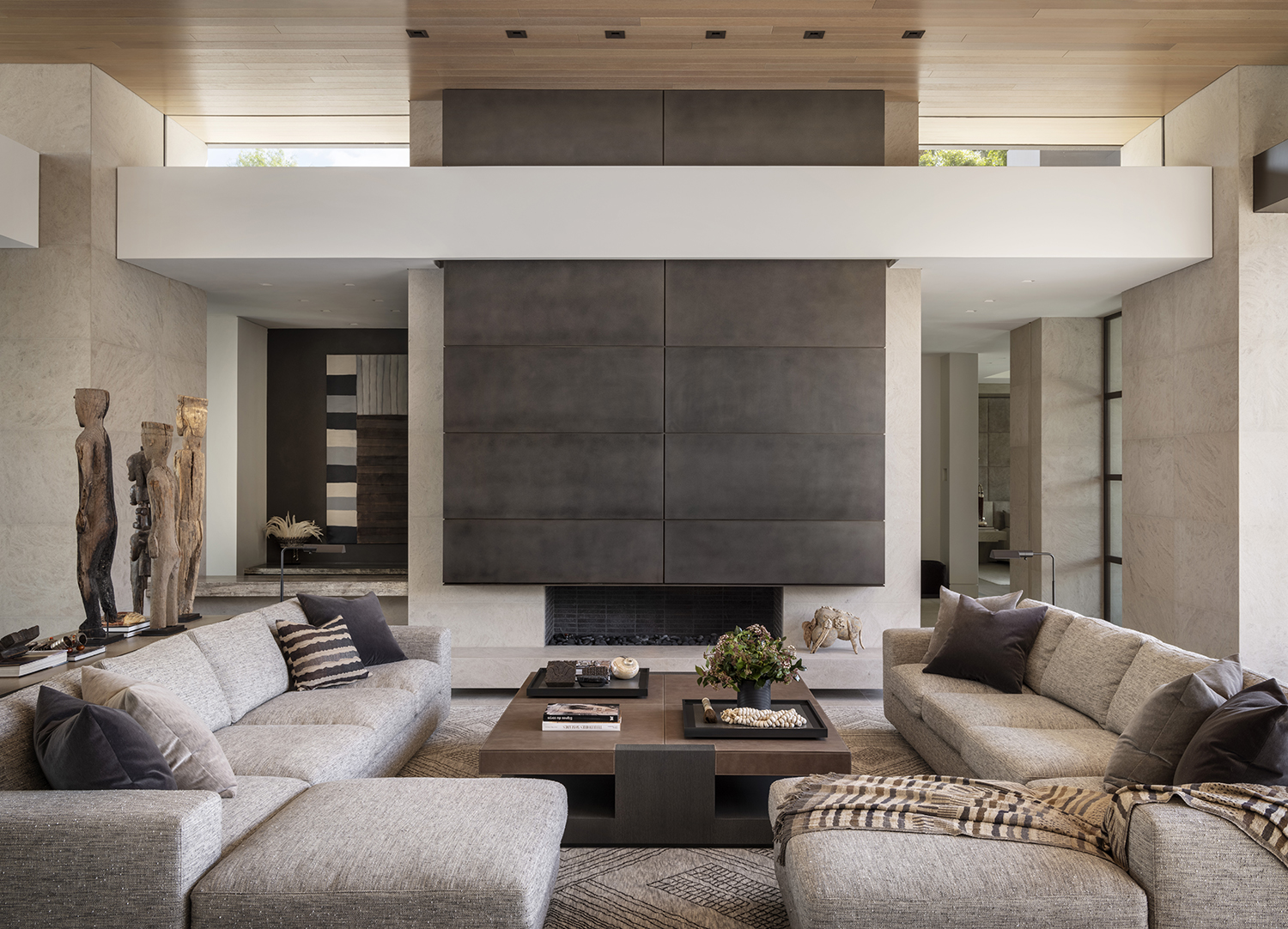 The finished product is a perfectly executed combination, with quietly impactful furnishings that let this uniquely curated array shine. And while most interiors conceived for passionate collectors are left with windows for later acquisitions, this project was fully realized on move-in day.
"She acquired this incredible collection of art and objects and sculpture that just really are meaningful to her and we designed the house around that," continues David. "That was the thing that drove what we did for her in the interior design. I think she approaches her houses as a piece of art or sculpture and she's not going to mess up the composition of that space by putting more stuff in it. The vision was for this specific part of her collection and there aren't really gaps for new things. It's now whole."
Next Post