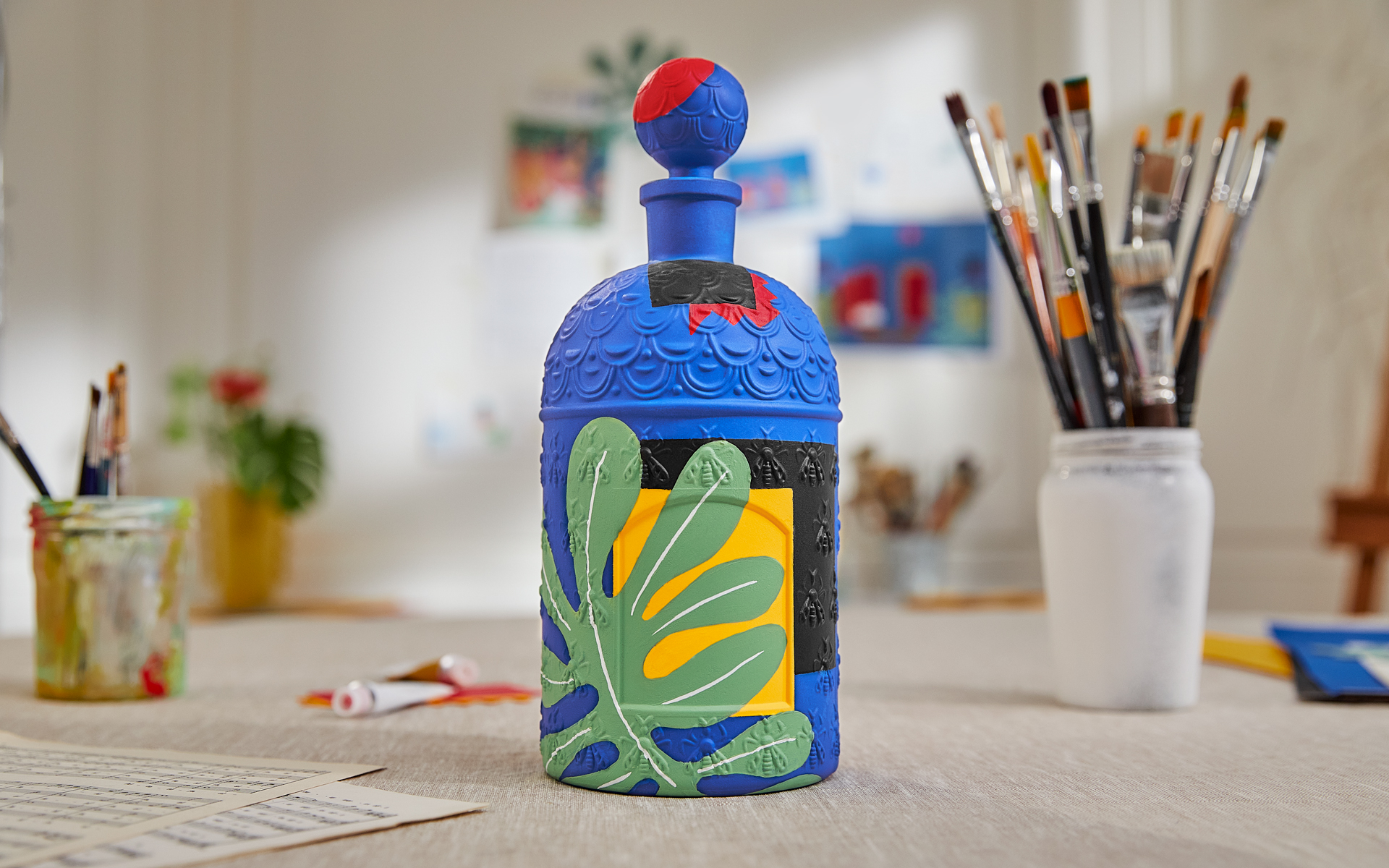 How Guerlain's New Limited-Edition Perfume Bottle Pays Homage to Henri Matisse
The Matisse family has aligned itself with the historic perfume house to create a contemporary design marque, and the artist's great-grandson, Jean-Matthieu, speaks exclusively to Galerie about the project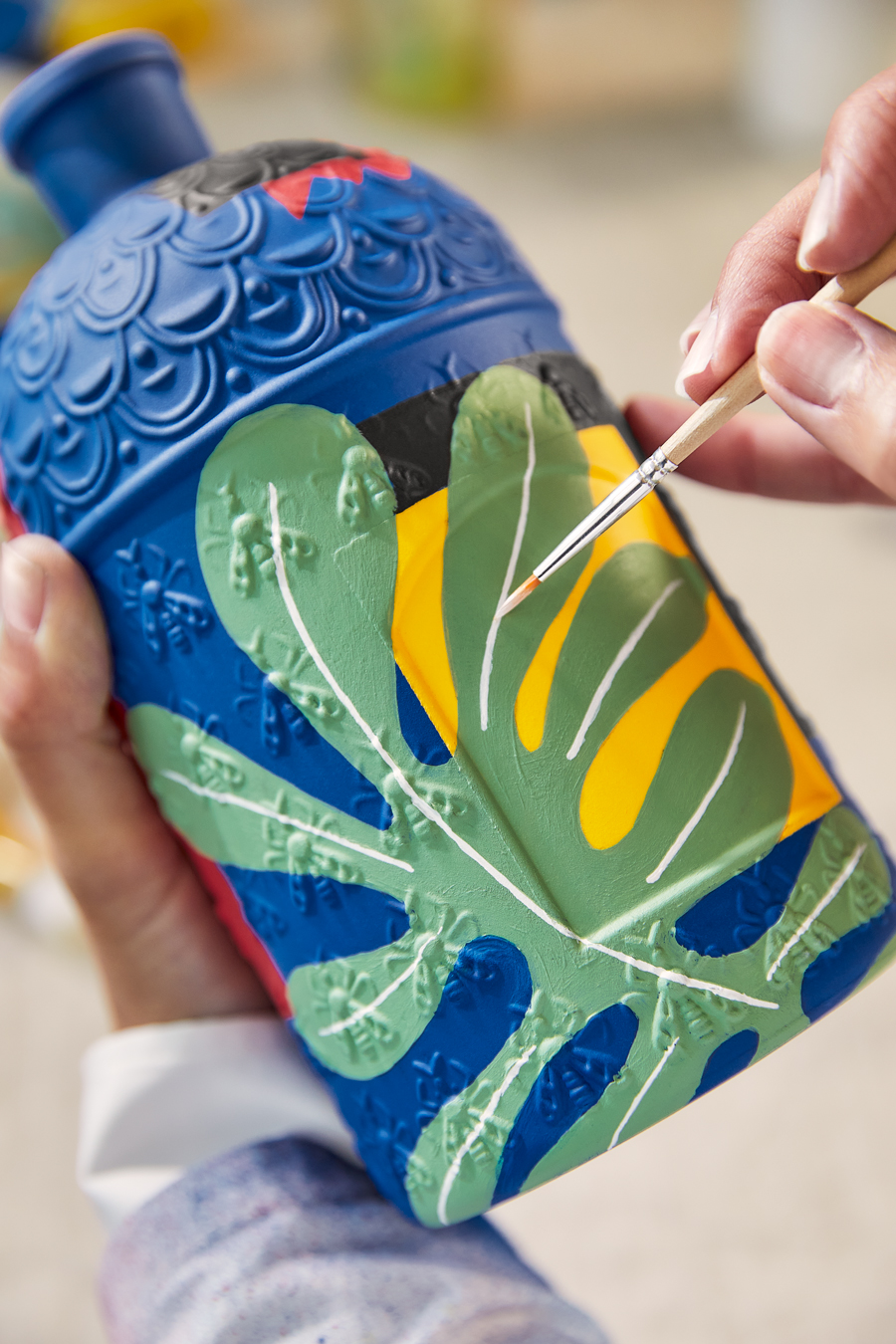 On the top floor of the Pompidou Centre in Paris one evening last week, big names from French film and fashion stepped in front of a garlanded backdrop for the cameras. There was Antoine Arnaud, son of the richest man in France, and his wife Nadia Vodianova. Nicola Maury, Herve in Call My Agent, was looking fluid in a patterned two-piece; Philippine Leroy-Beaulieu (from both Call My Agent and Emily in Paris) twirled.
It could almost have been an episode of the popular Netflix show, except there was no Emily in her knee-high turquoise metallic boots and midriff-flashing ensemble. And Parisian fact being so very much chicer than the Hollywood fiction, the event celebrated a collaboration between two French families–Guerlain and Matisse–in a marriage of perfume and art.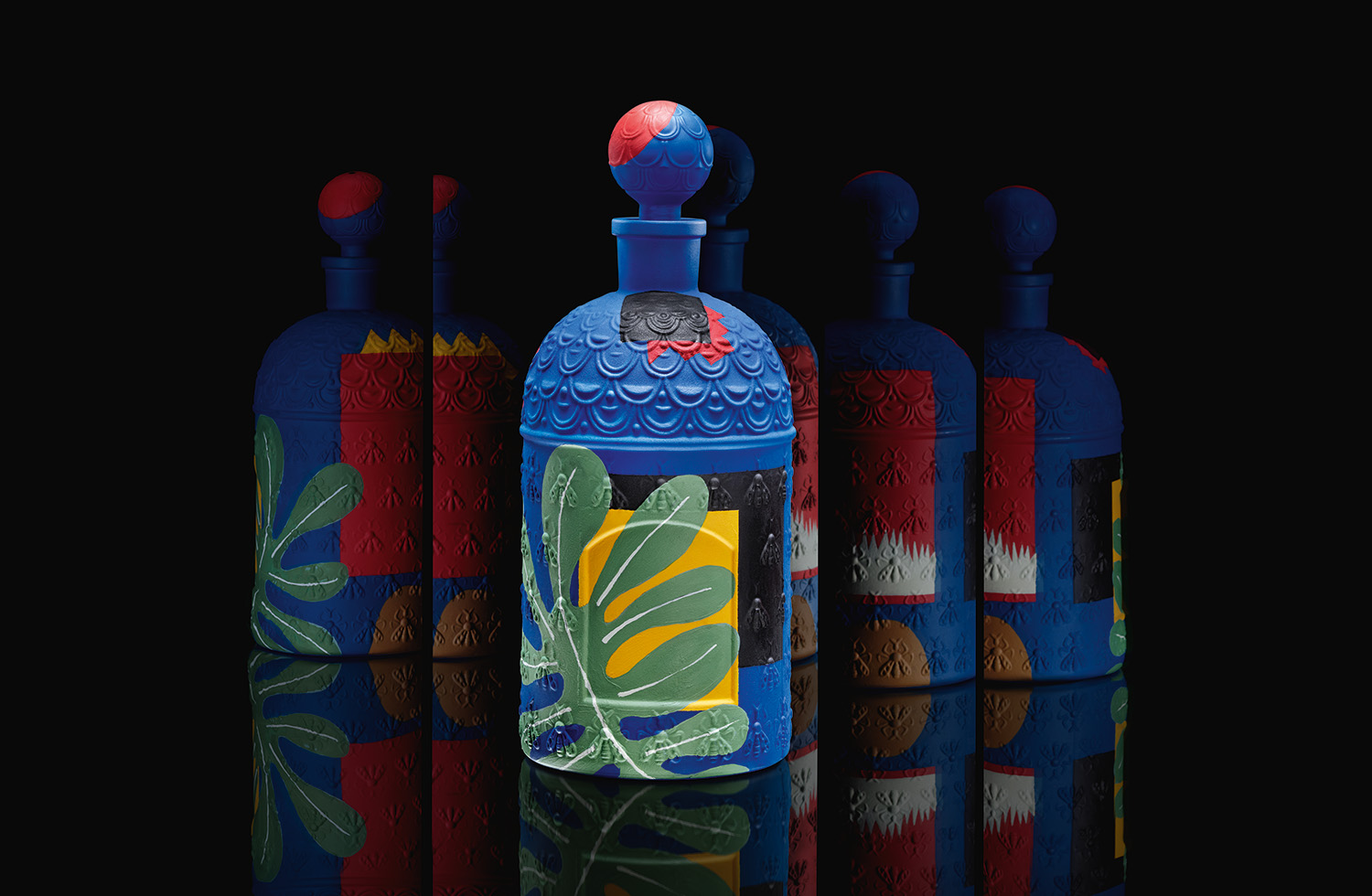 Despite of this being a chilly January night, the scent of jasmine filled the air. The great-grandson of Henri Matisse suggested that perfume was a suitable celebration of a painter "who worked in multi-sensory dimensions, through color, form, and the rhythm that's inherent in his paintings." Delphine Jelk, who had created the new scent, called Jasmin Bonheur, agreed: "Fragrances need words and images for inspiration," she stated.
Earlier that day, in Guerlain's dazzling white laboratory, with stunning views over the city, Jelk demonstrated how she had layered a particularly delicious jasmine grown only in Calabria (rich and fruity, with an apricot smell) over a background including chypre, vetiver, and patchouli to evoke both Matisse's beloved South of France and the joy of his art. "We wanted it to be bright, and light, and sunny," says Jelk, who had trained as a fashion designer before embracing the olfactory world.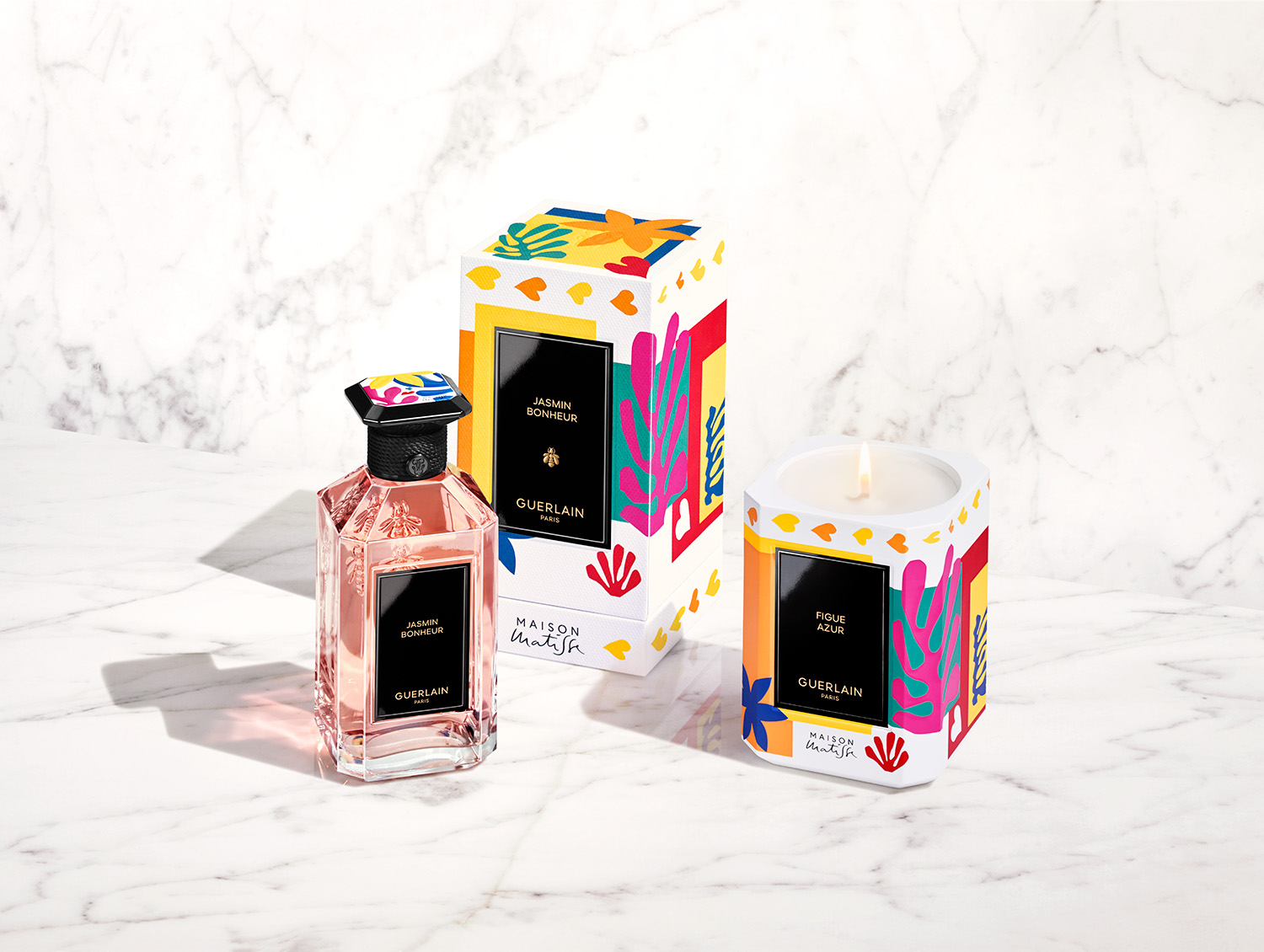 Just 14 examples of the limited-edition Piece Exceptionelle, which comes in a bottle hand-painted by the decorative artist Astrid de Chaillé in the spirit of Matisse's La Musique, are available at $17,000. (The original 1939 artwork is in the collection of the Buffalo AKG Art Museum in New York.) The container itself is the famous Bee bottle, which was developed in 1853, to contain eau de cologne for Eugenie's marriage to Napoleon III.
Guerlain has an existing connection to the art world through its L'Art et la Matière series, which in its 22 iterations has included a collaboration with the estate of Yves Klein and another influenced by the work of Pierre Soulages. Its design history also runs deep. The first room of its Champs Elysées store maintains the original 1914 décor by Charles Mewes, including 16 types of marbles, now enhanced by an undulating mirror polished steel ceiling by the Haas Brothers. The family are keen art collectors and recently filled the space with an enviable showing of works by women artists including Louise Bourgeois, Niki de Saint Phalle, and Zanele Muholi.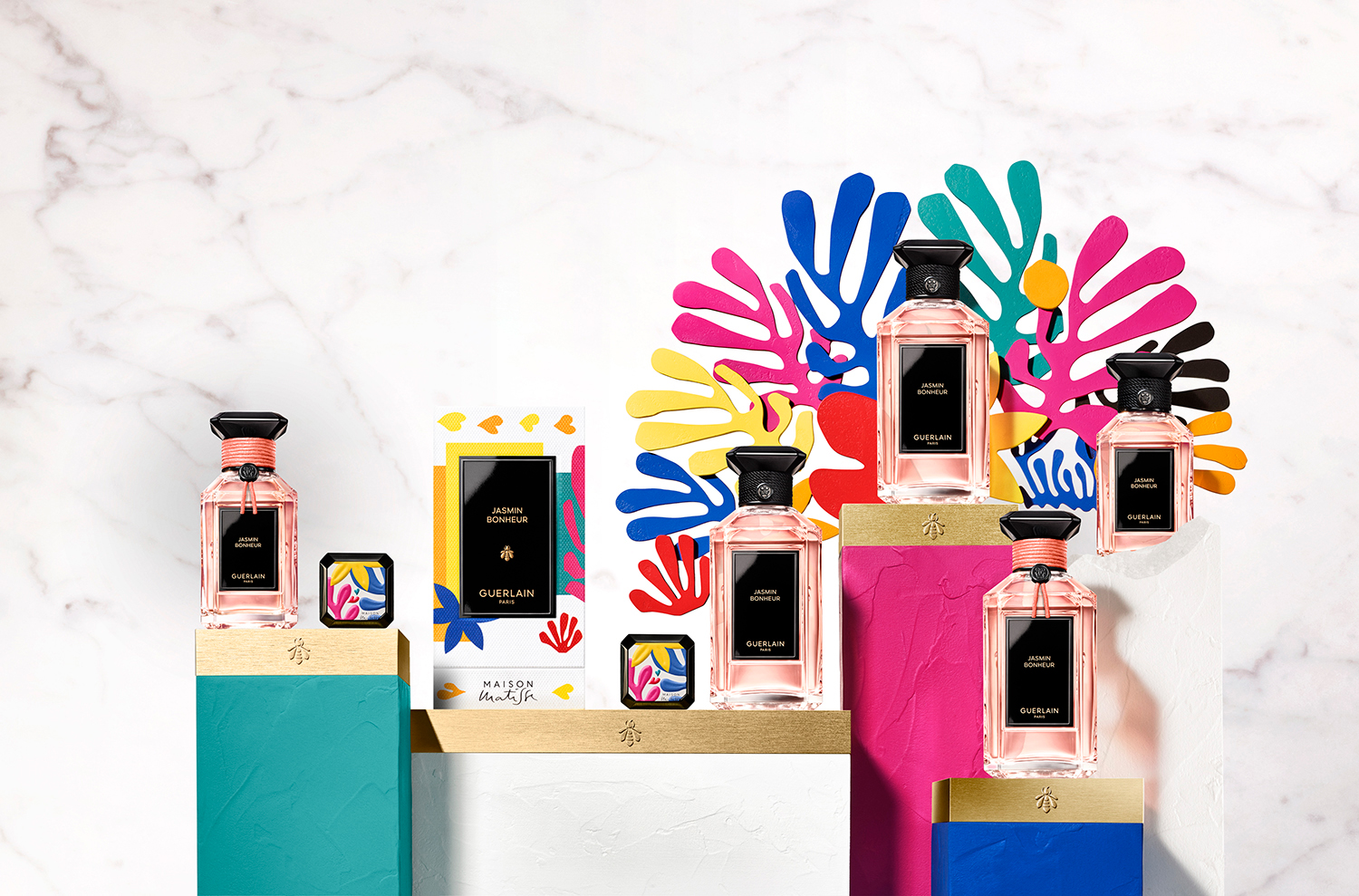 Jean-Matthieu Matisse has also allied himself to the world of design, launching Maison Matisse in 2019 to produce decorative objects for the home. "It is all about creativity," says Jean-Matthieu when we meet the day after the party in Maison Matisse's bright boutique in the 6th arrondissement. "The decoration is there in the paintings. My great-grandfather often focussed on the interior, the domestic. He loved fabrics, they really interested him. He loved plants. So we ask our designers to be inspired by his work, but then develop something that talks about their own thinking and methods." In the case of Ronan and Erwan Bouroullec, who were invited in 2018 to create a limited-edition work (along with Jaime Hayon and Alessandro Mendini), the resulting three vases are a distillation of Matisse's resonant colors and set in a three-sided metal box to emulate a window.
"We ask our designers to be inspired by his work, but then develop something that talks about their own thinking and methods"

Jean-Matthieu Matisse
The 49-year old great-grandson lives in the 14th arrondissement apartment that once belonged to Henri, and in the presence of some of his furniture. "There's a table, a mirror, day to day things. Then sometimes I'll spot them in a painting," laughs Jean-Matthieu. "The teapot. I have the teapot." His father, however, was passionate about nature and animals (his grandfather, Jean, had been a sculptor), and the family business had turned from art to horses. Their stables in the Savoie are now run by Jean-Matthieu's sister and her daughter, who is a professional horsewoman, though he visits every weekend with his golden retriever, Ascot.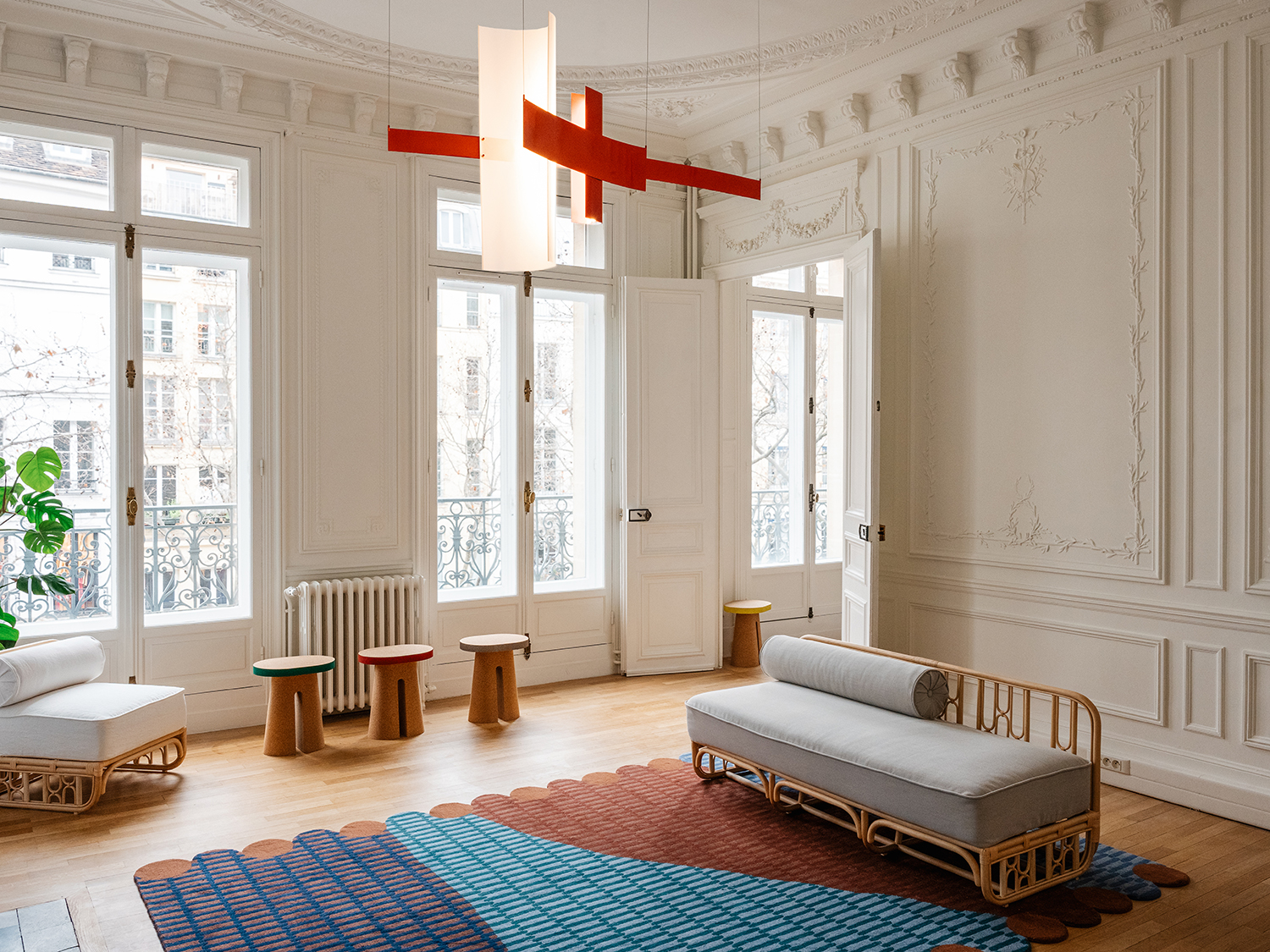 Maison Matisse emerged from many discussions. "We decided to make things to live with, which are functional, but which have the colors and the spirit of a Matisse painting," he explains. "I'm not a collector, but I do love objects—things you can touch and incorporate into your life."
Under the design management of Eliana de Modica, the company has grown slowly although, Matisse is keen to expand. Americans are frequent visitors to the store, suggesting that a U.S. boutique could be in the offing. Designers including Cristina Celestino and FormaFantasma have come on board. While Celestino's softly hued, Deco-esque carpet was made in Nepal, most products are created in Europe. "It's another point of connection to Guerlain," he says. "We both try to use local ingredients and production, where it is possible." A range of stools and accessories in recycled cork by Guillaume Delvigne, which launched in January at Maison&Objet in Paris, are being made in Portugal. Delvigne, asked to react to Matisse's Les Mille et Une Nuit, a vibrant series of collaged panels from 1951, responded with neat laser-cut forms accented with sharply colored edges that recall the scissor-cutting of the original artwork.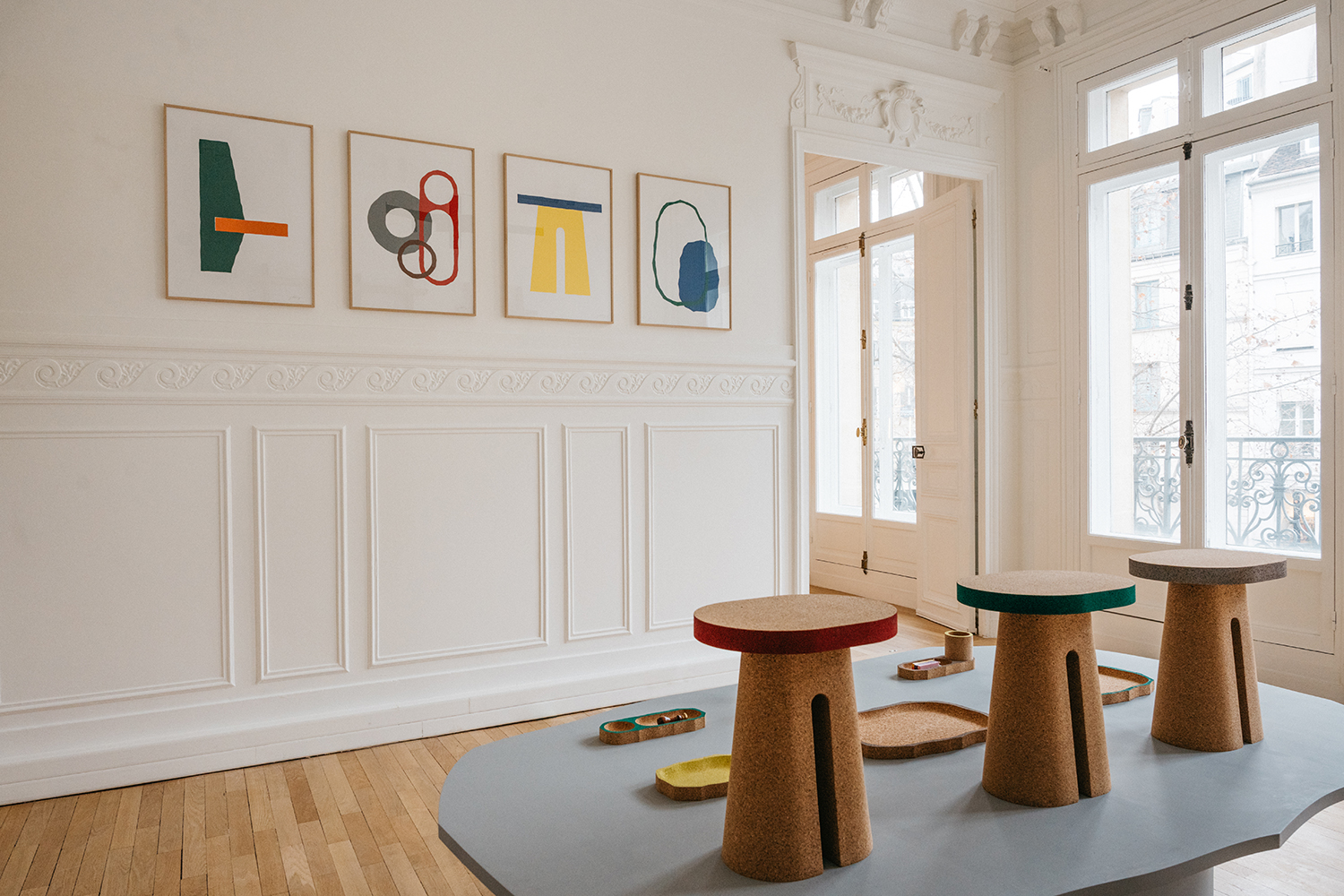 Marta Bakowski, whose CV includes time in the studio of Hella Jongerius, delved into the 1939 painting La Musique for a range of ceramics that is hand-made in a small Italian studio, the only one to specialise in the sgraffito-like technique and velvety matte glaze she desired. "There's no point doing it, unless it's a true representation of the designer's ambition," says Jean-Matthieu.
Next Post