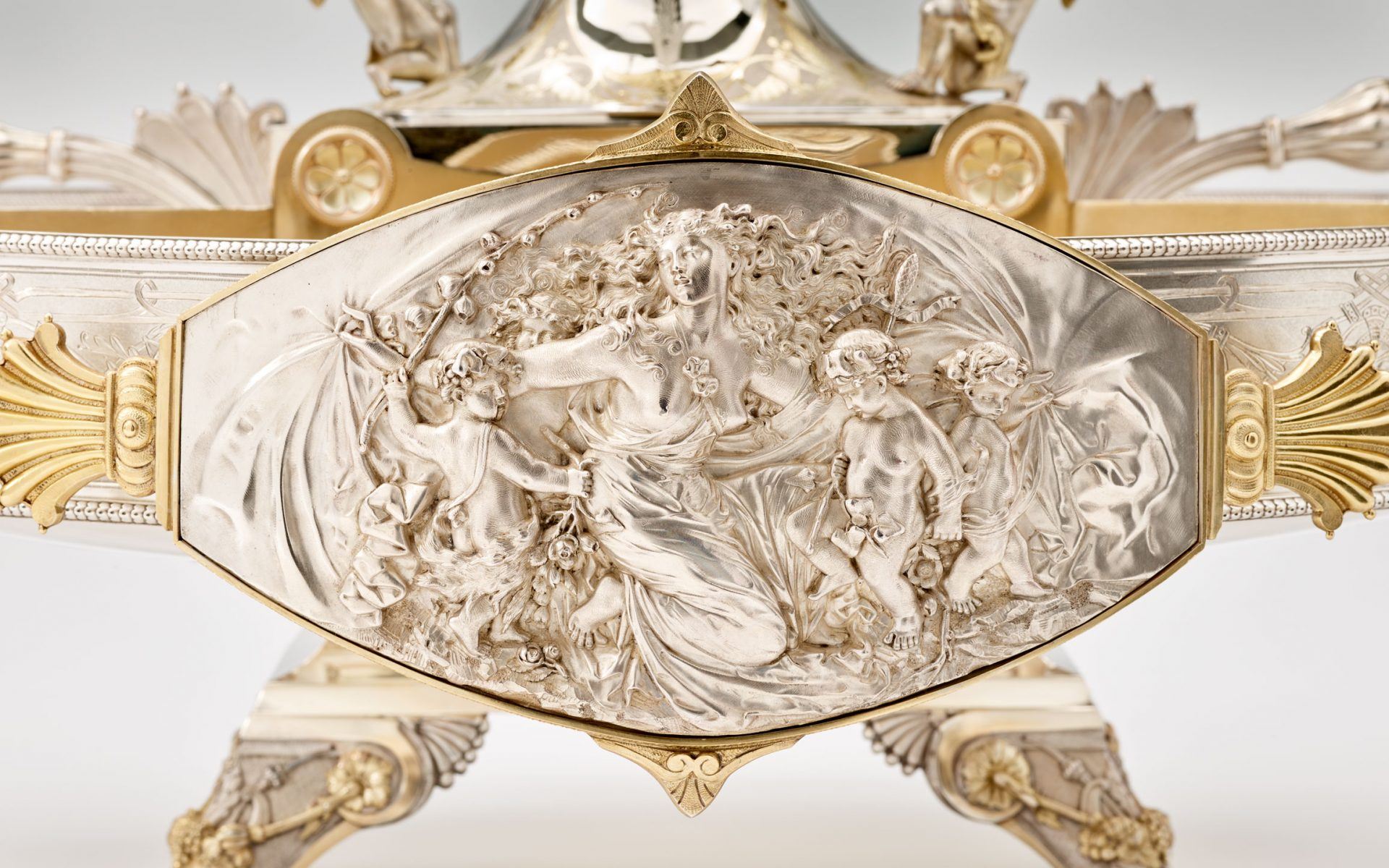 Gorham Silver Shines on Display at the RISD Museum
An exhibition explores the artistry and innovation of Gorham, an early powerhouse in sterling silver
Hundreds of pieces of silverware may not be required to host a dinner these days, as they might have been in the 19th century, but nevertheless there is still a tradition tied to silver that persists.
"The idea of setting your table with silver is still regarded as putting out the very best for your family and friends, even if it's a different style," says Elizabeth Williams, curator of "Gorham Silver: Designing Brilliance 1850—1970," a show at the RISD Museum exploring the artistry and innovation of Gorham silver over a 120-year period in its history.
Established in Providence, Rhode Island, Gorham was a leader in building that tradition in silver. Started in 1831 as a manufacturer of coin-silver spoons and other small items like thimbles and combs, the company would become known for its top-quality sterling silverware and hollowware.
There are some 600 silver items on view in the show, spanning 1850 (when the company began producing more complex hollowware vessels) to 1970 "at the beginning of mid-century modern," according to Williams, "when formal dining starts to fall out of favor."
Recommended: Gloria Vanderbilt's Childhood Home is on the Market for $50 Million
Many of the items derive from the collection of the RISD Museum, which is home to the world's largest collection of Gorham. And there are also some 40 pieces on loan from public and private collections.
"Gorham was bought and sold many times," says Williams. Its 1967 sale to Textron is credited with decreasing the quality of the silverware. In 1989, it was sold to Dansk International Designs. It ultimately wound up in the hands of Lenox Group, which filed for bankruptcy in 2009. The RISD Museum acquired some 2,600 design drawings from the Lenox Group.
Recommended: A Plush New Cocktail Bar Opens at the Berkeley in London
As one might imagine, Gorham has a noteworthy history with many connections to the country's leaders. In 1859, Mary Todd Lincoln bought a tea and flatware service for the White House. In 1899, Gorham created a "loving cup" for Admiral George Dewey composed of 70,000 dimes. And in the 1870s, Gorham received its biggest single commission, a 740-piece service for Colonel Henry Jewett Furber, president of Universal Life Insurance Company, which became famously known as the Furber service. Many items from the Furber service (which was donated to RISD by Textron) are on view in the show as is Admiral Dewey's presentation cup.
Other items in the show include spoons, nutcrackers, butter plates, water pitchers, tureens, candelabra, and fruit stands with sculptural elements like mermaids and grape-leaves. There's even an ice bowl with deer, bears, and a fringe of faux icicles. Then there are Epergnes, or ornamental centerpieces for dining room tables.
Recommended: Discover the Rainbow-Hued Gardens of Landscape Designer Frederico Azevedo
There are also more elaborate displays including a table set for dining à la russe (food is brought to the table sequentially), which was prevalent in the 1880s and replaced dining à la française (all the food is put on the table) as the prevalent style. There is also a pavilion "of the kind that would have appeared at a World's Fair in the 1870s," says Williams.
"They catered to Victorian taste in terms of formal dining, in terms of all kinds of silver centerpieces and candelabra," says Williams of Gorham. "Anything they could make in silver they did."
"Gorham Silver: Designing Brilliance 1850-1970" is on view at the RISD Museum through December 1, 2019. There are a number of events related to the show including a "Think and Drink" walk-through with assistant curator Emily Banas followed by summer cocktails on August 15 from 6-8p.m.
Next Post