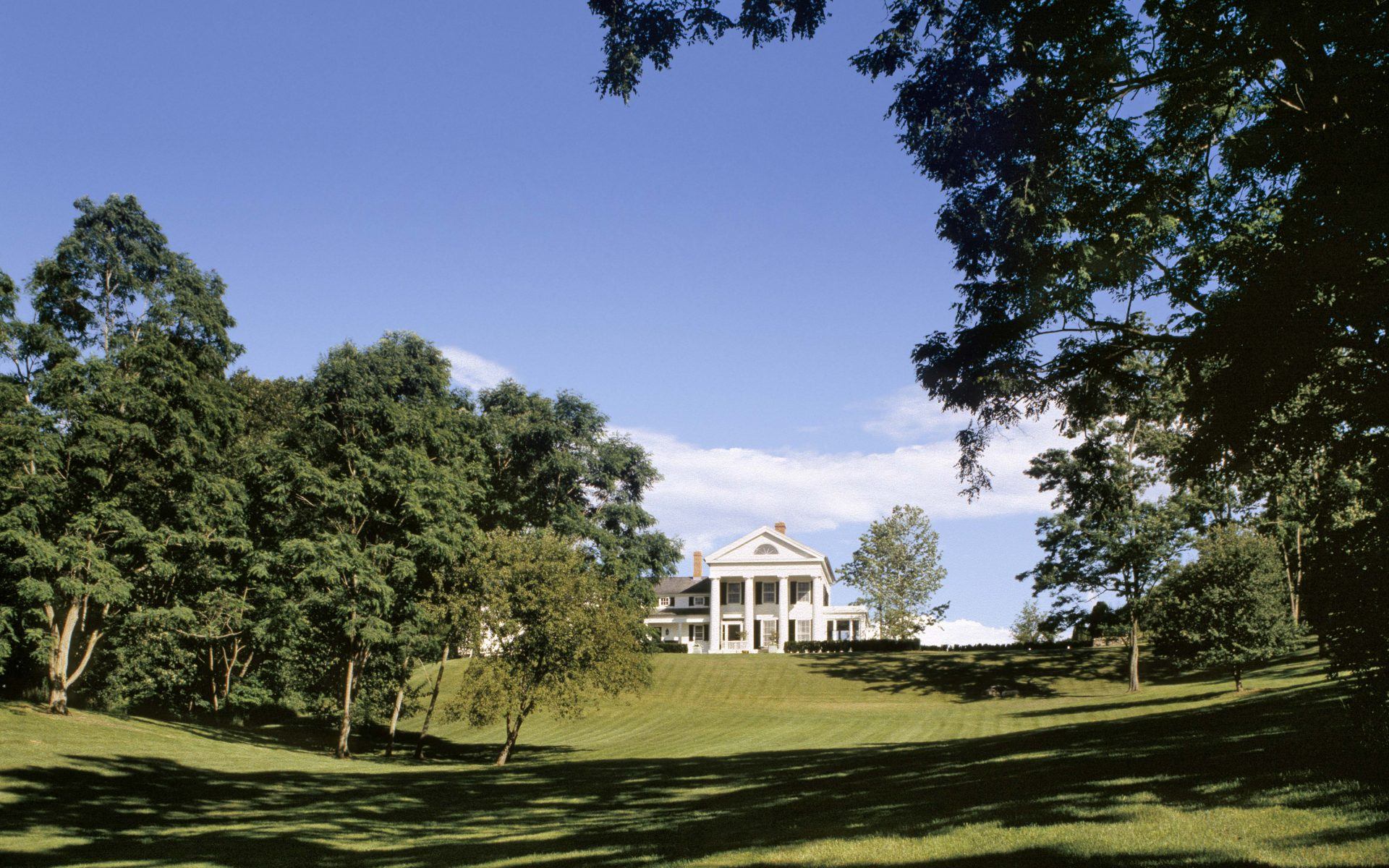 Love Letter to My Home: Gil Schafer in Dutchess County, New York
For the New York architect, a Greek Revival country retreat fits the needs of a growing family
Celebrated for his uncanny ability to bend time with his historically influenced residences, architect Gil Schafer seeks solace during these times at his Greek Revival home in Dutchess County, New York. Originally designed over 20 years ago, the house has beautifully answered the challenges of Schafer's growing family with his wife, Courtnay Daniels, and stepdaughter. With his architect's mind-set he reflects on the function and flow of the spaces as he settles in, works from home, and even nurtures a flock of ducklings in the living room.
I built this house a little over 20 years ago. I had gone to boarding school in this region and fell in love with the area. Years later in New York and wanting a place in the country, I went looking for a house. I knew I wanted a Greek Revival but simply couldn't find one. Then I stumbled across this property. It was old farmland with just a dirt track, but I immediately fell in love with it and thought the rise in the land was great for a house.
I was such a new architect at that time and so green that I didn't think I could build a house myself. But I got over that and created the house I could never find to buy. That was the start of my thinking about a house that is old but could live new. This house truly started me on my way of making houses that have a sense of history but can live in a more contemporary way. In the past six weeks, I've spent more time in this house than in the past 20 years. It's the longest stretch of time here, and now it's me and a family. It's truly revealed its strengths and weaknesses. The most surprising thing is there's the best Internet connectivity of anywhere I've lived, so that makes it easy to run the office.
Recommended: Gil Schafer Infuses a Classic Manhattan Residence with Contemporary Art
In the stair hall, the walls were painted by Eve Ashcraft, who is an amazing color guru. She hand-painted this stripe on the hallway. Since it runs up the stairs, it became a giant math problem, and she said she'd never do it again. We've worked on many projects since, but I'm still so happy she took on this challenge.
The layout is based on a classic Greek Revival double parlor. Usually, you would have an opening in the middle, but I put the fireplace there and the doors to the side instead. The mirror-image rooms are about 17 feet square, so not large but they still feel big enough. Right now, we have six ducklings in the living room in a bin that my stepdaughter is raising. They're chirping away under a heat lamp. That was something I would have ever envisioned before, and then they have a kiddie pool on the porch. Ceramist Christopher Spitzmiller has some baby ducks as well, so we've been chatting with him. And designer Ben Pentreath does too. They're really becoming quite a thing.
The cognac-colored dining room is now my office. I took all the books off the table for my drawings and computer equipment. It's a great color and catches the western light at the end of the day. It's great to work in and has windows around and access to the porch. Once it's warmer I can be out on the porch as well.
We have been using the fireplaces, since it's still pretty chilly, and we have one in the kitchen. My wife, Courtnay, loves to cook, and she took over one of the bedrooms for her office. She's either in her office or cooking in the kitchen, which is white, simple, and filled with light.
There's a screened porch we use when the weather is warm. It's like another living room for the house. Seeing Bunny Williams's house in Connecticut as a young architect made me realize you can have a sofa out there. I hadn't seen that before. There's a croquet set out there too, so we set that up, sometimes the official way and then others as croquet golf, where you just mix up the wickets all over.
The master bedroom has a Bennison print on the wall and an old painting, which is a 19th-century grand tour painting that was a copy of a great artwork. It hung in my grandmother's house, and I took off the frame. It would have been insufferable if I had kept it in the frame. From there, I started collecting portraits of men in hats, and now they're all on display in that room.
Outside, there's this cool space created from clipped hornbeam. The land undulates, and I carved it away to make a flat spot that's about 50-foot square. It's like a Richard Serra made of leaves and is my architect's folly. It's beautiful when covered in dew or frost in the morning.
The house is really exceeding expectations and has accommodated us all in a sustained way. There's enough space, so we can all go in separate directions. We move all around, changing week by week. We didn't expect to spend weeks on end here, and we change things around. The coffee table becomes the puzzle table, and it's constantly changing. And we had to move things for the ducks. I'm learning to be easygoing about that in a way that I probably historically have not been. But the attic is the only place with a television. So making something out of that room is the next project—turning that into somewhere we can really hang out
My home makes me feel safe. That's been the biggest gift—to seem safe and at ease. It seems corny, but it's true.
Next Post