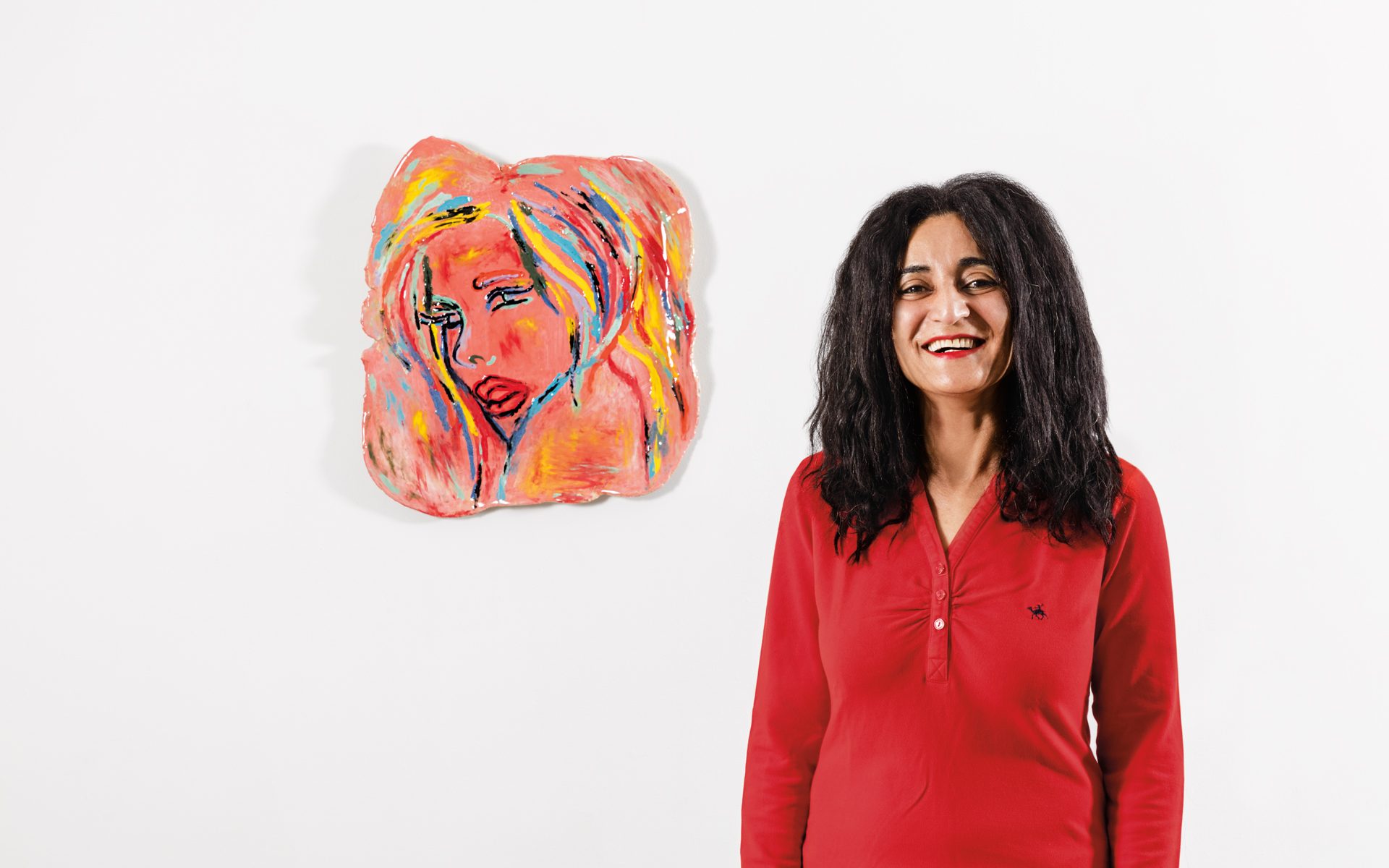 Ghada Amer's Sensual Ceramics
Famous for her provocative threaded canvases, the Egyptian-born artist embraces pottery with the same edgy spirit
Ghada Amer is best known for her iconic and usually colorful embroidered "paintings" on canvas, which have been featured in internationally acclaimed exhibits such as the Venice, Sydney, and Whitney biennials, and in a well-received solo show at the Brooklyn Museum in 2008. But over the past two years, the artist has spent countless hours in the dusty rooms of Greenwich House Pottery, which has been introducing New Yorkers to clay since 1909. The storied ceramics school created a special two-year residency just for Amer, after she showed promise in private classes. "I almost gave up at one point!" recalled the Cairo, Egypt-born artist. "For months, every single piece I made was cracked! Half of what I made ended up in the garbage."
Even with its steep learning curve, Amer called ceramics a "wonderland" for her. Set on a charming tree-lined street in New York's West Village, Greenwich House is where Amer created most of the recent work she's been displaying, with her longtime New York gallerist, Tina Kim, and at a solo show last spring at Kewenig, the established Berlin, Germany, gallery. Amer showed pottery in 2015 at her first commercial exhibit in the Arab world in 20 years, at the inaugural show, titled Earth. Love. Fire., at the Leila Heller Gallery in Dubai, United Arab Emirates. "Ceramics are at once a real departure and also a seemingly natural extension of her previous body of work," said Shiva Balaghi, the curator. The title references both the process of working with clay and Amer's newfound passion for it. Clay appeals to Amer for some of the same reasons working with thread originally did.
"The history of painting was invented by men," she said. "So I wanted to work with a medium that was more associated with women," she added, switching between English and French. The variety of clays and kilns, the colors, the varied slips and glazes, the drying process all required weeks of diligent experimentation. As with her paintings—she is represented by Cheim & Read in New York—Amer uses images from pornography to tackle the traditionally oppositional dichotomies of feminine vs. masculine, art vs. craft, and East vs. West.
In the ceramics, figures in various states of (likely feigned) ecstasy or invitation adorn ceramic plates she shaped by hand. Figures are also painted on both sides of sculptures that fold onto themselves like clay blankets. Amer is counting the days until she can return to the kiln for a second residency at Greenwich House in 2017. Meanwhile, revealing in public her explorations of this new medium meant that Amer's emotions have been running high. "I feel happy and anxious at the same time!" she explained. But nowadays she is thrilled to have her new body of ceramics work seen and, she hopes, understood, as her fragile objects make their way around the world.
Next Post