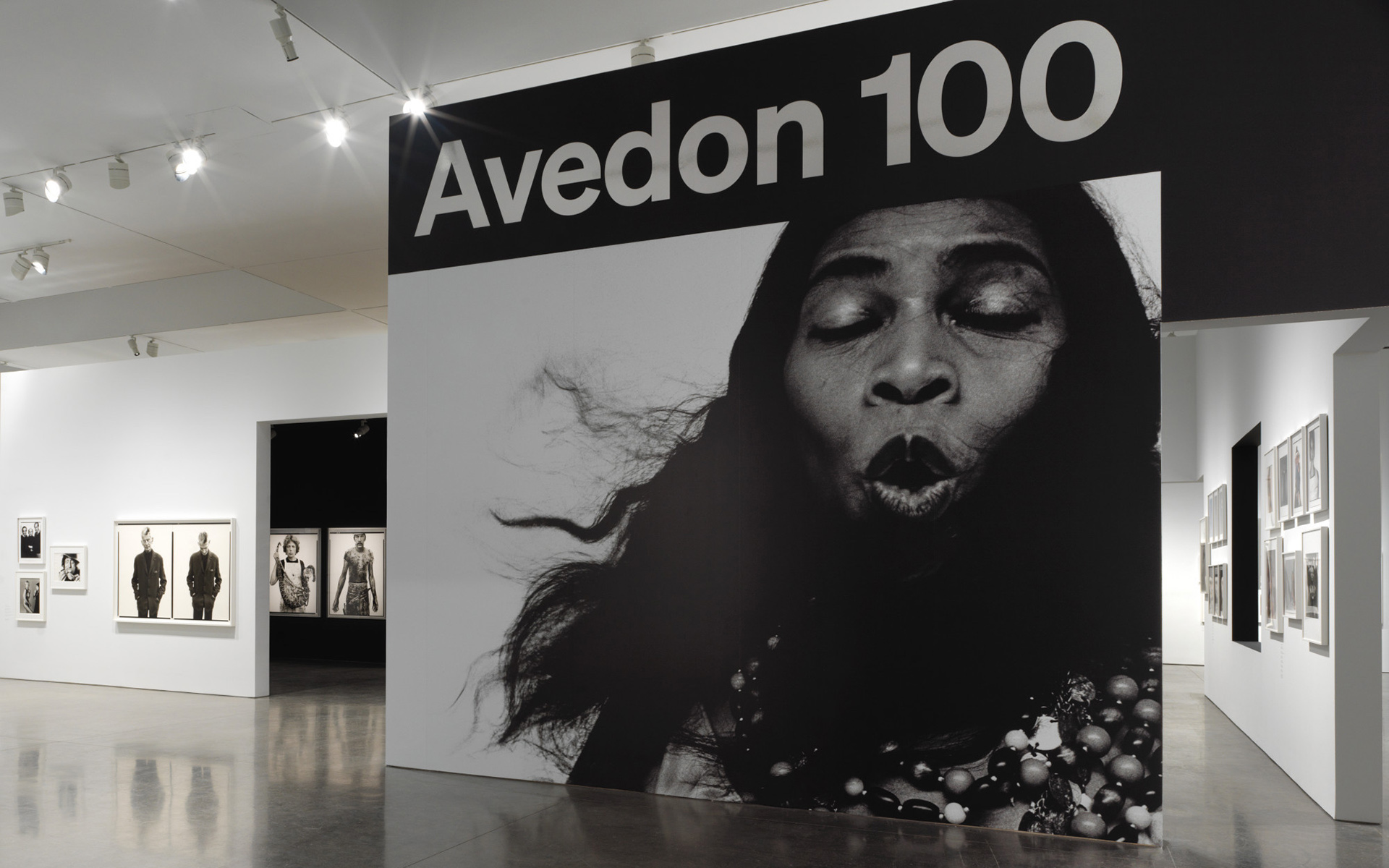 7 Must-See Solo Gallery Shows Across the U.S. in June
From the centenary celebration of master photographer Richard Avedon at Gagosian in New York to Betty Woodman's crossover ceramics at David Kordansky Gallery in Los Angeles
Crossing the country from coast to coast to find the best gallery exhibitions in America each month, Galerie has selected our favorite one-person shows to add to your curated list of cultural outings at the start of summer. From the rediscovery of the under-known art of Cathy Josefowitz at Hauser & Wirth and the centenary celebration of master photographer Richard Avedon at Gagosian in New York to the transcendental paintings of emerging artist Zoe McGuire at Library Street Collective in Detroit and the crossover ceramics of the masterful Betty Woodman at David Kordansky Gallery in Los Angeles, these are the not-to-be-missed solo shows in June.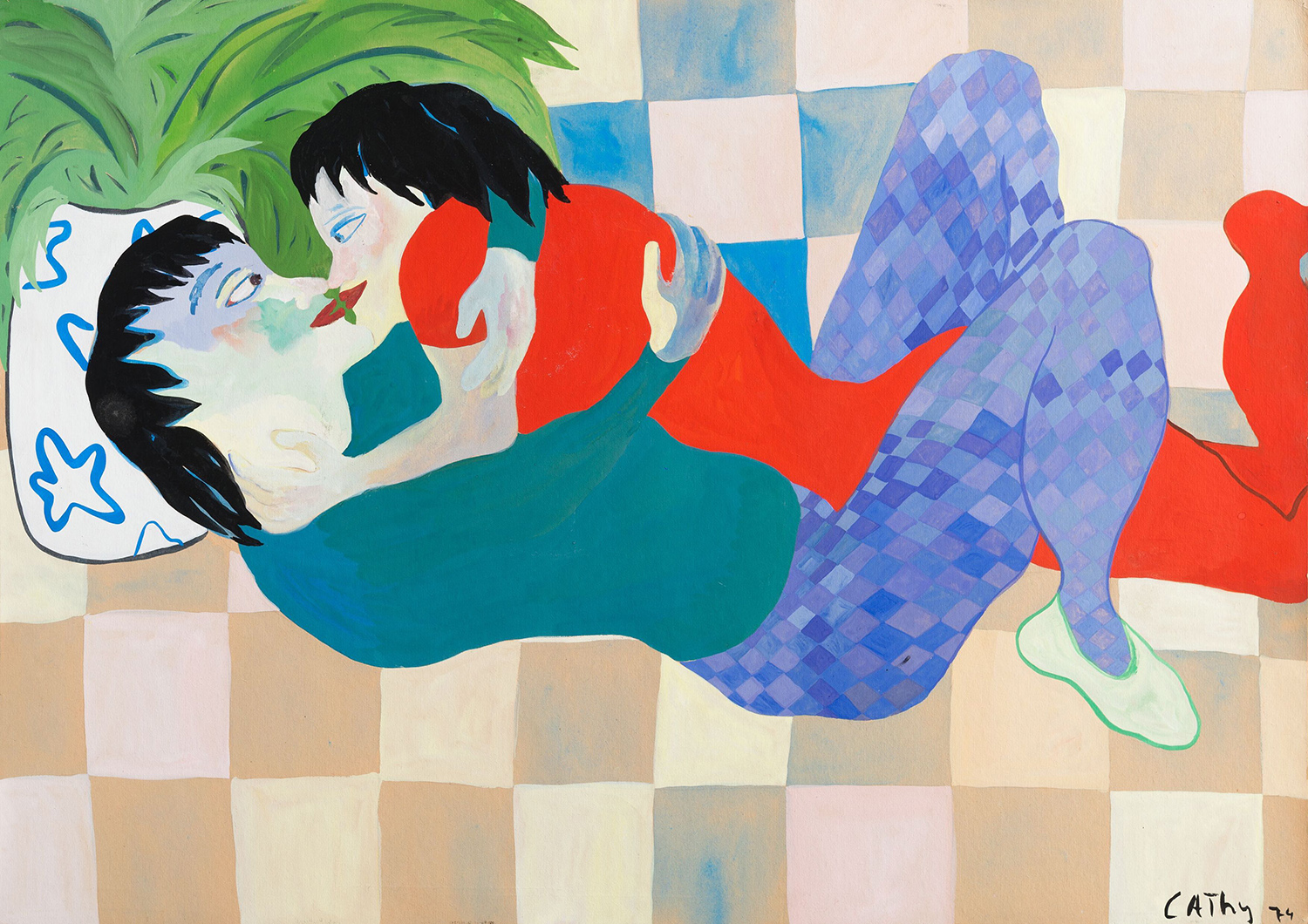 1. Cathy Josefowitz at Hauser & Wirth, New York
Recently rediscovered as an impassioned figurative and—later—abstract artist, Cathy Josefowitz created a vast body of paintings and works on paper in her 40-year career, but rarely exhibited them. Born in New York in 1956 to a mother who was a painter and a father who was a classical music producer and conductor, Josefowitz was raised in Geneva and schooled in theater, arts, and dance in Europe. Entering the École Nationale des Beaux-Arts in Paris at age 17, she soon began making works that were inspired by such early modernist masters as Dufy, Kokoschka, and Vlaminck, whose works she could readily view on her family's walls and in the local museums and galleries.
The "Forever Young" exhibition, which is her first solo show with the esteemed gallery, offers an overview of her hermetic practice. A number of spirited portraits from the early 1970s—including one of a smoker that she skillfully painted when she was just 16 and another of intertwined lovers in a sublime, checkered realm, which she made two years later—and series of playful sketches done in the summer of 1974 fill out the first floor of the show. A group of figurative pastels on paper continue her enchantment with coupling lovers on the gallery's second floor, where the content of her canvases turns more theatrical—with performers interacting with chairs or figures fragmented in sparse spaces. Through July 22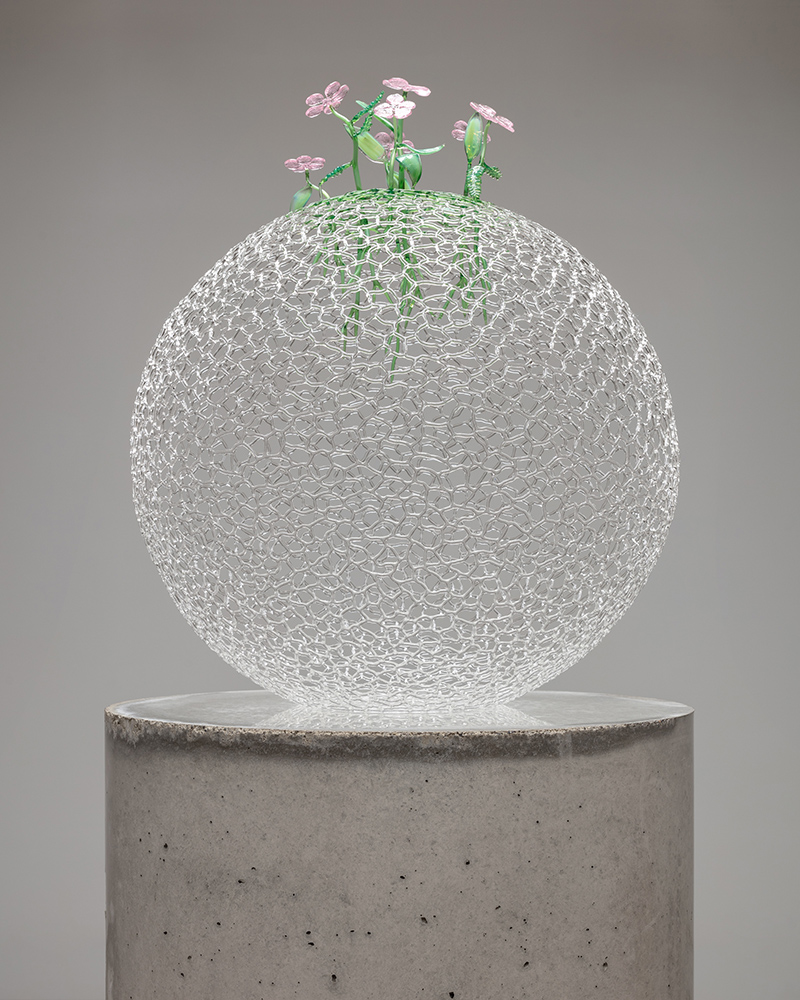 2. Kelly Akashi at Tanya Bonakdar Gallery, New York
A Los Angeles-born and based multidisciplinary artist, Kelly Akashi is best known for her representational sculptures imaginatively created in bronze and glass. Exhibiting internationally even before completing her MFA at the University of Southern California, Los Angeles in 2014, Akashi creates intimate pieces that convey a poetic sensibility, a true love of materials and a willingness to take chances in a continuous embrace of experimentation.
Returning to the city for her second New York solo gallery show since her groundbreaking exhibition at the Sculpture Center in 2017, Akashi has beautifully constructed two types of presentations on Tanya Bonakdar's two floors. Featuring engaging tableaus of bronze body parts and organic glass forms with found and natural objects on packed-earth pedestals in a dramatically lit gallery on the ground level and a gorgeous crystal and bronze bust of a female nude and a glass orb sprouting delicate flowers on a rotating concrete base in the two rooms above, her exhibition—appropriately titled "Infinite Body"—is pure enchantment. Through June 10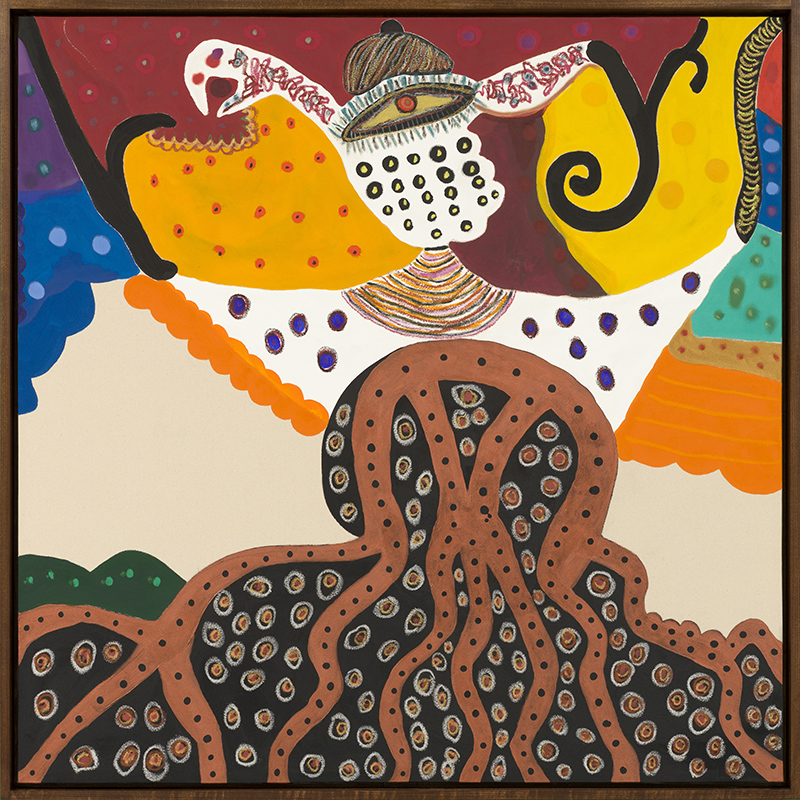 3. Uman at Nicola Vassell Gallery, New York
A self-taught artist who was born in Somalia and spent her youth in Kenya before relocating to Denmark and then New York, Uman makes expressive abstractions in a variety of media that encompass nature, the figure, and the cosmos. Creating paintings, drawings, collages, sculptures, and rugs, the gender-fluid artist works intuitively to construct imagery that's shamanistic, colorful, and gestural. Currently living and working in Upstate New York, Uman initially developed her artistic pursuits in art therapy classes at New York's Bellevue Hospital, but has since transformed her creativity into a full-blown practice in an 8,000-square foot studio with full-time assistants.
Presenting 17 large-scale paintings and 20 works on paper on purple, green, red, and white walls, the artist's first solo show with the gallery, "I Want Everything Now," draws the viewer into the space with its colorful mark-making, lively patterns and calligraphic squiggles. "I don't follow a lot of rules. And I think that helps me, because my mind is not restricted. I'm impulsive. Sometimes I start from a figure and it mutates into something else, into an abstract composition. I just go by my instincts. If I feel like adding a face or an eye or hands, I go with that," Uman recently said. The mixed-media works on view joyfully convey that approach in the truly liberated manner, which is the way that the artist wants to live her life. Through June 17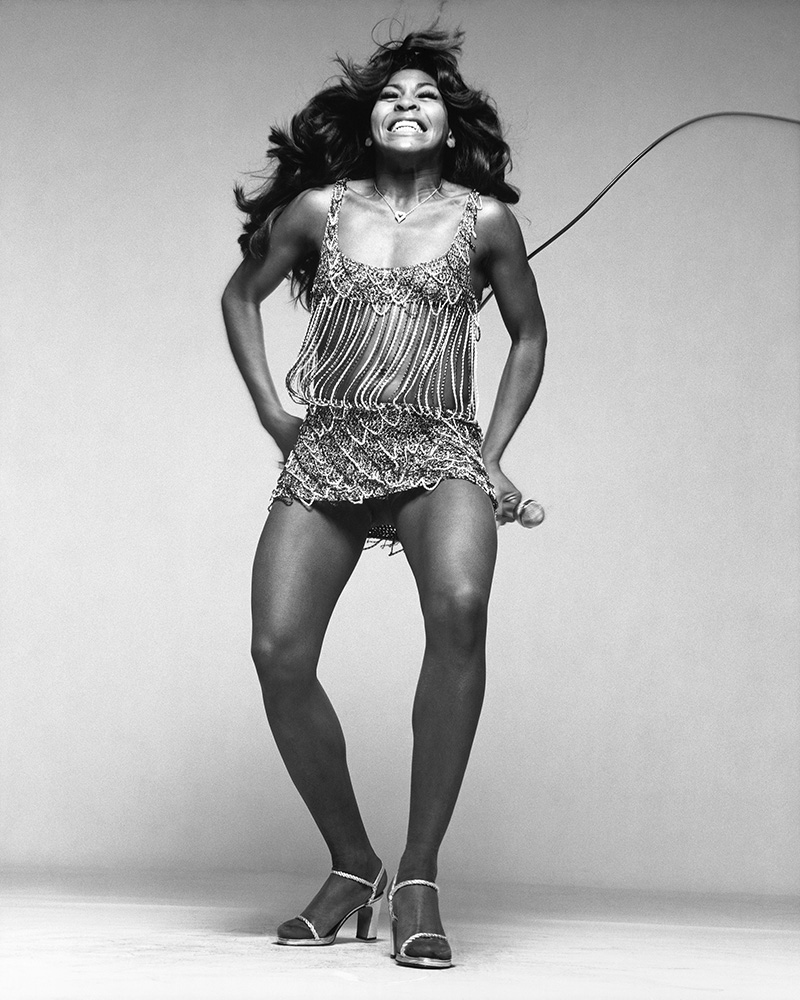 4. Richard Avedon at Gagosian, New York
One of America's most celebrated photographers, Richard Avedon made a name for himself shooting fashion spreads and cover stories for Harper's Bazaar, Vogue, and Elle before turning his attention to fine art—with his earlier editorial work eventually being deemed highly collectible, fine art photography as well. Born in New York to Jewish immigrant parents from Russia, Avedon studied photography with the famed art director Alexey Brodovitch, who gave him his first work at Harper's Bazaar, at the New School for Social Research. Working in a time when photography was key to promoting fashion and beauty products, he quickly rose to the top of his profession.
Marking the centenary of Avedon's birth, the amazing "Avedon 100" exhibition highlights 150 photographs selected by prominent artists, designers, musicians, writers, curators, and fashion-world representatives. Warhol author Blake Gopnik chose a 1969 photo of Andy Warhol revealing the surgical scar from being shot a year earlier; art collector and billionaire businessman François Pinault selected an iconic image of Marilyn Monroe from 1957, and fashion editor Tonne Goodman prophetically picked a 1971 photo of a gyrating Tina Turner in a revealing dress. Already viewed by nearly 15,000 visitors since opening in early May, this sensational show takes you on a marvelous pictorial walk through joyful and turbulent times. Through July 7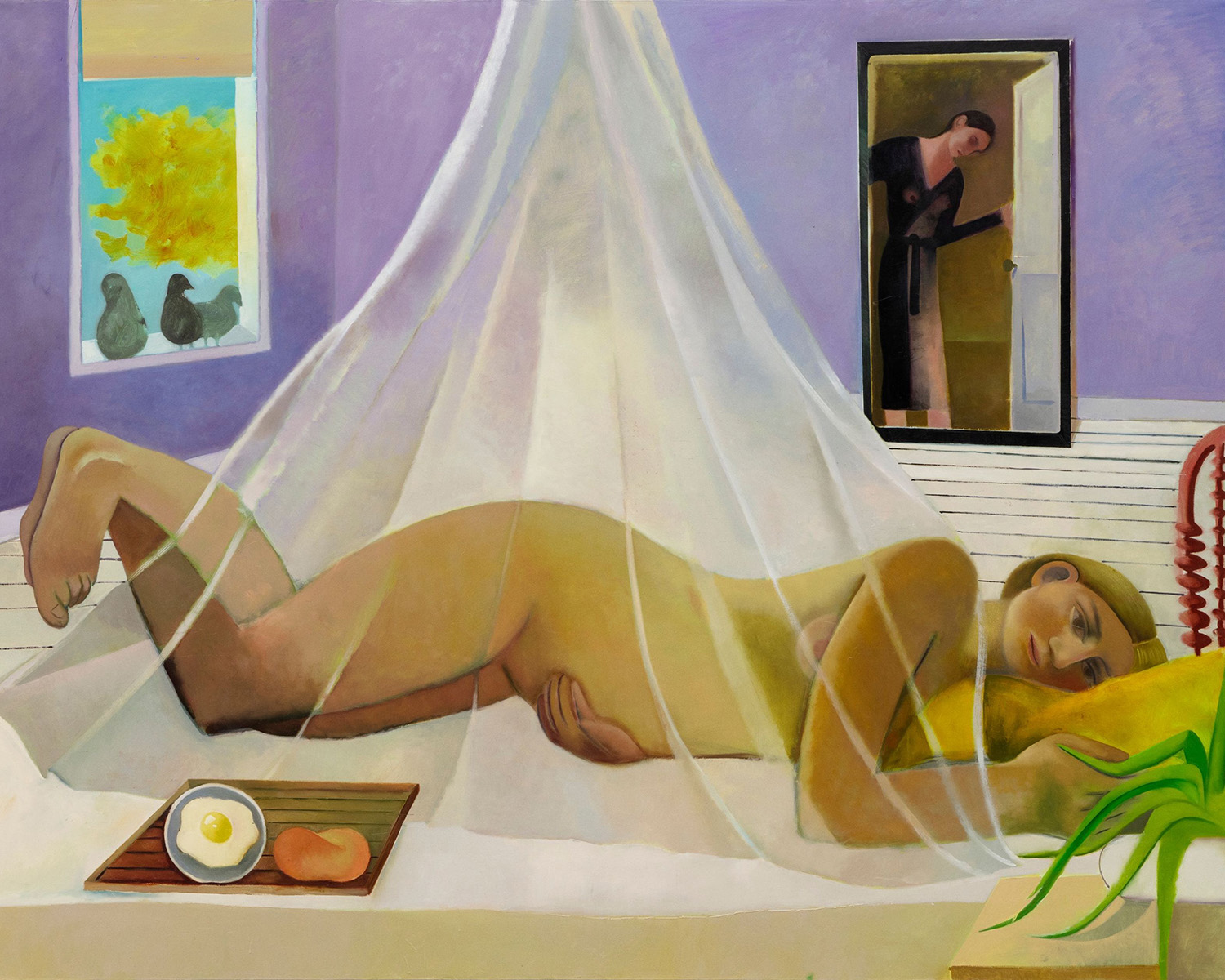 5. Danielle Orchard at Perrotin, New York
A talented painter from Indiana, Danielle Orchard studied in her home state before making the leap to New York, where she earned an MFA from Hunter College in 2013. Showing her finely fashioned figurative works with a string of prominent New York galleries—including Journal, Jack Hanley, and Half—before landing with powerhouse Perrotin, where she's had solo shows in Seoul, Paris, and now New York, the Brooklyn-based artist has become a rising star. Making paintings inspired by such modernist masters as Picasso and Matisse, she cleverly crafts timeless images with the female figure as her muse.
Exhibiting a dozen recent large-scale paintings in the exhibition "You Are a Serpent Who'll Return to the Ocean," Orchard presents female nudes and bathers at rest and at play, as well as naked women models casually posing in the studio. Her painting Le Cauchemar (The Nightmare) evokes Picasso's striking portrait of his mistress Marie-Thérèse Walter in his 1932 canvas Le Rêve (The Dream), while her paintings of lounging naked ladies, Pêches Plates and A Fallow Field, recall Matisse's many portrayals of a reclining odalisque. However, her depiction of a pregnant woman lying on a bed under a mosquito net, Our Sympathies (After Wyeth)—referencing Andrew Wyeth's 1980 portrait of Helga, titled Day Dream—hits a more personal note, with the artist mournfully yet bravely painting it after her own miscarriage. Through June 10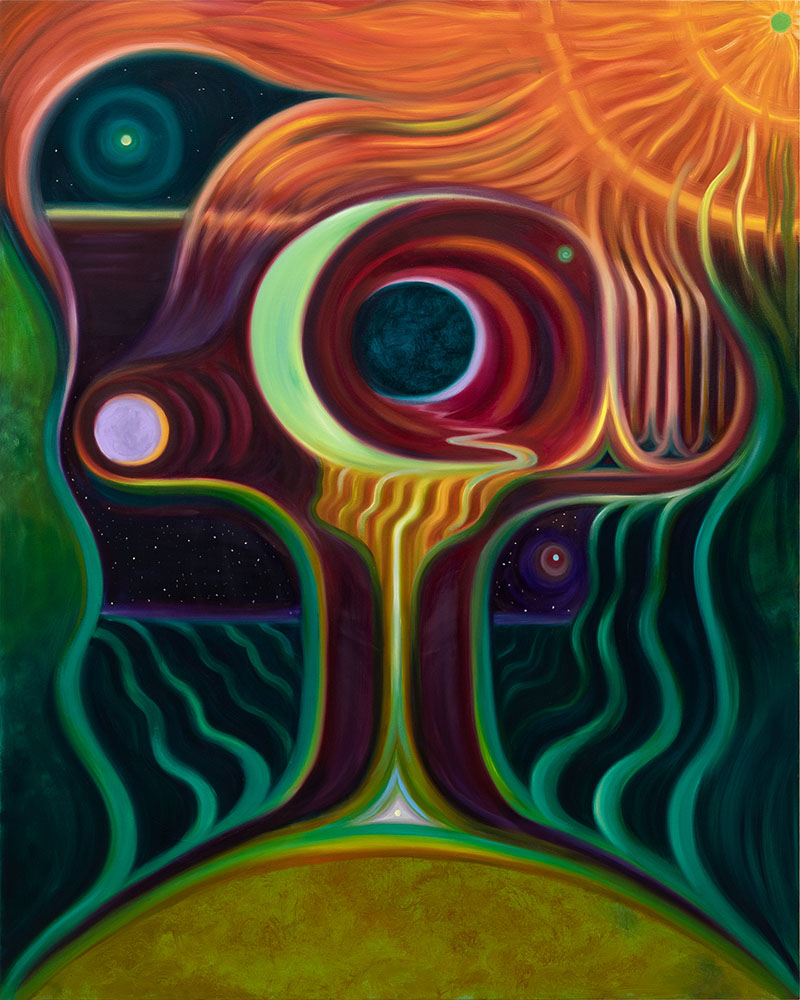 6. Zoe McGuire at Library Street Collective, Detroit
Drawing on the histories of abstraction, adornment, and spirituality, Zoe McGuire makes mystical paintings, which offer a surreal view of the world—as if seen through rose-colored, supernatural glasses. A recent MFA graduate from Cranbrook Academy of Art in Detroit, McGuire was already attracting the attention of galleries for her transcendental style of painting while still in school. A finalist for the coveted New American Paintings Emerging Artist Grant, she was featured in their 2022 publication.
For her solo show "Earthshine" at Library Street Collective (her first one-person exhibition in Detroit), the Brooklyn-based artist is presenting nine new landscape paintings, which range in size from just over a foot high and wide to a massive seven-feet by fourteen-feet canvas. Inspired by McGuire's research into ancient sun systems and their role in informing humans' inner realities, the paintings portray dreamlike imagery in vibrant colors and ornately fluid forms. Like Hilma af Klint and Agnes Pelton, she pays homage to the power of nature, but in her own majestic way. Through June 24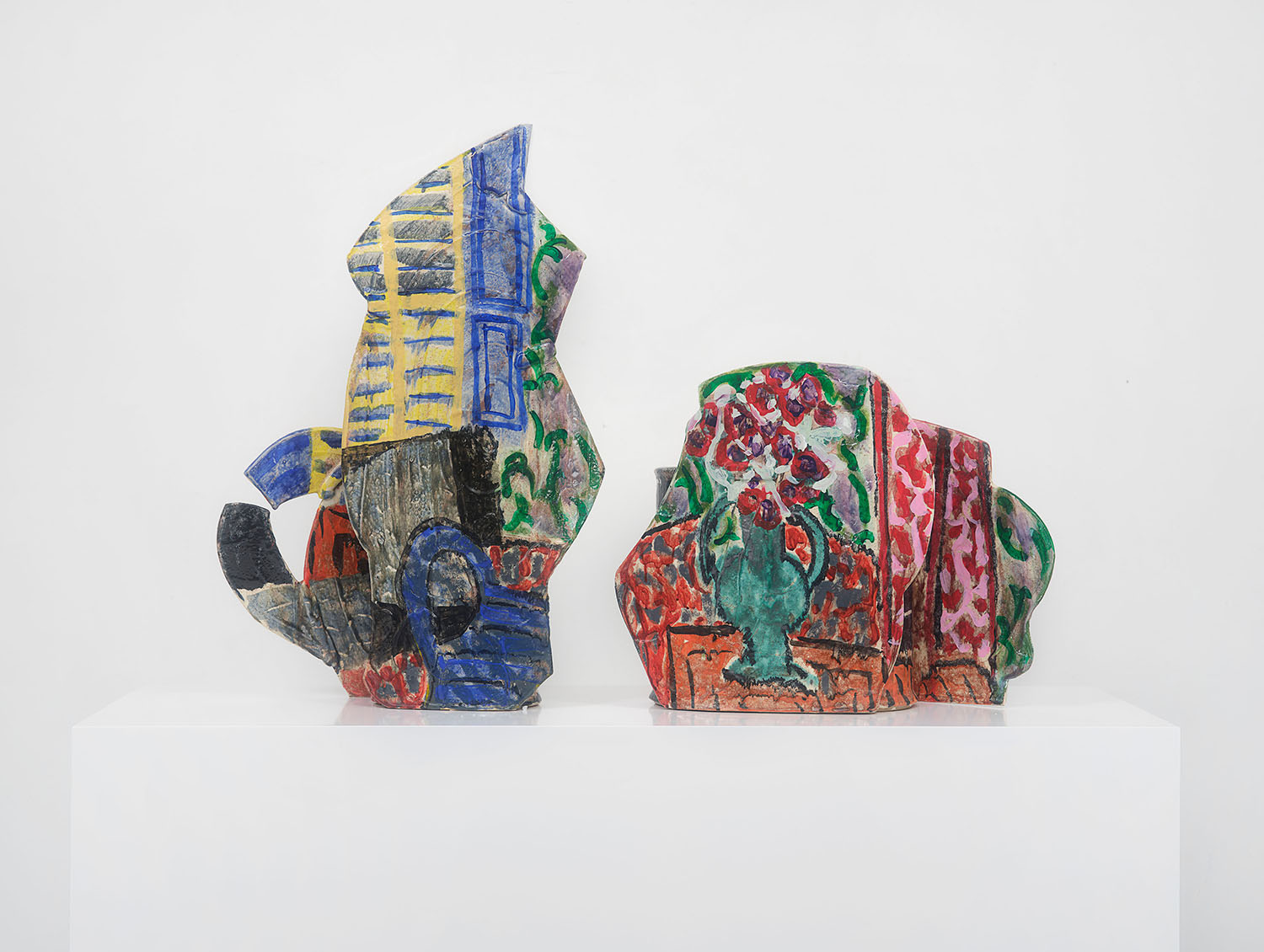 7. Betty Woodman at David Kordansky Gallery, Los Angeles
One of the leading artists working with ceramics as well as a sculptor and painter who helped elevate the medium from being chiefly considered craft to a broader acceptance in the fine art world, Betty Woodman was born in Connecticut in 1930, raised in Massachusetts, and educated at Alfred University's School for American Craftsmen in Upstate New York. After receiving a Fulbright-Hays Scholarship to do research in Florence, Italy, she returned to the United States and began exhibiting in craft exhibitions through the mid-1980s, when she started being shown as a crossover artist in contemporary art galleries. Since that time, Woodman, who  passed away in 2018, has had her work exhibited with major galleries and museums worldwide.
Exhibiting with Kordansky since 2015, "Diptychs" is her fourth solo show with the gallery. Featuring ten two-part ceramic vessels made between 1990 and 2013, the inventive works on view reference painting, sculpture, and architecture. Within that realm, Woodman explores ideas and motifs related to figuration, feminism, pattern, and decoration, along with abstraction and art history. Using her masterfully made glazed ceramics as a support for painting, the artist constructed bold sculptural forms with lively imagery to create compelling hybrid artworks, which greatly transcend their utilitarian use. Through June 16
Next Post