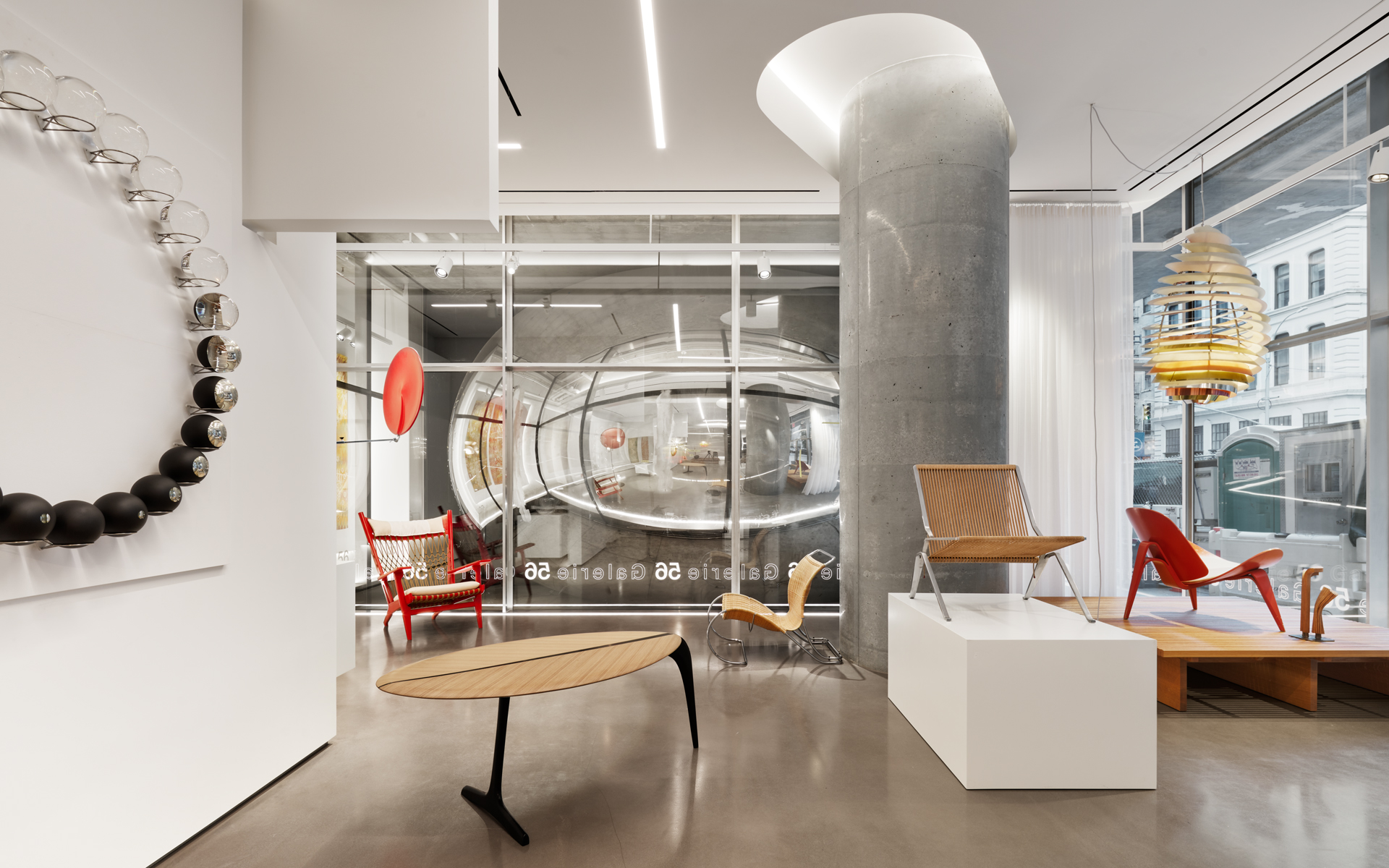 Lee F. Mindel Opens Spectacular Art and Design Space in Tribeca
The award-winning architect unveils Galerie56's inaugural exhibition, which features works by Olafur Eliasson, Alvar Aalto, and Hans Wegner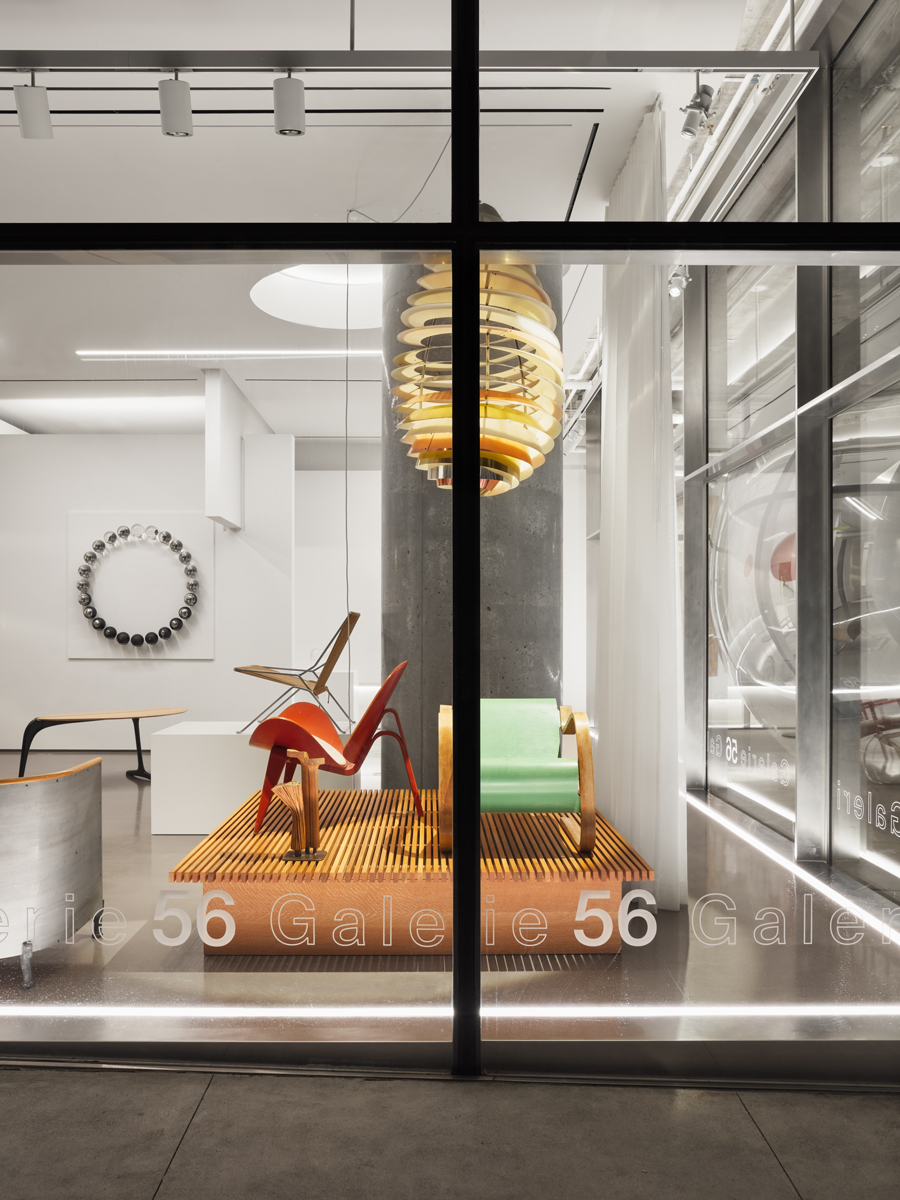 "This not a pop-up, its an intentional curated exhibit for people to learn from," noted Lee F. Mindel while conducting a walk through the inaugural exhibit at Galerie56, his latest venture, located on the street level of Herzog & de Meuron's "Jenga" building in TriBeCa. The debut exhibition, "Garden of Celestial Delights," was curated by the award-winning architect along with Ole Hostbo (founder of the Dansk Møbelkunst gallery in Copenhagen) and Paul Jackson (of Jacksons in Stockholm). It is inspired by Hieronymus Bosch's painting Garden of Earthly Delights and explores the "rigor, honesty, and poetry of the Nordic countries that are so affected by light."
On view are rare and unusual works by masters such as Olafur Eliasson, Alvar Aalto, Hans Wegner, Poul Henningsen, Barbro Nilsson, Timo Sarpaneva, Finn Juhl, Axel Salto, and others. Natural materials—wood, ceramic, glass, natural fibers—feature prominently. "These three countries, which are separated by the sea from mainland Europe, have always been into conservation, being respectful of the environment, recycling, and the love of natural materials," Mindel explained.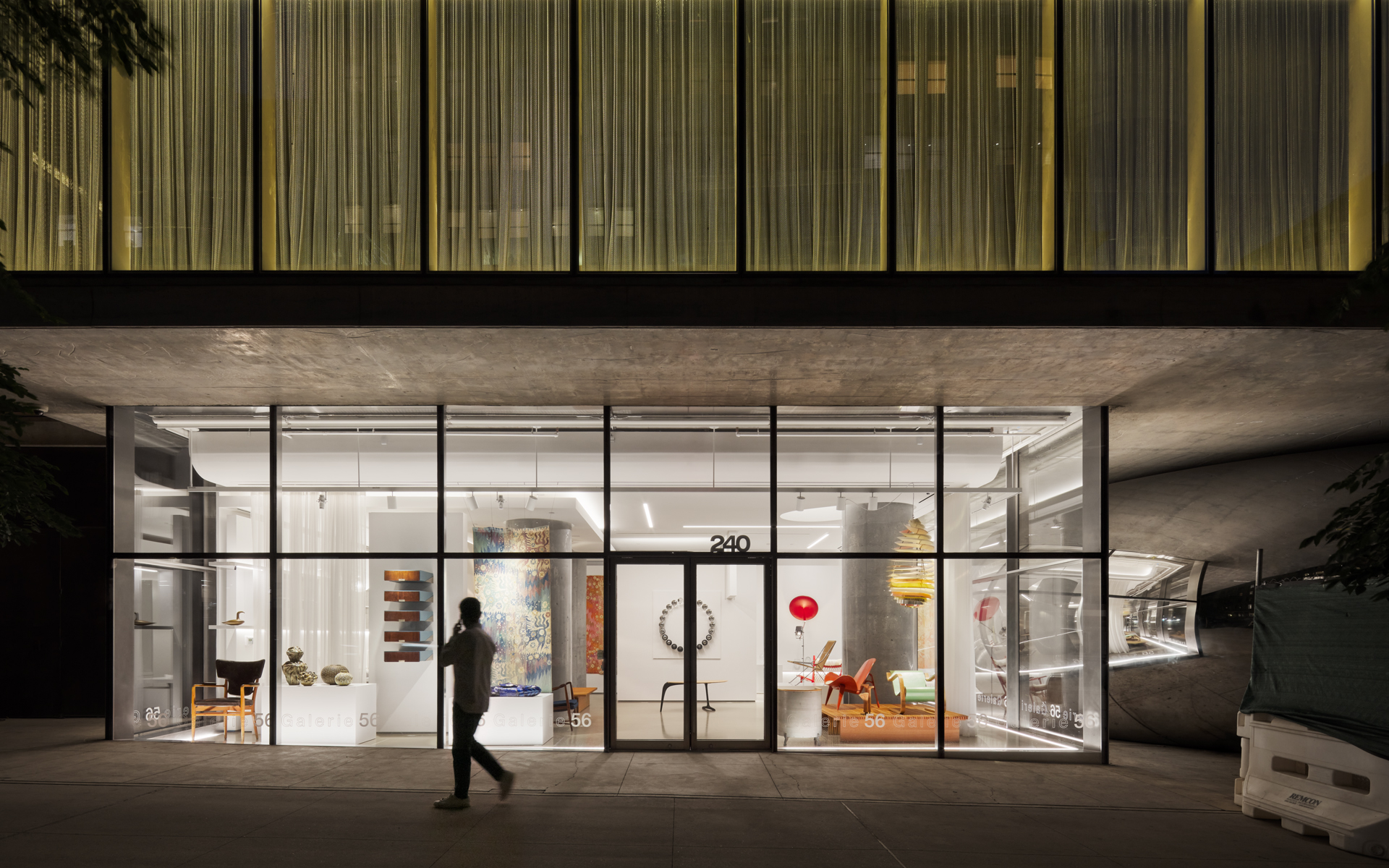 Every piece has a story behind it, which can be accessed via QR code. They include a Gunnar Asplund chair made for the courthouse in Gutenberg, Sweden ("the judge has to sit higher, so this sits three inches above the others," noted Mindel), a stack of Arne Jacobsen's Royal Drawer units made for the SAS Royal Hotel, a Mats Theselius aluminum armchair with braided birch bark upholstery, Poul Henningsen's House of the Future ceiling light rendered with fluorescent painted metal shades (only 15 were ever made), and a mesmerizing Olafur Eliasson Your Outside wall sculpture of 24 partially silvered crystal speres, that nods to the Anish Kapoor sculpture that sits outdoors just adjacent to the gallery space. "I don't view these pieces as old things, I view them as poetic things. Imagine the people making these things and the sensitivity…they're very moving."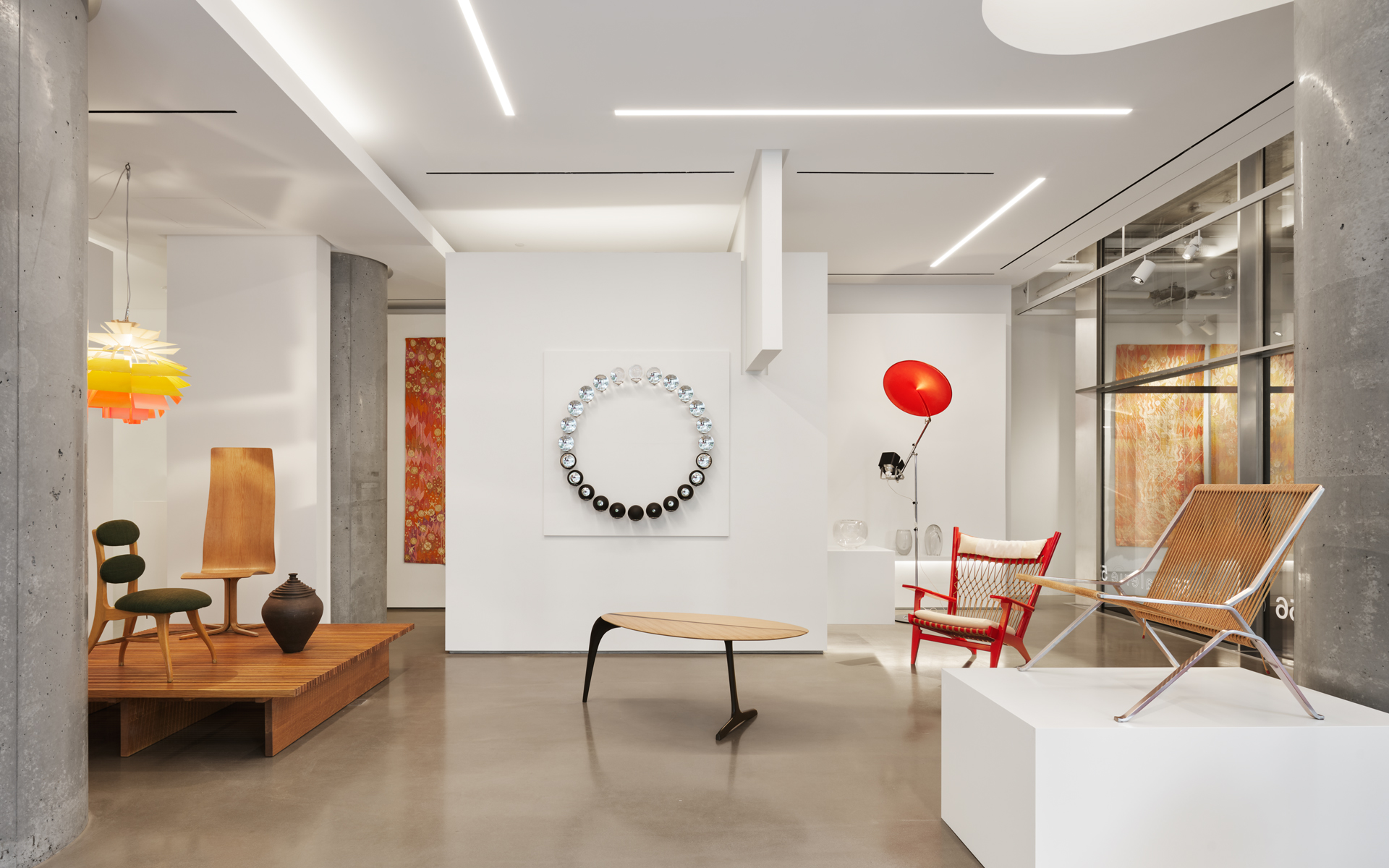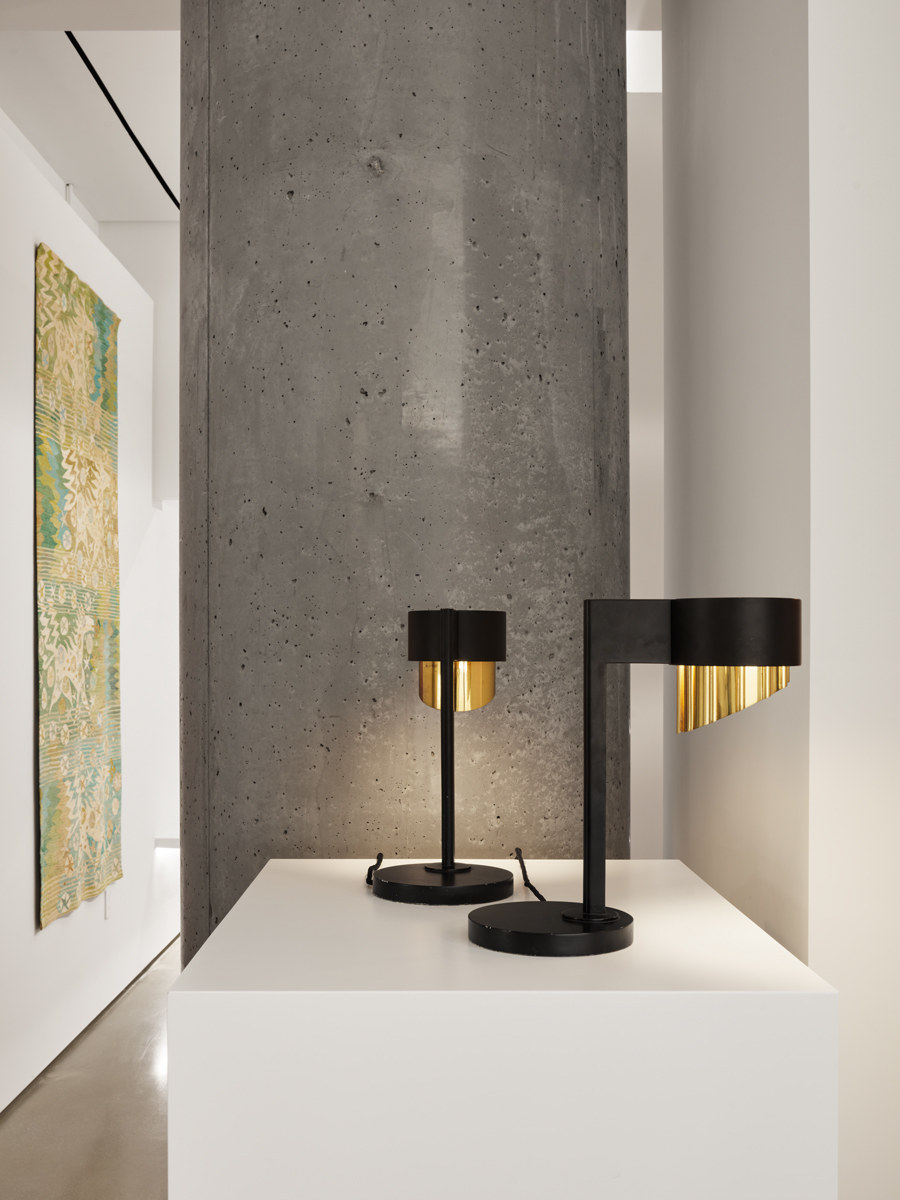 While he chairs the vetting committee for Design Miami/Basel, Mindel never intended to be a gallerist. He is, however, a thoughtful collector of art and design, and his passion and nearly encyclopedic knowledge of historical design is evident to anyone who spends time with him. Through a series of opportune events, he acquired and designed the gallery space during the pandemic. "We literally closed on the hood of a halal truck on 33rd and Park. Really, all the lawyers and notaries and a halal truck," he reminisces with a laugh. "I believed in the city and thought, let's complete the architecture of the building as a work of art and reinforce the neighborhood with a cultural space. It's not really commercial. I just want it to be excellent."
The current exhibition is on view through November 14. Up next: "Perriand to Noguchi," in collaboration with Francois Laffanour of Galerie Downtown and, afterwards, "the Democracy of the Chair," in collaboration with Saridis of Athens.
Visit Galerie56 at 240 Church Street, at Leonard Street. 
Next Post