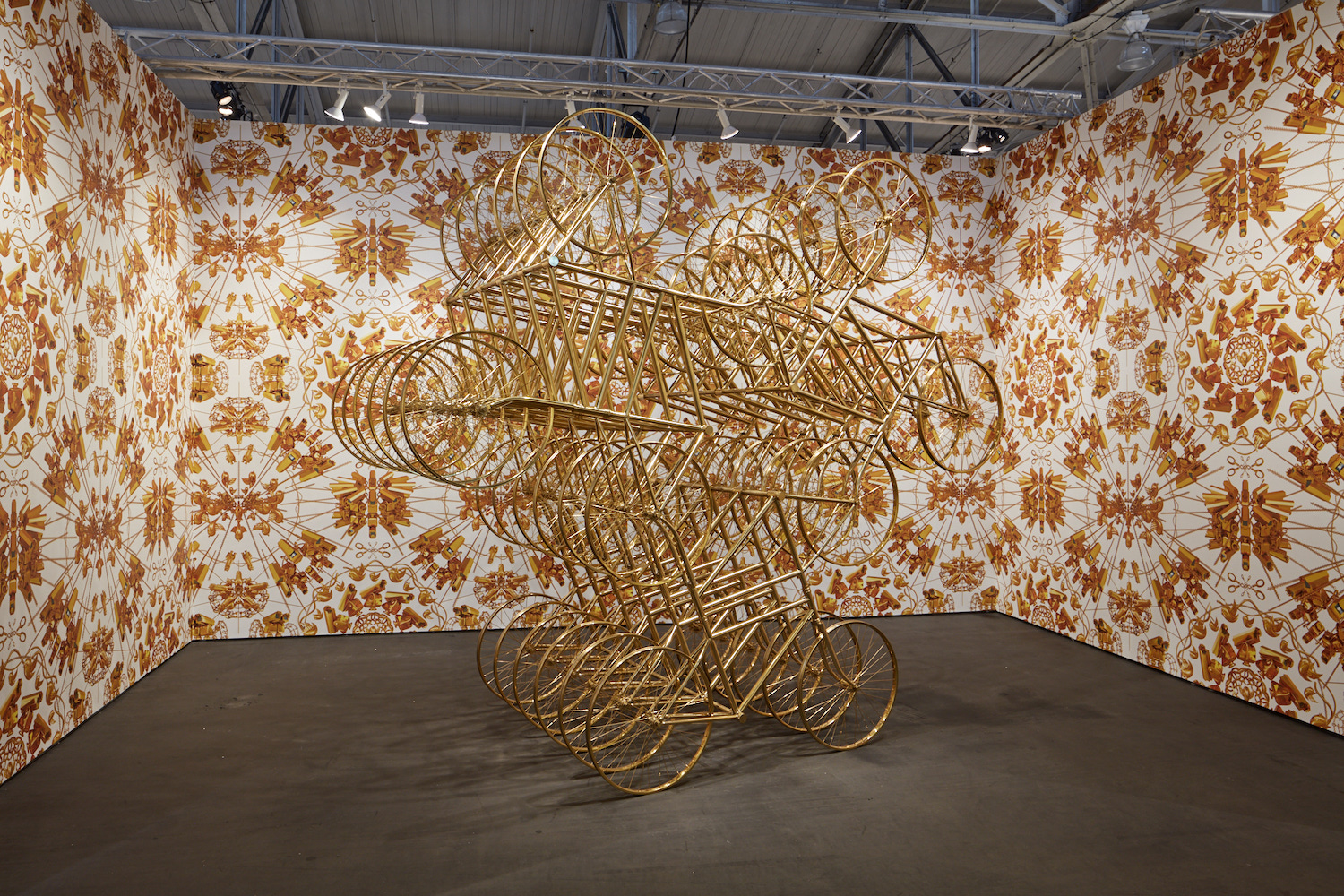 See the Art and Design Wowing Visitors at FOG and Untitled
Architect Steven Learner joins us for part of our journey
Despite persistent rainstorms that delayed galleries and collectors alike, the sixth edition of FOG Design+Art and the third edition of Untitled San Francisco both opened in the past 48 hours (FOG on January 17, Untitled on January 18), drawing crowds to Fort Mason Center for Arts and Culture and Pier 35 of the Embarcadero, respectively.
FOG's more than 50 art and design galleries include the global art powerhouses David Zwirner, Gagosian, and Hauser & Wirth. First-time exhibitors were the art galleries Andrew Kreps, Anton Kern Gallery, Blain Southern, Fergus McCaffrey, Perrotin, Karma, neugerriemschneider, Petzel, and Sprüth Magers as well as the design galleries Modernity and Sarah Myerscough.
At the entrance to the fair, by a solo booth of prints by the esteemed L.A. artist Laura Owens at print publisher Crown Point Press, we ran into Steven Learner, the architect, designer, and founder of New York's Collective Design fair (which is on hiatus for 2019). He'd flown in from New York for FOG and agreed to let us follow his foray into the design booths the first night of the fair.
Browsing the aisles, Learner was wowed instantly by two Alvar Aalto chairs ($80,000 for the pair) at Stockholm's Modernity and queried the gallery's Andrew Duncanson about their provenance, given their exceptional condition. Learner was also taken with Londoner Sarah Myerscough's stand, most especially a large, deeply grooved vessel jointly designed by Gareth Neal and the late Pritzker Prize–winning architect Zaha Hadid. As Myerscough explained, the collaboration was initiated by the American Hardwood Export Council and Benchmark Furniture and was exhibited at the Victoria and Albert Museum in London as part of "The Wish List" during the London Design Festival 2014.
Learner also popped into New York's Magen H. Gallery, known for 20th-century furniture but drawing attention on FOG's opening night as the exhibitor of jewelry: a series of bracelets from the 1970s by French artist and jewelry designer Jean-Claude Bonillo. Arrayed simply in a dark wood wall cabinet along one wall of the booth, the jewelry might have gone unnoticed but for the fact the gallery's associates had bedecked themselves in Bonillo's golden sculptural necklaces. It was there that we parted ways with Learner only to be left to our own devices.
Among the art galleries, Lévy Gorvy's booth at FOG is devoted to a thoughtful and well-contextualized presentation of work by Carol Rama (whose work is on view at the New York gallery through March 24) and Gego, as the late Venezuelan-German abstract artist Gertrud Goldschmid was known. Artworks on view include Rama's "Bricolage" series, dating to the late 1960s, as well as several figurative works, and mixed-media compositions and a selection of Gego's monotypes, watercolors, and drawings.
Then there are Matthew Angelo Harrison's starkly beautiful 2018 sculptures in the Tenderloin-based gallerist Jessica Silverman's stand. His clear blocks of polyurethane resin encapsulate wood sculptures, face masks from West Africa, and are hoisted on spare, industrial-style pedestals. Work from the Detroit artist's same series was featured in the New Museum's Triennial last year in Manhattan.
One of the most arresting booths at FOG, sited toward the front of the fair, is from San Francisco gallerist Cheryl Haines. Adorned in a fantastic black hat atop her trademark blue ombré tresses, the gallerist presided over her confident presentation of one work: Forever Bicycles (2013), a colossal brass-colored sculpture of interconnected bike frames from artist Ai Weiwei's much-exhibited series exploring how the mass production of two-wheelers relates to Chinese culture.
Haines also has a presence at Untitled via her nonprofit the For-Site Foundation, which is proffering an array of art objects—all multiples—from the diverse array of artists like Ai Weiwei, Trevor Paglen, Stephanie Syjuco, and others who have worked on For-Site's celebrated public art commissions around San Francisco. Funds from sales at Untitled support future public art projects.
A party seemed to be taking place during Untitled's VIP preview Friday, January 18, at the stand of San Francisco gallerist Catherine Clark, who has a solo presentation of photos, sculptures, videos, art objects, and "typewriter drawings" from artist Lenka Clayton.
Also swarming was New York gallerist Nancy Hoffman's booth at that fair. Women lined up to take selfies with San Francisco artist Michele Pred in front of her fast-selling vintage purses that use electroluminescent wire to flash illuminated feminist messages like "Me Too," "Equal Pay," and "Pro-Choice." The handbags are meant to "serve as small-scale political billboards," the artist said, as a second line began forming of those willing to open their own purses to demonstrate their "Power of the Purse," as Pred's series is called.
Karen Jenkins-Johnson's namesake gallery, based in the Bay Area with a small project space in New York, has a group presentation at Untitled with notable archival prints and textile wall sculptures from the St. Louis artist Basil Kincaid, who recently had a solo exhibition at the Pulitzer Arts Foundation in his hometown.
Gallerist David Zwirner's expansive booth at Untitled is devoted to photographs of all sizes (including a selection of Polaroids) by Philip-Lorca diCorcia spanning more than 30 years. New York's Geary Contemporary, based on Varick Street in Manhattan's SoHo and showing at Untitled for the first time, has a solo presentation of lively landscape paintings by Brooklyn artist Alan Prazniak. Fort Gansevoort's booth staged a solo presentation of works by former surfer Roy Fowler with sculptural pieces by Mary Heilmann. And a new series of eye-popping prints by Daniel Gordon were on view at Onestar, Paris.
Annette Lasala Spillane of Tara, the one booth with design at Untitled, was showing interlocking and versatile rings, necklaces, bracelets, and earrings in yellow and white gold.
FOG Design + Art and Untitled, along with a variety of special off-site collection visits, continue through Sunday, January 20.
Next Post