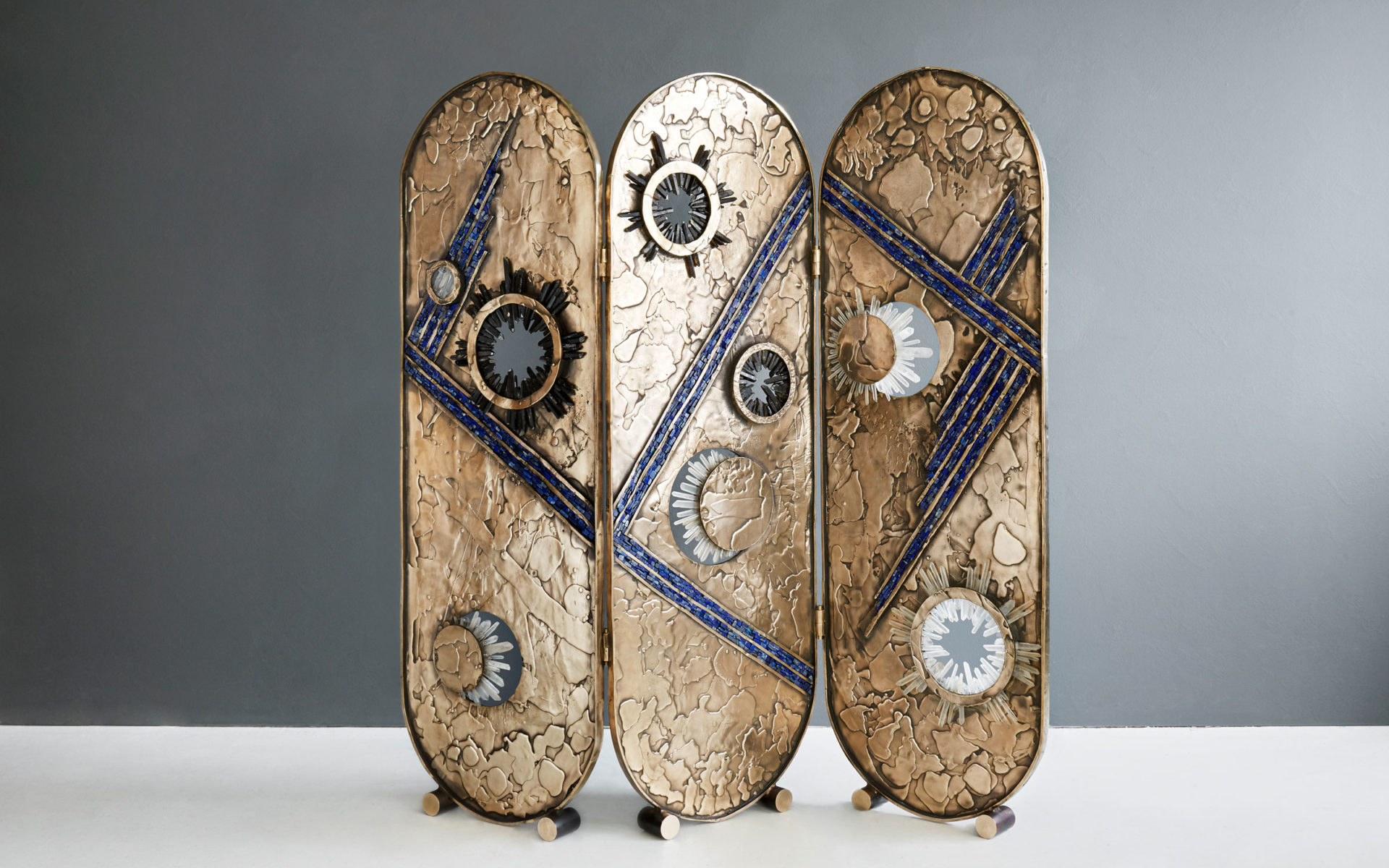 The FOG Design & Art Fair Kicks Off in San Francisco
The fifth edition of San Francisco's premiere art and design fair presents an eclectic mix of objects, furniture and visual art.
FOG Design + Art kicked off with a bang on January 10 with a sold-out gala to benefit the San Francisco Museum of Modern Art (SFMOMA). The fifth edition of San Francisco's premiere art and design fair ran from January 11 through 14 at Fort Mason Center for Arts and Culture and featured 45 international design and art galleries for a highly curated selection of objects, furniture and visual art.
"They're tailoring their presentation to match up to the kind of collector and the kind of enthusiast who is coming to the fair, and so the quality level of the fair is increasing, and the quality level of the fair has been great," said Douglas Durkin, FOG co-founder and steering committee member. "There's a lot more curation going on of a higher order."
"San Francisco has always had a very deep, intense and focused market of collectors and museums, and it's very different than Los Angeles or New York, or Houston," added Emilio Steinberger, senior director at Lévy Gorvy, which exhibited works by Terri Adkins, Anish Kapoor and Enrico Castellani. "It's kind of its own thing, and with the expansion of the museum, it's the tech money coming in. The middle is expanding and a bit more vibrant, so I think that's the difference in other places."
Here, we share the trends and highlights of the 2018 edition of FOG Design + Art.
NEW GALLERIES
Eight galleries were able to secure one of the coveted 45 spots at the fair for the first time this year, including Galerie Chantal Crousel, Galerie Chastel Maréchal, Luhring Augustine, Nicholas Kilner, Paul Kasmin, Sadie Coles, Stuart Shave/Modern Art, and THE NEW / Twentieth.
CERAMICS
Ceramics were of the most prevalent objects on display in the design area. Aneta Regel's abstract textured ceramic forms at New York's Jason Jacques Gallery emulate the nature that surrounds her, incorporating volcanic rock materials, basalt, granite, and feldspars in clay. Meanwhile, New York gallery Hostler Borrows displayed Finnish artist Jasmin Anoschkin's playful animal ceramic sculptures. San Francisco gallery Lebreton displayed a number of French midcentury ceramics, like Suzanne Ramie-Madoura's Oie, a minimal circa-1960 goose sculpture.
SAN FRANCISCO EXHIBITIONS     
"People here develop a certain fondness for artists as they get to know them," explained San Francisco gallerist Claudia Altman Siegel, who is currently showing Bay Area artist Liam Everett in her eponymous Minnesota Street Project space. Dealers took that to heart, offering works by artists who have current or recent museum or gallery exhibitions in the Bay Area. PACE displayed a magnificent deer sculpture by Kohei Nawa, who will be on exhibit in its Palo Alto gallery.
Sadie Coles HQ presented two of Ugo Rondinone's vibrant rock sculptures, following his summer exhibition last year at the Berkeley Art Museum/Pacific Film Archive (BAMPFA). David Zwirner showed off hanging sculptures by the late local hero Ruth Asawa, who also recently exhibited at BAMPFA. In addition, Tonya Bonakdar Gallery displayed Tomás Saraceno and Lévy Gorvy presents photographs by Diane Arbus — both of whom have had recent exhibitions at SFMOMA.
HOME FIELD
Local galleries exhibited in full force, including Altman Siegel Gallery, which showed Matt Keegan's steel cutout sculptures, and Alex Olsen's colorful canvases. Jessica Silverman also presented hanging steel, in the form of a work of power-coated steel chain by Davina Semo. Berggruen Gallery exhibited the works of Tauba Auerbach, Sarah Crowner, Paul Kremer, Joel Shapiro. In addition to Nawa, PACE hung two-dimensional works by James Turrell. Meanwhile, Gagosian displayed a mix of artists from their blue-chip roster, like a butterfly and polka dot work by Damien Hirst.
TALKS
Artists Isaac Julien, Ryan McGinley, and Lynn Hershman Leeson are among the panelists who talked at the 2018 edition of FOG Design + Art. "Women Rising: Building Representation and Marketability for Female Artists," took a timely look at how female artists can cultivate their careers, and features Jori Finkel, arts journalist for The New York Times and The Art Newspaper, Anne Ellegood, senior curator of the Hammer Museum, Wendi Norris, owner and founder of Gallery Wendi Norris and Lucía Sanromán, director of visual arts, Yerba Buena Center for the Arts.
The fifth edition of FOG ran from January 11—14, 2018  at the Fort Mason Center for Arts and Culture.
Next Post