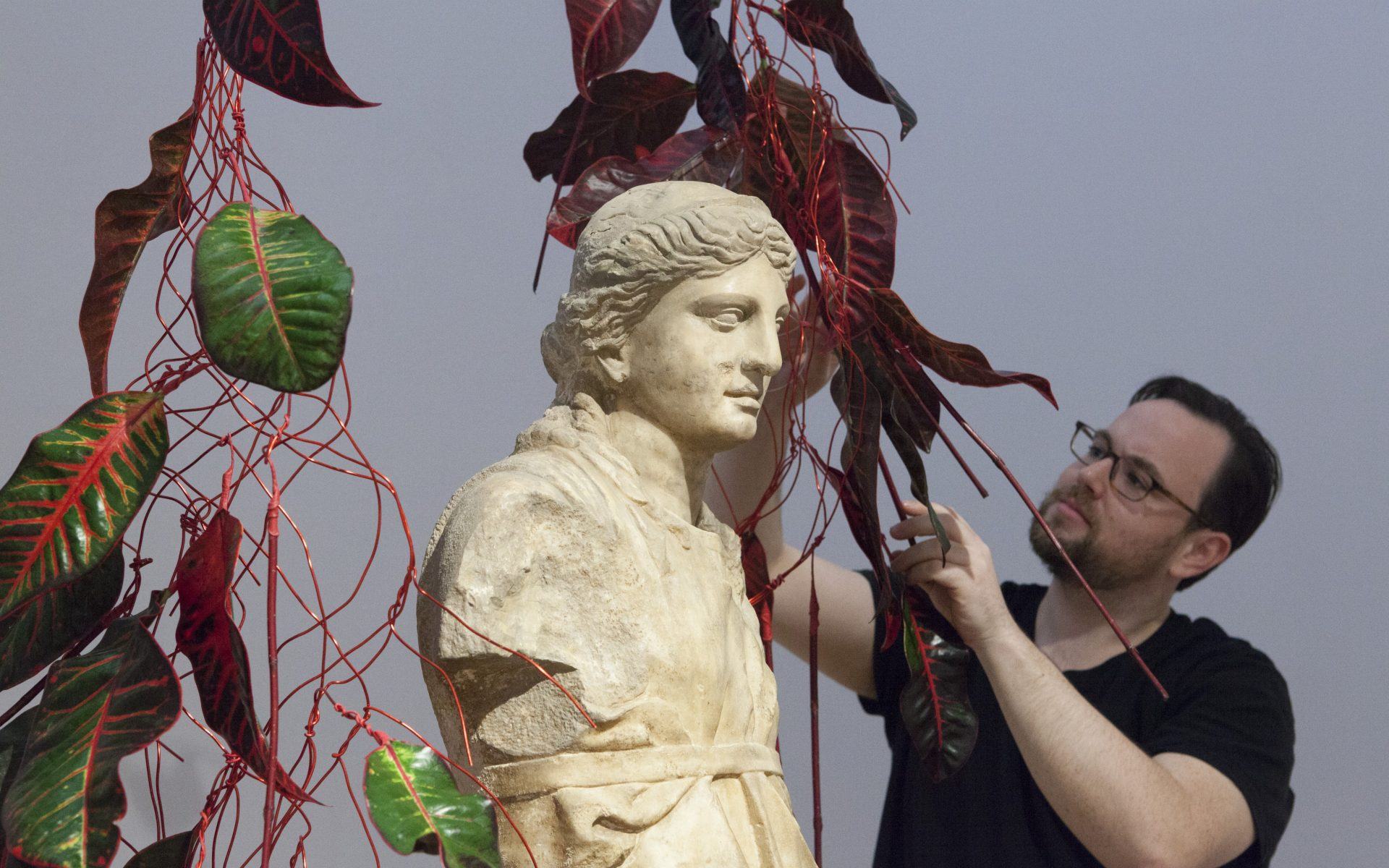 4 Floral Designers Create Stunning Arrangements Inspired by Classic Works of Art
The masterful installations will be on view to help kick off Classic Week at Christie's New York
Where most auction houses host champagne-filled receptions to launch an important event, Christie's New York is turning over a new leaf—literally—to build excitement around its upcoming Classic Week, which comprises seven auctions offering historic objects and works of art. For the weeklong event, which takes place April 29 through May 1, the auction house asked a number of world-renowned floral designers to create masterworks of flowers, fruits, and other plants, which will be on display in Christie's Rockefeller Center galleries. Among the designers are Putnam & Putnam, Emily Thompson, Joshua Werber, and Brittany Asch, all of whom were featured in the recent tome Blooms: Contemporary Floral Design (Phaidon, $49.95).
"Seeing these flowers gives you more of an idea of the bounty and the expense that went into some of these arrangements that are replicated in paint," Jonquil O'Reilly, head of sale for Old Masters at Christie's, tells Galerie. "At a glance, they just look like arrangements of flowers and fruit, but when you see the actual livings things, it gives you a better understanding of just how expensive and desirable they would have been.
"I love what Putnam & Putnam has done to create a dialogue between the actual installation that echoes one of our highlights, the Juan van der Hamen y León, and the fact that it can help the viewer to really understand how the artist replicates these subtle textures and subtle uses of light," she adds.
Recommended: 8 of the Most Artful Florists in the World
Comprising Classic Week are seven sales: Antiquities; "Masterpieces in Miniature: Ancient Engraved Gems Formerly in the G. Sangiorgi Collection"; European art; "The Desmarais Collection: A pied-a-terre in New York"; Old Masters; Masterworks from the Estate of Lila and Herman Shickman; and Old Master paintings and sculpture.
Here, Galerie got an exclusive preview of the installations and insight into a few of the floral creations from the designers themselves.
1. Joshua Werber
"It's a thrill to be able to engage with and recontextualize these ancient pieces from a contemporary perspective. The installation was inspired by laurel crowns and garland motifs—some of the earliest forms of floral adornment—and the handwork that went into creating these objects."
2. Brittany Asch, Brrch
"After viewing the space and Old Masters collection, I was most inspired by the painting Judith with the Head of Holofernes. She became my main focus and inspiration in wanting to represent a ghostly image of how the outward conventional displays of 'femininity' are often mistaken for a kind of weakness when really the pearl is no different than the sword, the rose inseparable from its thorns. I decided to make a piece in tribute to her."
3. Emily Thompson
"Bringing our work into the galleries is a marvelous exercise in contrasts—the raw presence of the fleeting medium of flowers is a powerful counterpoint to treasures that have been hoarded and carefully preserved for centuries. My living medium is so often what inspired painters and sculptors and is now here in its raw form."
4. Michael Putnam, Putnam & Putnam
"We have always pulled inspiration from Old World still lifes, trying to replicate the use of color, movement, and the ephemeral nature of living elements. In this still life, we wanted to embrace the vibrant color, opulence, and soft movement found in so many famous works."
Next Post