Phillips's Buy-Now Jewelry Platform Launches with Shaun Leane's Daring Creations
The auction house's exciting new offering reflects its commitment to championing contemporary jewelers like Leane, who will also stage selling exhibitions there
As auction houses seek new ways to entice an international clientele in an increasingly digital marketplace, Phillips is differentiating itself through the launch of a new private selling platform dedicated to jewelry. Launching September 24, Flawless Phillips allows the immediate purchase of heritage jewels, as well as exclusive access to new collections from contemporary designers. While the move could be seen as a response to the COVID-19 pandemic forcing auction houses to close their doors or operate under strict limitations, Paul Redmayne, Phillips's head of private sales, jewelry, tells Galerie that plans for Flawless predate the crisis.
"We were getting numerous enquiries from clients looking to buy and sell outside of the two traditional auction seasons," says Redmayne. "The world is turning more online. Our client demographic is getting younger, with 40 percent of buyers in our recent Hong Kong jewels sale being under 40."
In addition to a collection from a featured designer, Flawless will typically have around 50 items available for immediate purchase at any time, including classic jewels by the likes of Cartier, Chaumet, Mauboussin, Tiffany & Co., and Van Cleef & Arpels. Its major competitive advantage, however, is its emphasis on contemporary jewelry, which, Redmayne shares, is a fast-growing sector of the market.
"Private clients regularly ask us whom they should be looking out for next, so we are bringing our collective knowledge and insight to the market through the creation of Flawless and currently working on a number of future collaborations with other prominent contemporary designers," the specialist says.
"It is essential for me that all the pieces retain my recognizable handwriting and an energy which makes the wearer feel empowered and chic"

Shaun Leane
Originally slated to work with Phillips on a selling exhibition coinciding with his book launch in March 2020, British designer Shaun Leane is kicking off an ongoing partnership with the house by being Flawless's first featured jeweler. To celebrate his company's 21st anniversary, Leane developed a 12-piece fine and high-jewelry collection exclusively available though Phillips. Each work is one of a kind and uniquely captures the romantic-warrior dichotomy of his past creations, which most famously graced the runways of Alexander McQueen.
"The body of work that I have created for the 21st anniversary is a curated collection which celebrates some of most iconic designs of the house. I have visited some of the strongest silhouettes I created with McQueen and imagined and transformed them in fine high jewelry as a collection that is diverse in shape, form, material, and craft. I hope the collection reflects the many facets of my career, the broken boundaries, the fearless design and energy, but also respects the heritage of fine goldsmithing," Leane, who has also designed for Boucheron high jewelry, tells Galerie. The pieces in his Phillips collection range from a striking 18K-yellow-gold-vermeil Couture Quill choker—one of the jeweler's most iconic motifs—for £15,250 ($19,437), to an electrifying Sapphire Shield ring, centering a 10.53-carat stone, for £175,000 ($223,000). "It is essential for me that all the pieces retain my recognizable handwriting and an energy which makes the wearer feel empowered and chic."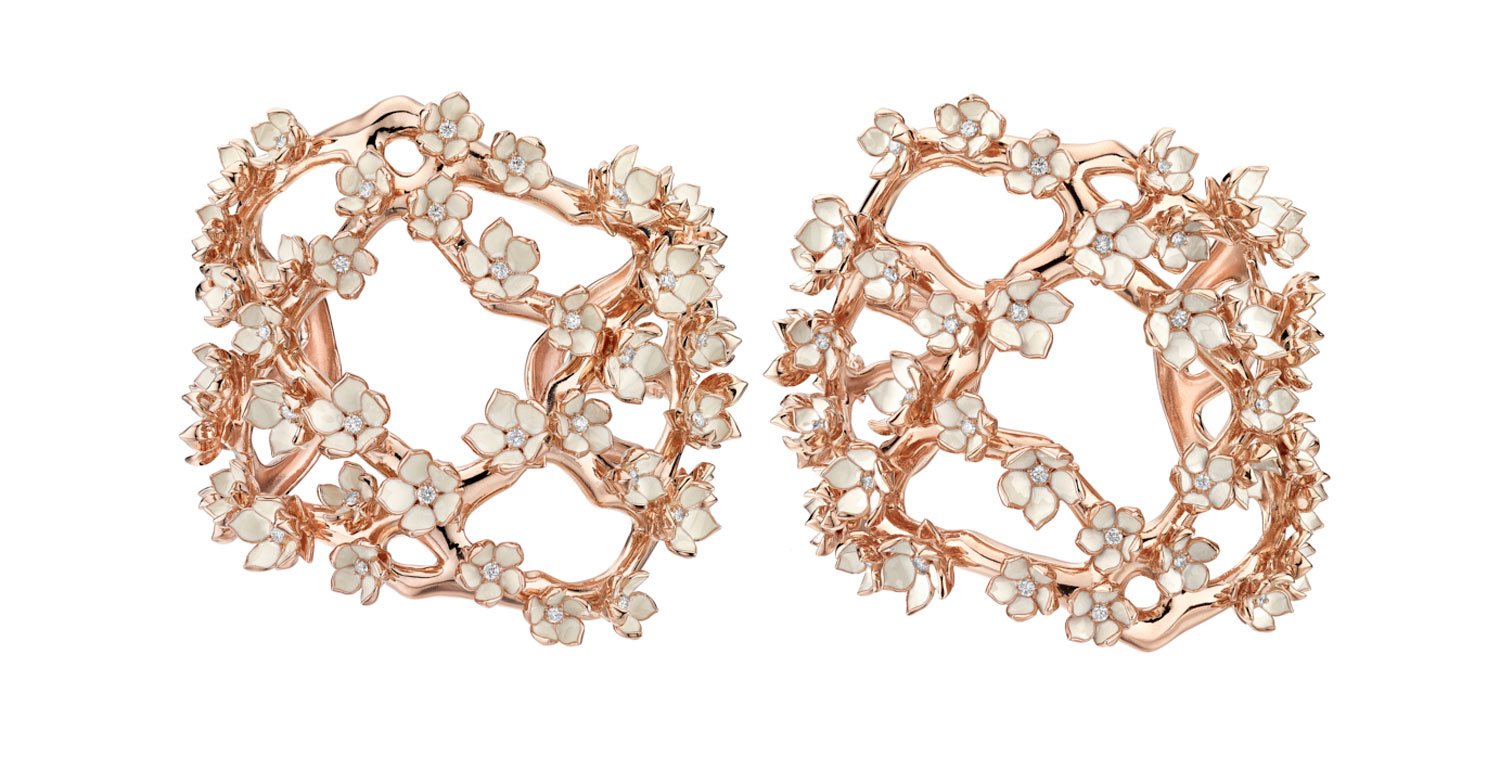 Regarding how he took the auction house's clientele into consideration when designing this new collection, Leane says, "The Phillips client has a total appreciation for design and craft and an open mind to nonconventional design. They also approach buying jewelry in a nontraditional way through a platform such as Flawless, knowing and trusting the reputation of an artist through such a prestigious house." The artist incorporated a range of materials, such as feathers, leather, and colored diamonds, to fulfill what he calls "this appetite for innovative and daring jewelry."
As part of their ongoing partnership, Redmayne shares that Leane is working on five more jewels to debut at Phillips later this year, perhaps at his selling exhibitions planned for spring 2021 in London and New York. "Shaun has such a strong aesthetic, crossing the boundary between jewelry, art, and couture," says Redmayne, who also teases future iterations of Flawless: Flawless Vintage, Flawless Contemporary, and Flawless Diamonds and Gemstones. "His pieces are incredibly interesting and relevant, coupled with his fantastic mind and very strong identity."
Shaun Leane's collection will also be available to view at the Phillips gallery in Southampton, New York, from October 15. 
Next Post