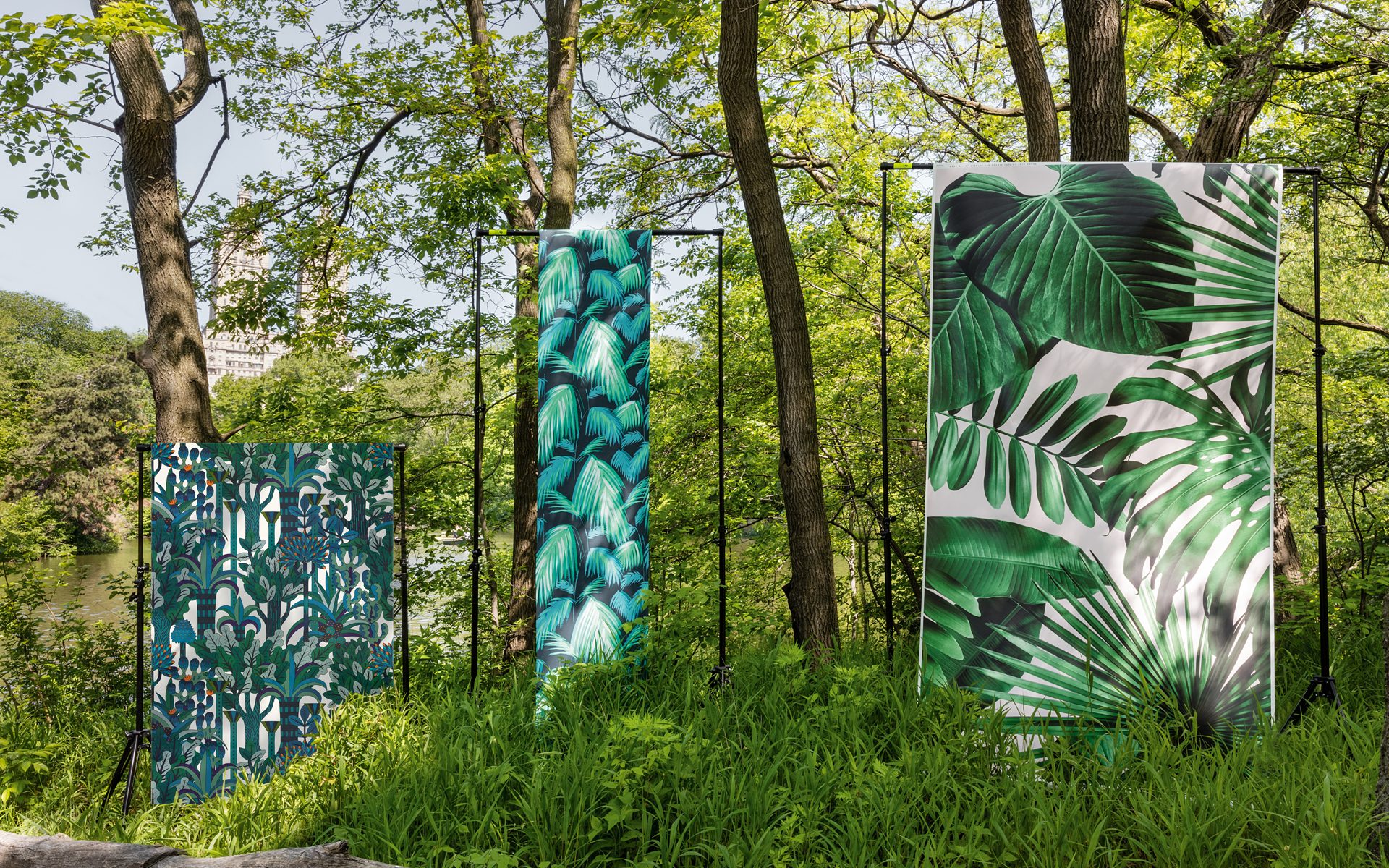 5 Gorgeous Tropical Wallpapers
Enliven any space with these exotic patterns
It all started in 1942 at the Beverly Hills Hotel, when Don Loper, the American designer, decorated the California hotel's famous Fountain Coffee Shop with his Martinique banana leaf wallpaper. Inspired by this now-iconic design, leafy wallpapers—many of which come in coordinating fabrics—seem to have sprouted in every room in the house. They are wonderfully transformative, capable of turning the plainest space into domestic bliss. Photographing them in New York's Central Park proves these foliage reproductions stand their ground against the real thing.
The leafy layers in Lee Jofa's Palm Jungle add depth reminiscent of an Amazonian forest, and are simply chic, with its light palette of greens and cream. Hermès' Jardin d'Osier, or wicker garden, was designed by Pierre Marie, one of their scarf designers who was inspired by the sumptuous gardens of India. The British Osborne & Little's Tropicana is part of a series by fashion designer Matthew Williamson, who looked to the styles of pre-revolutionary Cuba—using rich hues of turquoise to create a more abstract and graphic depiction of palm trees.
Wild Thing, from the up-and-coming Brooklyn-based company Flavor Paper,  is a non-repeating mural of photographs of classic palm and banana leaves taken by the design couple Ghislaine and Jaime Viñas—who have collaborated with Flavor Paper on several occasions. Stark's Mauritz pattern is playful yet sophisticated, pairing frolicking monkeys with gold palm trees. Why dream of an exotic vacation when these wallpapers can transform any room in your house into a personal paradise? 
Next Post