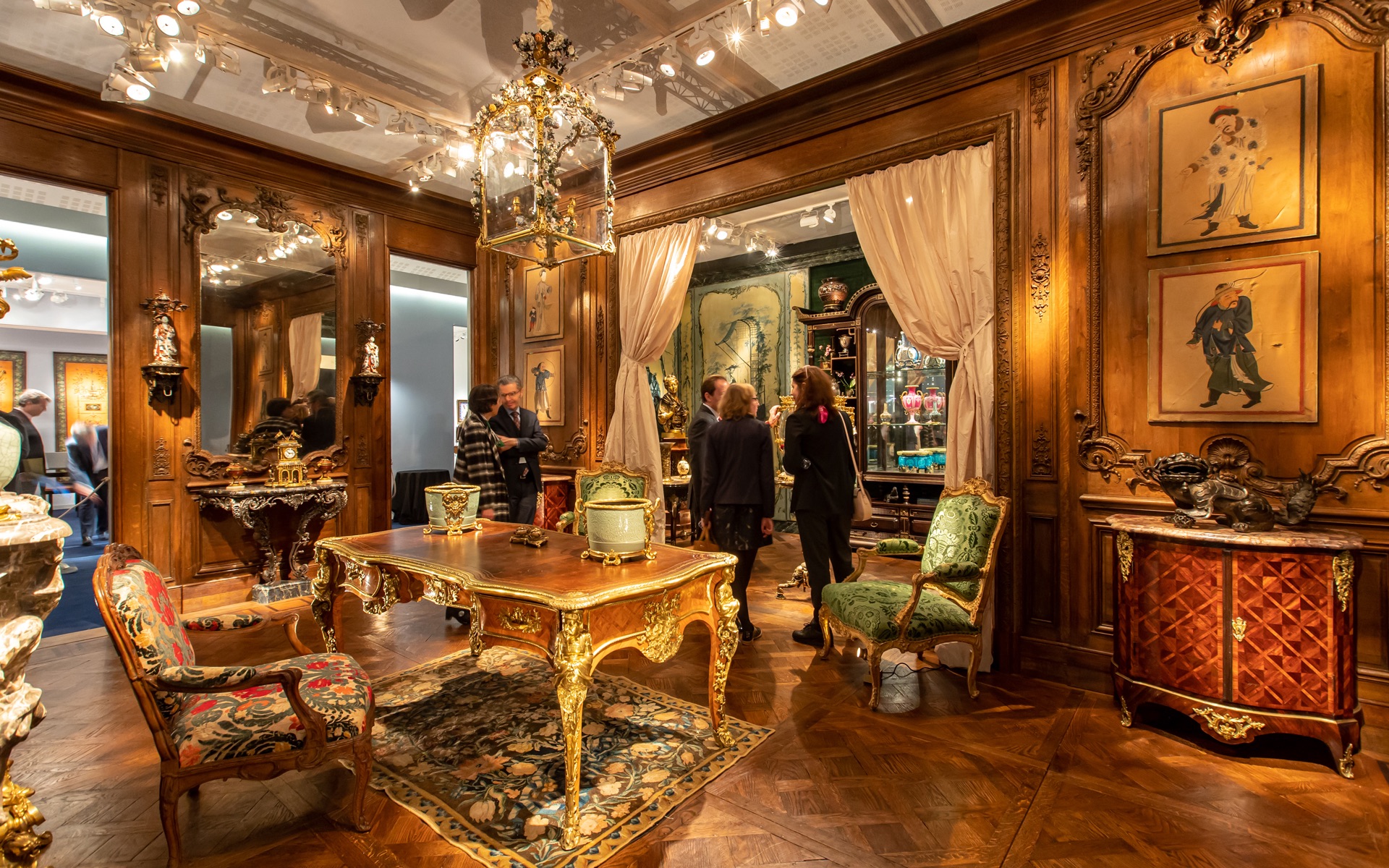 Two Major Art Fairs Join Forces in Paris for One Spectacular Event
Everything from Old Masters to Islamic manuscripts, Art Deco furniture, and even a dazzling new jeweler from China has a place at the Fine Arts Paris & La Biennale, taking place November 9–13
This week in Paris, a new combination of two old art fairs is offering up 2,000 years of history. The pooling of the Biennale des Antiquaires—one of the world's oldest art fairs—and the newer Fine Arts Paris means that everything from Old Masters to Islamic manuscripts, Art Deco furniture, and even a dazzling new jeweler from China has a place at the Fine Arts Paris & La Biennale.
On Tuesday, the venue, with a dash of scenography by the esteemed Jacques Garcia, and 87 galleries primarily from Paris and the nearby regions, was buzzing. It is taking place this year in the depths of the Carrousel du Louvre—a fancy underground shopping mall created between the Louvre museum and the Tuileries gardens which, in spite of being designed by I.M. Pei, has never really hit its stride. But as its 50-year-old president Louis de Bayser explained, in the next three years, it will move to the Grand Palais Éphémère, and then the Grand Palais itself (currently under renovation).
De Bayser is himself the third generation of Parisian dealers who specialize in drawings, and he hopes that this fair reboot—whose main shareholders are the LVMH group—will create a platform in Paris to compete with TEFAF in Maastricht and New York, and Masterpiece in London, and fuel the enthusiasm of new local collectors for more historic artifacts.
This being Paris, the highlights were of course dazzling, including a life-size bronze at Univers de Bronze. Showing David victorious from battling Goliath (c. 1894—1910), and by Antonin Mercié, the sculpture once belonged to Auguste Lumiere, the inventor of the cinematograph. (The one other is in the Musee d'Orsay.) The esteemed dealer Michel Giraud was even offering up some of the works he lives with in his rue de Seine apartment, including a unique set of drawers by Andre Groult from 1930 in golden straw marquetry and a secretaire by Eugene Printz (1936) in astonishing Brazilian kingwood.
See below for more highlights from the fair.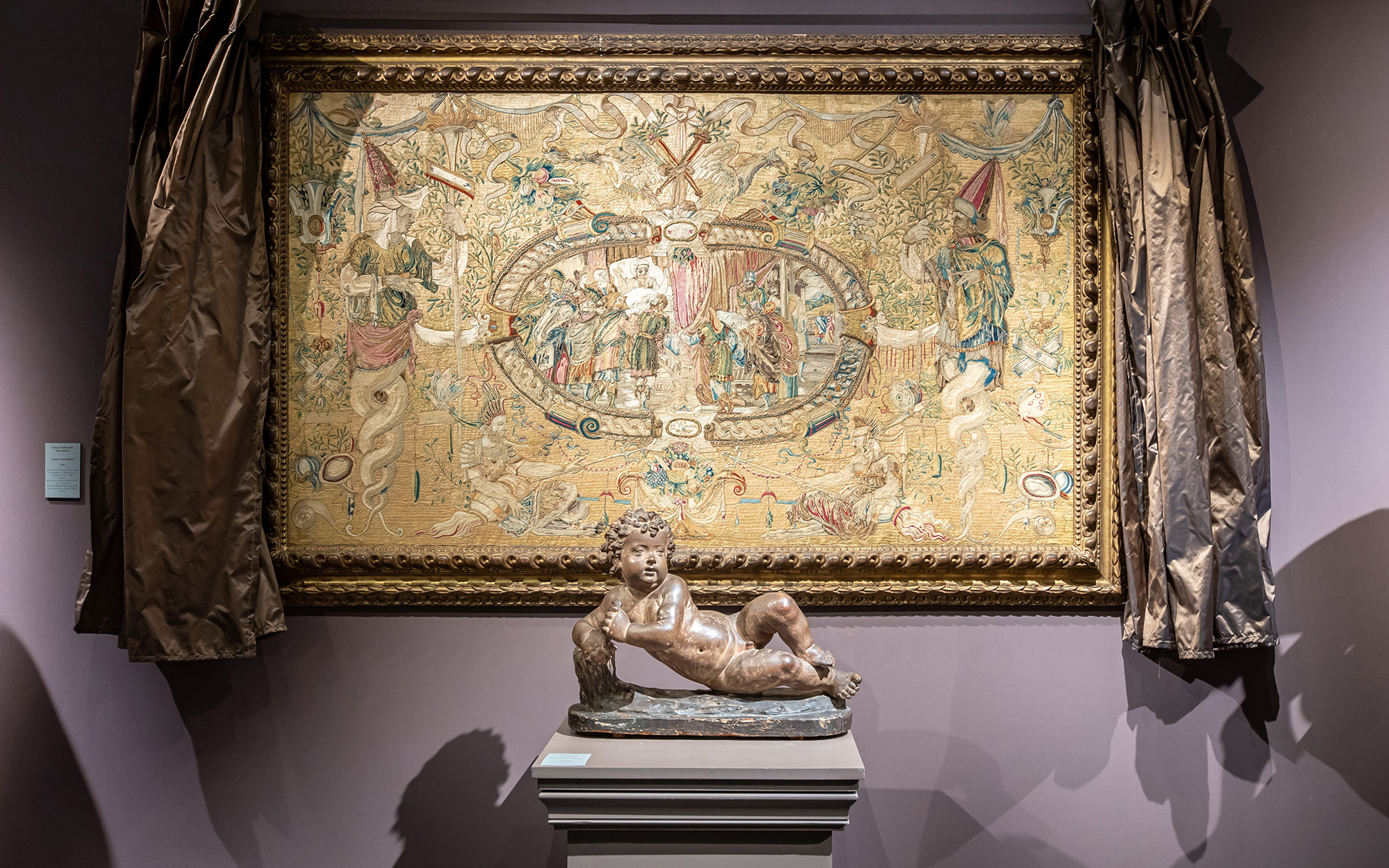 1. Trebosc + van Lelyveld
At this Paris gallery, an embroidery panel came with its own protective brown silk curtains. Dating from 1566, the masterwork depicts the story of Jacob in the finest of stitching, in shimmering shades of palest gold, pink, and blue and with all the crazy flourishes of the Fontainbleau School. Formerly in the collection of a New Yorker, who had been dedicated to works from the period, it is in the very best condition. "Embroidery has always been under-estimated as an art form," says dealer Alfred van Lelyveld, "but this piece is exceptional, and I would hope it goes to a museum." A museum that has €500,000, that is.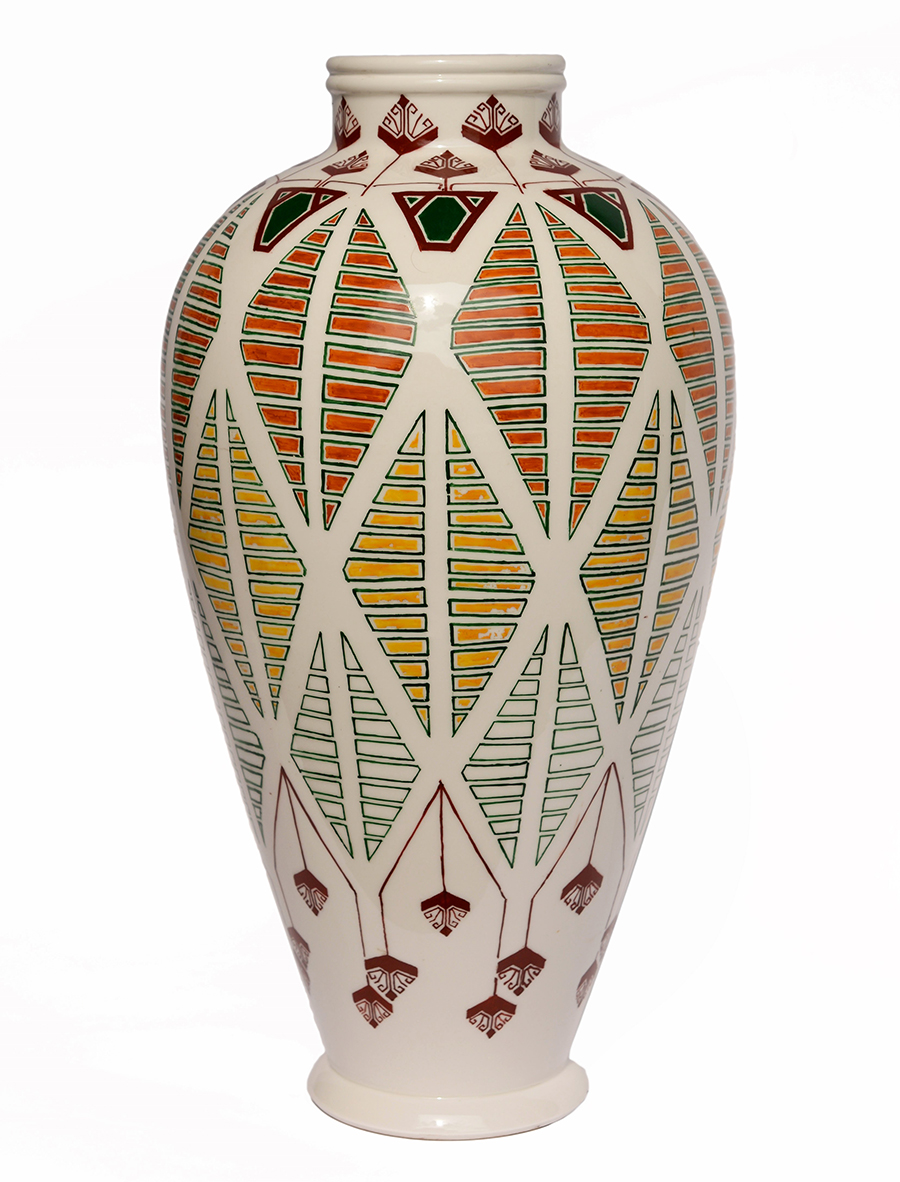 2. Didier Luttenbacher
Dusan Jankovic was a Serbian who studied architecture in Belgrade before pursuing painting in Paris at L'École nationale supérieure des arts décoratifs from 1918–21. As a student, he earned money at the Serbian Workshop in Paris, and this vase is one of the rarer results. A unique piece from 1919, it shows Jankovic translating Balkan textile patterns onto a ceramic surface. Jankovic went on to work in fashion, in particular for designer Jeanne Lanvin, before returning home and becoming a book designer. Dealer Eric Gasquet was notably enthused by Jankovic's signing on the bottom of the vase, which includes an elaborate Serbian coat of arms. Price: €25,000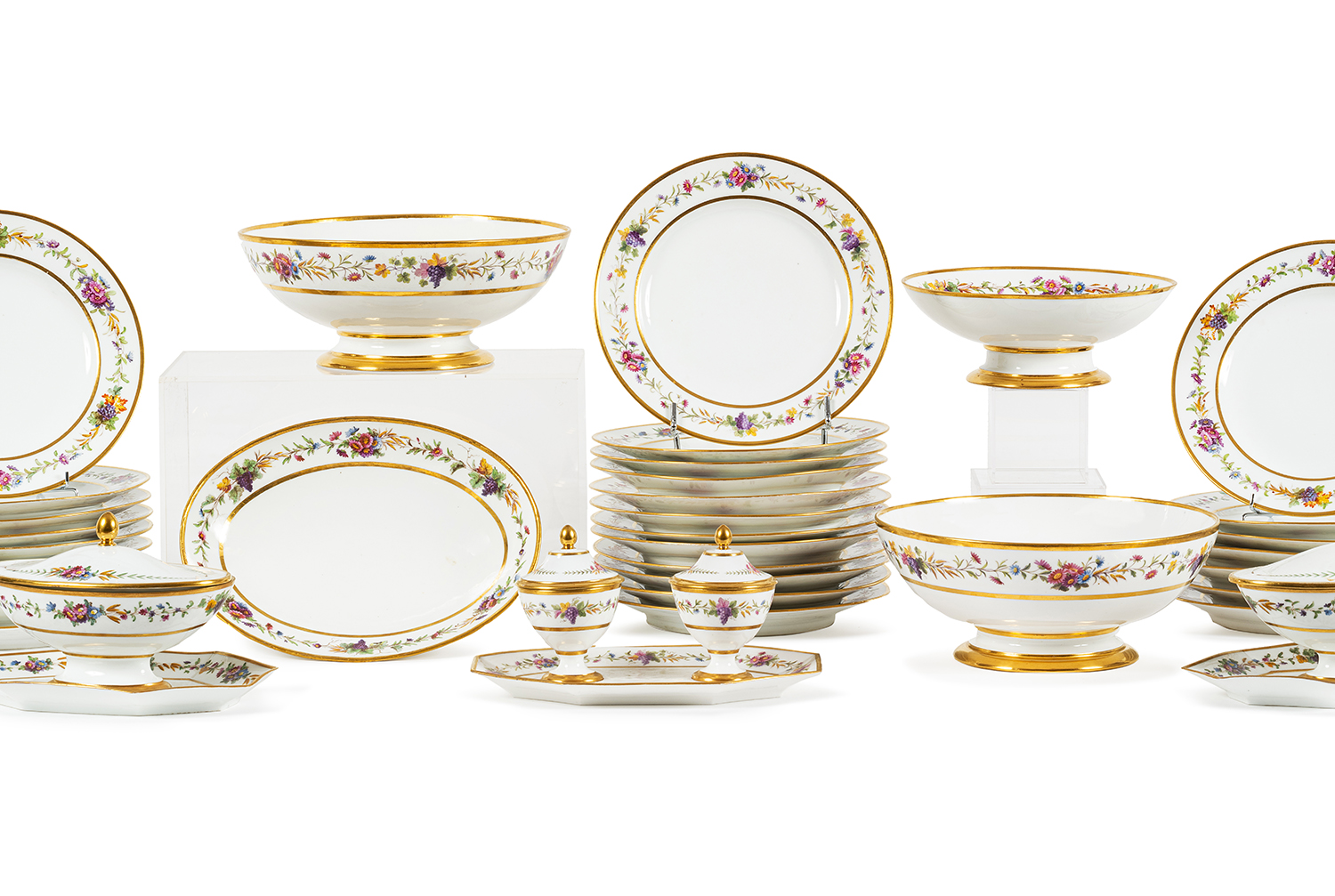 3. Royal Provenance
Maxim Charron worked at Christie's before setting up a business in 2014 specializing in historic heirlooms. Now, he operates from a stunning high-ceilinged apartment on rue Auber with views over the Opera Garnier. "It gives clients a more confidential setting," he says. A booth at the fair gives just a taste of what he has to offer—copious quantities of silver and glass stamped with the crisply drawn "N" of Napoleon III, for example. A complete dinner service of Sevres porcelain (€18,000), including 28 perfectly preserved plates, is a particularly resonant find. Previously only seen in the archives at Sevres and dating from 1789, it came to Charron recently and is notable for its gentle design of bunches of grapes and flowers. "It's from a time, between the horrors of the Terror and the beginning of the First Empire, when heavy luxury wasn't in vogue," explained an assistant. "People wanted beautiful things, but they didn't want to show off." Perfect, perhaps, for our times too.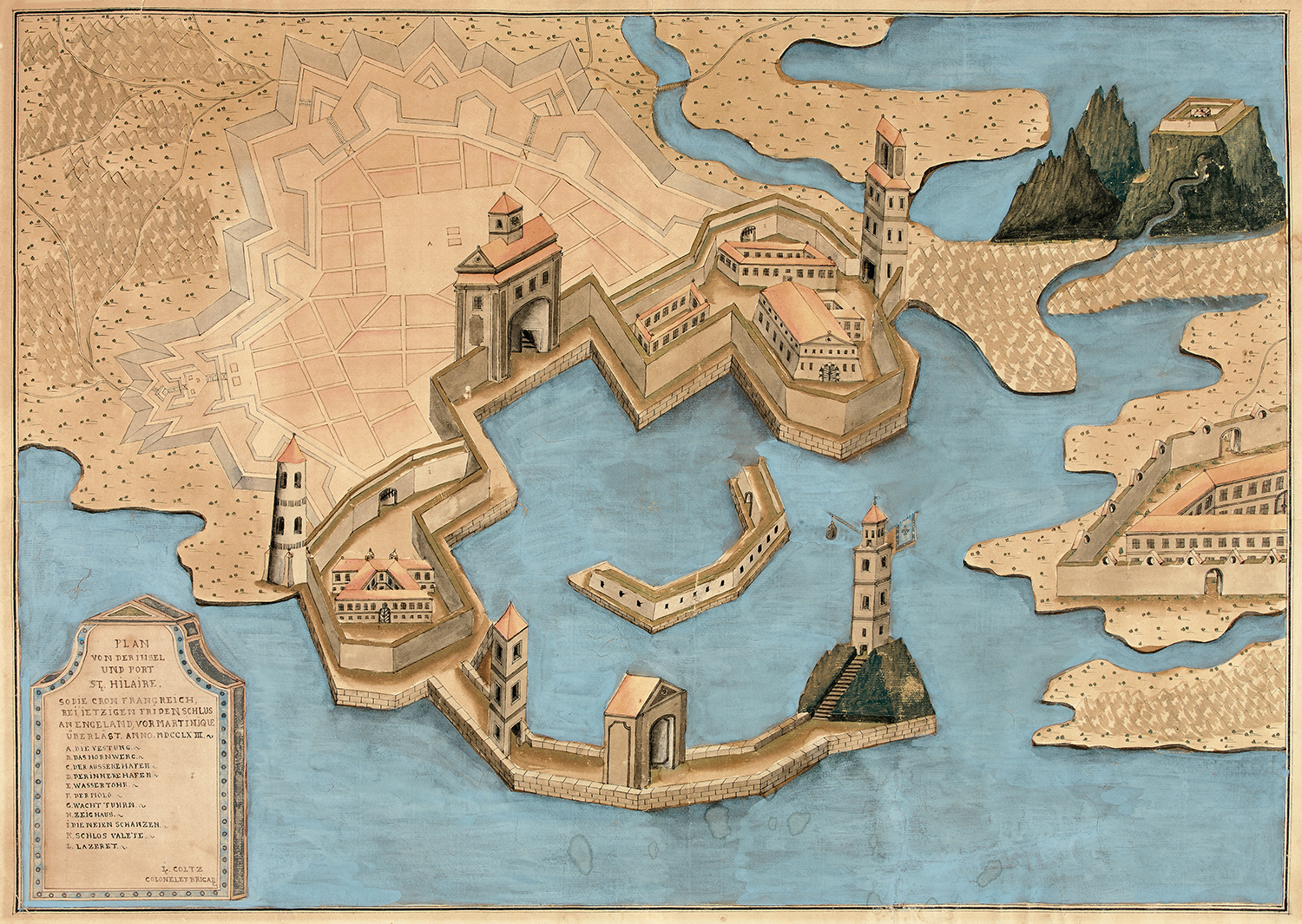 4. Librairie Camille Sourget
Based in Paris, Camille Sourget specializes in illuminated manuscripts, huge tomes of botanical drawings, and historic engravings. But a suite of four maps at her booth proved especially alluring. Dated 1762, they were made by one Officier Coltz and depict the islands of Corsica, Martinique, and Madagascar as well as part of Uruguay in dreamily impressionist form. Coltz either traveled widely or had a good imagination, but the watercolor results are an intriguing example of what today might be categorized as outsider art. "It's not what we usually sell," said an assistant, "but someone came by the gallery with them and we couldn't resist." Priced at €35,000 for the set, they come in the very best minimalist 18th-century frames.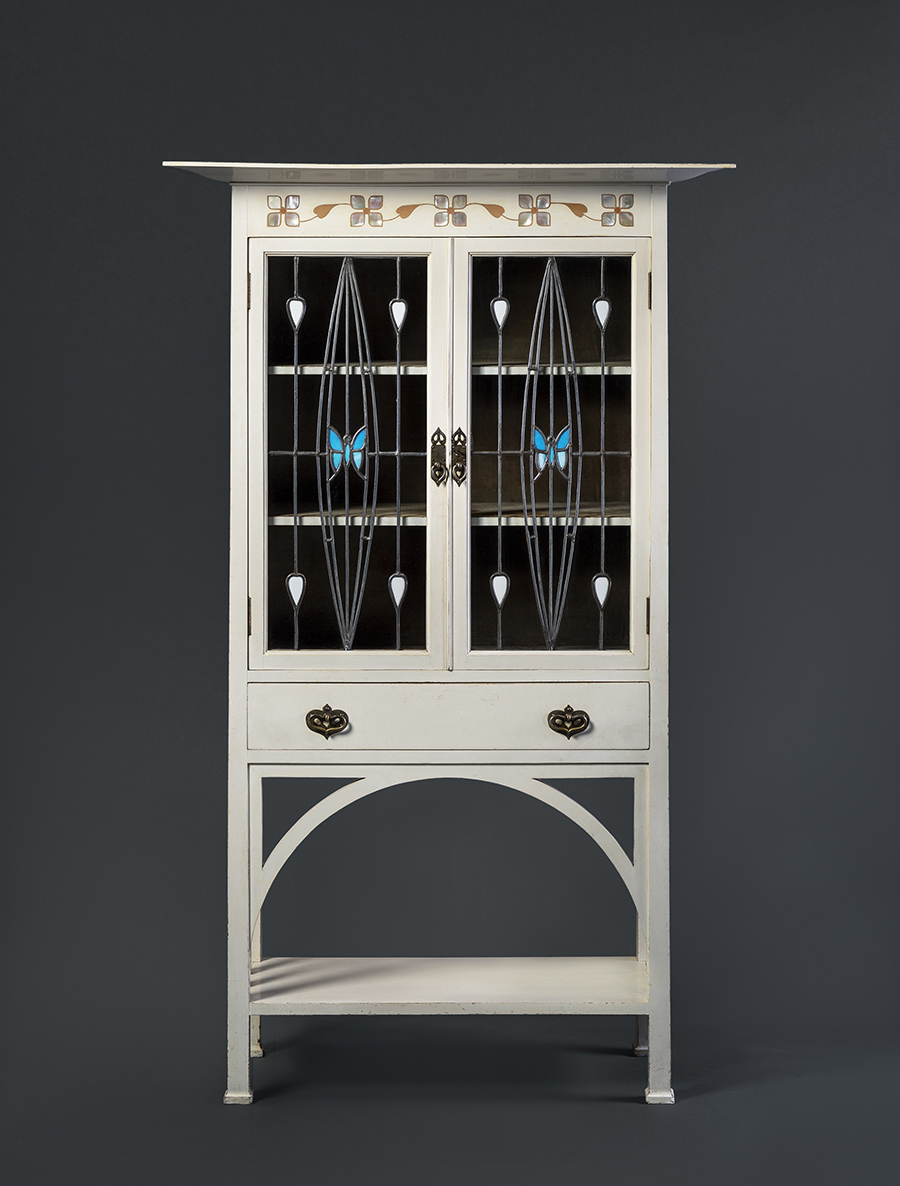 5. Oscar Graff
Part of a new generation of dealers, 36-year-old Oscar Graf opened his first gallery when he was just 24, in Paris. He went on to conquer London in 2019, taking a discreet first-floor space in Mayfair and showing American, French, and British decorative arts from 1870 to 1918, including Tiffany lamps and Charles Rennie Mackintosh furniture. In May he opened a new gallery in Paris. Aware that he is going against the fashion grain, Graf has worked hard to create a new appreciation of this progressive period, especially among a younger clientele. A display cabinet by Ernest Archibald Taylor is a case in point. A unique piece from 1901, it is in white-painted sycamore, and inlaid with mother of pearl and features colored glass. In short, a contemporary decorator's dream.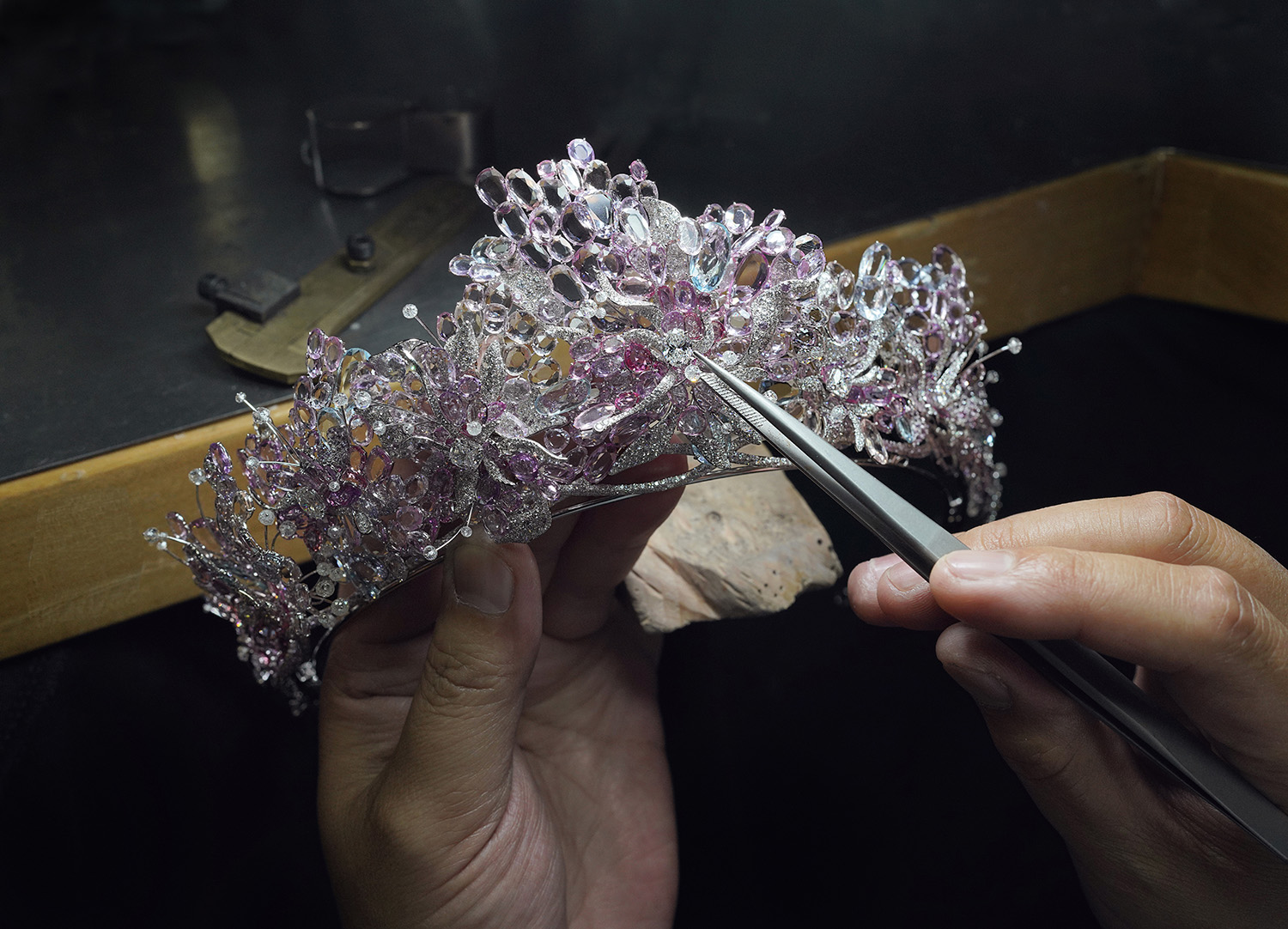 6. Feng J
With its invisible settings and stones apparently floating in air, Feng J's contemporary high jewelry pieces are unlike anything else. Eschewing traditional cuts used to exaggerate a stone's brilliance, Feng works with her European cutters to create fluid shapes of liquid transparency from sapphires, aquamarines, diamonds, and colored spinels. The Shanghai-based talent pairs these with sinuous parts of curving titanium, finished in Chinese lacquer. Taking inspiration from the natural world—Gingko leaves, maples, lily of the valley – and privileging color places her in the tradition of fine jewelers such as Lalique. But that's where it ends. Feng's practice is more in line with painting. Her hero is Claude Monet. "I like to think I make three-dimensional paintings," says the 36-year-old, who studied furniture and product design before moving to London to study fashion artifacts at the London College of Fashion under the radical designer Dai Rees. "I am a colorist who makes jewelery, inspired by the Impressionists."
Next Post