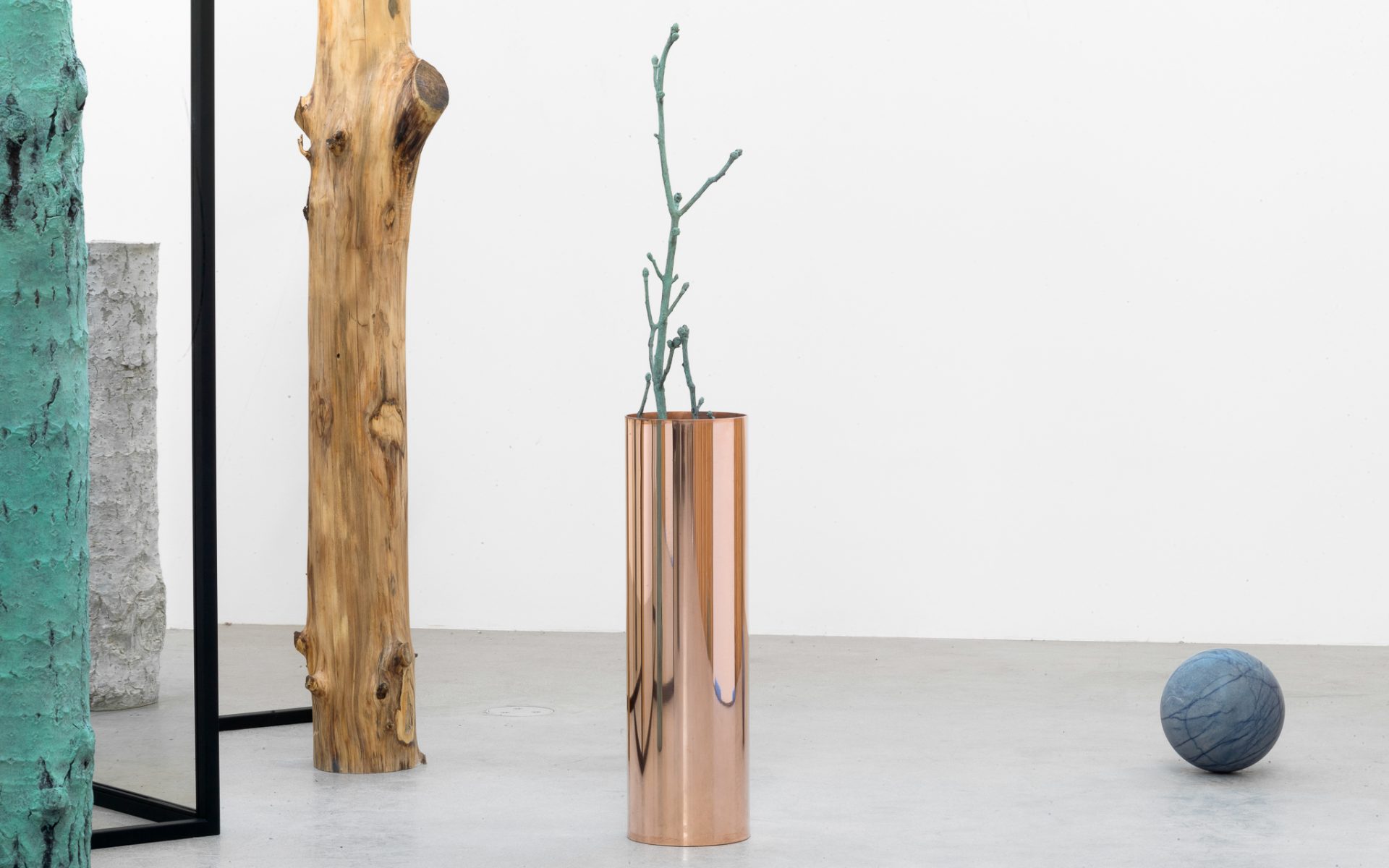 At FIAC, the Art Reflects Our Compassionate Era
The provocations of Grayson Perry and the raw intimacy of Ambera Wellmann will lure you in at this Paris fair
"One of the things that makes Paris special is that we are a community and very proud to show off everything that Paris has to offer the world," said Jennifer Flay, a long-time Parisian gallerist turned director of the art fair known as Foire Internationale d'Art Contemporain, or FIAC, which opened its 45th edition on Thursday at the Grand Palais. Since taking over the flailing fair in 2010, Flay has been implementing a vision for how to lead the art sector into a different—compassionate—era. "[Cooperation] makes so much sense for the city; it makes so much sense for French culture in general. I've always thought we had to be together to make a difference as a community, with respect to our own community (the arts) and with respect to the world."
Flay seemed to be channeling a broader social trend wherein the snobby Paris of yesteryear has been shedding its stodginess in favor of curiousness and fellowship. Evident at FIAC, as well as all the surrounding art fairs and events this week, the exclusionary attitude of Paris has palpably softened into one of possibility and openness.
What FIAC offers in turn is a gathering place for galleries large and small, institutions that are both legacy and contemporary, and museums of all sizes. "I don't know of any other city in the world," said Flay, "that can put on this many things in a very natural way during a fair week."
Recommended: See Highlights of Frieze London and Frieze Masters
Walking through the fair this year, with its 195 exhibitor booths and countless partner events, it's clear that FIAC has solidified into a powerful enterprise. Who's included? Pretty much the entire arts scene: the Louvre, the Fondation Louis Vuitton, and the Centre Pompidou; gallerists like Patrick Seguin (with his Carte Blanche collaboration this year with David Kordansky), Laurence Dreyfus (with a collaborative exhibition in Felix Varcel's space) and Olivier Malingue (with the "Suspension" show at Palais d'Iena). The fair has even garnered a healthy dose of off-shoot fairs (seemingly endless this year), including Avant Paris International, Paris Asian Art Fair, and the Outsider Art Fair.
FIAC has also taken over the Jardin des Tuileries with "Hors Les Murs," a series of over 30 public installations, including Franz West's pink Dorit (2002), Thomas Schutte's Mann in Wind, No.2 (2018), and Alexander Calder's Janey Waney (1969). With blessings from the Place Vendôme, art duo Elmgreen and Dragset installed their work To Whom It May Concern, comprising 100 red starfish placed directly into the cobblestones, a cautionary work about global warming that was realized with the support of their gallerist, Parisian powerhouse Emmanuel Perrotin. On the Place de Concorde, for the first time, the prototype houses of Jean Prouvé and Jean Maneval are open to the public for a peruse.
Recommended: New York Dealer Paul Kasmin Expands His Empire
During the first few hours of the VIP preview on October 17, dealers claimed to be selling well, though they were reluctant to confirm that with numbers. Overtures of joy came from Kamel Mennour, whose FIAC booth presented artists being featured in the Parisian gallery's upcoming shows, including Ugo Rondinone, Robin Rhode, and Lee Ufan. "It's a capsule of the gallery's DNA and where we are going," said Mennour, "with a French touch."
At 303 Gallery, a solo presentation of Alicja Kwade had both private collectors and top museum curators circling WeltenLinie, one of her signature vernacular mirror-illusion installations, first seen by many at the 2017 Venice Bienniale. "People really seem to get her work," said director Lisa Spellman, who rattled off a list of upcoming exhibitions of the artist, including ones at Dallas Contemporary and the MIT List Visual Arts Center.
Katharina Grosse took over Gagosian's space with her signature color drips but this time in a large-scale sculpture made of tree trunks wrapped in spray-painted curtain-like fabric. Sadie Coles showcased the paintings of Kati Heck, whose portraits of abject female sexuality reflect the brewing interest in women painters' representations of their sexualized bodies and desires.
At Lulu, a Mexico City–based project space by Chris Sharp, there were portraits of raw intimacy by Ambera Wellmann. (By day two, Lulu had a waiting list of over 60 desirous collectors.) In these works, we're reminded that one thing that may never change about Paris is its sexiness. "Shameless intimacy," said Sharp of Wellmann's work. "These are radical but at the same time classical works." He noted that the works referenced themes grappled with by Pablo Picasso, Francis Bacon, and Hans Bellmer.
Across the fair, there were also plenty of overtures to politics—and how could there not be? Whether it was Sam Durant's "No Justice No Peace" drawings from 2017 alongside Ry Rocklen's painted Obama T-shirts at Praz Delavallade or Will Boone's mixed-media works blocked out (like a redacted transcript) with only the word "Gulf" at Karma Gallery, it's no surprise that artists are beckoning a new world order.
None other than Grayson Perry is the shining star thumbing the system this week with both a solo presentation at Victoria Miro gallery of his work conveying his signature searing social commentary, including a series of new satirical ceramics Stupid White Thing (2018), which questions good taste. Simultaneously on view at Monnaie de Paris is a large-scale retrospective, "Vanité, Identité, Sexualité" (a play on the French enlightenment slogan), which delves into Perry's rejection of traditional social contours and expectations.
"Everything, everything, everything is saturated with gendered ideology," said Perry. "It's socially unacceptable to privilege these antisocial instincts. But the more we realize that, the healthier the social realm will be." His booth at Victoria Miro and his show at Monnaie de Paris are both a visceral alarm, particularly vis-à-vis climate change. The concern is shared by Tomás Saraceno, whose "On Air" survey at the Palais de Tokyo conjures a world beyond humanity in a deeply experiential display.
Redefining Boundaries at the Outsider Art Fair
The act of redefining these boundaries, however, is eagerly at play with the Outsider Art Fair—a concept that, according to mysterious muse Michele Lamy, has differing meanings depending on where you are.
"In America, the term 'outsider art' is often reduced to art produced in a mental institution when it is so much more than that," said Lamy. "Europe is the birthplace of Art Brut, so we have a different interpretation of its history and meaning today. I hope that this collaboration with Lamyland and the Outsider Art Fair will help break down these barriers, and bring 'outsider art' to a new audience."
For the fair, Lamy—instantly recognizable with her deep tan, smudged kohl eyes, facial markings, and infinite stacks of rings on her ink-blacked hands—created "Lamyland," a series of performances with Paul Kookier based on chance wherein they create on-site a 200-page 'zine of photographs of Lamy (taken from a painstakingly sourced photocopier).
"To Michele's point earlier, the French have quite a few different boxes of what art is," said the fair's director, Becca Hoffmann. "What we're trying to do is show people who are trying to express themselves in a way that's not from your intellect but more from your heart."
The fair, which is in its sixth season in Paris, offers a cross-disciplinary, transnational look at human creativity and features an international array of artists, including Ghanian painter Kwame Akoto, Serbian artist Ilija Basicevic Bosilj, and Iranian artist Salim Karimi. Showing up at the fair are collectors with a wide range of tastes from classical to contemporary. This fluidity is "starting to catch on here, and it's really opening up a world," said Hoffman. "What we're offering here is in keeping with that change."
Next Post