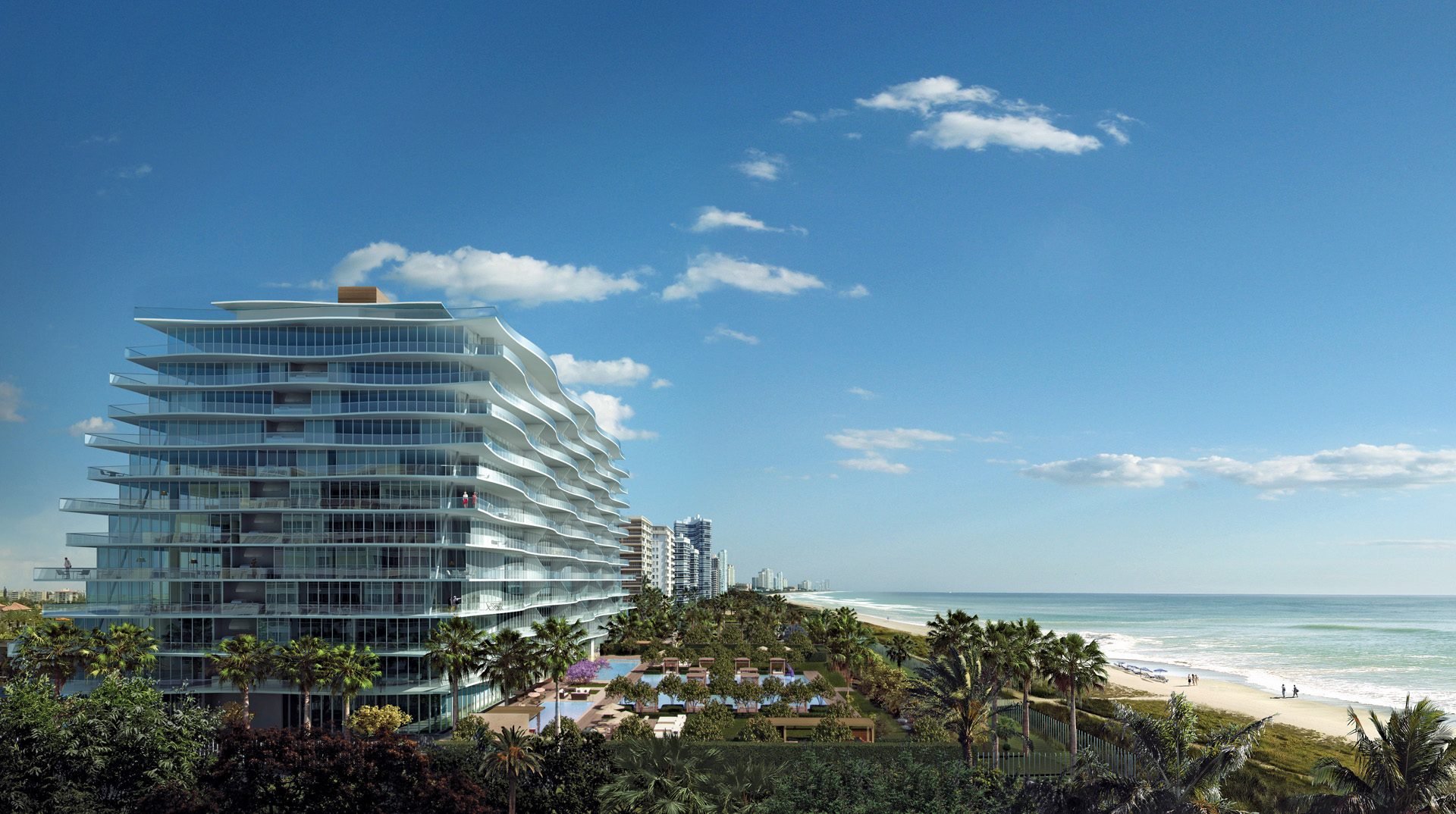 Fendi Dazzles in Miami with a Luxe New Building
The Italian design house teams up with Arquitectonica to create their first residences in the US
The Fendi Chateau Residences team knows how to make an entrance. Literally.
For decades, architects and designers of Miami Beach's buildings simply stuck canopies on the street-front, focusing their skills and style instead on views and structures facing the beach. But the front of Fendi Chateau's new luxury residential property in North Miami Beach, crafted with famed Florida-based architectural firm Arquitectonica, introduces itself with a striking parabola of steel, glass, and lights.
It's far from the only thing that's different about this luxury housing project in a city rich with them. This 12-story project marks the first time Italian design house Fendi has staked a claim on an American residential property. Fendi Casa styled the interiors with abundant leather, from throw pillows to cream-color swivel chairs. The Fendi blueprint—used successfully in their properties in South America—is also seen in the wood paneling in two colors, grey natural finishes, marble, and in decorative elements such as amber glass strung like pearls.
Far from the madding South Beach crowd, the building on 93rd Street and Collins Avenue establishes one more high-end beachhead in the city's burgeoning Surfside neighborhood. The tower is three blocks from the upscale Bal Harbour shopping center in one direction, and the upcoming Surf Club Four Seasons Hotel in the other. Restaurants dot the area. The building's ultra-luxury amenities include both what's expected by a certain set—sauna, fitness room, and European thermal pool—and the unexpected, but tempting, such as Zen gardens and oceanside ponds.
Next Post
Built on three beachfront acres, Fendi Chateau Residences' 58 units range from about 3,400 to 7,000 square feet. The three- to five-bedroom apartments boast a chef's kitchen with Fendi cabinets, two walk-in closets, dedicated elevators, private foyers, and deep terraces overlooking the ocean. Many of the units, which carry price tags from $6 million to $25 million, are expected to be second or third homes, so the project offers multilingual concierge services, handy for those just parachuting in.