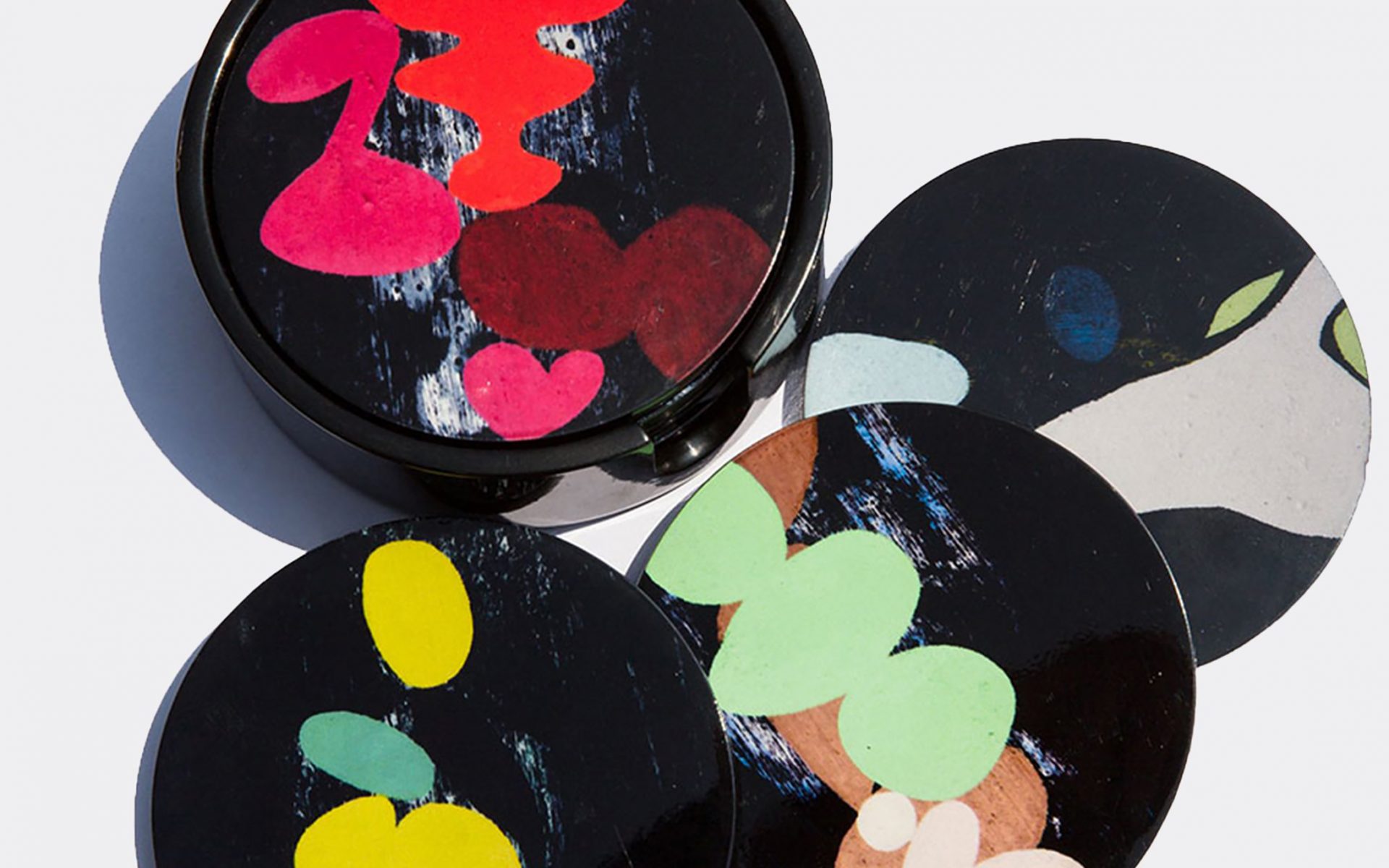 8 Inspired Art and Design Gifts for Father's Day
From coasters by artist Enoc Perez to a private tour of The Glass House, here are a few ways to show your appreciation
1. Nudes Coaster Set by Enoc Perez | $115
Prospect NY
Artist Enoc Perez is best known for his paintings of iconic architectural structures like the Seagram building and the Eero Saarinen TWA terminal as well as sensuous nudes and still lifes. These vibrantly colored paintings often capture a sense of nostalgia and utopian optimism. Now, he takes his work to a more democratic, and personal, level, creating coasters and beach towels imprinted with images of his work as well as swizzle sticks modeled after his own vintage collection that he has amassed from hotel visits across Latin America over the years (our favorite!).
2. Raymond Pettibon Towel | $95
Art Production Fund
If you're heading to the beach for Father's Day weekend, this Raymond Pettibon-designed towel for the Art Production Fund is a great gift for fathers who like to spend hours by the water looking at the waves and getting meditative; or who just want to bring a little art flair to the seaside. It's 100 percent cotton, measures 70 x 60 inches, and all proceeds support public art. Hooray!
3. Bodys Isek Kingelez Catalogue | $35
The Museum of Modern Art
The fantastical architectural models of Congolese artist Bodys Isek Kingelez are garnering a lot of attention at the Museum of Modern Art. Informed by the utopian visions inspired by Congo's independence from Belgian rule in 1960, these candy-colored creations are better viewed up close where you can observe the awesome detail that went into each work. The book offers just such a view, and your father can have it long after the show closes.
4. Damien Hirst Pill Cufflinks | $350
Gagosian
Perhaps the David Rockefeller cufflinks you were eying at Christie's ended up selling for way more than you bargained for. These sterling silver cufflinks by Damien Hirst offer similar bling: they are engraved with the "Hirst/Hirst" logo and come in a satin-lined box.
5. David Hockney | $40-$60 
The Metropolitan Museum
You may have seen the awe-inspiring exhibition at the Metropolitan Museum. But even if you, or the father in your life, haven't, this comprehensive volume, which spans almost six decades of the British artist's career, is sure to please. It showcases over 200 paintings, drawings, photographs, watercolors, and even iPad drawings of this cerebral yet crowd-pleasing artist.
6. The Frick Collection Playing Cards | $22
The Frick Collection
Vermeer or Murillo? Whether you're challenging the father in your life to a game of Poker or War, the Frick Collection Playing Cards offer another built-in guessing game. And this museum's mission is also sure to rub off on the players: to preserve and display the history of art in the Western-tradition. This particular set includes two decks.
7. Mondrian Composition Watch | $48
The Metropolitan Museum
This simple watch design mimics a work from Piet Mondrian's early Neo-plasticist painting style, using thick black lines to divide the canvas into 11 distinct rectangles.
8. Glass House Tour | $25-$250
The Glass House
Sometimes, the best gift is an experience. For example, an afternoon spent on the expansive 49-acre setting of Philip Johnson's Glass House and art galleries, where you can enjoy a range of tours from 1-hour group sessions to 3-hours with a personal guide. The extended tour, which is wonderful, gives you access to the Philip Johnson's Studio, the Painting Gallery, the Sculpture Gallery, and Da Monsta—a building inspired by the design of a museum in Dresden by the artist, and Johnson's friend, Frank Stella.
Next Post