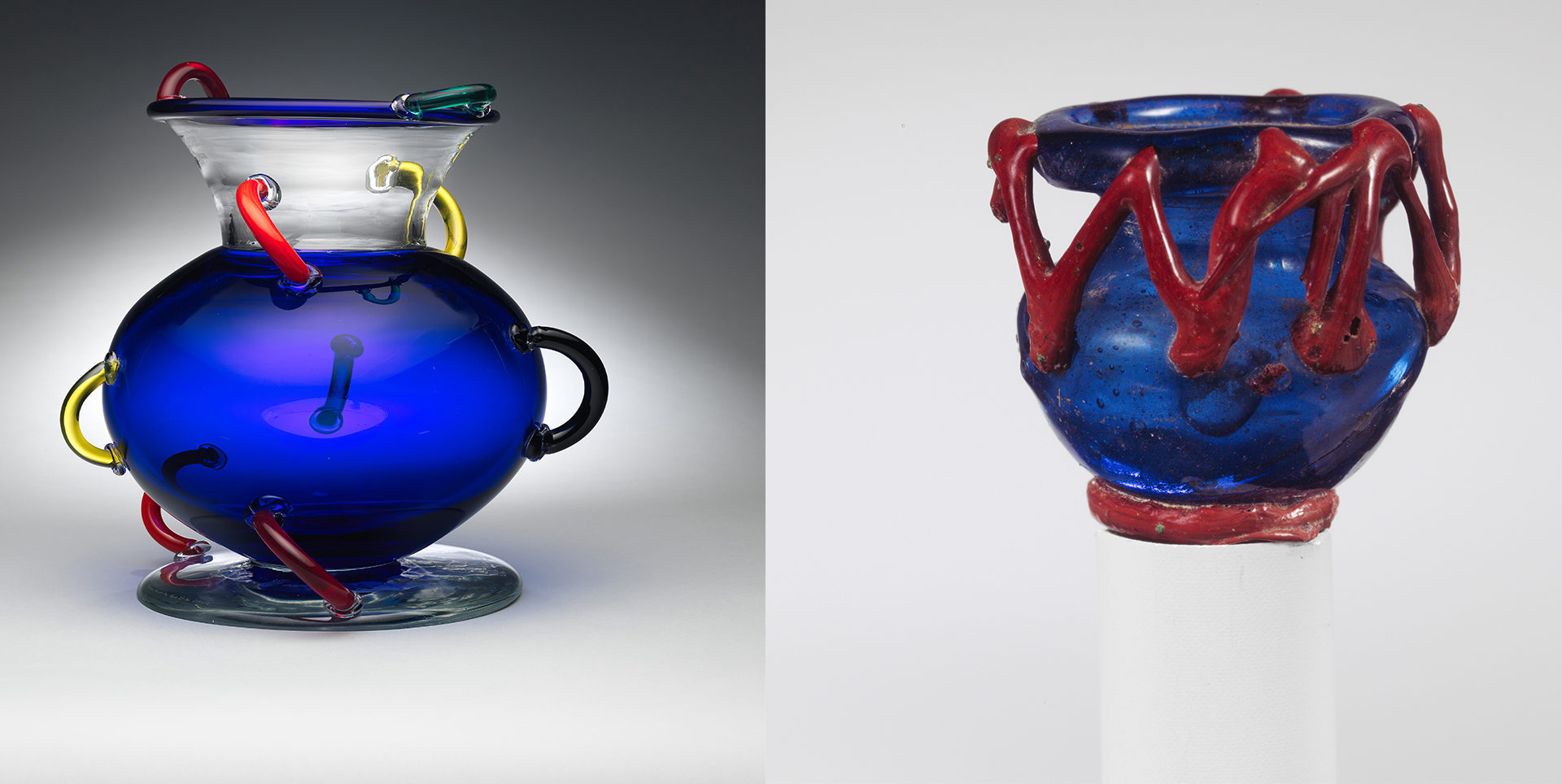 Explore the Genius of Design Legend Ettore Sottsass
A captivating new exhibition at the Met Breuer in New York brings the late iconoclast into focus
Designer Ettore Sottsass's "Valentine" Portable Typewriter of 1969 is a memorable character within larger stories of international design, technology, pop art, and celebrity. The sexy fire engine red, the black keys, the bright orange scroll caps. The slick case that, when carried by its pop-up handle, resembles a chic attaché. Sottsass credited the orange nipples and pink breasts in the work of pop artist and provocateur Tom Wesselman as his inspiration. Even the French actress Brigitte Bardot had one, suggesting a glamorous appeal rare for such a typically utilitarian object.
Now, one of these typewriters—a gift of the French-born photographer and art collector Jean Pigozzi—is on view at "Ettore Sottsass: Design Radical," at the Met Breuer. The typewriter was just one of many collaborations between Sottsass and Italian engineer Adriano Olivetti, who first recruited him to design the first all-transistor mainframe computer in 1956. "Just for that alone we should know his name," Christian Larsen, associate curator of modern decorative arts and design tells Galerie.
Structured in a loose chronological manner, the impressive exhibition highlights six decades of the celebrated Austrian-Italian architect and designer's prolific career who designed everything from ceramics to jewelry and mass-market products to buildings. Sottsass's signature loud, attention-grabbing designs reveal his rejection of modernism principles, and especially of the Brutalism that the very Breuer building epitomizes. In fact, as Leonard A. Lauder, the museum's chairman for modern and contemporary art, pointed out during the opening, the location offers a perfect counterpoint to his work.
Sottsass is perhaps best known for founding the Memphis design collective, a genre that peaked in the 1980s and pushed against the design standards of the day. (Chanel head designer Karl Lagerfeld and David Bowie were both avid collectors.) And there's a substantial section at the end devoted to the period. The colorful wood and plastic laminate Carlton Room Divider from 1981, for example, typifies the movement: slanted shelves in red and yellow, reaching upwards like arms, give the furniture a playful and childlike appeal. At the top, an upside-down V, a horizontal shelf, two vertical bookends, a square form combine to create a stick figure-like shape that lend a cartoonish charm.
Along with the subject's own work, Larsen and his team included a chair by Frank Lloyd Wright, a sculpture by Donald Judd, prints by Vasily Kandinsky and Roy Lichtenstein, ancient religious objects from India and Pakistan, and an array of other art and design pieces to contextualize Sottsass's wide-ranging influences.
In many ways, history is still shaping the designer's public reputation. As Larsen says, American art and design classes regularly skip over Sottsass, relegating him to the realm of unserious kitsch, defined only by his Memphis work. The show at the Met, however, aims to portray its subject as a character more like his Valentine typewriter: bold and buzzworthy.
2017 also marks the 100th anniversary of Sottsass's birth, and a variety of international events are celebrating accordingly: La Triennale di Milano's upcoming fall show, Vitra Design Museum's current exhibition, a planned retrospective at The Stedelijk Museum in Amsterdam (the first ever for the country), and more. "You're gonna see a Sottsass moment for the next year or two," says Larsen.
"Ettore Sottsass: Design Radical" is on view at the Met Breuer, New York, through October 8, 2017.
Next Post