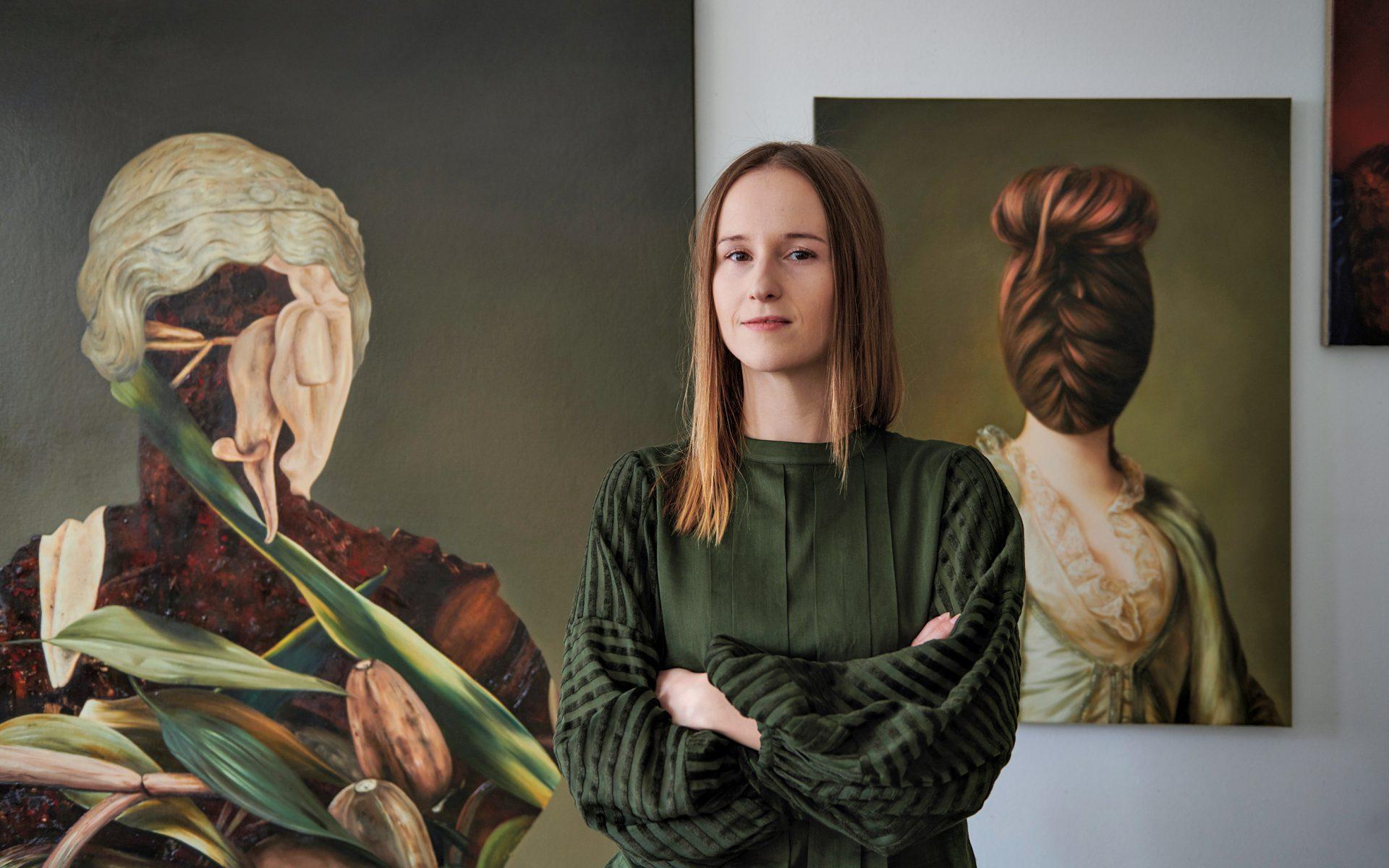 Ewa Juszkiewicz's Surreal Portraits Challenge the Role of Women in Art
One of her classically-inspired portraits is included in the group exhibition "Domestic Horror" at Gagosian's New York gallery
Ewa Juszkiewicz is turning classical portraiture on its head. Draped in sumptuous couture, her female subjects recall 18th- and 19th-century masterpieces, but under Juszkiewicz's deft hand, the sitters' usual porcelain-skinned faces are replaced by the absurd—plants, an unruly tangle of ribbon, an insect, an elaborate hairstyle.
These surreal, sometimes unsettling paintings are the artist's attempt to challenge the restrictive social conventions of women throughout history. "I noticed that most of the women are portrayed with the exact same pose and gesture. There's a feeling that they were trapped in their corsets and crinolines with no room for individuality or emotion," says Juszkiewicz, whose work is being shown in the group exhibition "Domestic Horror" at Gagosian in New York through October 19. "I'm looking for ways to disturb the harmony and façade and to bring these characters to life."
When not in the studio, she searches antique shops and secondhand bookstores for inspiration. "I sift through old albums and books and try to find portraits that cause me to feel something—ones that fascinate or move me." Additionally, she contemplates contemporary fashion, particularly radical designers who experiment with the human form, like Rei Kawakubo, Martin Margiela, and Iris van Herpen. "I love contemporary designers who propose alternative visions of our appearance," she says. The resulting works have earned Juszkiewicz, who lives in Warsaw, Poland, acclaim at Frieze New York in 2019.
Next spring will be her first New York solo exhibition, at Half Gallery. "I believe that art can be the catalyst for concrete social change, and I'm delighted to see major museums putting on retrospectives dedicated to women artists," she says. "We can rewrite history, and this time, without neglecting women artists that didn't have the chance."
A version of this article first appeared in print in our 2019 Late Fall issue in the section On Our Radar. Subscribe to the magazine.
Next Post