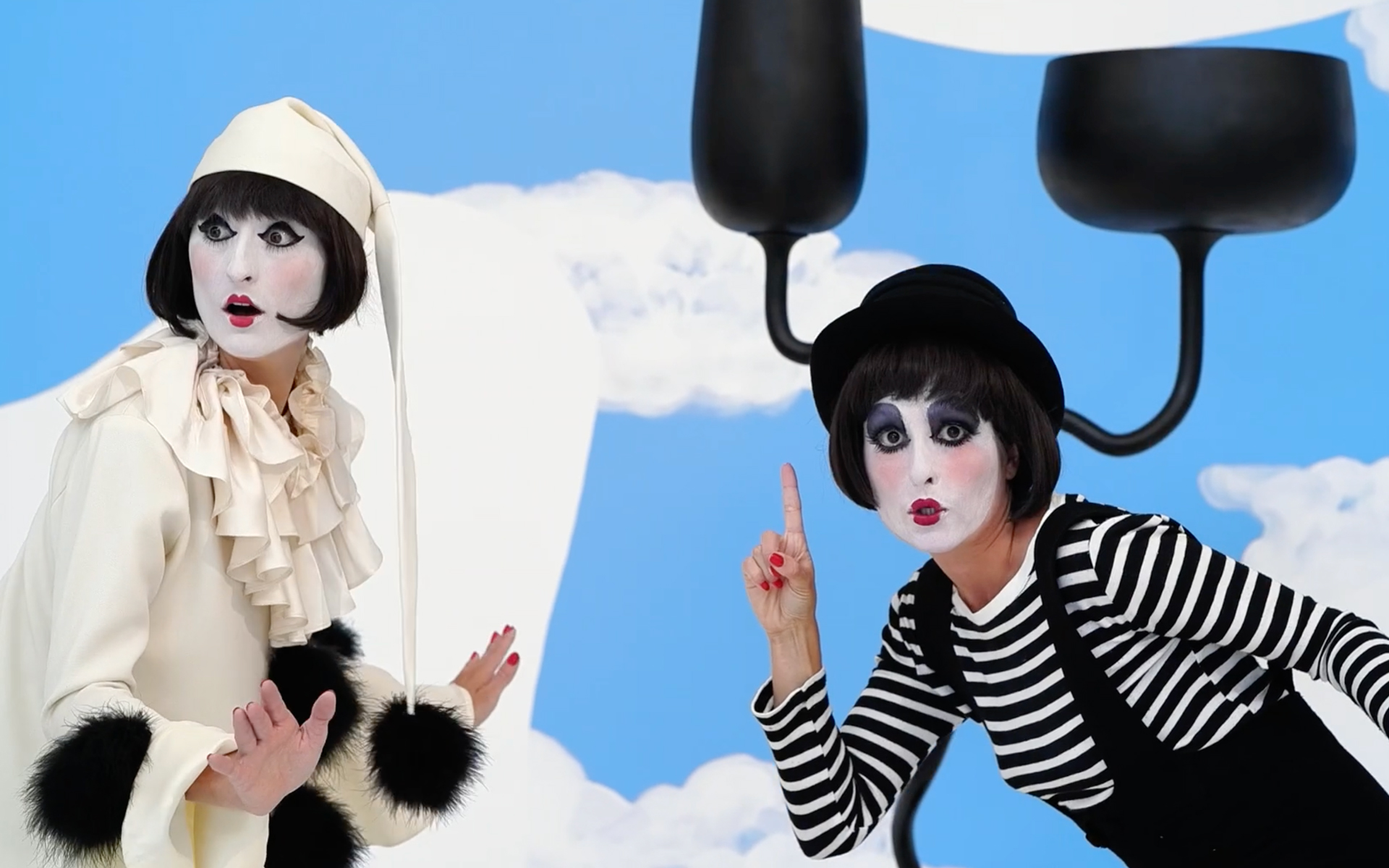 A Mime Duo Enlivens Eric Schmitt's New Works at Ralph Pucci
Sisters Juliana and Nicky Giraffe, who run Giraffe Studios, pay a visit to the designer's show in the Los Angeles gallery
When French artist and designer Eric Schmitt's acclaimed "In & Out" exhibition traveled from New York to Los Angeles earlier this year, his gallerist, Ralph Pucci, knew something out of the box was needed in order to make a splash. "To promote a collection, it's no longer enough to have an opening followed by a big dinner party celebration," explains Pucci. "We wanted the freedom to explore and communicate in a new and fresh way."
Enter sisters Juliana and Nicky Giraffe, who run Hollywood-based Giraffe Studios, the moniker under which they practice their many art forms, among them film, photography, set design, fashion, and—unusually—mime. The duo's fanciful, dreamlike work as mimes was a perfect fit when paired with Schmitt's voluptuous furnishings on view at the gallery. With dramatic curves and playful forms, the 14-piece collection features chairs, lamps, and tables made of materials such as bronze, aluminum, ceramic, granite, and Pucci's proprietary plasterglass material.
The sisters were invited to interact with the pieces—and the results were magically captured by videographer Chris Fortuna. "Eric's work is timeless, but it also has a touch of whimsy and the surreal," says Pucci. "This video captures the fun and originality that his work represents. It's beyond brilliant!"
Watch the video below and see "In & Out" at Ralph Pucci Los Angeles, 1025 N. McCadden Place. 
Next Post