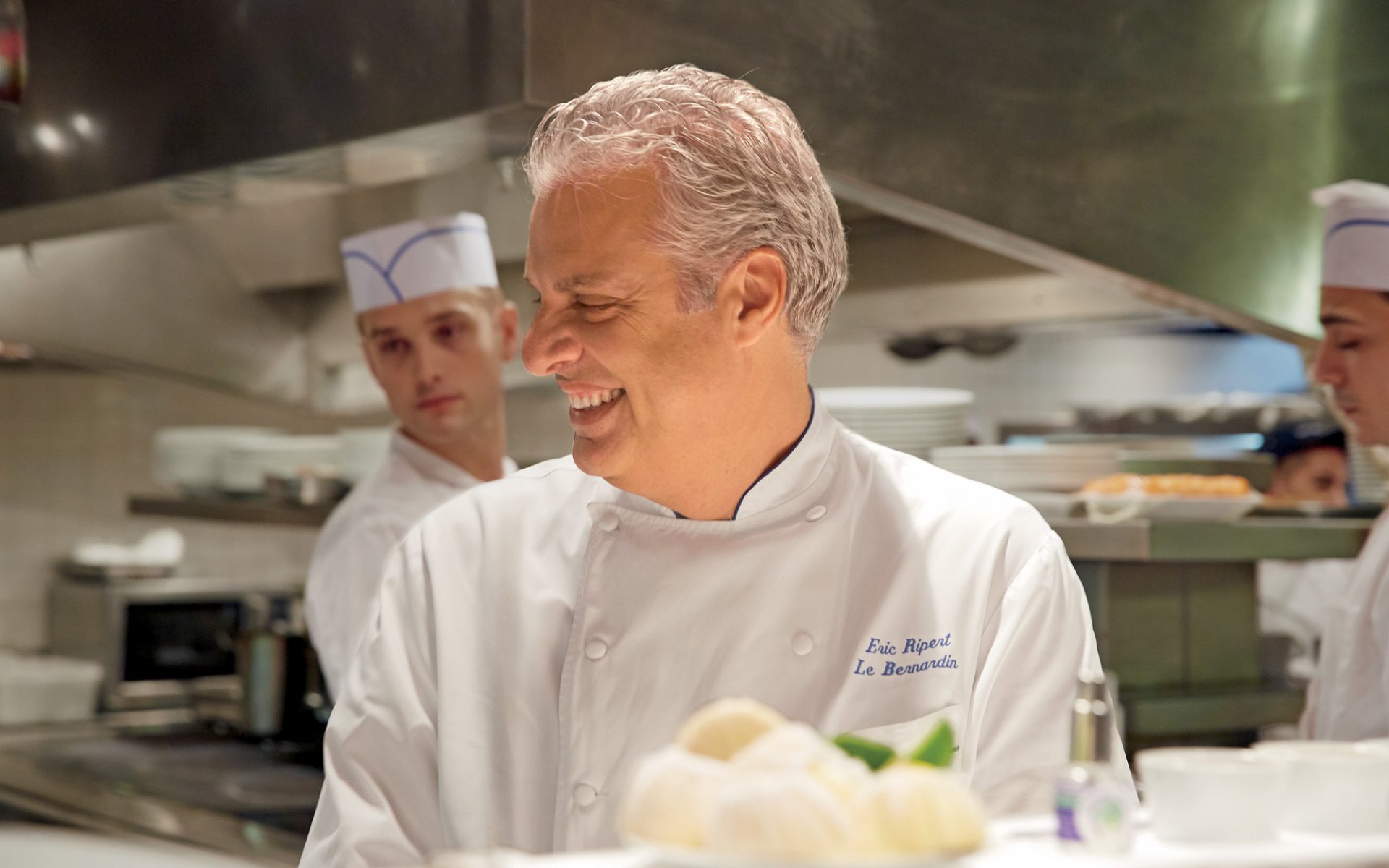 Celebrity Chef Eric Ripert Dishes to Hal Rubenstein
The acclaimed owner of Le Bernardin chats about how food is akin to art, what inspires him, and shares a mouth-watering short rib recipe
Within five minutes of meeting him, you will have a crush—a serious crush—on Eric Ripert. Doesn't matter if you're a woman, a man, if you're young, old, are a rabid foodie, or hold VIP status at the Olive Garden. Nor is it because Le Bernardin's chef and co-owner (with founder Maguy Le Coze) has won six James Beard Awards, has held three Michelin stars, and heads the only kitchen in the history of the New York Times to maintain four-star status for more than three decades. Add to these accolades an Emmy, France's Legion d'Honneur, his cool new Aldo Sohm Wine Bar, and his current best-selling autobiography 32 Yolks: From My Mother's Table to Working the Line.
Impressive as that all may be, it's not why you sit there suppressing a swoon. Despite his light-blue-eyed, full-lipped, handsome face, framed by wavy crests of silver hair, and the lure of his French-accented phone sex voice, Ripert is nearly oblivious to his physical appeal, which only makes him that much more irresistible. Next, turn starry-eyed when Ripert speaks about cooking, and those pale eyes start to gleam as he taps into his unwavering, still happily awestruck fervor for the most fragile of the arts, analyzing his singular, universally lauded talent with mesmerizing clarity and near visionary illumination. He makes you hungry, for… oh, so many things, but you'll have to settle for a meal. At least, it will be a spectacular one.
Van Gogh's Sunflowers, Michelangelo's David, Shakespeare's King Lear, Beethoven's Symphony No. 5. —We're conditioned to think of art as works that are everlasting. Can food be art if it has no permanence?
Food is even a more rare art form because it is a flash of creativity with a shelf life of only a few seconds. Like a painter or sculptor, I have a vision. Like them, I get inspired to create. But while those artists reach for tools that will bring about something that will remain fixed, my tools—flavors, smells, tastes—are intangible, subjective, and ever-changing, and used to bring about an ecstatic sensation that will almost instantly vanish, which in some ways makes my work even more interpretive, mysterious, and personal.
What are you expressing?
Cooking celebrates my being in New York, an incredible city that synthesizes cultures from around the world. And I do it best by creating dishes that I hope will become popular, maybe even desirable, with elements that are, by definition, perishable. When a painter casts a stroke of tempura, it remains. But the composition of food always changes. I craft a dish with precision, but I know that once I bake or roast it for two hours, it will become something else. So there is a great deal of magic built into the cooking.
Unlike an artist's studio, kitchens are not the most hospitable of work environments because of the heat, because you are creating on the clock, and yet when you speak, cooking sounds more like a mission than a way to work.
For me, it is a sacred art. I cook as a spiritual experience, because it connects me to different parts of life—to the animals, the earth. You will laugh but I find myself talking to carrots even if they can't hear what I say to them.
Did you always feel this way?
No. Though I've always loved food, I had to discover this. I was originally attracted for the wrong reason and that's because I love to eat. But you can't play Chopin simply because you like to listen to Chopin. You have to learn how. No one is born with knife skills. Phase one of learning to cook is craftsmanship, and it takes a minimum of 10 years just to learn the techniques, the endurance, the rigor, and the discipline so that you can create food that is harmonious and original, and do it over and over again. And then it takes even more to find your style, and years more to adapt from one style to the next.
With universal acclaim, why risk changing your way of cooking?
Picasso had a blue period, a rose period, and then a Cubist one. Chefs are no different.
What inspires you to make changes?
My process is not that organized. I don't go after prescribed goals. I am very Zen and wait for flavors to hit me. It could be the first day of fall and I get a sensation in my taste buds, a reminder of an amazing tingling sensation I experienced tasting dishes in a rural village in China's Szechuan province. Or I could be on a plane, and have a vision of a basil plant I saw in South America. It's not totally random. I don't flash on tomatoes and peaches in January. I don't envision stews in August. But I can't really explain it. It's a kind of happy possession. Then I apply these flashes to the 100 or so notes I take during a season, check quality and availability, and out of all this, maybe 20 dishes will wind up being released to the public.
How do you decide?
Simple. There are only two kinds of food—good food and bad food.
Who determines that—you or your guests dining at Le Bernardin?
Some chefs have a very good sense of hospitality. They are mindful of customer's tastes. I could care less. What matters is that I love it. I may have too good an ego, but I have to trust that the client will love what I am doing because I am putting my knowledge, my soul, my experience, and all my talent in the dish.
So you don't care what your customers think?
I said I never think about the client in the kitchen. The Le Bernardin experience is something totally different, however. When guests are in my dining room, of course I care about their comfort, their treatment, their excitement, satisfaction, and surprise. People don't come here to nourish themselves. For that you have neighborhood restaurants. They are coming here for an experience. So, when I am creating, I have to be very selfish, otherwise, how can I create something they could never imagine?
Next Post
Besides great cooking, what makes a dish as unforgettable as witnessing a work of art?
Presentation is the last step in creativity. Sight is the sense that conditions acceptance. At Le Bernardin, the fish is always the star of the plate; all that goes onto it must elevate the star. The table setting is the all-important frame. Just like when a painting is not properly framed, something is missing. For us, Bernardaud China provides that perfect frame. We've worked with them to create over 25 exclusive patterns. Our favorite reminds me of sea bubbles, and we have it in white and gold for the charger plates. It makes everything glow.
Once you've created a classic dish, is it fixed?
I wish. Very few dishes are eternally perfect. Certain flavors that were sensations at one time are now too familiar. Techniques get antiquated. Remember all the fuss over foams, broths, and gelatins, and the frenzy over molecular cuisines. Do you want any of that now? It would be devastating to have a client look at a dish and say even before eating it, "Oh, that is so 90s."
What is your idea of a perfect perennial classic?
Steak au Poivre. Take a good filet mignon, add sauce that has great caramelization from a flambé of either brandy or Armagnac, add a little crème fraiche and green peppercorns poured directly over that pat of butter that rests on the meat, and, my God, it is timeless and amazing!
Would you like to do anything besides be a chef?
You do something else when you are tired of what you're doing. I am always discovering, searching, being inspired by other chefs. I still feel like a student, except now I have white hair and have become a mentor.
What advice could you give to ambitious young chefs?
I am serious about my craft, but food is about the joy of instant gratification. Young chefs can get lost in the art, and make the mistake of looking at a painting or a fashion show and then trying to translate what they've seen onto the plate. As much as I love Matisse, painting and fashion have no flavors, and it's a mistake to copy presentation from a different discipline. Be inspired by the mood, not the literal work.
Is there one area of cooking that is your Achilles heel?
Pastry. I never mastered the years of technique it requires. Actually, I was thrown out of pastry school. I got caught after eating 25 raspberry tartlets. Maybe it's for the best. If I made pastry, I might not be able to walk.
Do you shift gears when you cook at home, or for friends, or is the bar still set sky high?
Cooking at home should never be driven by artistic expression. It's about tapping into your motherly instinct. Food at home requires no outside vision. Instead, you reach inside, to harvest memories of friendship and family. Cooking at home should be about serving your version of soul food.
What food stirs your soul?
I go back to my roots, so there is Provençale cooking from one grandmother, Italian food from another, plus I started to learn about cooking during the rise of nouvelle cuisine, when French chefs were intent on reimagining traditional dishes with a lighter touch.
So seafood isn't king at home?
No, not at all. I wasn't raised by the sea. It's more like stews made with red Bordeaux, coq au vin, braised beef with carrots, roasted cauliflower, a vintner's salad of mixed greens, walnuts, and Gruyère cheese, or mashed potatoes with way too much butter.
These dishes aren't hard for the average home cook?
That's the point. At home, you should be spending time with your family, not trapped in a kitchen, like you're in competition on a cooking show. Food that soothes is rarely complicated.
Do you have any hard-and-fast rules for eating at home?
I won't eat on a paper plate, use a paper napkin, or pick up plastic utensils. I don't care if it's take-out Chinese food that comes in those containers. Take it out of the delivery box, put it on a real plate, and drink from a glass. Otherwise, I'd rather go to bed hungry.
With his trademark subtle sensuality, Ripert thinks of the Aldo Sohm Wine Bar as "a place that stimulates all kinds of different conversations." Named for Le Bernardin's equally charming and eerily knowing award-winning sommelier, the room is dominated by a huge U-shaped sofa, where guests immediately get cozy, chatty, and sometimes thisclose. The surrounding high tables and chairs allow waiters to discuss novel wine selections eye-to-eye. Ripert oversees the food so "each dish adds to the feeling of relaxation rather than demanding attention." Sohm said: "Across the street, we're very serious about food. Here, we want you to have fun."
Aldo Sohm Wine Bar's recipe for Braised Beef Short Ribs
Ingredients
1 bottle dry

red wine

2 tbsp

vegetable oil

8

short ribs

, trimmed of excess fat

1 tsp

black peppercorns

, crushed

flour

, for dredging

10 cloves

garlic

, smashed

8 large

shallots

, sliced

2 medium

carrots

, cut into 1-inch lengths

2 stalks

celery

, cut into 1-inch lengths

1 medium

leek

, coarsely chopped

6 sprigs

Italian parsley

2 sprigs

thyme

2

bay leaves

2 tbsp

tomato paste

3 quarts double

chicken stock
Method
Reduce wine by half. Reserve.
Season ribs with salt and black

pepper, dredge in flour, and brown ribs

in vegetable oil, remove from pan.
Add vegetables and garlic to roasting pan, cook slowly until caramelized, about

10

minutes. Add tomato paste and cook for another

3-4

minutes.

Tie thyme, rosemary, coriander seed,

whole black pepper, and bay leaves in a

cheesecloth bag. Deglaze pan with the wine, simmer. Add chicken stock and cheesecloth

bag, add ribs back to pan, cover, and cook
in

300

ºf oven for about

4

hours.
Carefully remove ribs from roasting pan. Remove bones and fatty tissue. Cool overnight. Strain braising liquid and chill.

Portion short ribs into 1-inch square pieces. Coat with braising liquid and bake at

350

ºf for 5-

7 minutes. Spoon mashed potatoes in the center of a plate and keep warm.

Pull short ribs from oven and skewer, through the top, three pieces per skewer. Place on potatoes. Coat with sauce and garnish with fried shallots.