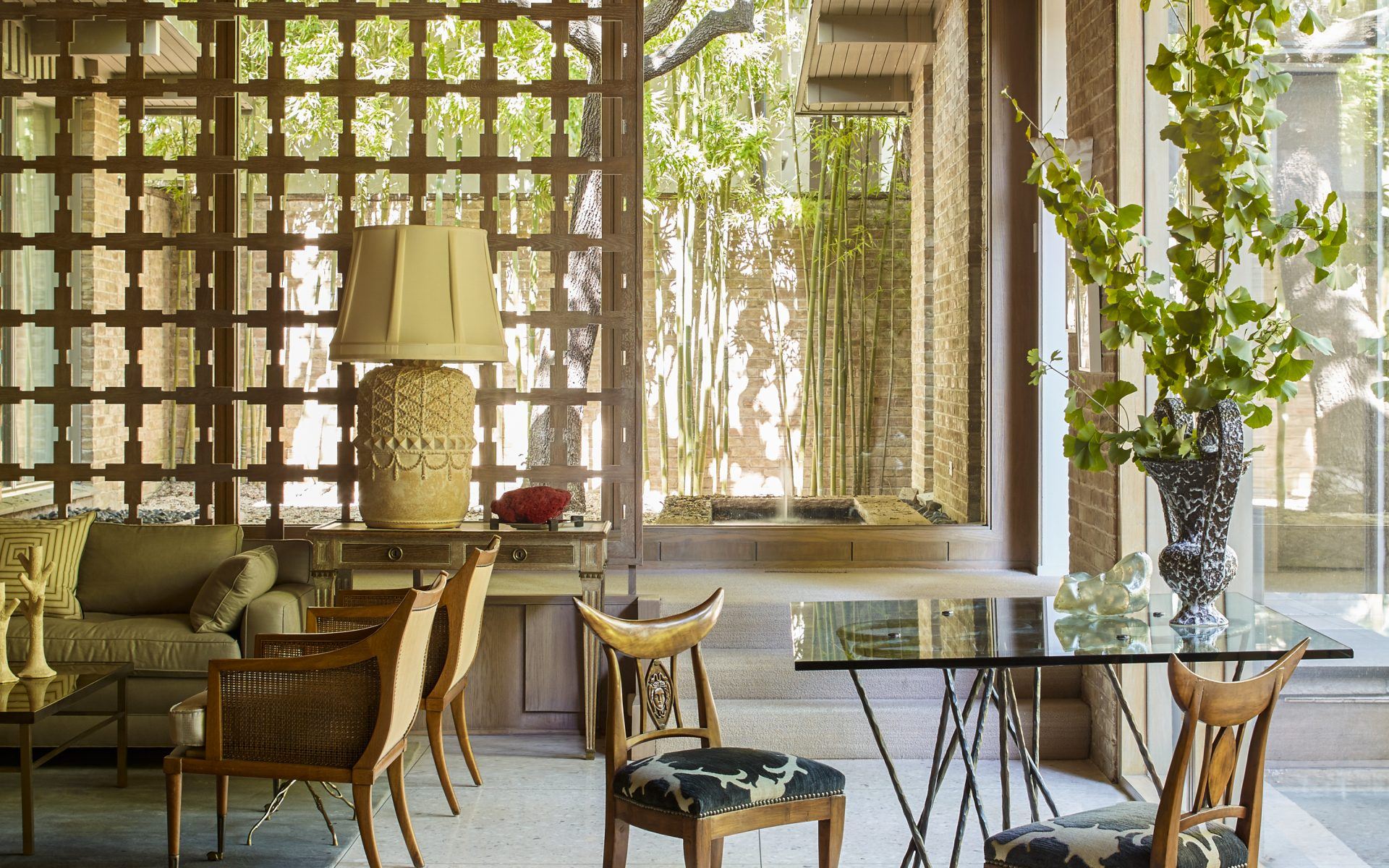 Why Emily Summers Loves Her Modernist Home in Dallas More Than Ever
The Texas-based designer shares how she revived this architectural gem, where she has enjoyed spending more time the past few months
Dallas-based designer Emily Summers has an innate ability to revive historic buildings and make them livable. Her monograph, released last spring and aptly named Distinctly Modern Interiors (Rizzoli), is a testament to the new life she breathes into these types of spaces. Her admirable talent even landed her an appointment by President George W. Bush to serve as one of 20 individuals on the Washington-based Advisory Council for Historic Preservation.
When it came to acquiring a 1960s modernist marvel of her own, Summers saw great potential in what others may have deemed a teardown. Surrounded by trees, the home, which she updated in her signature style, brings the outdoors in. The collection of art and design that she has acquired over the years is artfully displayed, but the resulting space still feels comfortable enough for real living. Here, she shares what slowing down and spending time at home has meant to her, along with some of her favorite treasures there.
I love my home. It's located in Dallas in an area called Highland Park, which is a charming place that's kind of a city within a city. We've been here for 20 years, and it's really been a joy to spend so much time here the past few months.
The house was built in the 1960s by Robert Johnson Perry. He was an MIT-trained architect who did about ten houses in the area. Although the house itself isn't large, all the spaces within it are built around courtyards. That way, there's always the feeling of being outdoors. The spaces have air, and you don't feel closed in. The interior courtyard even has an L-shaped pool, so two walls of the interior have water flowing just on the outside.
There's not a room in my house we don't use and appreciate. Well, we haven't used the big dining room—but all the others definitely. They're all filled with design and art that I've collected over the years. The first piece I ever bought was a Jean Dunand console that's now in the entryway. I bought it on 10th Street in New York ages ago. But my favorite is the Garouste and Bonetti 11-legged table. It's the perfect place for just the two of us for dinner. I also collect midcentury furniture by architects and craftsmen. I have a Gabriella Crespi rotating table. The Silas Seandel concrete cocktail table with molten metals poured in the top is such a great piece—and extremely hard to move.
The Robjohns-Gibbons Klismos chairs in the dining room are especially dear to me. I've loved them forever and dreamed about getting them. They're inspired by Greek vases and designs from the fifth century B.C., and there's such impressive detailed leather strapwork. Actually, I love them so much that now I represent them for sale in the U.S. It's such a wonderful, family-run business. Their timeless beauty is perfect paired with a very contemporary table I designed.
And there are so many pieces from my travels. One of my most recent purchases is by Mathias Goeritz, whom I originally discovered in Mexico City. He was great friends with Luis Barragán—and rumored perhaps even more. Those pink paintings in Barragán houses are his, but he also worked with gold metals. I've been on the lookout for some time and finally found one in a junk shop in New York City.
For me, when I'm traveling is a good time to shop and find unexpected things. When you're looking for things, you never find it. You have to be surprised—that's how I've made my best finds over the years. I'm starting to plan travel again—first to my projects in Hawaii, Los Angeles, and Bermuda. Then also to Cabo with my family to a fun place that has the space for us to be together.  
Until then my husband and I will be sharing the study to do our work, although Romeo is the one really keeping us busy. He's a fluffy Coton de Tulear we got last January, and I don't think he's ever been walked so much. I just re-carpeted the whole upper level because of Romeo with wonderfully soft wall-to-wall, shirred-tip loop in gray-beige. There's pattern even though it's a solid color, and you can see the pooling and walk marks. I'm planning on redoing the guest room next, and the next big project will be the lawn. From all these windows, I've been looking out and seeing real potential there.
Next Post