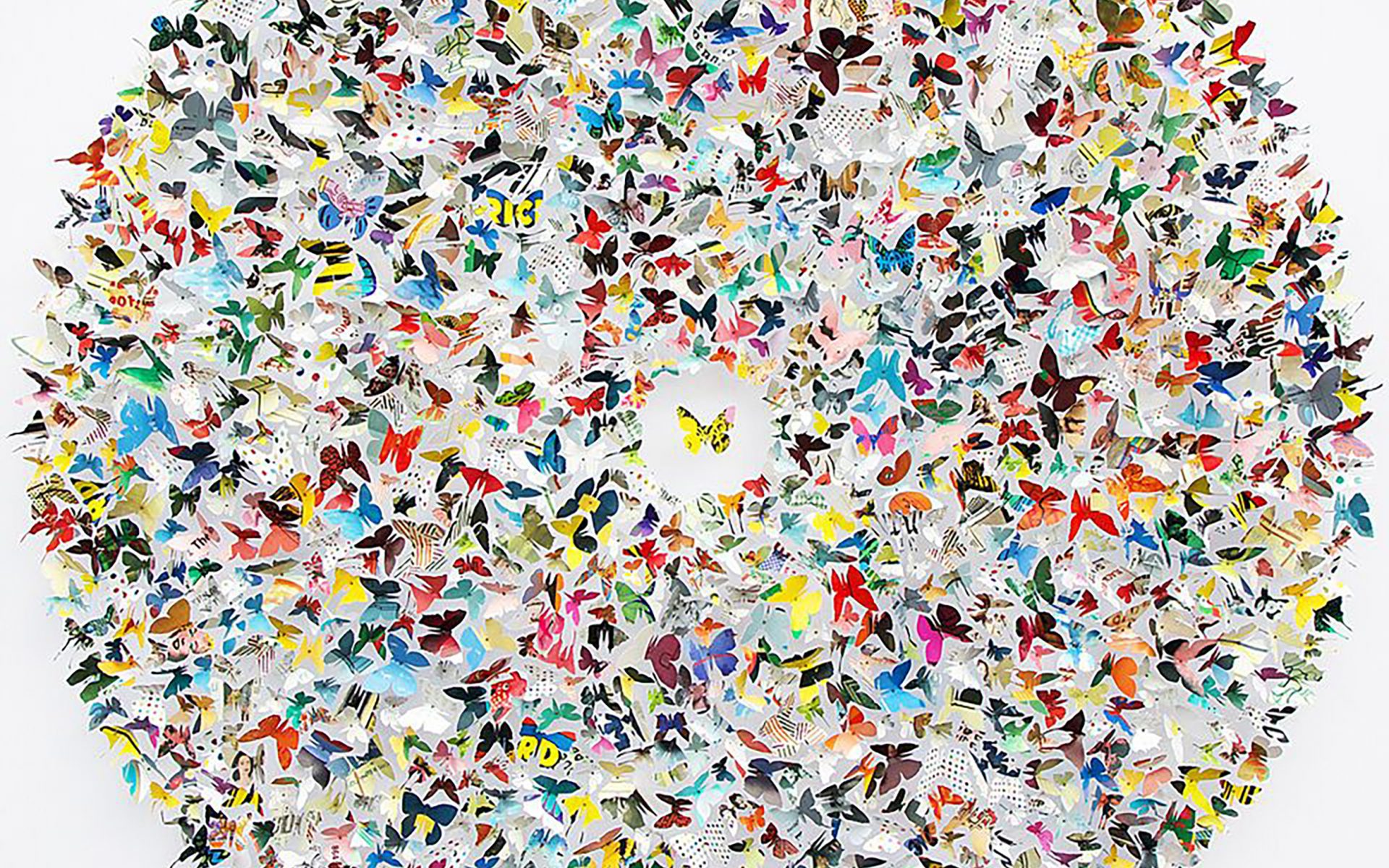 Editors' Picks: 8 Great Art and Design Events This Week
Sarah Lucas opens at the New Museum, and Arlene Shechet is unveiled at Madison Square Park
Between the unveiling of Arlene Shechet's sculptural installation at Madison Square Park (her first public commission), the first major American survey of Sarah Lucas's work at the New Museum, and the kickoff of the Affordable Art Fair, where art workshops abound, there's no shortage of culture this week in New York. And if you're heading to Chicago for the Expo, we've got you covered there too. Read on for the Galerie's curated list of the best art and design events this week.
NEW YORK
1. Cecily Brown
The Metropolitan Opera Gallery
Another opera highlight is a stunning collaboration between art and music at the Opera Gallery. Triumph of the Vanities I, II, and other mural-size works by beloved British artist Cecily Brown will now grace the sweeping grand staircase of the Metropolitan Opera. This marks the first time that an artist has been invited to exhibit work inside the main hall since the Met's opening in 1966, when Marc Chagall unveiled two site-specific murals. "As you come up, it's almost that you enter into the painting, and the crowd will be mirrored," Brown told the New York Times, referring to the appearance of many figures within the works' seemingly abstract brushstrokes.
Where: The Metropolitan Opera, 30 Lincoln Center Plaza
When: Monday, September 24
2. Arlene Schechet: Full Steam Ahead
Madison Square Park
Sculptor Arlene Shechet's first public art commission is unveiled this week in Madison Square Park. The site-specific installation at the north end of the park, and which is on view beginning September 25, showcases a new body of sculpture. Though she's known for her ceramics, these are made from wood, porcelain, steel, and cast-iron. The installation will be accompanied by a series of public programs, including "walking meditations," lunchtime art tours, and artist talks.
Where: Madison Square Park
When: Tuesday, September 25

3. "Young Italians"
Italian Cultural Institute of New York
In collaboration with Magazzino Italian Art, curator Ilaria Bernardi has devised a group show of 12 young Italian artists whose work has yet to be shown in the United States. The exhibition's title is a tribute to a 1968 show of the same name and concept, now celebrating its 50th anniversary. The roster includes Davide Balliano, Danilo Correale, Irene Dionisio, Antonio Fiorentino, Silvia Giambrone, Domenico Antonio Mancini, Elena Mazzi, Luca Monterastelli, Ornaghi and Prestinari, Gian Maria Tosatti, Eugenia Vanni, and Serena Vestrucci, all of whose work responds to the social and political climate of current-day Italy.
Where: Italian Cultural Institute of New York
When: September 25–November 1. Hours: Monday–Friday, 9 a.m. – 4 p.m.
4. Lehmann Maupin x Hill House Home Fall Exhibition
Hill House Home, West Village
A selection of works from Lehmann Maupin gallery will be installed in Hill House Home's West Village flagship this fall, and to celebrate the collaboration, Hill House will host an opening reception and artist talk. Artists such as Klara Kristalova and David Salle will have works on view.
Where: Hill House Home, 395 Bleecker Street
When: Wednesday, September 26, 6–8 p.m.
5. "Sarah Lucas: Au Naturel"
New Museum
The first American survey of 30 years of the British artist Sarah Lucas's career comes to New York. Working with found objects and materials, Lucas challenges traditional concepts of gender and sexuality in her often anthropomorphic, sometimes erotic works. Among the most important works on display will be her sculptures from the early '90s, her "Bunnies and  series, and selections from her installation at the British Pavilion at the Venice Biennale in 2015. New sculptural works will also be on view, created specifically for this exhibition.
Where: The New Museum, 235 Bowery
When: September 26–January 1, 2019. Hours: Friday–Wednesday, 11 a.m.–6 p.m.; Thursday, 11 a.m.–9 p.m.
6. Visionaries Gala Hosted by Sir John Soane's Museum Foundation
The Rainbow Room
A black-tie gala held in honor of Robin Standefer, Stephen Alesch, and the Carnegie Museum of Art will be held in the opulent Rockefeller Plaza Rainbow Room benefitting Sir John Soane's Museum in London. Alesch has created an artwork that will sell at auction, a striking watercolor on canvas that was inspired by his and Standefer's visit to the London institution. Proceeds from the gala and auction go directly toward the Soane's Drawing Office, which will be home to an artists' and architects' residency program.
Where: The Rainbow Room, 30 Rockefeller Plaza
When: Wednesday, September 26. Cocktails: 6:30 p.m.; dinner: 8 p.m.
7. Affordable Art Fair
Metropolitan Pavilion
As the event's name suggests, this fair presents a can't-miss opportunity to bring home original artworks and prints. But better yet, the fair's fully packed program features drop-in art workshops like "Mindful Mandalas" and a night of music with the New Camerata Opera, which is part of the fair's "Art After Dark" experience.
Where: Metropolitan Pavilion, 125 West 18th Street
When: Thursday, September 27–Sunday, September 30. Private view: Wednesday, September 26, 6–9 p.m. Art After Dark: Thursday, 6–9 p.m. Regular fair hours: Thursday, 12–6 p.m.; Friday, 12–6 p.m.; free admission 6–8 p.m.; Saturday, 11 a.m.–8 p.m.; Sunday, 11 a.m.–5 p.m.
CHICAGO
8. Art on theMART
Merchandise Mart (theMART), Chicago
Coinciding with Expo Chicago, which opens this week, extravagant digital projections will illuminate the face of the Merchandise Mart, Chicago's Art Deco icon. Opening night of the display, which is set to be a nightly fixture in the city, will be carried out with much fanfare: A portion of the street will close to traffic, allowing the public to experience a live DJ, food trucks, lantern procession, and, finally, the art unveiling at 7:15 p.m. The night will conclude with a magnificent fireworks display.
Where: Wacker Drive between North Wells and North Franklin Streets, Chicago
When: Saturday, September 29. Streets close at approximately 6:30 p.m.
Next Post