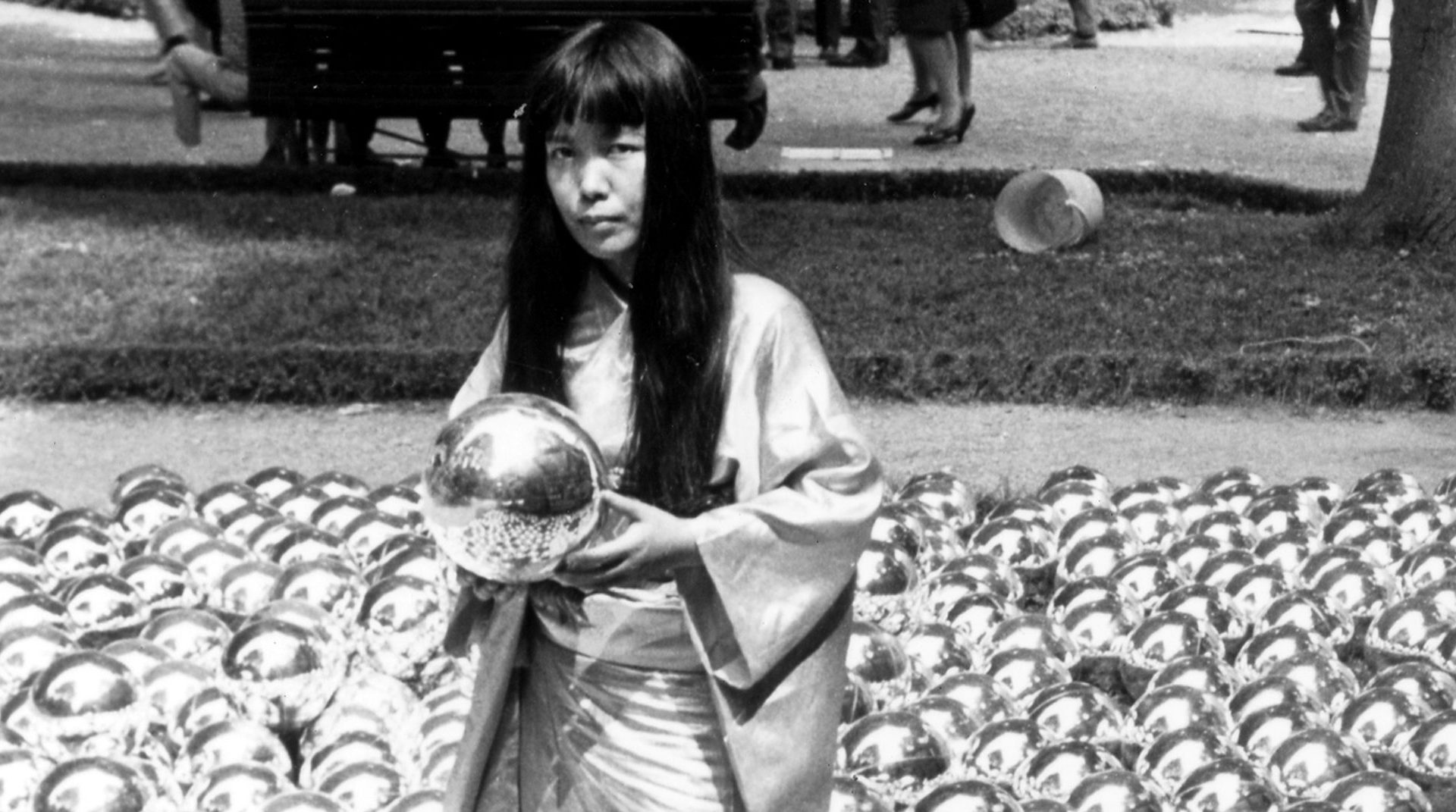 Editors' Picks: 7 Great Art and Design Events This Week
Yayoi Kusama's 'Narcissus Garden' kicks off the third edition of Rockaway!
There's no shortage of art and design events in New York this week. Anchoring the week will be the unveiling of two highly anticipated public art installations: Yayoi Kusama's Narcissus Garden, which is being presented by MoMA PS1 in the Rockaways, and Tauba Aeurbach's Flow Separation, a re-painting of the historic John J. Harvey fireboat, which will embark on its initiatory voyage through New York Harbor. Also hotly anticipated is the collaborative exhibition Condo. Here are our picks for the full week. Enjoy!
1. Alexandra Bachzetsis
The High Line
Swiss choreographer and artist Alexandra Bachzetsis will perform two works in a series: PRIVATE: Wear a mask when you talk to me and Private Song. Partly inspired by the Greek Tsifteteli and Zeibekiko styles of dance, both shows, performed in collaboration with Sotiris Vasiliou and Thibault Lac, will evocatively explore the human body in various contexts. The event is free—RSVP here.
Where: The High Line at 14th Street
When: PRIVATE: Wear a mask when you talk to me: June 25 and 27, 8-9pm; Private Song: June 26 and 28, 8-9pm
2. Heman Chong: Ifs, Ands, or Buts
Swiss Institute
Singaporean artist Hemon Chong will present a talk at the Swiss Institute for contemporary art in New York, where he will discuss the ephemeral elements that make up his work—calendars, postcards, and magazines, for example, among countless other media. In Chong's own words, "This lecture begins with a work that I didn't make (it was an accident) and ends with a performance involving sentences I didn't write (other artists did)." Entry is on a first-come, first-served basis. And you get to see the Swiss Institute's new digs designed by Annabelle Selldorf.
Where: Swiss Institute, 38 St. Mark's Pl., New York, NY
When: Tuesday, June 26 at 7pm
3. 'Behind the Curtain: Treasures from the Vault'
Jason Jacques Gallery
Jason Jacques Gallery approaches its 30th anniversary with its largest group exhibition to date, a showcase of ceramic vessels and sculpture from the 20th century to the present day. The roster of artists, which Jacques refers to as "pioneers of modern ceramic art," includes French potter Taxile Doat (1851-1939), Italian decorator Galileo Chini (1873-1956), and French ceramicist Pierre Adrien Dalpayrat (1844-1910), to name a few.
Where: Jason Jacques Gallery, 29 E. 73rd Street, New York
When: June 27–August 31. Hours: Tuesday–Saturday, 10am-6pm
4. 'Ulay: Renais sense' Dialogue
Boers-Li Gallery
Surrounding the current exhibition, Boers-Li Gallery hosts a dialogue between Alessandro Cassin, co-author of Whispers: Ulay on Ulay, and art critic and former curator at the International Center of Photography Christopher Phillips. The dialogue will contextualize Ulay's Polaroid works in the intertwined history of photography and performance art.
Where: Boers-Li Gallery, 24 E. 81st Street, 4th Floor, New York
When: Thursday, June 28 at 5:30pm
Recommended: 7 New Art and Design Books to Indulge In This Summer
5. Condo New York 2018
Various Galleries Around Manhattan
Starting Friday, 21 major art spaces across Manhattan will host galleries from around the world in a month-long collaborative exhibition. The project intends to give New York-scale exposure to smaller galleries—something traditionally only acquired through costly art fairs, which don't always pay off. The citywide co-op exhibition will run through July 27. Participating New York galleries and spaces include JTT, Metro Pictures, David Lewis, White Columns, Petzel, Bridget Donahue, and many more.
Where: Gallery spaces across Manhattan. Find the complete list here.
When: June 29–July 27, 2018. Gallery hours vary.
6. Yayoi Kusama's Narcissus Garden
The Rockaways
Comprising 1,500 mirrored stainless steel spheres, Yayoi Kusama's breathtaking site-specific installation Narcissus Garden (1966 – present) is coming to the Rockaways for this year's iteration of Rockaway!, the free biennial public art festival that MoMA PS1 presents in conjunction with Rockaway Artists Alliance, Jamaica Bay-Rockaway Parks Conservancy, National Park Service, and Bloomberg Philanthropies. Set in a former train garage at the now-abandoned military base of Fort Tilden, the spheres will reflect and reinforce the damage done by time as well as Hurricane Sandy. It's sure to be one of the must-see events of summer, so make sure to be one of the early visitors.
Where: Gateway National Recreation Area at Fort Tilden, NY
When: July 1–September 3, 2018. Hours: Friday–Sunday, as well as July 4 and September 3, 12pm–6pm
7. 'Flow Separation' by Tauba Auerbach
New York Harbor
'Flow Separation,' a public art exhibition that involves the repainting of the historic John J. Harvey fireboat by contemporary artist Tauba Auerbach, will begin with an initiatory voyage this week. Inspired by the physics of "fluid dynamics" and the military use of dazzle camouflage during World War I, Auerbach's vessel, co-commissioned by the Public Art Fund and 14-18 NOW, will be free to ride throughout the summer, and coincides with the centennial of the Armistice of November 11, 1918.
Where: Cruises will disembark from Brooklyn Bridge Park's Pier 6 and Hudson River Park's Pier 25
When: July 1, 2018–May 12, 2019
Next Post