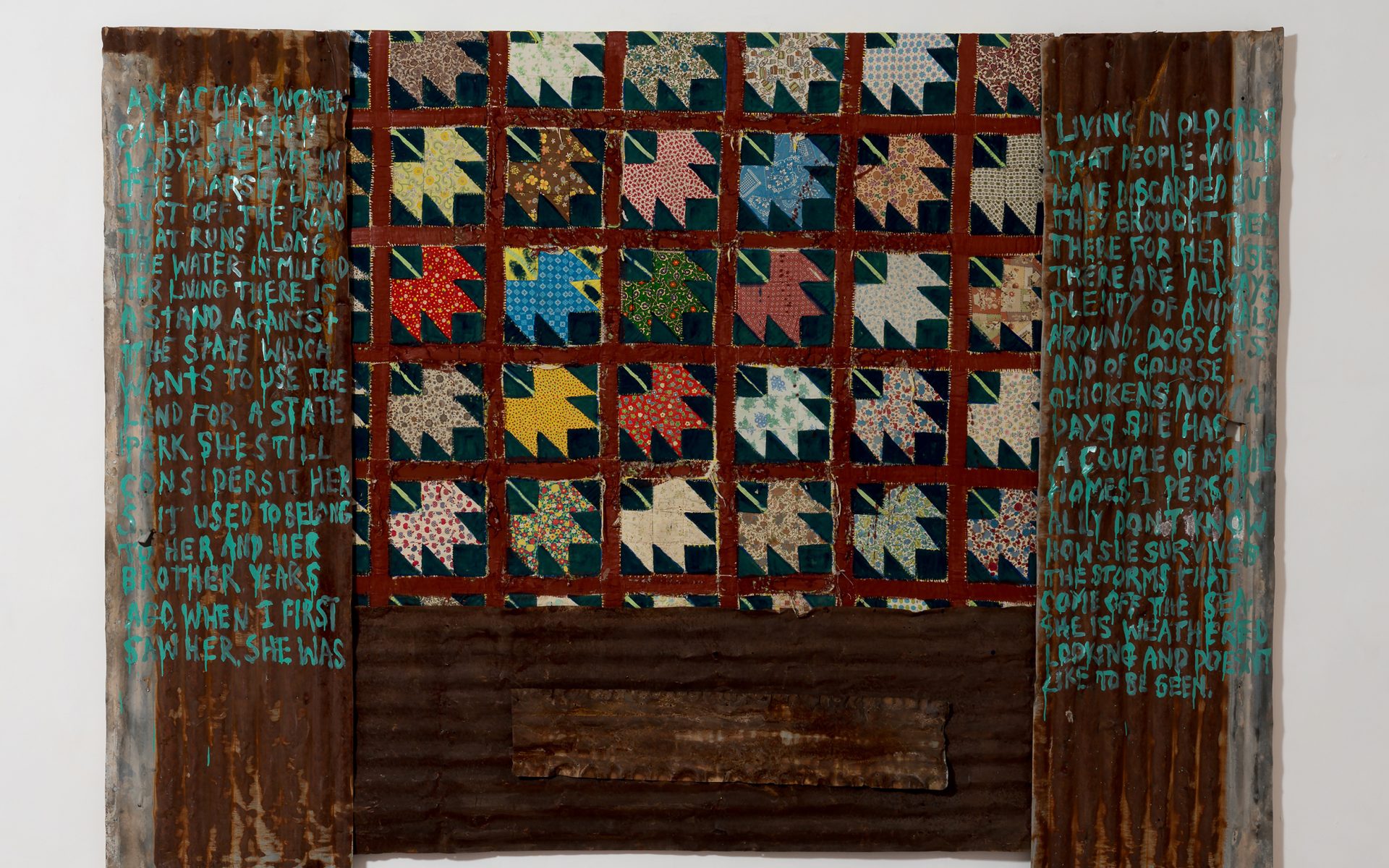 Editors' Picks: 9 Great Art and Design Events This Week
Derrick Adams's geometric portraits take over Luxembourg & Dayan and Baxter St hosts its annual fête
Here are Galerie's picks of the must-see art and design events in New York this week, from a massive installation of industrial machines in Brooklyn to a '90s-themed gala to support emerging photographers on the Lower East Side.
1. Derrick Adams: Interior Life
Luxembourg & Dayan
For this show, Derrick Adams will transform the interior of Lenox Hill gallery Luxembourg & Dayan by installing custom wallpaper that mimics domestic environments to create a surreal backdrop for his new portraits on paper. Curated by Francesco Bonami, the selection of works on view comes from Adams's ongoing portrait series "Deconstruction Workers."
Where: Luxembourg & Dayan, 64 East 77 Street
When: February 26–April 20
Recommended: MoMA PS1 to Launch New Restaurant with Acclaimed Chef Mina Stone
2. Alice Neel: Freedom
David Zwirner
Alice Neel's position as one of the 20th century's foremost figurative painters was in part defined by her unconventional beliefs about sexuality, motherhood, and beauty. That ethos serves as the jumping-off point for this show of works that span the length of her career.
Where: David Zwirner, 537 West 20th Street
When: February 26–April 13
3. "Stand with Us" BeneFête
Baxter St at the Camera Club of New York
This '90s-themed benefit gala to support the nonprofit comes complete with street-inspired decor, including a "Baxter St Bodega," where scratch-offs for sale offer the chance to win a limited-edition print. Dance to music by Menahan Street Band (featuring Black Thought from the Roots), THECouncil, Shari Loeffler, and Stretch and Bobbito. Honorees include Sarah Arison, Jesse Chun, Allen Frame, and José Parlá.
Where: Angel Orensanz Foundation, 172 Norfolk Street
When: Wednesday, February 27
4. Najla El Zein: Transition
Friedman Benda
The up-and-coming designer presents three sculpture series entitled "Distortion," "Fragmented Pillar," and "Seduction." Crafted from solid materials like terrazzo and sandstone, the objects nonetheless assume flowing, organic forms that embody the sensual elements of El Zein's personal experiences.
Where: Friedman Benda, 515 West 26th Street
When: February 28–April 13
5. Talk: Physical Tactics for Digital Colonialism
New Museum
Courtesy of New Museum affiliate Rhizome, artist Morehshin Allahyari will premiere this lecture-performance that utilizes a 3-D scanner. Normally used by archeologists when collecting data on physical artifacts, the scanner will be used on replicas of Middle Eastern cultural artifacts, about which Allahyari will share her insight.
Where: New Museum, 235 Bowery
When: Thursday, February 28, at 7 p.m.
6. Jorge Pardo: Eccentric Reflexivity
Petzel
Jorge Pardo challenges Marcel Duchamp's exploration of readymades in an exhibition of lighthearted works created when Pardo was a student at the Art Center College of Design in Pasadena, California, from 1988 to 1994. The solo exhibition reveals Pardo's wide-ranging body of work, which blends conventional art and design elements.
Where: Petzel, 35 East 67th Street, Third Floor
When: February 22–April 20
7. Lesley Vance
Bortolami
Lesley Vance's calligraphic, textural abstract compositions are the result of a gradual and improvisational process that captures the artist's hand. As curator Douglas Fogle noted in a companion essay, the works bear some resemblance to the serpentine head of Medusa, transfixing the viewer in the manner of the mythical figure.
Where: Bortolami, 39 Walker Street
When: Opening reception: Friday, March 1, 6–8 p.m.
8. Atelier Van Lieshout: The CryptoFuturist and the New Tribal Labyrinth
Pioneer Works
Known for its ambitiously scaled, experimental works encompassing art, architecture, and design, Atelier Van Lieshout brings a massive installation of industrial machines to the Brooklyn art space.
Where: Pioneer Works, 159 Pioneer Street, Brooklyn
When: Opening reception: Friday, March 1, 7–9 p.m. On view through April 14
9. Solo Exhibitions: Harmony Hammond and N. Dash
Aldrich Contemporary Art Museum
For those interested in retreating to the countryside for a day, a shuttle will run from Chelsea to the Aldrich Contemporary in Ridgefield, Connecticut, for the opening of two solo exhibitions of works by N. Dash and Harmony Hammond. On the occasion of the opening, Hammond, who is also a celebrated feminist and lesbian scholar, curator, activist, and author, will be in conversation with art historian Julia Bryan-Wilson. The two will discuss Hammond's show, a five-decade survey that also marks the artist's first-ever museum survey.
Where: The Aldrich, 258 Main Street, Ridgefield
When: Sunday, March 3
Transportation from Manhattan: Shuttle departs from 539 West 23rd Street at noon. Purchase tickets here.
Next Post