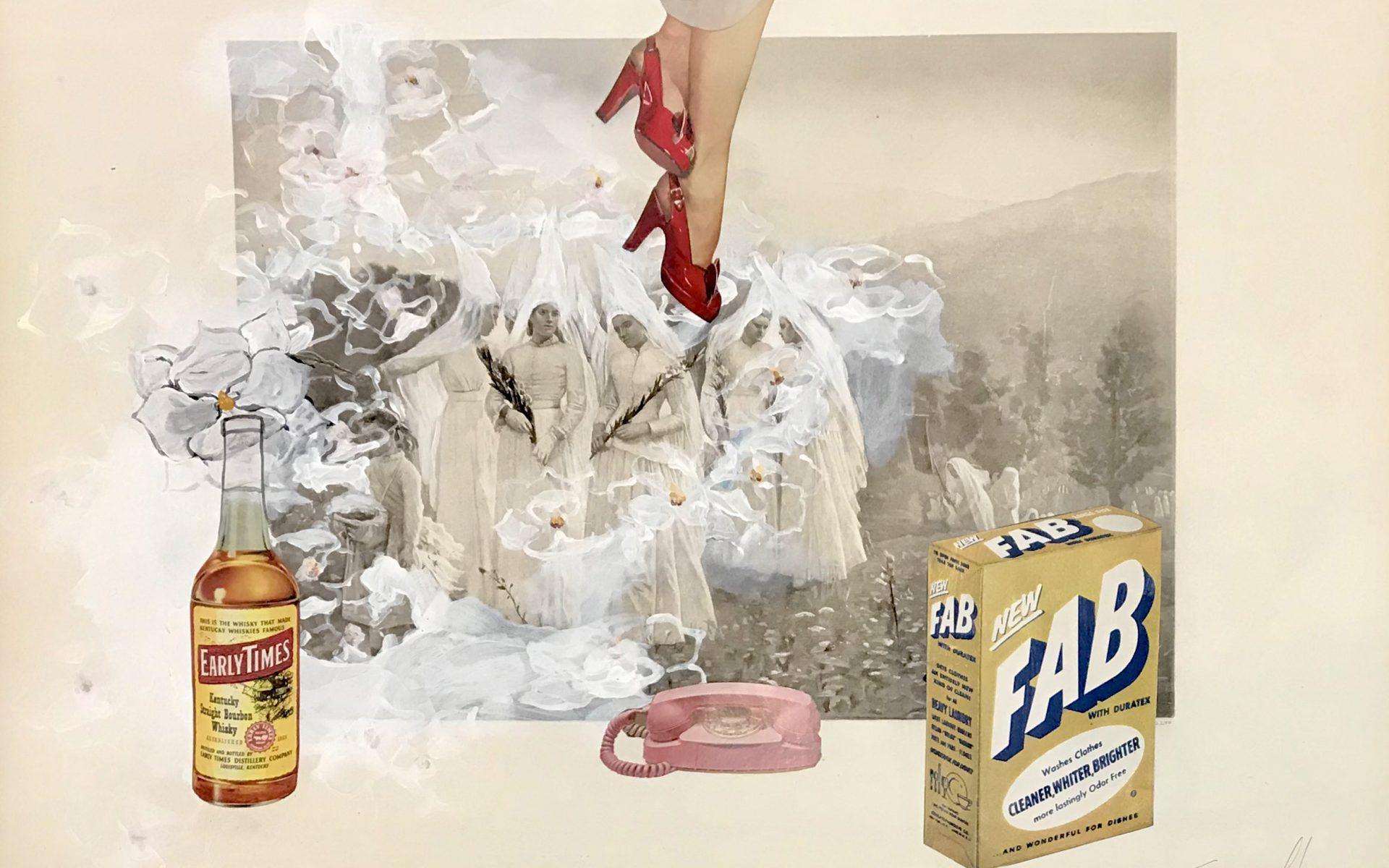 Editors' Picks: 10 Great Art and Design Events This Week
The Kips Bay Decorator Show House opens, and Abdoulaye Konaté has his first U.S. exhibition
Here is Galerie's curated list of must-see art and design events this week, from the opening of the 47th annual edition of the Kips Bay Decorator Show House to West African artist Abdoulaye Konaté's first U.S. exhibition. For a cheat sheet on the fairs, including Frieze, Object and Thing, and TEFAF, read our story here. 
1. Classic Week
Christie's
Fine works from antiquity through the 20th century come to Christie's this week, with highlights including magnificent still life oil paintings by Cristoforo Munari and Juan van der Hamen y León; an oil on panel of Madonna and Child with Saint Lucy and Saint John the Baptist by Annibale Carracci; and an 18th-century portrait of Madame du Barry, a mistress of King Louis XV of France, by Élisabeth Vigée Le Brun.
Where: Christie's, 20 Rockefeller Center
When: Exhibitions on view through May 1; auctions will be held from April 29 to May 1.
2. Artadia Benefit
Phillips 
To celebrate its 20th anniversary, Artadia—the nonprofit founded by Christopher Vroom that supports artists with merit-based awards—hosts a cocktail benefit at Philips auction house. A silent auction of 35 works by Artadia Awardees will accompany the evening, with pieces by buzzworthy talents, including Farah Al Qasimi, Sadie Barnette, Katy Fischer, Joseph Havel, and Rocio Rodriguez. Guests will enjoy drinks by Casa Dragones and music by Chances with Wolves. A portion of the proceeds from the 20th Century & Contemporary Art sale, which follows on May 15, will also benefit Artadia, with donated works by artists such as Shara Hughes, Jonas Wood, Cecily Brown, and Larry Bell. Tickets here.
Recommended: Galerie's Go-To Guide to All the Art Fairs in New York During Frieze Week
Where: Phillips, 450 Park Avenue
When: Monday, April 29, 6:30–8:30 p.m.
3. Book Launch and Signing: Everyday Decorating by Jeffrey Bilhuber
Rizzoli
Toast to the launch of acclaimed New York interior designer Jeffrey Bilhuber's latest book, written in collaboration with Galerie's editor in chief, Jacqueline Terrebonne. This humorous yet informative tome is geared toward anybody looking to spruce up their home in simple ways, from how they make the bed to picking out the perfect paint color for the walls.
Where: Rizzoli Bookstore, 1133 Broadway
When: Monday, April 29, 6–8 p.m.
4. Damián Ortega: Porous Structures
Gladstone Gallery
A new show of works by the Mexican artist Damián Ortega combines a monumental, site-specific installation—a pair of seven-foot-tall, sand-and-cement structures resembling mountains entitled Irregular Emplacements—and a series of smaller-scale works. The artist uses raw, earthy matter to explore questions of structures and habitation across species, one such work being Modern Sublease, a staircase that contains small nooks resembling a wasp's nest.
Where: Gladstone Gallery, 515 West 24th Street 
When: May 1–June 8
5. In Bloom: A Selling Exhibition of Floral Jewels
Sotheby's
Curated in partnership with historian and author Carol Woolton, the auction house presents a selling exhibition of 75 jewels that use the motif of a flower, from the 19th century to the present day. The show will include vintage floral designs from Tiffany & Co., Cartier, Van Cleef & Arpels, David Webb, Boucheron, Verdura, and Belperron, alongside works by today's leading contemporary designers: Emmanuel Tarpin, Fernando Jorge, and others.
Where: Sotheby's New York, 72nd Street and York Avenue
When: May 3–24
6. Abdoulaye Konaté: Couleurs d'Âme (Soul Colors)
Blain Southern
The leading West African artist has his first solo exhibition in the U.S., where he will show a series of monumental dyed and woven works in Malian cotton. The show draws mainly from the artist's newer abstract works, though it does include some older pieces, all of which present a rich blend of Konaté's own cultural as well as global influences. The exhibition also marks the opening of London-based gallery Blain Southern's first space in New York, in the gallery once occupied by longtime Chelsea resident Cheim & Reid before it shuttered last year. Headed by gallerists Harry Blain and Graham Southern, Blain Southern represents such names as Bill Viola, Sean Scully, Chiharu Shiota, and Jake and Dinos Chapman.
Where: Blain Southern, 547 West 25th Street
When: Opening reception: Friday, May 3, 6–9 p.m.; on view through June 15
7. Kips Bay Decorator Show House
Celebrated interior designers take over one room each in a historic Upper East Side townhouse for the Kips Bay Show House's 47th annual iteration. The event draws around 15,000 visitors each year who are eager to see spaces conceived by their favorite decorators. This year's roster includes Peter Pennoyer Architects, Charlotte Moss, and Christopher Peacock. An opening cocktail reception will be held on the night of Wednesday, May 1, with the house officially opening to the public on May 2. All proceeds benefit the Kips Bay Boys & Girls Club, which offers after-school and enrichment programs to 10,000 Bronx youth ages 6 through 18.
Where: 36-38 East 74th Street
When: Opening reception: Wednesday, May 1, 6–9 p.m.; tickets here. Open through May 31.
8. Desert Painters of Australia
Gagosian
Drawing from two significant American collections, Gagosian presents a unique exhibition of contemporary works by Indigenous Australian artists whose communities were displaced in the late 1960s. Forcibly relocated to the Papunya settlement, they create artwork that captures their evolving culture, employing traditional aesthetic techniques found in sand art and ceremonial body decoration and exploring new ground, like the growing significance of women's work in the artistic landscape.
Where: Gagosian, 976 Madison Avenue
When: Opening reception: Friday, May 3, 6–8 p.m.
9. Joan Mitchell: I Carry My Landscapes Around with Me
David Zwirner
Joan Mitchell's multipanel paintings are highlighted for the first time in a solo show spanning four decades of her career. The horizontally linked polyptych works lend themselves to landscape, a genre that Mitchell held closely and linked to memory. This is also the gallery's first exhibition of Mitchell's work since announcing its exclusive representation of the Joan Mitchell Foundation in 2018, with a fully illustrated catalogue forthcoming.
Where: David Zwirner, 537 West 20th Street
When: May 3–July 12
10. Lehmann Maupin at The Peninsula
The Peninsula
Lehmann Maupin is staging an off-site exhibition to kick off Frieze week at the Peninsula with works by major artists, including Do Ho Suh, Catherine Opie, Ashley Bickerton, Angel Otero, and more—many of which haven't been shown to the public for years.
Where: The Peninsula New York, 700 5th Avenue
When: Opens Wednesday, May 1
Next Post