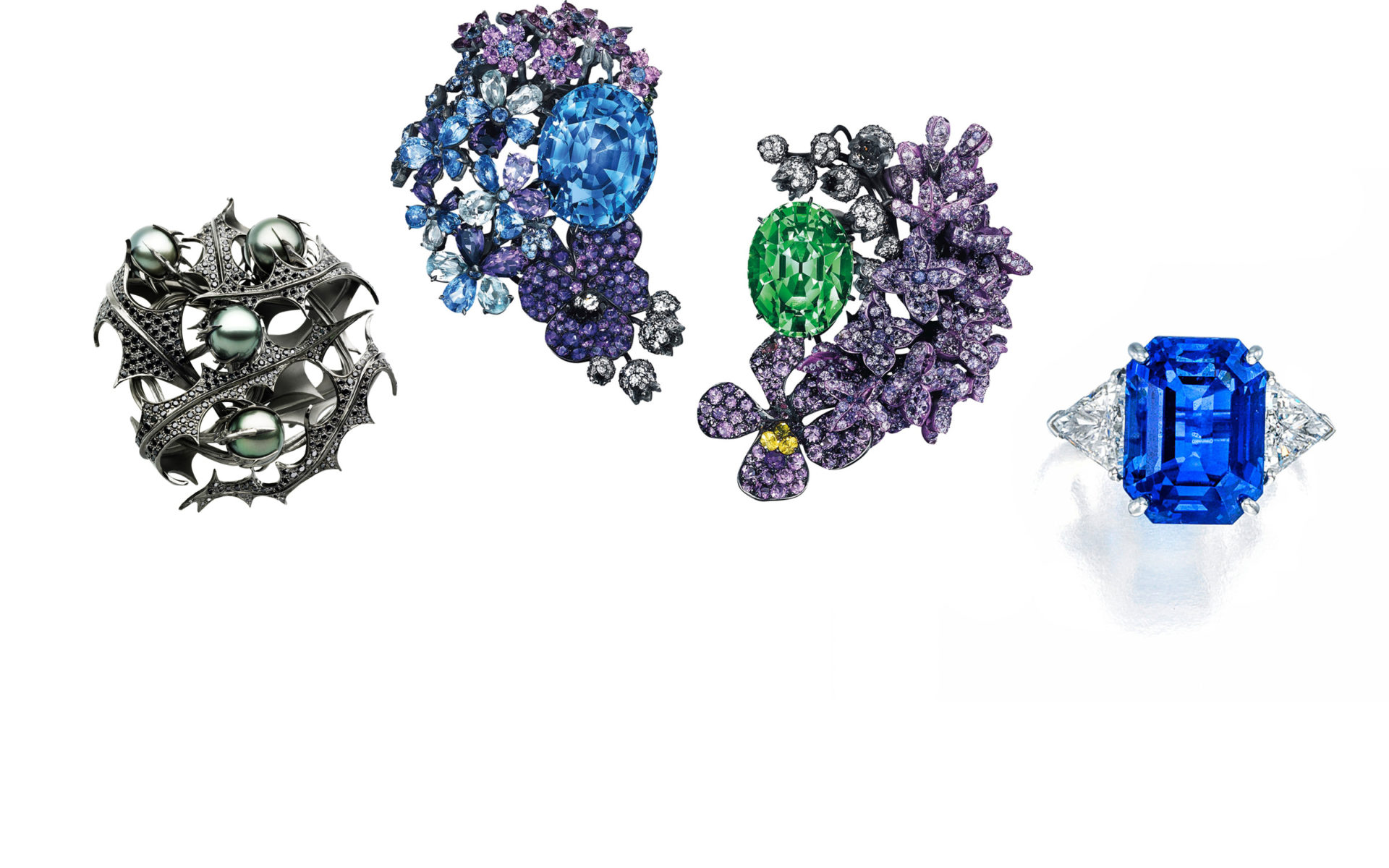 Discover the Top Trends at the New York Jewelry Auctions
Everything you need to know before this year's much-anticipated sales held by Sotheby's, Christie's, and Bonhams
During the first week of December, sparkling blue diamonds and sapphires are poised to capture the attention of jewelry collectors at the highly-anticipated auctions held by Christie's, Sotheby's, and Bonhams in New York. Also on offer are a variety of exceptional jewel and gems by the most iconic jewelry designers (think JAR and Jean Schlumberger), a special selection of couture fashion items from the famed contemporary jeweler Shaun Leane, and a jaw-dropping piece boasting major celebrity provenance. Here, Anthony de Marco breaks down the top trends and the top lots.
Two Top Lots
The top lot of the week hails from Sotheby's Magnificent Jewels sale on December 5 with a 5.69-carat fancy vivid blue diamond that has a pre-sale estimate of $12 million–$15 million. The gem has a VVS1 clarity grade, which means only an expert can detect flaws when viewing the bottom of the stone with a 10x microscope. The blue diamond is set on a platinum ring flanked by two baguette-shaped diamonds.
Christie's Magnificent Jewels sale on December 6, meanwhile, offers a Graff ring featuring a pair of fancy vivid blue diamonds with an estimate of $6.5 million–$8.5 million. The platinum ring is set with two pear modified brilliant-cut diamonds in a crossover design; the stones each weigh approximately 3.36 and 2.71 carats with VVS2 and VS1 clarity grades.
Sapphires
Dominating the sales this year are a sprinkling of statement sapphires from Sri Lanka and Myanmar being offered by the big-name jewelry houses.
Sotheby's again leads the way with a trio of pieces including a sapphire-and-diamond bracelet by Van Cleef & Arpels, circa 1936, with five sugarloaf Ceylon (Sri Lankan) cabochon sapphires weighing approximately 193.73 carats, estimated at $1 million–$1.5 million. Also on the block is a sapphire-and-diamond necklace/bracelet combination by Harry Winston, featuring seven emerald-cut sapphires weighing a total of approximately 123.13 carats and estimated at $1 million–$1.5 million.
Christie's has two standout sapphire jewels for its auction. The first is a Belle Époque Kashmir sapphire–and-diamond ring with an estimate $700,000–$1 million; and a sapphire-and-diamond necklace by Cartier with an estimate of $800,000–$1.2 million. A trio of rings featuring top-tier sapphires will also hit the block at the Bonham's auction on December 4.
Colorless Diamonds
In recent years, fancy colored diamonds have stolen the spotlight from traditional white diamonds. This year, however, these colorless gems have been nudging their way to the forefront of auctions around the world. All three New York auctions will include a number of high-profile colorless diamonds.
Christie's has the top lot in the group with a 45.46-carat D-flawless round brilliant-cut diamond with an estimate of $6.25 million–$7.25 million. Not to be outdone, Sotheby's is touting what it claims is the largest round diamond to be offered at auction, with a 110.92-carat gem with a faint brown color, VS1 clarity, excellent polish, cut, and symmetry. Its estimate is $4.2–$6.2 million.
When it comes to celebrity appeal, Bonhams takes the cake with a stunning Harry Winston diamond rivière necklace formerly owned by Zsa Zsa Gabor, the flamboyant actress, celebrity, and socialite who famously said she'd never met a diamond she didn't like. The necklace, created in 1964 by the legendary jeweler, features 45 graduated round brilliant-cut diamonds weighing a total of 66 carats and is estimated at $1.2 million–$1.5 million.
Signed Jewels
No auction is complete without a group of jewels by leading jewelry designers—a category that is perhaps among the fastest growing at auctions houses worldwide.
The biggest firm in contemporary jewelry is JAR, named after founder Joel Arthur Rosenthal, the reclusive high-jewelry artist whose Place Vendôme shop in Paris has no window displays, no regular hours, and is never open to the public. Christie's is offering a dazzling pair of JAR's multi-gem "Flower" ear pendants with an estimate of $1 million–$1.5 million. Meanwhile, Sotheby's, is presenting one of his diamond-and-green-garnet brooches with an estimate of $450,000–$650,000.
For its part, Bonhams is offering baubles by French jewelry designer Jean Schlumberger, who worked with Tiffany & Co. from 1956 until the late '70s creating whimsical interpretations of natural forms, such as sea creatures and other animals. On the block is an 18k-gold, diamond, and enamel bracelet by Schlumberger for Tiffany & Co. The items first appeared in 1962 and were popularized by Jacqueline Kennedy Onassis, who wore one at the time. Its estimate is $30,000–$50,000.
Sotheby's will include a special exhibition of couture fashion jewelry and other items from Shaun Leane's personal archives,  all of which are for sale. With estimates ranging from $2,000 to $40,000, the works were created by the London-based jewelry designer over a period of more than 20 years.
Next Post