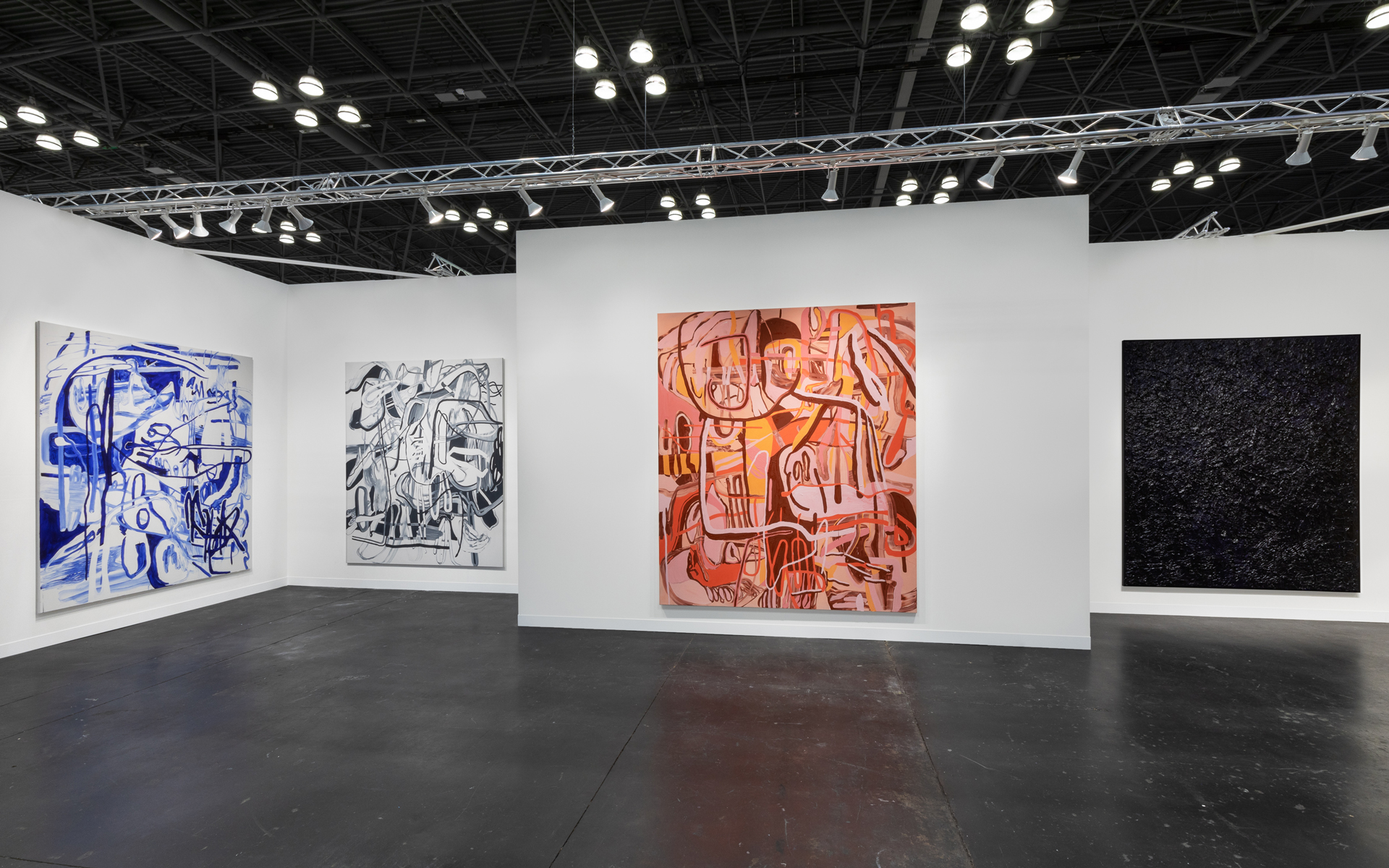 Discover 7 Highlights from the 2021 Armory Show's VIP Preview
Here's what not to miss at New York's leading art fair, which is returning stronger than ever
For many, The Armory Show's 2020 VIP preview marked the last moment of normal before the world paused: in a heartbeat, museums and galleries shuttered, art fairs postponed, then cancelled, and dealers rushed to sophisticated virtual platforms. But Thursday morning saw the official emergence from this long hibernation, as the first major American fair returned with VIP hours and fresh September dates at the sprawling Javits Center.
On the one hand, a subdued reality still hangs in the air. Careful pandemic protocols are in place; artists, collectors, and gallery staff are masked throughout the 54,000-square-foot venue. Yet despite lingering uncertainty, the day pulsed with the familiar vitality of the Armory Show, a singularly New York art fair that has a tradition of including younger, exciting galleries, many with lesser known, solo artist booths, alongside traditional blockbuster names and topical, curated presentations in the Focus section. This time, the Armory Show also embodies a singular resilience, launching a grand re-entry to art opening season in the country's enduring contemporary capital. As they say, never bet against New York City.
Even with travel difficulties, 157 international galleries managed to attend this edition, though there was a decidedly less international feel among the stylish clientele. "In the first five hours, we've seen a lot of the people that we expected to see," says Eric Gleason, senior director of Kasmin Gallery. "But I think for this fair, there was a considerable amount of pre-selling, likely due to the fact that people weren't sure if they'd be able to make it or not, whether they're from Europe, Asia, or even the U.S."
Overall, the Javits Center received stellar reviews as the fair's new permanent, more spacious home, with its natural light and close proximity to Chelsea for galley staff throughout the day. "In the over ten years I've attended, this is the best the Armory Show has been executed," reflects art advisor Alex Glauber. "Javits is much more conducive to art viewing than the piers. It does feel a little slower than it typically would in any other year. People are a bit out of practice. But I think this fair is quite thoughtful and the quality of materials is quite high."
The galleries seem to be doing good business, and also having meaningful conversations with collectors now at the fair. If anything, the preview reminded art insiders that— despite a year plus of impressive, monumental pivoting— art is an in-person experience. As Rachel Uffner of Rachel Uffner Gallery explains, "Online sales aren't particularly fun for anybody. This is more fun. It's a very personal thing for me. I wouldn't be doing this if I couldn't interact with people, on both sides, collectors and artists, and writers."
Indeed, there is a trove of thrilling, real-life art to experience at the fair this year, much of it created during the tumultuous times of lockdown and Covid. Here, seven artist highlights not-to-miss from the Armory Show 2021: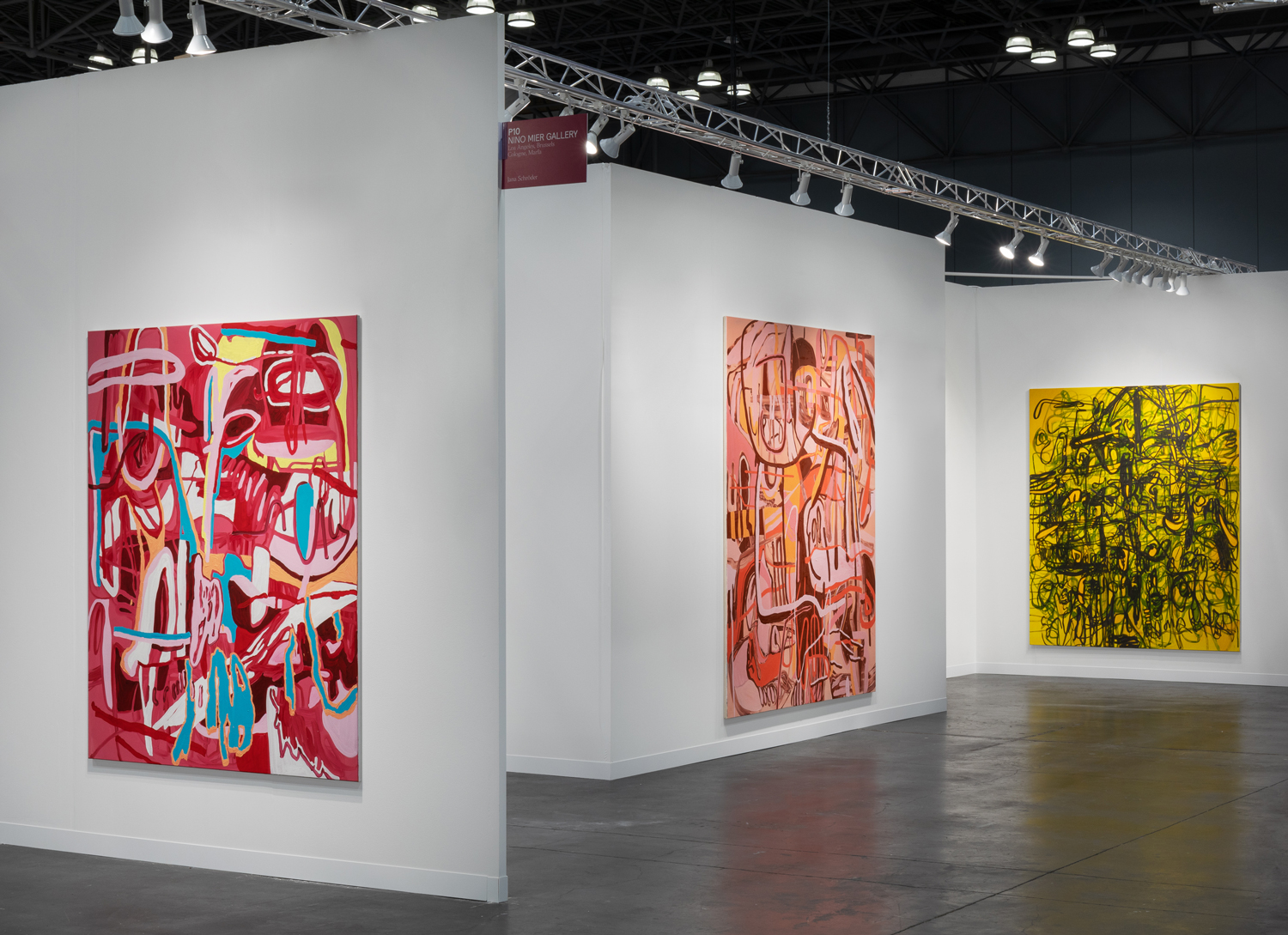 Jana Schroder
Nino Mier Gallery
Fairgoers rightly flocked to Dusseldorf-based Jana Schroder's solo presentation of large-scale arresting paintings that spans two of the artist's series, Neurosox and Specshift—both of which investigate the familiar gestures of handwriting, part of a diagrammatic aesthetic she's perfected throughout her practice. Schroder's process focuses on repetition, and harkens her professor, the modern master Albert Oehlen. Of her technique, Schroder has said she enjoys setting rules as much as breaking them.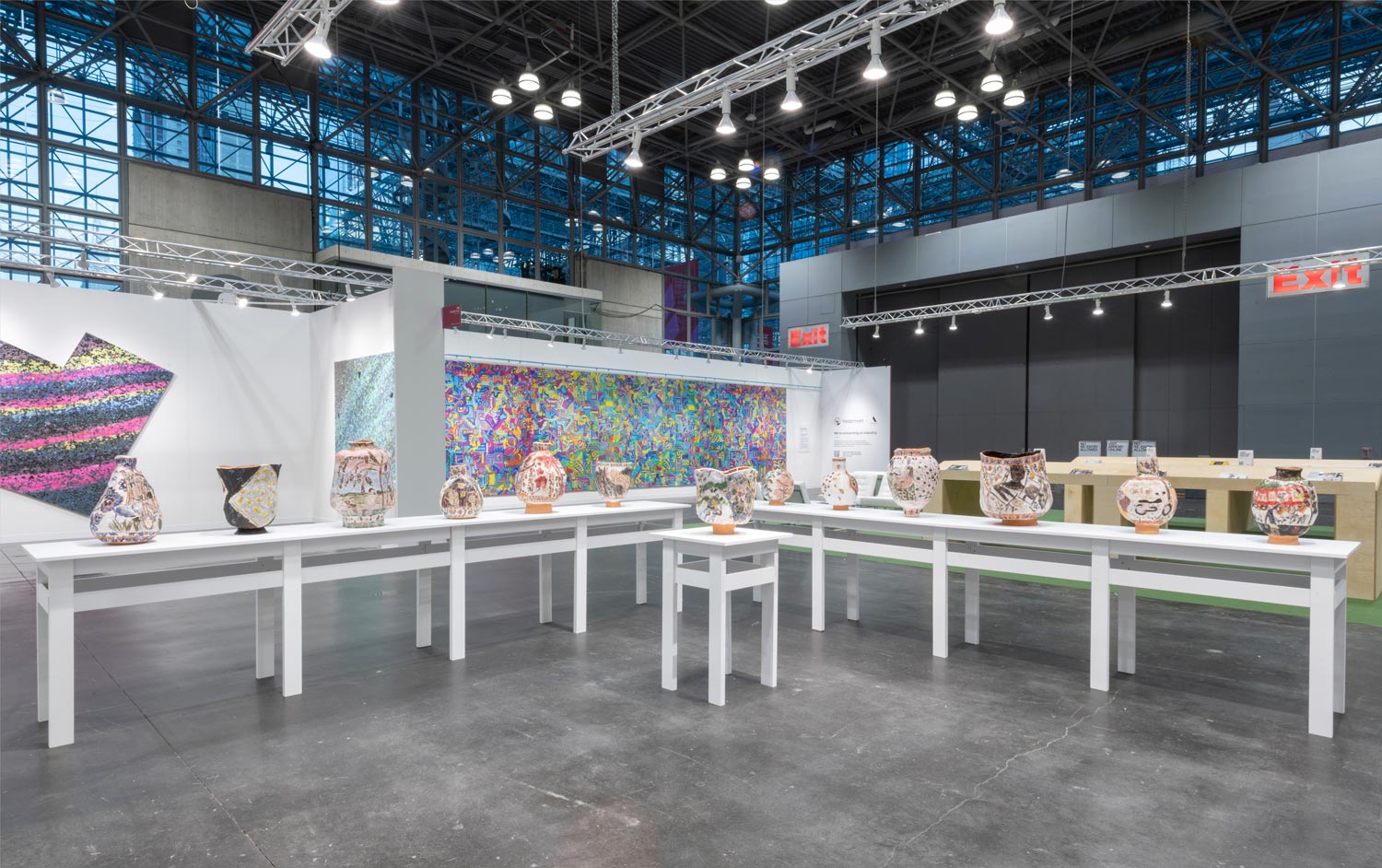 Jennifer Rochlin
The Pit
Trained as a painter, L.A.-based Jennifer Rochlin is a self-taught ceramicist, using terra cotta to reconfigure familiar forms that reference human bodies and echo the history of hand-built clay vessels. From Botticelli's    Venus to Wonder Woman, Rochlin's inspiration traverses centuries of cultural history, contrasting her sgraffito drawing method with expressive glazes. "There are three pieces where I actually have people bite the pot with their mouth as a way of mark making," she says. "I treat the works very much like canvases, and get very painterly with underglazes." She adds, "I would say a lot of the work in this show is maybe more on the quiet side. It feels inwardly drawn because of the pandemic and what was close at hand, like nature and the view outside of my window."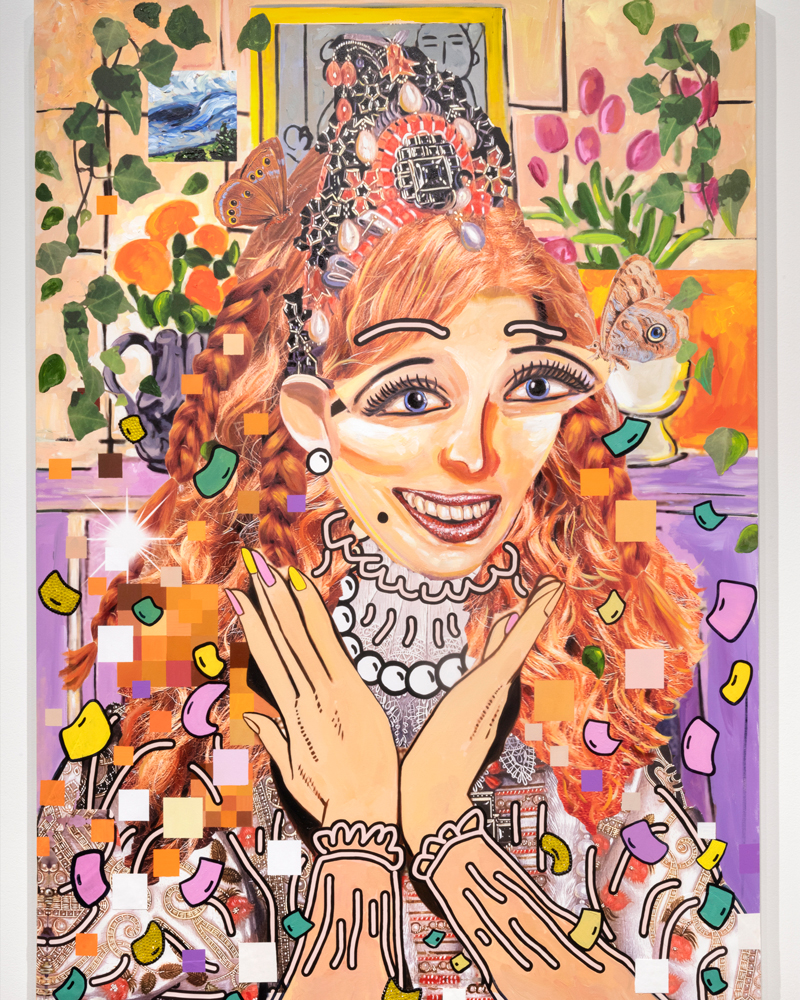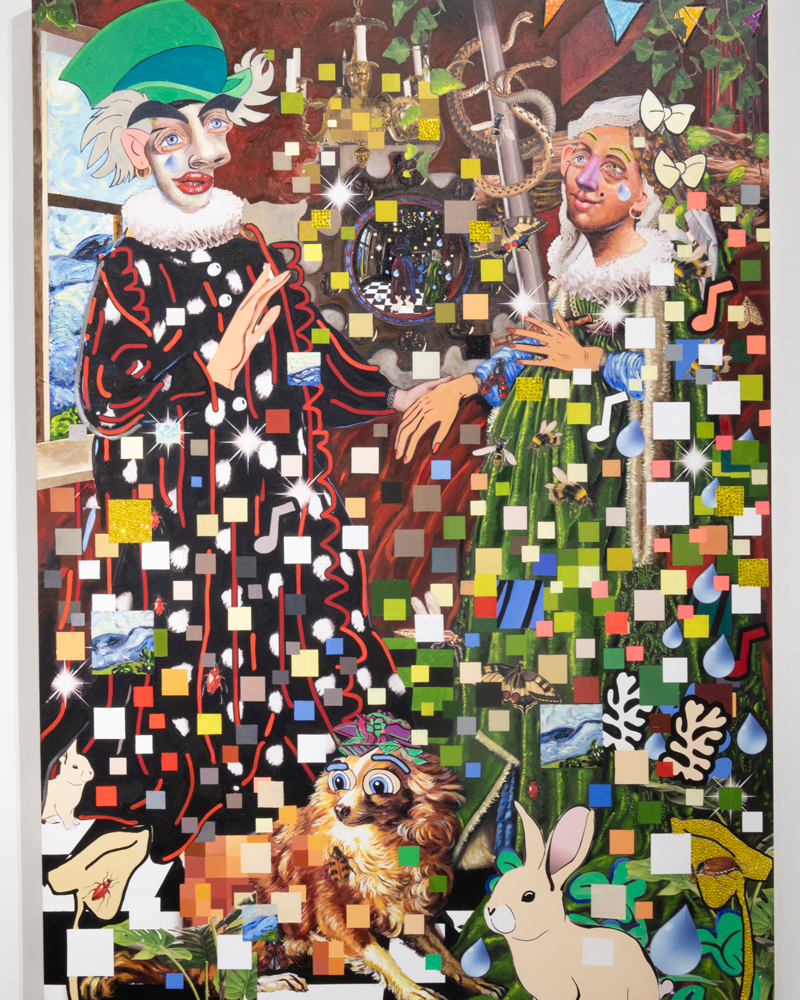 Allison Zuckerman
Kravets Wehby Gallery
Pop-surrealist Allison Zuckerman has exploded onto the art scene, following her 2017 artist-in residence at the Rubell Family Collection (now the Rubell Museum). Recasting art historical figures, her large-scale paintings mesmerize with a fantastical alternative narrative of 21st century feminism. Created over the last few months, the works on view at the Armory comprises a series inspired by her recent travels to Europe, and the art of El Greco, Jan van Kessel and Jan van Eyck's Arnolfini portrait. "The meaning of his painting is very mysterious," she tells Galerie at her booth. "We don't actually know if it was a wedding painting or if it was made after, perhaps when the wife had passed away… I gave her a sword, so even though she is material, she is powerful and active."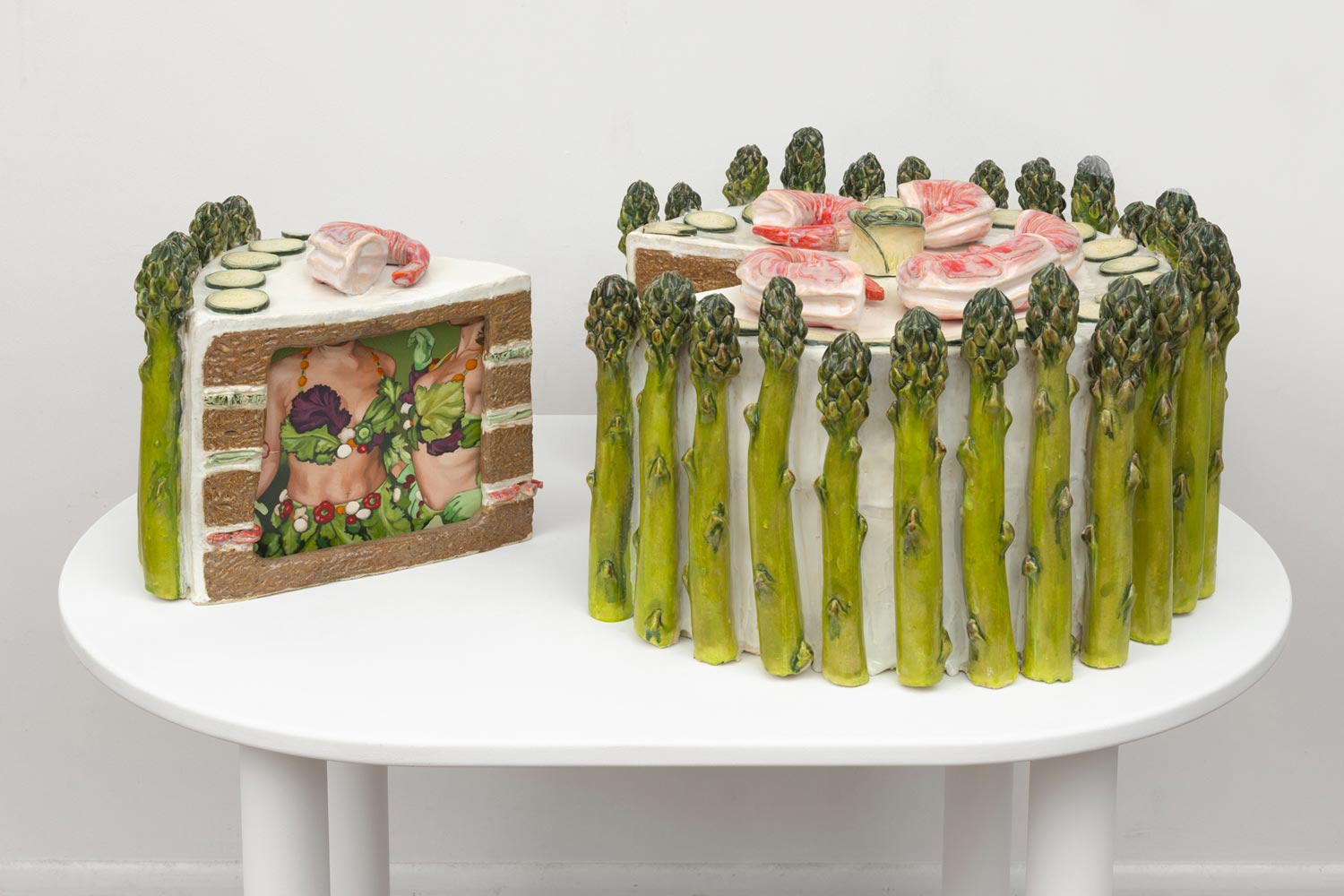 Stephanie Temma Hier
Bradley Ertaskiran
Featured in Galerie's fall issue, Brooklyn-based artist Stephanie Temma Hier fuses classical oil painting with ceramic sculpture— often using the sensuousness of food or the oddity of body parts— masterfully playing with incongruent images. Hier's has developed an incomparable visual language, and it's little surprise her booth sold out within hours of the VIP preview. "I think my work really benefits from being in person," she says amongst in her crowded booth. "There is a three-dimensionality that never comes across in photos. It's exciting to be in-person. People have been really enthusiastic and I'm happy my work is part of a larger conversation and in some interesting collections. It gives me fuel to make more."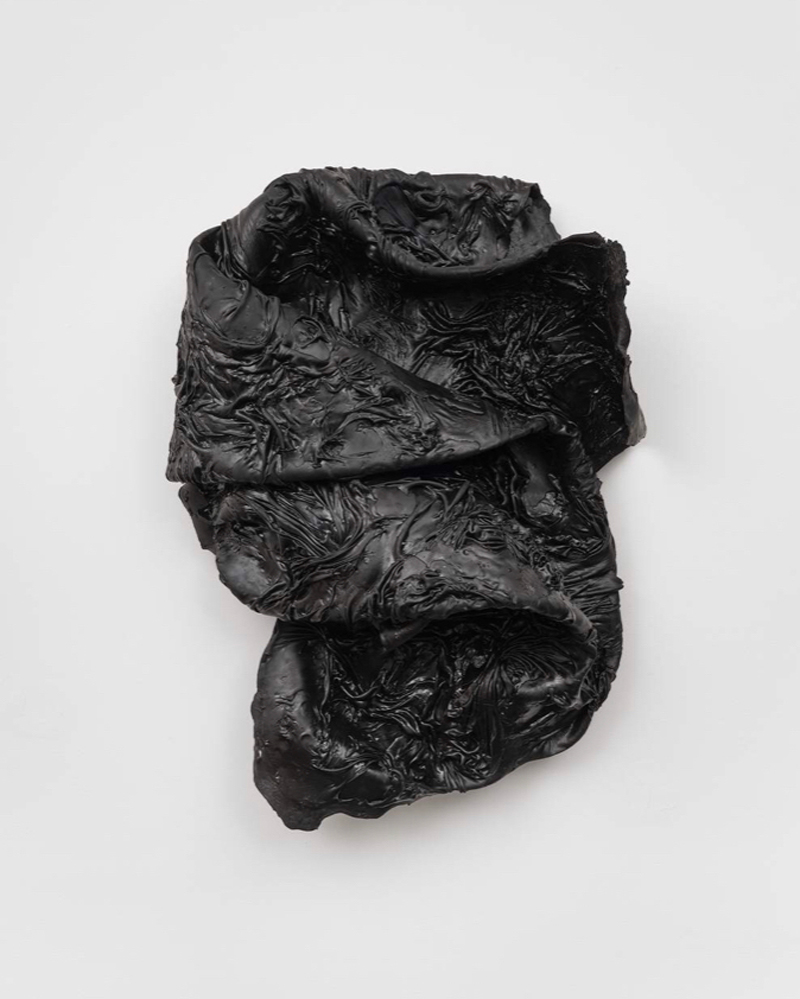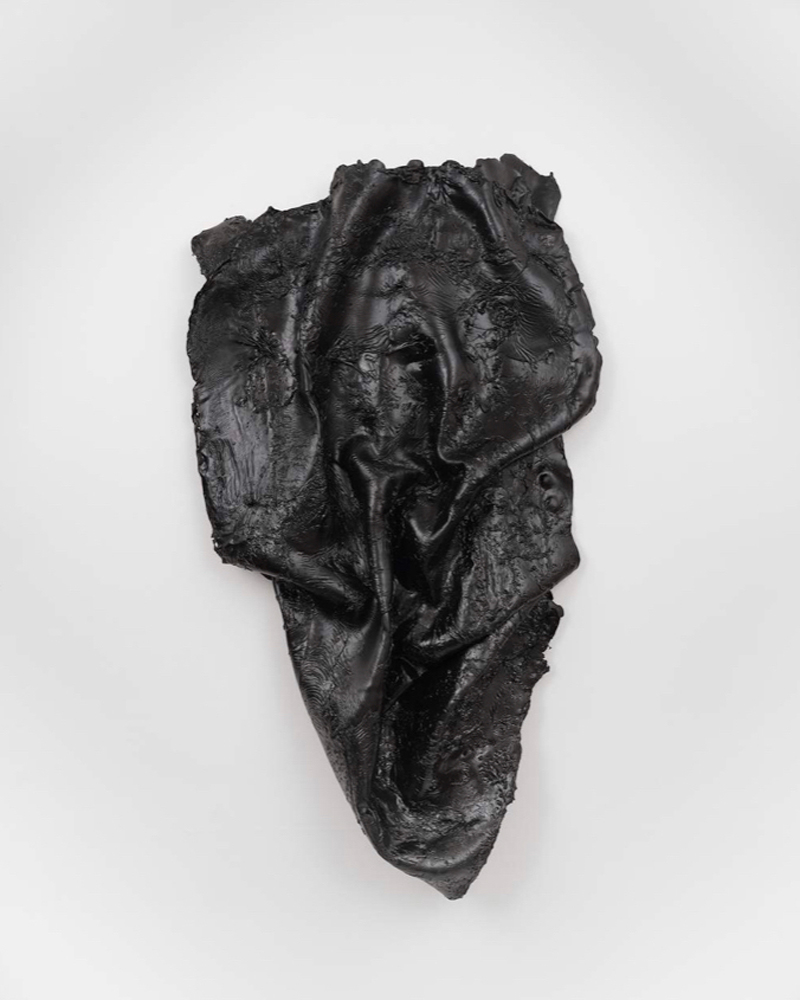 Allana Clarke
Housing
Artist Allana Clarke is one of the key artists to watch over the next decade. Her sculptural performance and painterly piece at Armory is part of a series that began a year ago during her artist residency at NXHVN, using hair bonding glue—rubber latex traditionally used to affix hair extensions. This piece took nearly 800 bottles of eight-ounce product to construct. "When the material comes into contact with the air, it starts to cure," she describes at the preview. "A skin develops that I can manipulate. Every gesture is made with a body part, my hands, my elbows, my hips, my thighs, my feet." Her material is equally intimate and personal, understanding her body in relationship to whiteness, she explains. "In my adulthood, I'm reconsidering all of the rituals that indoctrinated me into this kind of anti-black world," says Clarke. "I'm bringing this material into the studio and defamiliarizing it."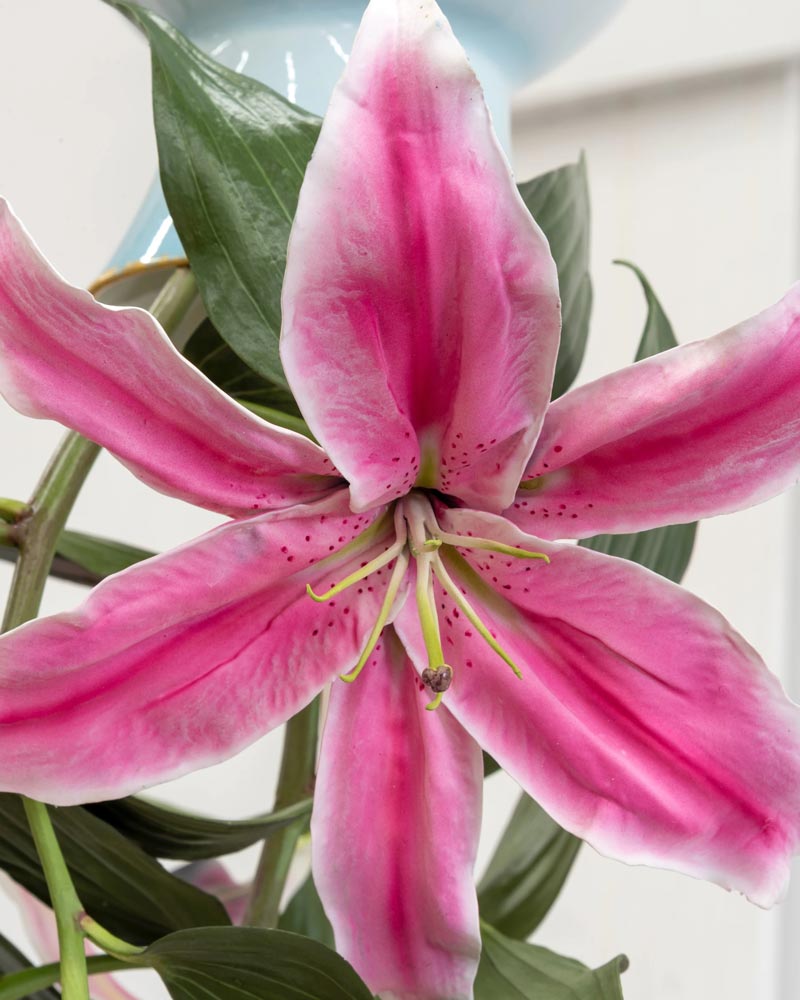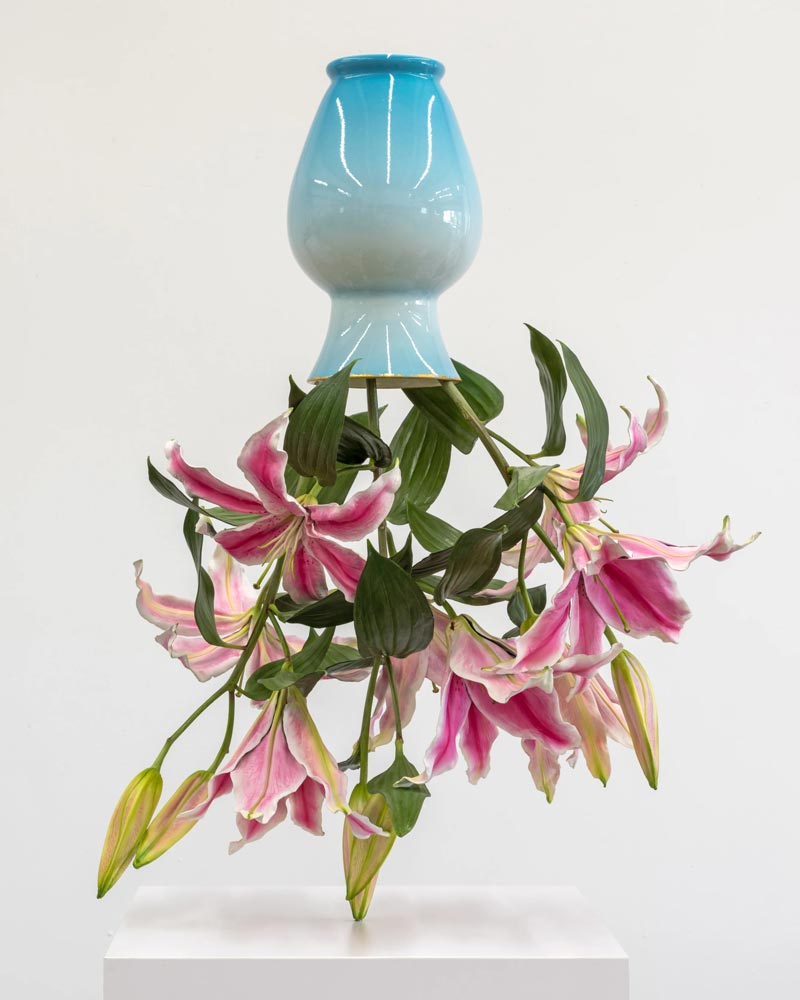 Tony Matelli
Maruani Mercier
Tony Matelli is likely most famous for his provocative, unsettling "Sleepwalker," a life-size, Zombie-man in baggy white briefs that caused a stir on Wellesley's campus when it debuted in 2014. But Matelli also creates stunning, domestically-scaled bronze sculptures that appear frozen mid-air defying all sense of reality. His solo presentation at the Armory is as dazzling as they come, with tulips and orchids magically balancing, upside down, on their petal tips. Straddling conceptual art and design, Matelli nearly steals the show, with an inspiring array of gravity-defying sculptures that belong as easily in a museum as a collector's home.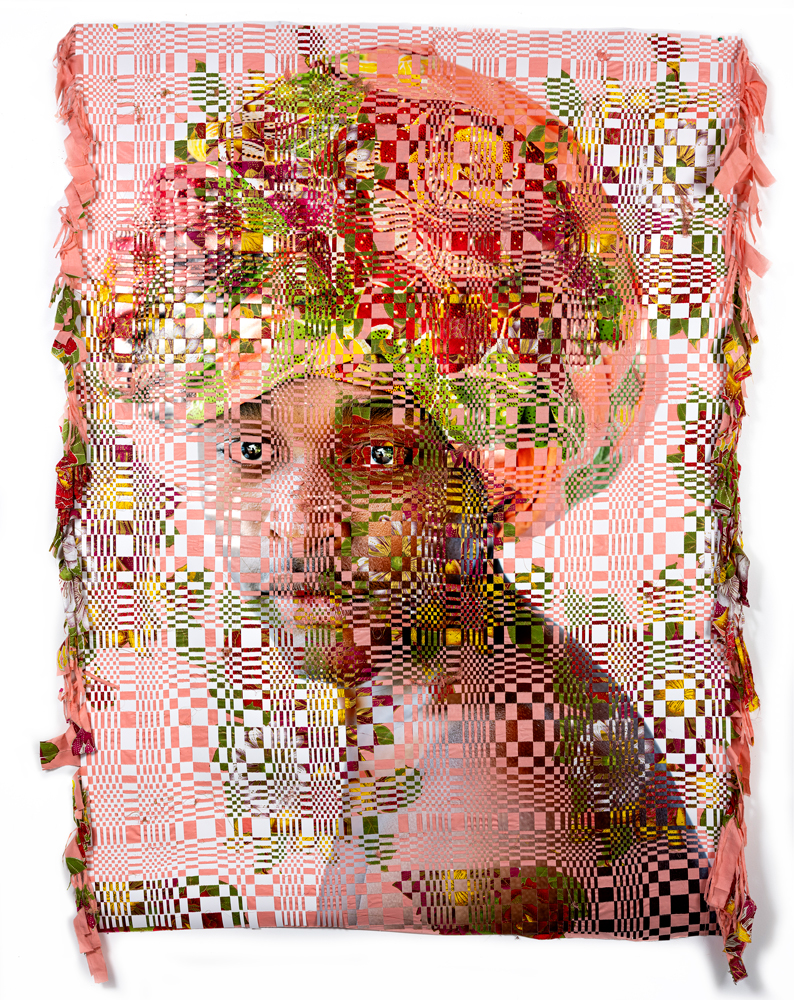 Kyle Meyer
Yossi Milo Gallery
Kyle Meyer's Unidentified 167a (2021) sold within 30 minutes of the fair preview. Throughout the day, a steady flow of visitors couldn't get enough of the artist's large, photographic tapestry, a signature technique for which the multi-disciplinary artist has become celebrated. Meyer's body of work centers around gender, sexuality, and marginalized peoples. His "Interwoven" series is a labor-intensive process, infusing digital photography with traditional craftsmanship to construct something richly tactile that calls attention to the silenced members of the LGBT community in eSwatini (formally Swaziland). First, Meyer photographs his subjects—wearing a traditional head wrap—and then hand-shreds the large-scale print along with the material of the head wrap. The resulting three-dimensional weave protects the identity of the sitter and achieves a mesmerizing, complex abstraction worthy of any premier art collection.
Next Post