It's gearing up to be an exciting month in the collectible design world, with not one but two exhibitions spotlighting legendary Italian architect Gaetano Pesce, who is still crafting playful furnishings and objects in his early 80s. Ingenious works from Pesce's five-decade-plus career fill the Goldwyn House in Los Angeles as part of a special installation by The Future Perfect, while Lee Mindel's new Galerie56 in New York has staged a solo show featuring a selection of his sketches and works on paper. This month also celebrates the life and creative output of Fernando Campana, one half of the beloved Brazilian firm Estúdio Campana, who passed away late last year. And in Paris, don't miss a denim-upholstered fever dream conjured by New York and Paris-based visionary Harry Nuriev, one of Galerie's 2022 Creative Minds.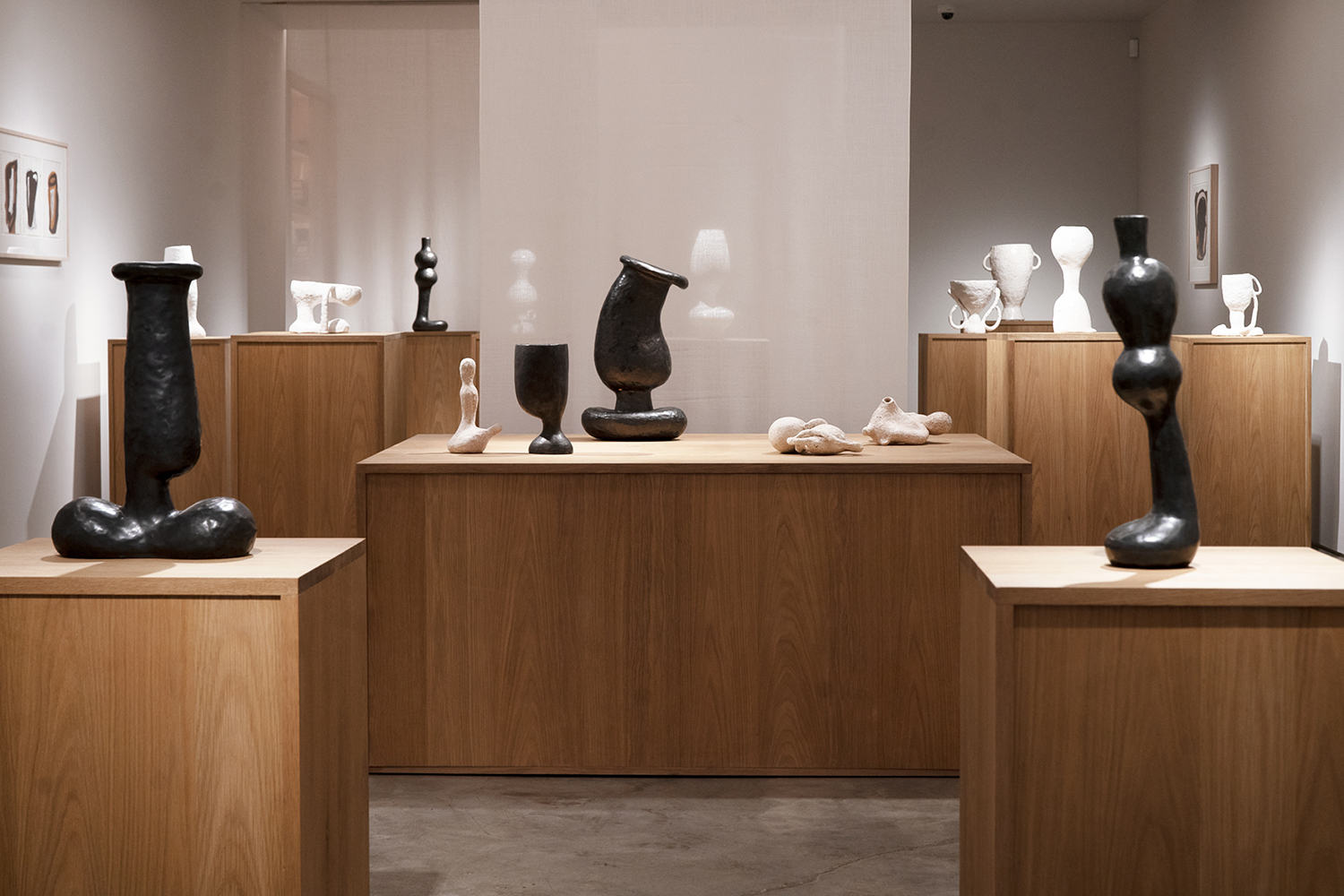 1. "Maggie Wells: On the Nature of Things" at Guild Gallery | New York
On view through April 1, this poetic showcase at downtown's Guild Gallery is the first solo exhibition in New York for artist Maggie Wells, whose formal background as a painter informed her later forays into ceramic sculptures. Here, some 60 monochromatic vessels, forms, and objects perfectly complement an array of ink and gouache drawings, inviting the viewer to dig deeper into her intuitive, emotion-laden practice. A highlight is undoubtedly Wells's unusual use of glaze, especially for the luminous bronze-hued works. "I am constantly turning the piece to make a form that is interesting from all angles," she reflects. "Thus the experience of looking at them can always be refreshed."
2. "Denim" at Carpenters Workshop Gallery | Paris
While there are few things more basic than a pair of jeans, there's nothing pedestrian about the latest denim-clad furnishings by New York and Paris-based visionary Harry Nuriev, one of Galerie's 2022 Creative Minds. Through May 31, the multi-hyphenate has transformed the Paris outpost of Carpenters Workshop Gallery into a denim fever dream, deploying the everyday textile to cover everything from a workout bench and dumbbells to a dining table and vanity unit. "I conceived the pieces in this collection as assemblies of elements that can be dissociated," he says. "A sofa can be an armchair but also an ottoman. Each element is its own entity that put together constitutes a piece. I think my favorite piece is probably the DJ Booth because it brings people together, not just in a party context but as a meeting space."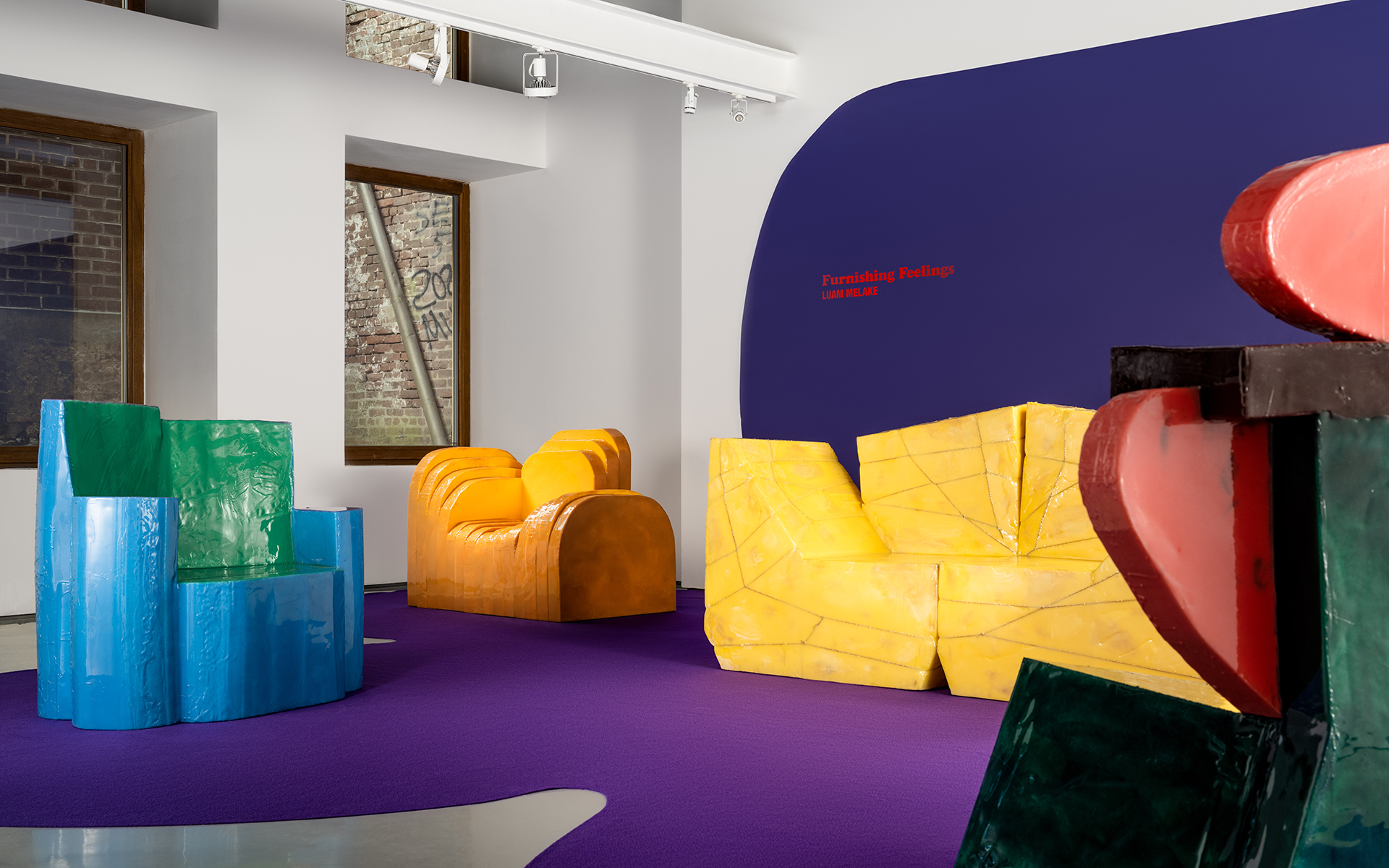 3. "Luam Melake: Furnishing Feelings" at R & Company | New York
Buzzworthy designer Luam Melake has christened her first solo show with Manhattan gallery R & Company. On view through April 14, "Furnishing Feelings" presents the latest pieces crafted by New York–based Melake, who embraces bold colors and exaggerated forms to create her striking chairs, sofas, and loveseats, which are made of urethane-coated foam. Notably, each of the playful pieces was crafted to evoke a visceral response—with Nestled Chair, for instance, designed to encourage cuddling due to its unique shape, or Supportive Chair, inspired by new moms struggling amid the pandemic. The thought-provoking debut is a promising sign of things to come for the fast-rising talent.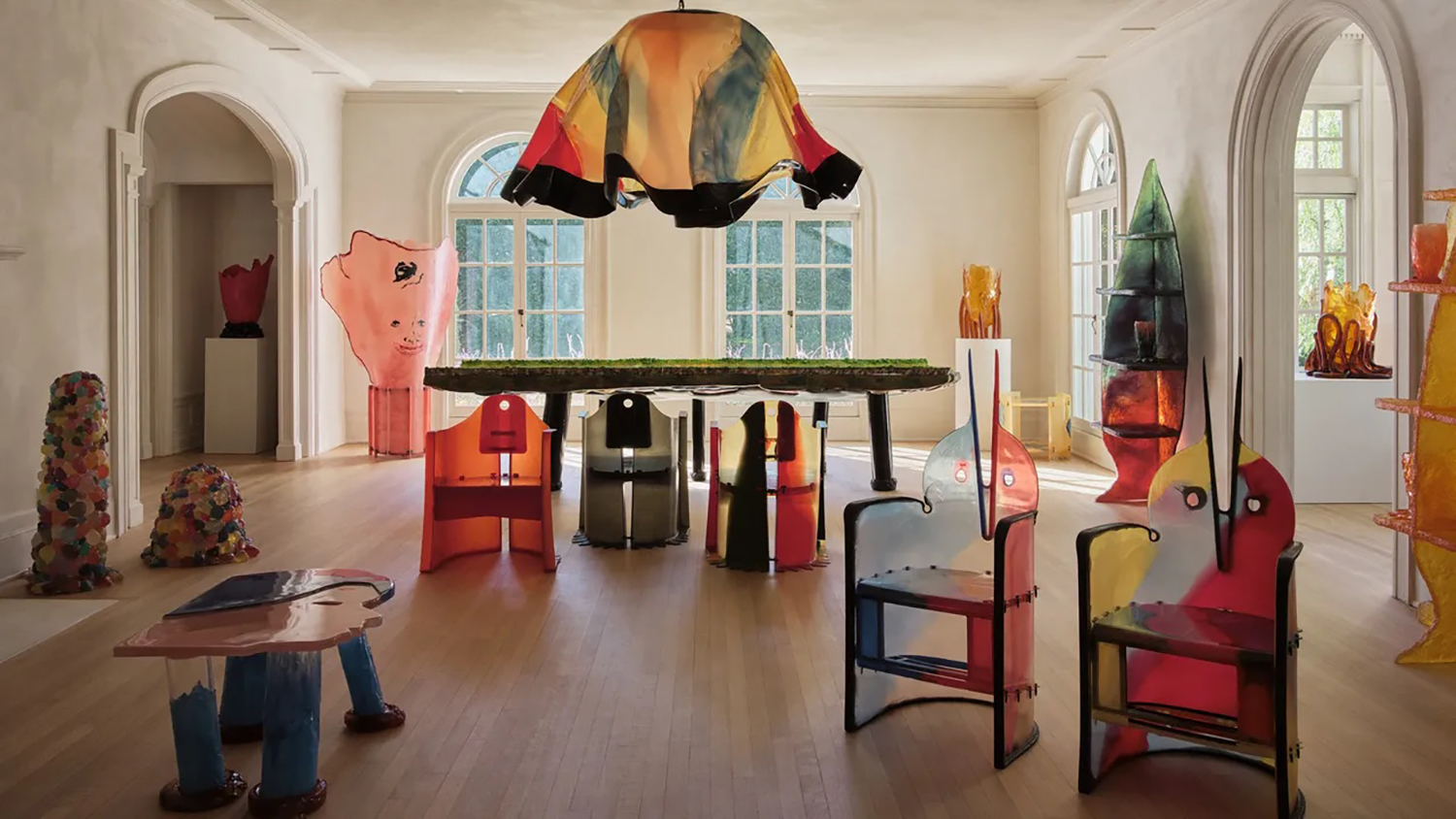 4. "Gaetano Pesce: Dear Future" at The Future Perfect | Los Angeles
Gloopy vases, voluptuous armchairs, and gumdrop-esque lamps are just a few of the trippy works conjured by design luminary Gaetano Pesce, who at 83 is still as in-demand as ever. These delectable pieces—and more—have taken over the Goldwyn House in Los Angeles as part of The Future Perfect's latest installation, "Dear Future," which showcases some five decades of the icon's prolific career. The most recent pieces include new riffs on his 2022 Leaf Shelf collection, plus a remake of his famed La Mama chair composed of  recycled bottle corks. As such, "Dear Future" is the perfect nourishment for any design lover's inner child, sparking whimsy and delight in an era that can often seem void of cheer.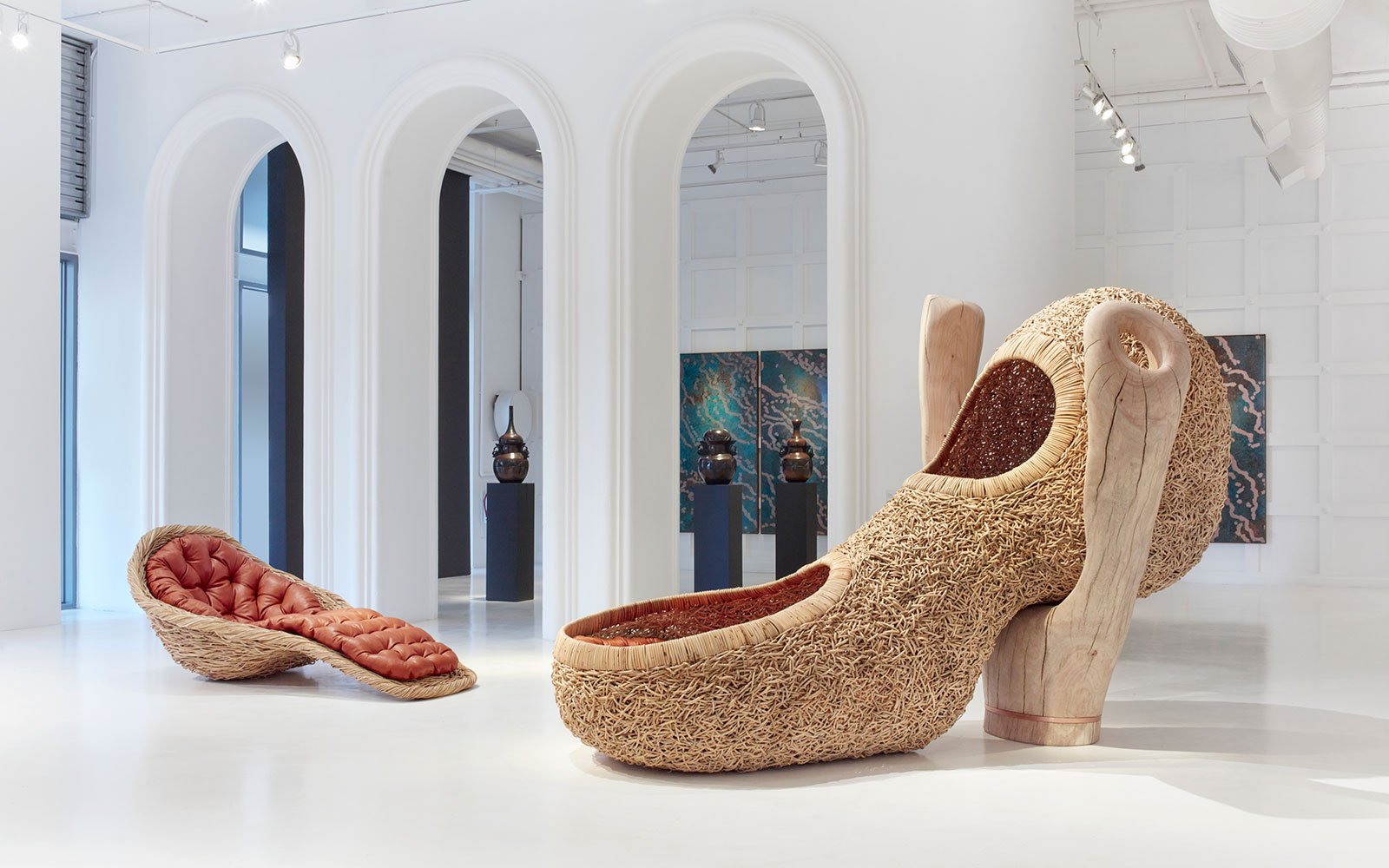 5. "Volume IV. Chaos Calamus" at Southern Guild | Cape Town
Renowned South African designer Porky Hefer has made a name for himself by conceiving human-sized "nests" inspired by animal forms that are often woven using natural materials and hung from the ceiling. Marking a new chapter is his latest solo show, "Volume IV. Chaos Calamus" at Cape Town gallery Southern Guild, which brings in a new collaborator for the first time. Here, Hefer has incorporated carved wooden sculptures by artist Adam Birch as bases for his Kooboo cane designs as a means of illustrating the type of symbiosis that exists in nature. In Pseudopodium, for instance, a shoelike seating pod rests on a Y-shaped cradle made by Birch, while the double-humped Binary Fission features two squat podiums that elevate the capsule. At once sculptural and functional, the delightful seating environments offer an alternate world that champions "interspecies reciprocity" over the status quo.
6. "Cine São José: 35 Years of Estúdio Campana" at Friedman Benda | Los Angeles
The design world was jolted last November by the sudden death of Fernando Campana, the visionary Brazilian designer who formed half of beloved firm Estúdio Campana. Now, Friedman Benda has staged a remarkable tribute in Los Angeles celebrating his immeasurable contributions to the field. Featuring works from the brand's nearly 40 years in operation, "Cine São José" takes its name from the movie theatre in the brothers' hometown of Brotas, which helped inspire their creative vision starting at a young age. Among the furnishings on view are the rare Yanomani Chair (1989) as well as newer pieces such as Noah Mirror (2017) and Wave Buffet (2016). Also spotlighted is Campana's use of unorthodox materials, such as pirarucu leather, which is made from the skin of a monstrous Amazonian fish.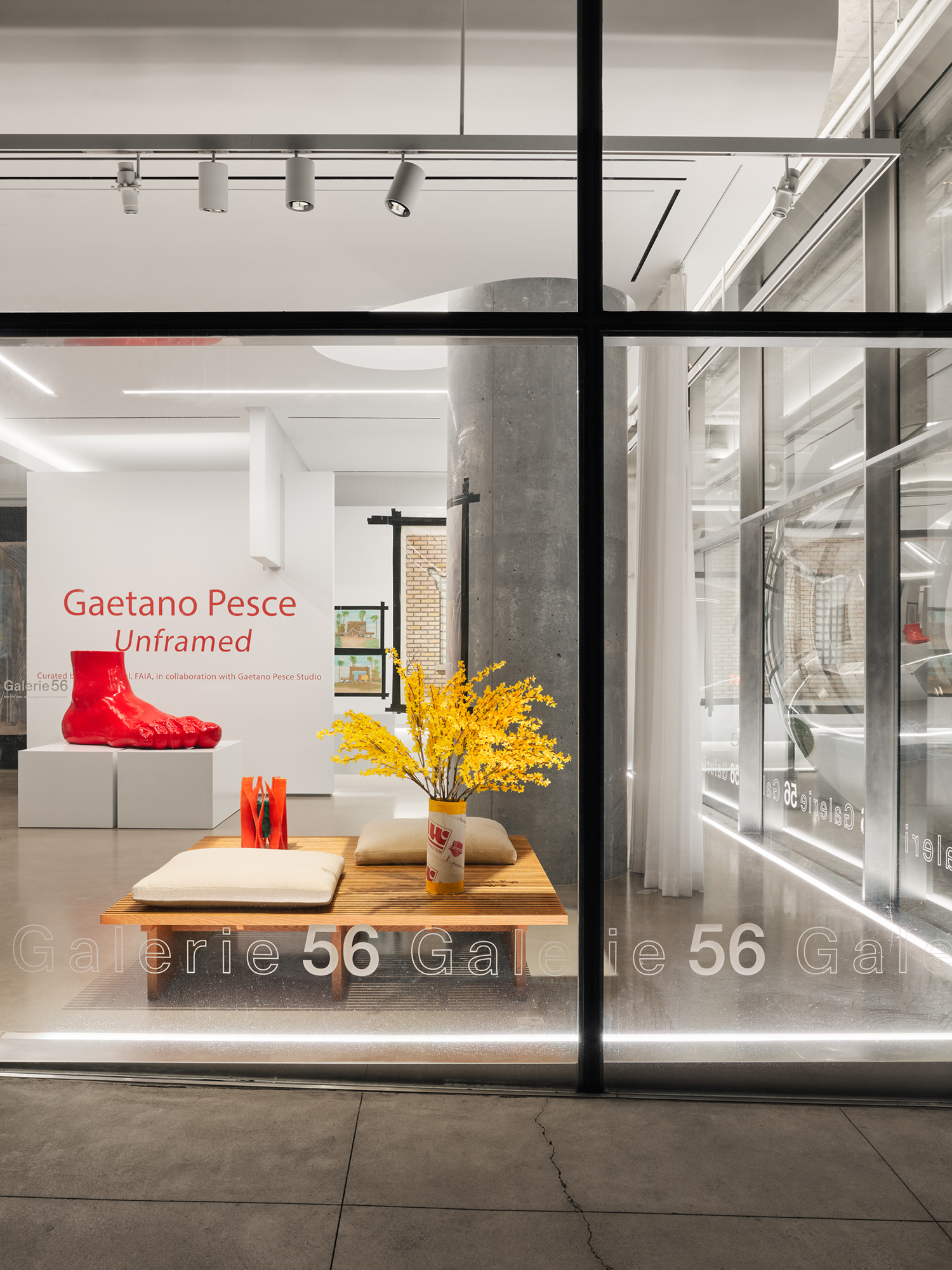 7. "Gaetano Pesce Unframed" at Galerie56 | New York
The second Gaetano Pesce entry on the list recently debuted at Tribeca's Galerie56, the art and design space founded by architect Lee F. Mindel last year on the ground floor of Herzog & de Meuron's 56 Leonard tower. Here, adjacent to Anish Kapoor's new mirrored sculpture, some 60 "unframed" drawings by the Italian luminary are installed throughout the gallery, with some featuring plastic covers cheekily held up by masking tape. These imaginative sketches and watercolors shed light on some of Pesce's most important works, among them the landmark Bahia House, which was regrettably torn down less than a decade after its completion. On view through May 8, the must-see exhibition is not only a testament to Pesce's radical creativity but also a seamless embodiment of his irreverent sense of humor.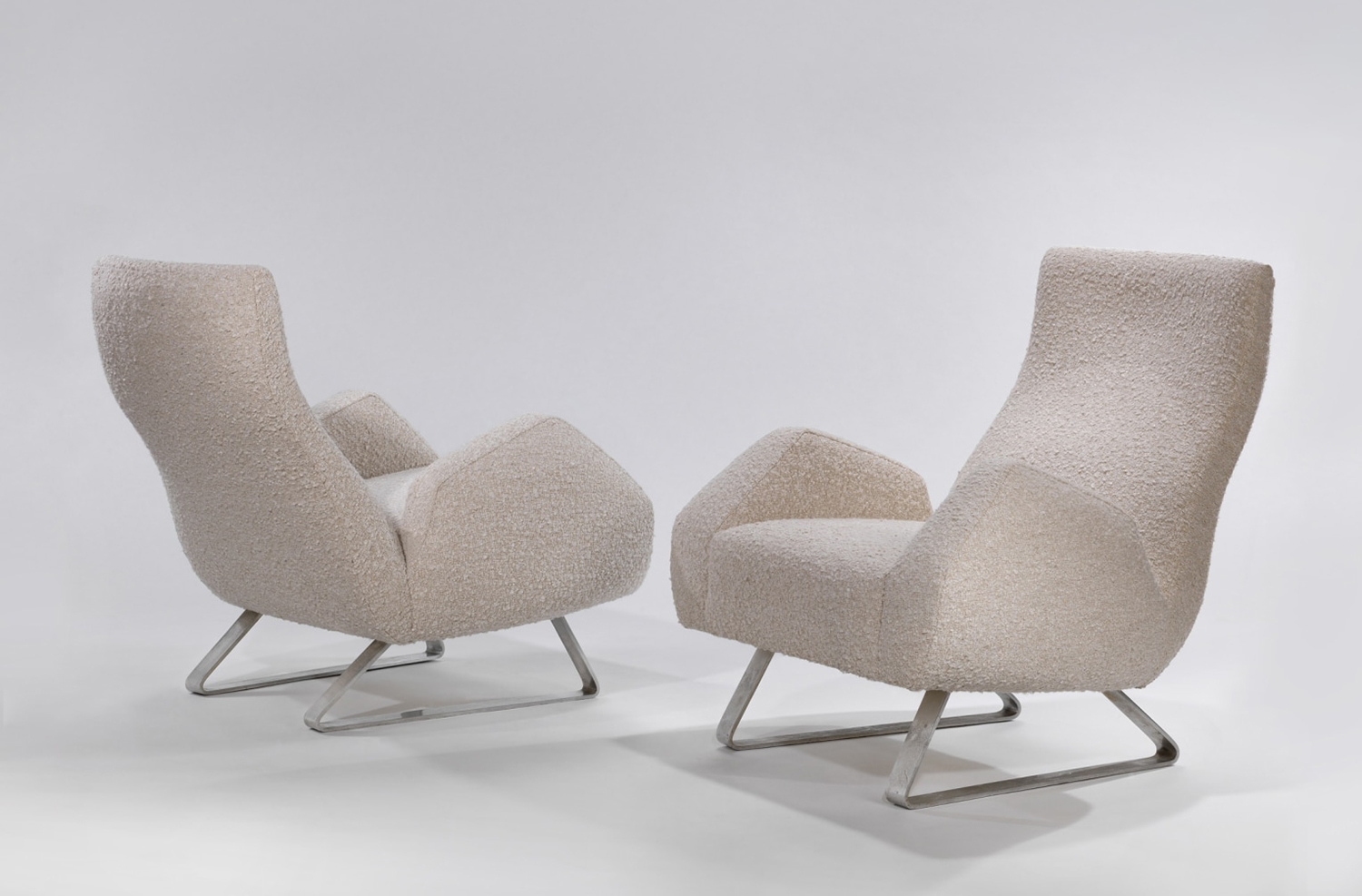 8. "Modernity As a Mission: Jacques Dumond" at Demisch Danant | New York
An influential figure in the French modernist movement, Jacques Dumond created an array of minimalist furnishings that eschewed ornamentation in favor of stylish functionality. Working primarily on private commissions rather than mass-produced designs, Dumond served as a liaison of sorts between the old guard of interior designers and the new generation of contemporary talents who utilized modern materials and methods. Fifteen years in the making, the latest exhibition at New York gallery Demisch Danant spotlights Dumond's immense contributions to the field, showcasing works from made between 1938 and '70 including chairs, desks, tables, and lighting designs—all of which possess a delicate beauty.
Next Post