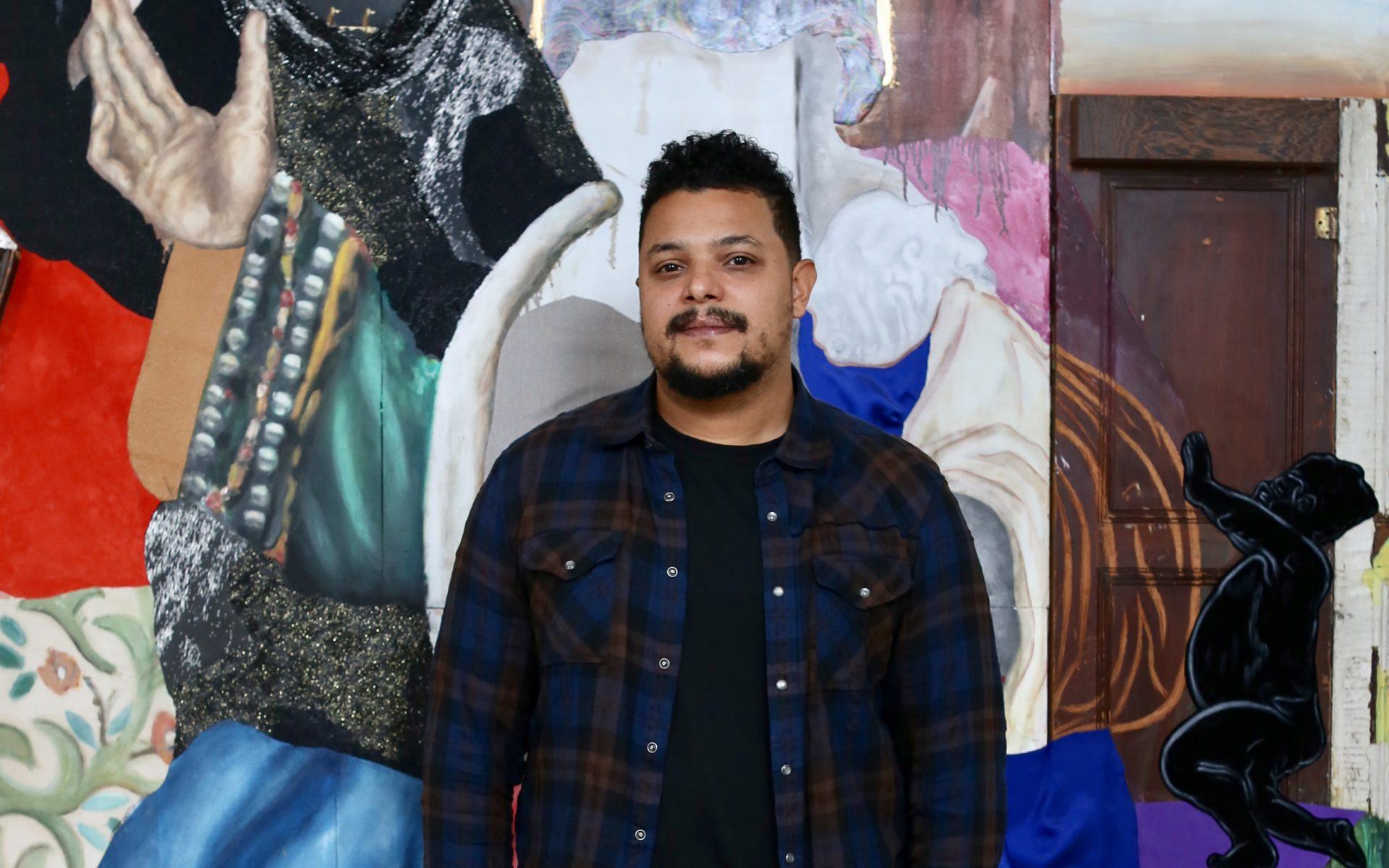 Artist David Shrobe Creates His Own World Through Found Objects
The trending artist uses local materials to reference historical moments
Wooden picture-frame moldings and the arm of a chair are just two of the materials David Shrobe has used in his colorful and jarring mixed-media works. "The neighborhood where my studio was located was notorious for throwing out headboards," says Shrobe of Baptized by the Sound of Horns (2019), a piece that features a man posed like a figure in a Renaissance painting, with lush velvet fabric and black-and-white linoleum floor tiles, and that was the centerpiece of Jenkins Johnson Gallery's booth at New York's Armory Show this past March. "I've been looking for the right headboard to use for years."
While his materials are locally sourced and make reference to slavery and the Great Migration—the period from 1916 to 1970, when millions of African-American families relocated from the South to Harlem and other cities in the North, Midwest, and West—his works connect to a broader lineage. "I think about the way I can find an object and through my manipulation it can be in service to something new, almost that I didn't plan," he says.
Recommended: Why Artist Danielle Orchard's Female-Centric Works Are Causing a Stir
Shrobe was the inaugural artist in residence at the Sugar Hill Children's Museum in 2015 and was accepted into the Artist in the Marketplace program at the Bronx Museum in 2017. He's had solo shows at Thierry Goldberg Gallery and Jenkins Johnson and was in the much-discussed show "Punch," curated by artist Nina Chanel Abney at Jeffrey Deitch Gallery last summer. "He's creating his own world," says Jenkins Johnson director Tess Schwab. "And you're not sure if it's past or current." 
A version of this article first appeared in print in our 2019 Summer issue under the headline "State of the Art." Subscribe to the magazine.
Next Post