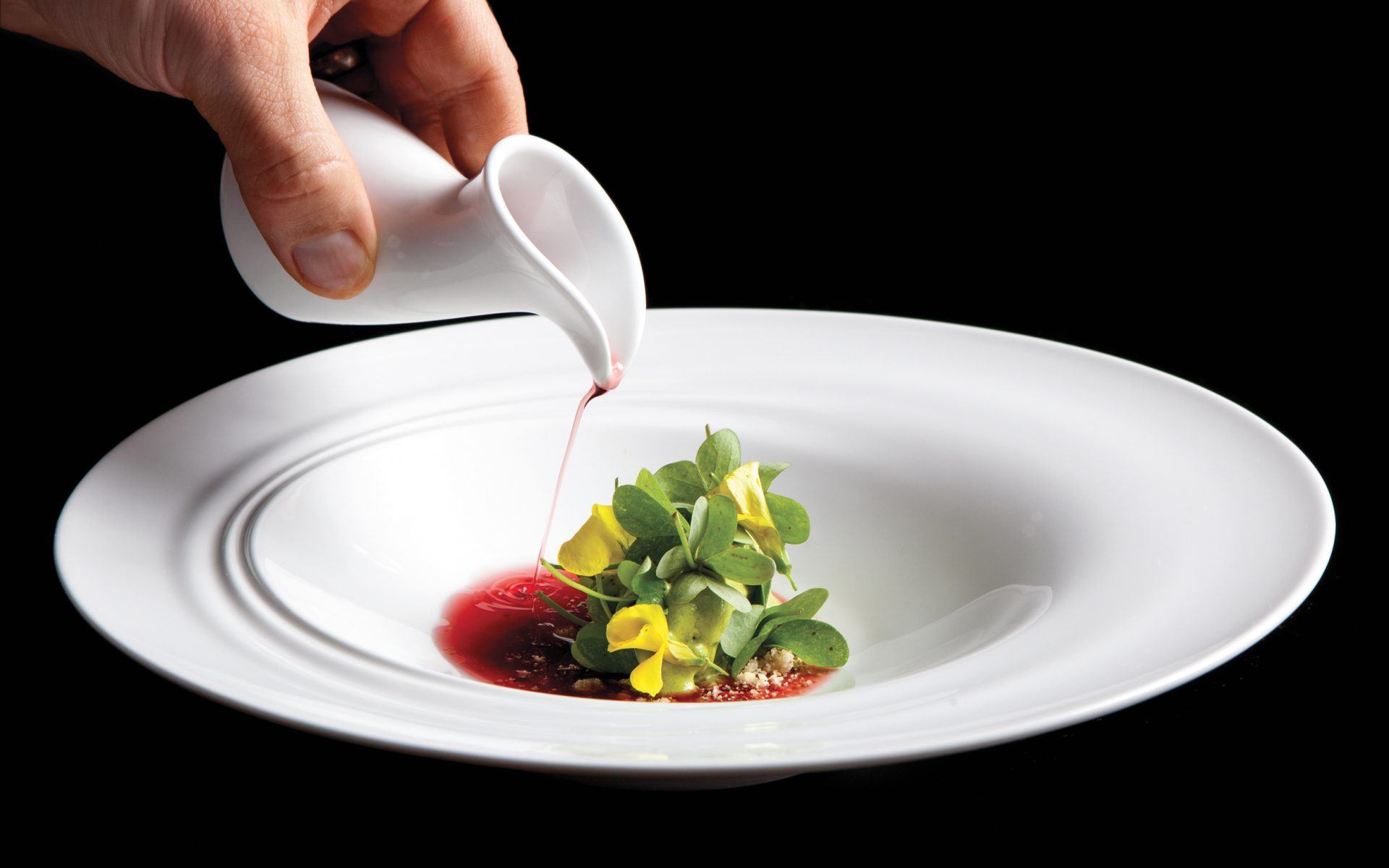 Inside Rising Chef Dave Beran's Buzzy West Coast Debut
After spending ten years working for Grant Achatz, Beran has opened Dialogue, an unpretentious Santa Monica eatery that bursts with innovative cuisine
When you reach the Third Street Promenade in Santa Monica, go past the ice cream shop, up the escalator, and through the second-floor food court. You'll definitely think you're in the wrong place—or at least not in the right place for a 20-course-or-so tasting menu prepared by one of the most talented rising chefs in the country. But once you've punched your emailed confirmation code into the door of what resembles a janitor's closet, you'll discover Dialogue, the brainchild of chef Dave Beran. With room for only 18 seats, the warm, unpretentious space bursts with some of the most innovative cuisine happening anywhere right now. 
After spending ten years working for Grant Achatz, half of them at Alinea and the other half heading the kitchen at Next, Beran left Chicago for the West Coast, ready to create his own signature cuisine. But he didn't go for an over-the-top, splashy entrance onto the increasingly buzzy Los Angeles food scene. "It didn't seem right to just show up and open some crazy restaurant and expect diners to engage in a restaurant and chef who wasn't from here," says Beran. Instead, he stripped down the concept and started small.
Designed by Steve Rugo, the Chicago architect responsible for Achatz's restaurants, Dialogue keeps things simple in every aspect. The space, with its white walls and gray banquettes, feels like a theater set where the recesses dissolve as the stars take the stage. Those key players come in a succession of succinct, seasonally driven courses. "We drew inspiration from kaiseki, a Japanese-style tasting menu framed around forward progress," explains Beran. "The whole idea is that whatever season it is, you start by looking backward but you end up looking forward."
Recommended: 10 Great Events Not to Miss at LCDQ's Legends Summit
After working in much larger kitchens, Beran realized the importance of not overcrowding the plate with technique, especially when there are only four chefs. Yet there's no lack of passion in each course. Every dish is seemingly quite simple on its own yet builds upon the flavors and textures that precede and follow it. This idea comes to life when you're presented, say, with a single rhubarb chip as one course, but since it's 95 percent dehydrated, it sticks in your mouth like a Fruit Roll-Up. Now rhubarb becomes a flavor when you bite into the next dish.
Other plates, such as a nasturtium-covered beef fillet, play up the abundant variety of California produce. Burned lettuce becomes a sauce for raw hamachi. Wild produce finds its way even into the desserts with wood sorrel ice cream. Last year, menus were framed around color—summer was pastel, autumn muted tones, winter monochromatic. This year, autumn was interpreted by a tree, and winter played with the idea of things being frozen. Why not serve a pure white coconut mousse filled surprisingly with crab and pumpkin seed on an ice-cold plate?
Now that Dialogue has hit its stride, Beran plans to open Pasjoli, an elevated French restaurant, this summer. There, he'll present dishes such as a classic duck press on a trolley and feature table-side caviar service as well as other legendary fine-dining classics. Diving back into the esteemed Auguste Escoffier repertoire, which he so brilliantly executed for the opening of Next, the chef says, "It's going to be sneaky fine dining in the sense that it actually feels like a neighborhood spot." And surely just as conversation-worthy as Dialogue. 
A version of this article first appeared in print in our 2019 Summer Issue under the headline Conversation Starter. Subscribe to the magazine.
Next Post