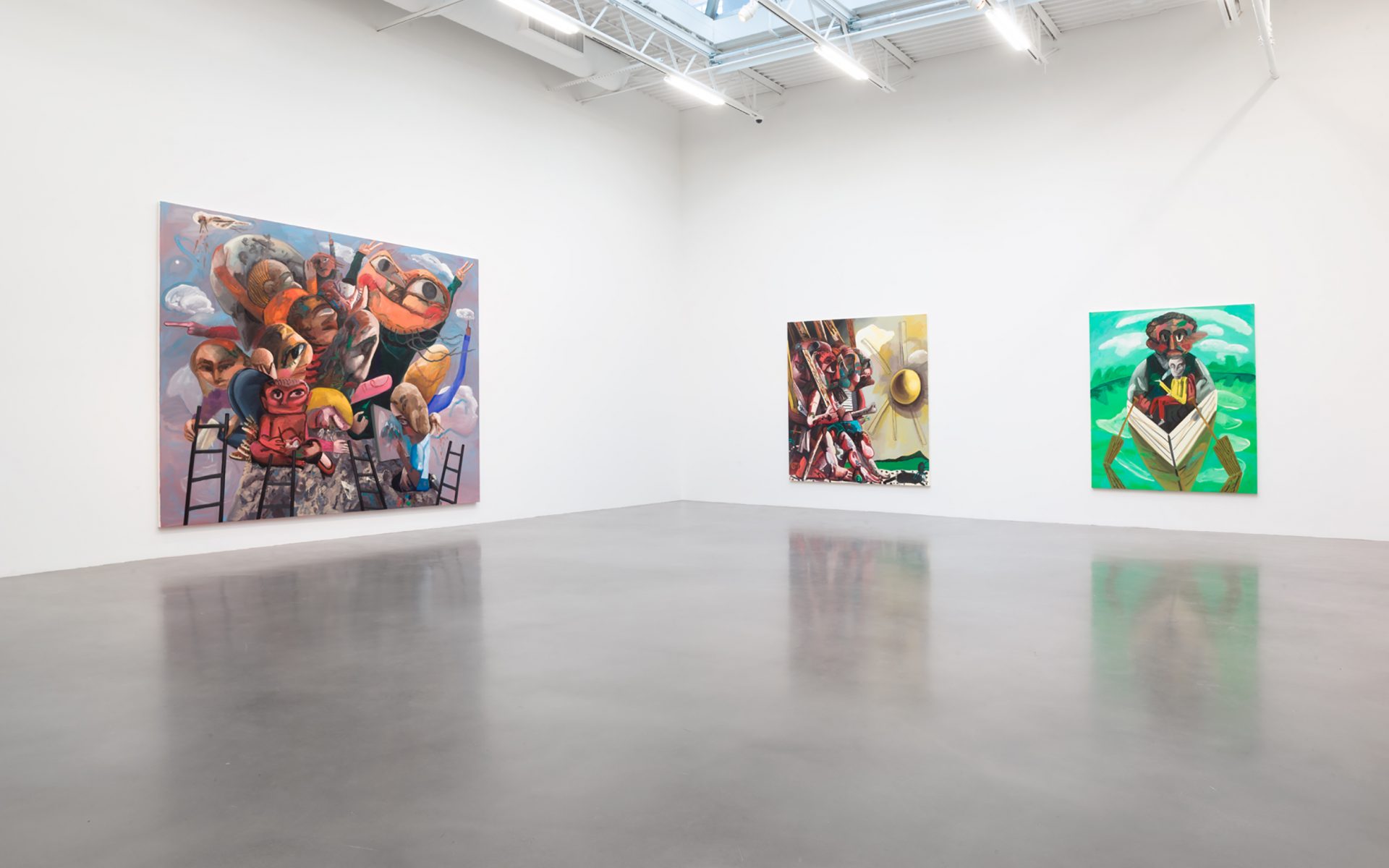 Dana Schutz Confronts Whitney Biennial Firestorm with Bold New Works
How does an artist recover from a controversy?
How does an artist recover from a controversy? A good way might be to make such significant work that the audience forgives and forgets, which, one can argue, is exactly what Dana Schutz has done with "Imagine Me and You," her solo show of persuasive paintings and sculptures, a new medium for the artist, at Petzel in New York.
Recommended: How Art Los Angeles Contemporary Fair is Reinventing Itself for 2019
This is Schutz's first presentation of new work since the debacle at the 2017 Whitney Biennial, where the artist's dynamic painting Elevator was meant to be a star attraction. However, the canvas was soon overshadowed by Schutz's much smaller work Open Casket, which captured the unsettling image of the disfigured body of black teenager Emmett Till, whose 1955 lynching in Mississippi helped spark the civil rights movement. Once the protest over her painting caught fire, the debate between crusaders against the appropriation of a cultural history and defenders of freedom of speech followed Schutz to subsequent shows, including her exhibition at the Boston ICA, which faced calls to be canceled.
Some of the paintings in the Petzel show indirectly point to the controversy. The painting Presenter seems to come closest to expressing a sense of being caught up in the biennial uproar. It shows a woman with her underpants around her ankles, fully exposed while lecturing and making a visual presentation. Standing in a spotlight, she holds a corded remote control in one hand, while the other hand—grossly enlarged with too many fingers—grips her lip to shut herself up, as an undetected audience member eggs her on with a stick. Schutz might just be imagining how she would feel giving a TED Talk, but it could also be a commentary on how vulnerable she felt when she was scrutinized in public.
Measuring 10 by 13 feet, Mountain Group is the biggest painting here. Capturing a crowd of characters atop a mountain peak, it brings to mind The Mountain by Balthus—but instead of disparately occupying the landscape, her cartoonish people are all crammed together. A hairy-chinned figure declares victory with fingers on both hands making "V" signs, while a woman kisses the ground and another works on a painting of this imaginary mountaintop. With ladders surrounding the summit, a balding man pulls himself to the highest peak, which turns out to be the head of a bird. Upon further examination—and with a surrealistic twist—we discover that what appears to have been a mountain is actually the bulk of the bird's body.
Touched may be the smallest painting in the show, yet it still packs a powerful punch. In it Schutz creates a disgruntled woman who has broad shoulders and big breasts with assertive, impasto brushstrokes and a three-dimensional buildup of paint. A Brunhilde-type character with long hair topped by a bun, she frowns in a psychologically touched way, but the impressions of multiple fingertips on her breasts suggest that she may have been touched in other ways.
While Touched could be commenting on the #MeToo movement, the painting Treadmill confronts the issue of being body-shamed through the portrayal of a woman with the head of a fish frantically running on a treadmill while connected to popular media. Waggishly visualizing the saying "a fish out of water," the awkward character is curiously sweating paint—leaving a trail of colored splotches in her wake.
Two other canvases are related by shared palettes, showing that they may have been painted around the same time in 2018. The figures in Beat Out the Sun and Strangers have flesh tonalities that are similar to the kind of pinkish reds used by Philip Guston, one of Schutz's favorite painters. Beat Out the Sun depicts a group of club-wielding warriors marching on the orb with the impossible task of extinguishing it, even though their aggression could bring an end to the world in other ways. Strangers captures two people, one with a frying pan and the other with a bat, walking on jawbones as they come together in a barren terrain. It's unclear whether they are helping one another flee a situation or one is the aggressor of the other, as one figure looks back in shame and the other in fear.
Washing Monsters get parallel treatment as both a painting and a sculpture. Again upon a mountaintop, a suited man carefully washes a beast that has a childlike body, skull-shaped head or crown, and a giant hand in the canvas iteration.Washing Monsters is cast in bronze and given a gray, lead-like patina, which all of the sculptures on view possess, and the process for molding the three-dimensional creatures provides a fascinating, alternative form for Schutz's vivid imagination. Like her improvisational paintings, which are painted wet on wet, the clay feels forever malleable.
Reminiscent of Willem de Kooning's expressive figures, which were also shaped in clay and cast in bronze, Schutz keeps the hand action loose, while adding a bit more representation to the figures' final forms. Buddy depicts a shy guy with his head tucked into his chest, but he has another, more confrontational figure popping out of his skull that could be his alter ego or—more troublingly—his bipolar self. Smoker captures a man in profile, looking back with a pipe in his mouth and a cloud of smoke with a yellow patina amusingly rising from it. And resembling somewhat of a self-portrait, Head in the Wind portrays a woman whose mouth and eye sockets have been dug with the artist's hands and whose wrinkles were cut with a knife—a method that Schutz also used to visualize hair and provocative butt cracks on some of the other sculptures in the show.
Like a poet or a songwriter with a brush, Schutz constructs visual allegories that comment on the human condition—without fear of making the viewer feel uncomfortable. When mentioning that she had been a member of her high school swim team to students at the School of Visual Arts in 2016, she said that although she hadn't been a good swimmer, the thing she liked best about it was being in her own lane. As Schutz has moved from making paintings to drawings, which she started seriously doing around 2010, and now to sculpture, the path that she continues to creatively pursue remains imaginatively her own.
"Dana Schutz: Imagine Me and You" is on view through February 23 at Petzel gallery, 456 West 18th Street.
Next Post