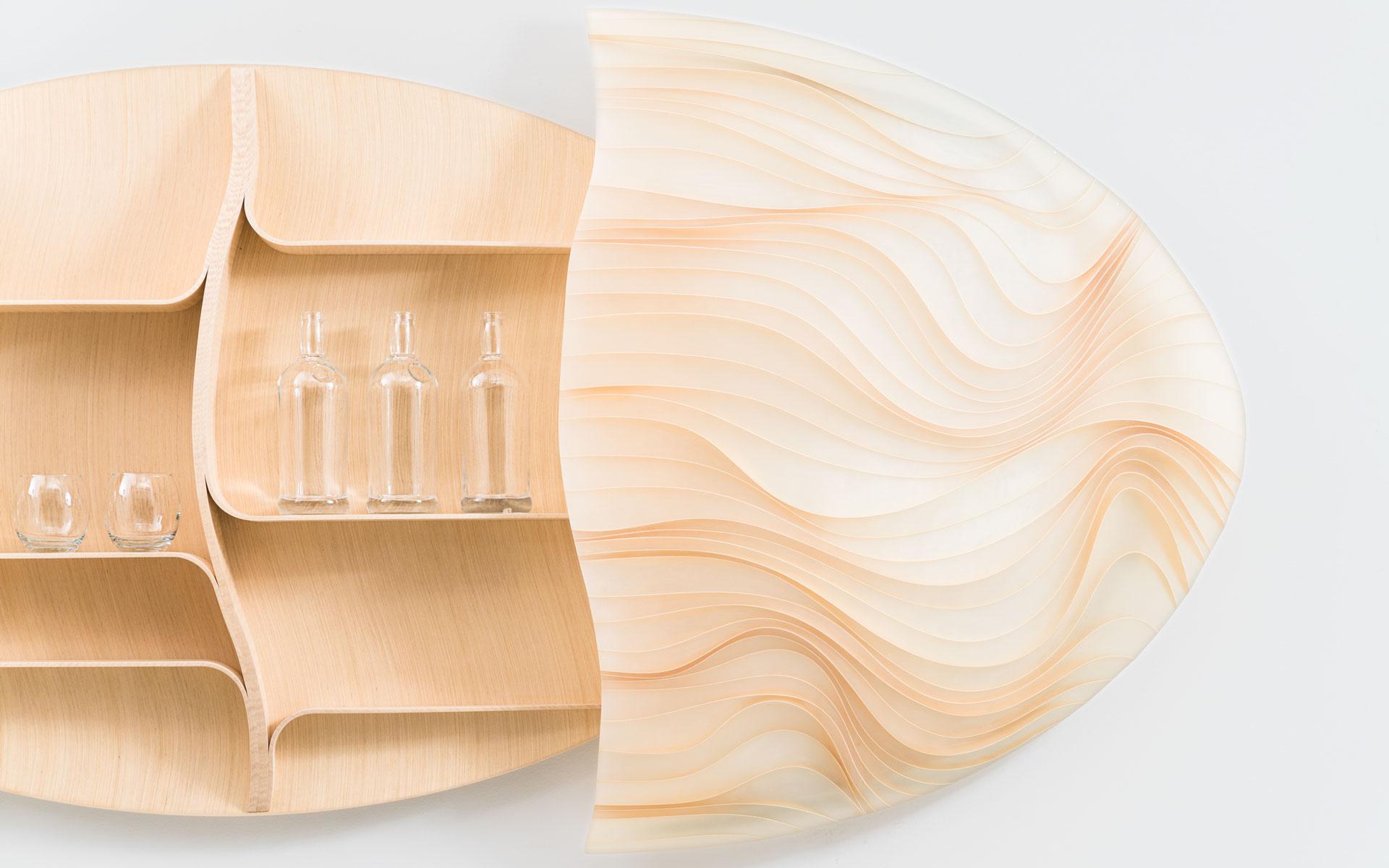 Creative Mind: Marc Fish
The designer's Ethereal collection, available at Todd Merrill Studio, combines resin and paper-thin wood veneers to dramatic effect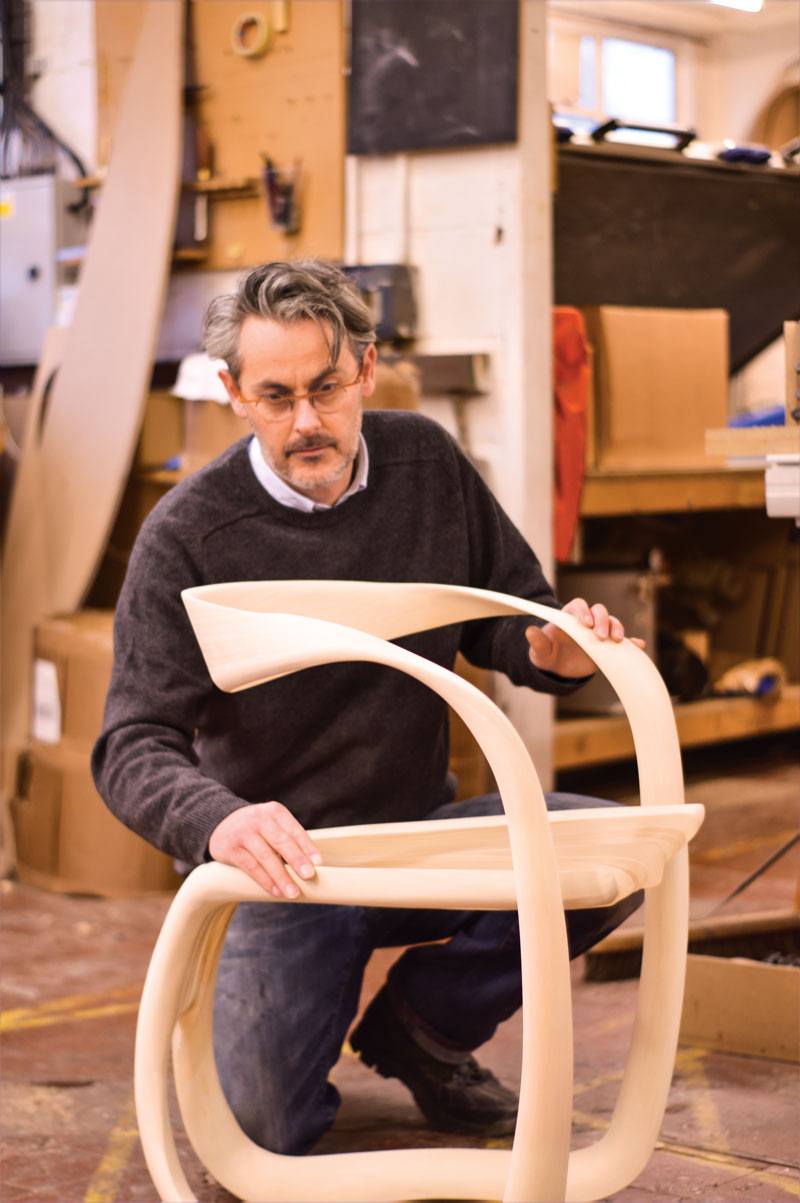 Furniture designer Marc Fish has a way with nature. His latest series, crafted from paper-thin sycamore veneers and poured resin, transcends weight and materiality. Aptly called the Ethereal collection and recently named one of the top contemporary designs at Design Miami/, it combines two ingredients not frequently mixed to produce a new material that defies explanation. "We wanted something that was clean, stripped back and simple, slightly minimal, elegant, sophisticated—all of those adjectives in one piece of work," says Fish. "It's always organic. It's always very fluid and has energy to it."
Fish spent nearly four years experimenting with the elements and process before landing on the current recipe that debuted at Design Miami/ in 2018 with the Ethereal desk. "We really liked the way that the colors changed depending on how far apart the veneers were," he says. "If you have a big gap between the veneers, you get a white color. And if you have a small gap, you get a big color."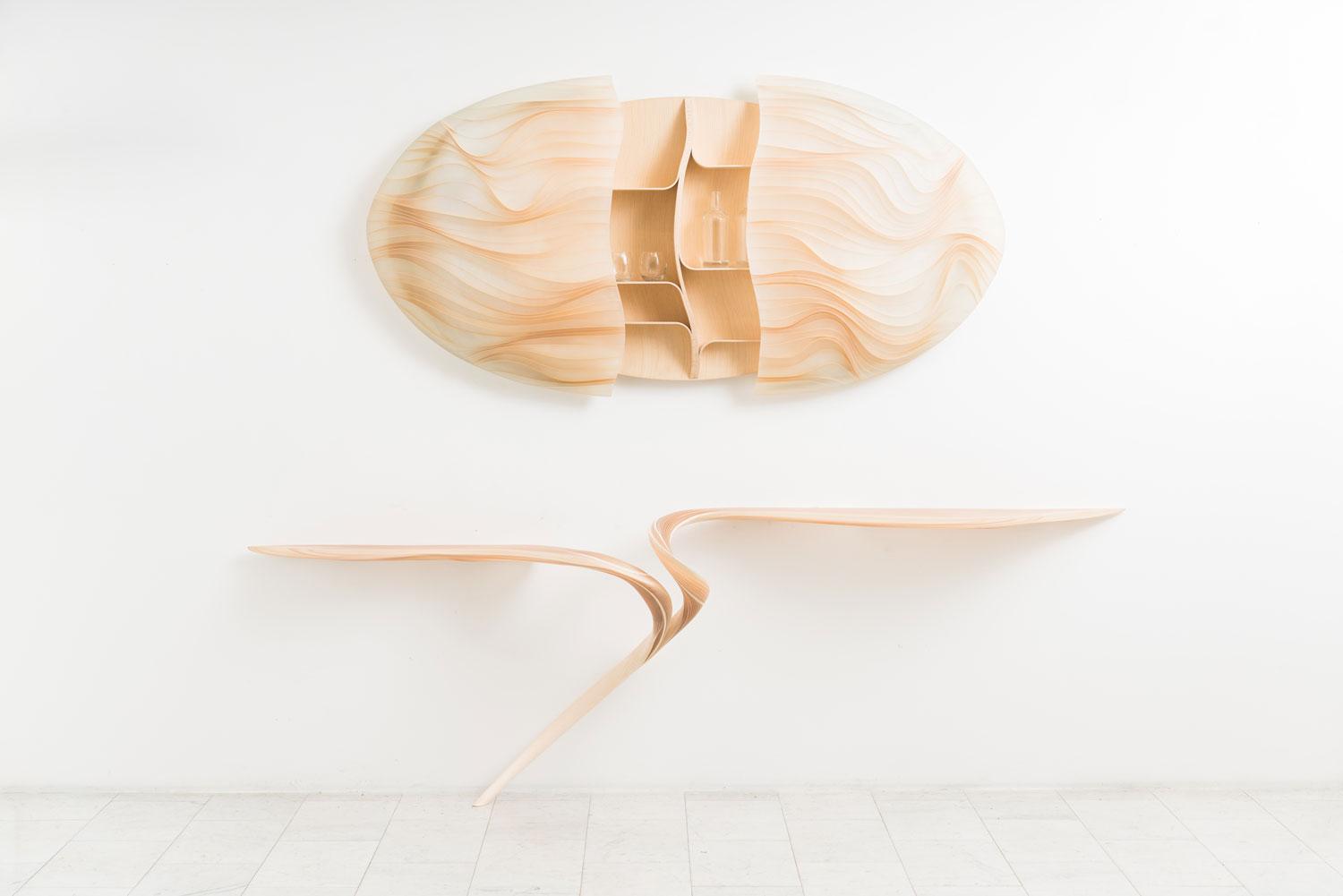 Learning curve: Originally, Fish started his career doing metalwork, inspired by artists like Barbara Hepworth and Henry Moore. "I saw the work of John Makepeace about 20 years ago, and I really liked what he was doing," says Fish, who wrote to the artisan to see where he might learn his technique, only to find Makepeace had closed his school years prior.
In his reply letter, the famed furniture maker inspired Fish to study traditional cabinetmaking, then discover creative woodcraft on his own. "I did traditional training and found it very restrictive," he says. "It wasn't really what I wanted to do, but having that knowledge was really important because understanding how wood behaves and how you can get it to do what you want it to do kind of set me off on the right path." Now Fish runs the Robinson House Studio, a roughly yearlong program for 15 students from around the globe who study cabinetmaking and metalcraft as well as contemporary techniques like 3D printing and laser cutting.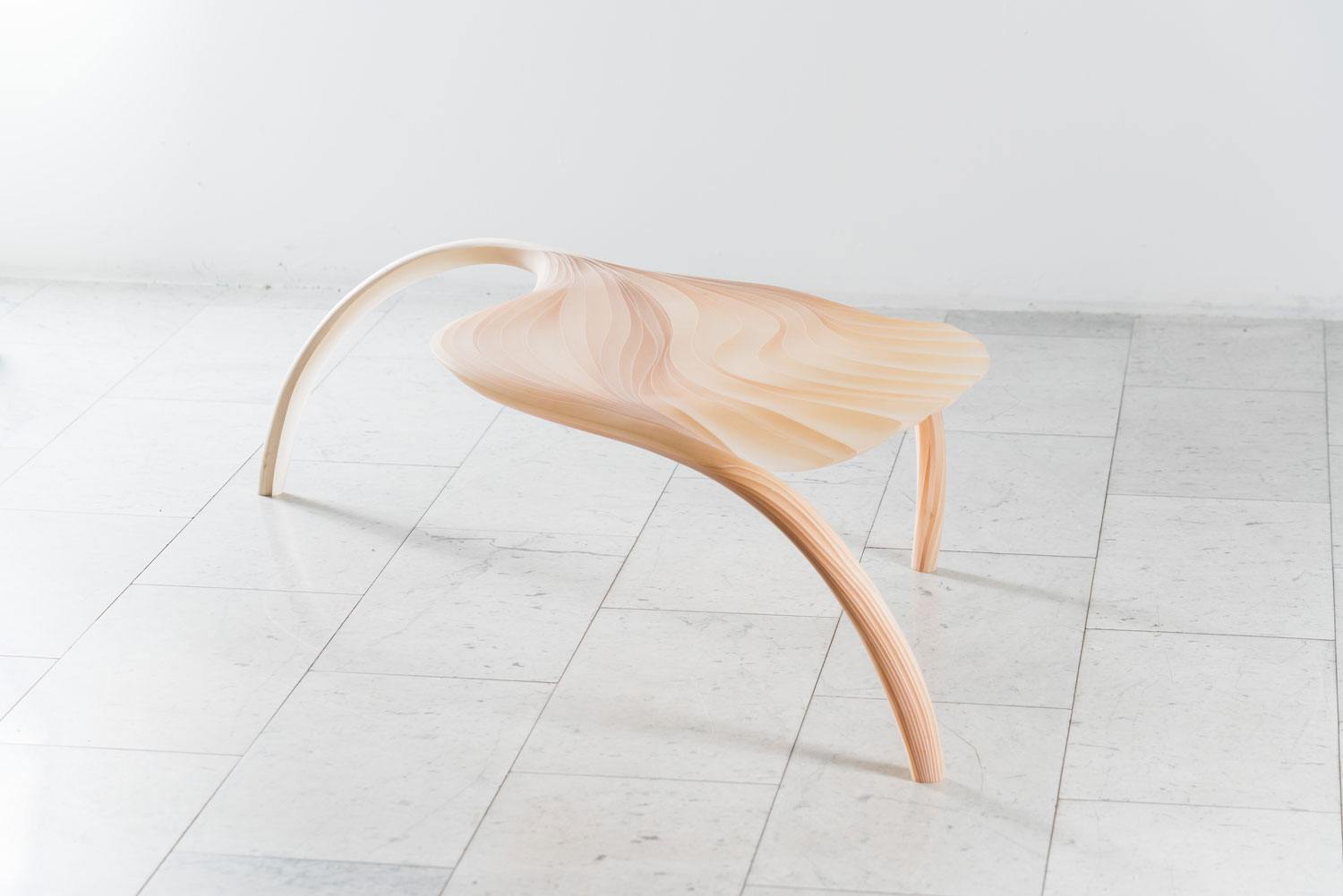 Raising the bar: The Ethereal pieces can take more than 1,000 hours to produce with 35 different layers of resin, poured in half-inch increments per day. "We joke that we pick the hardest project to make, and it's almost a challenge to think of the hardest thing," says Fish of the studio's new curvilinear Ethereal drinks cabinet and bar. "In the end you produce something that's really truly magical—it's not for people who aren't patient."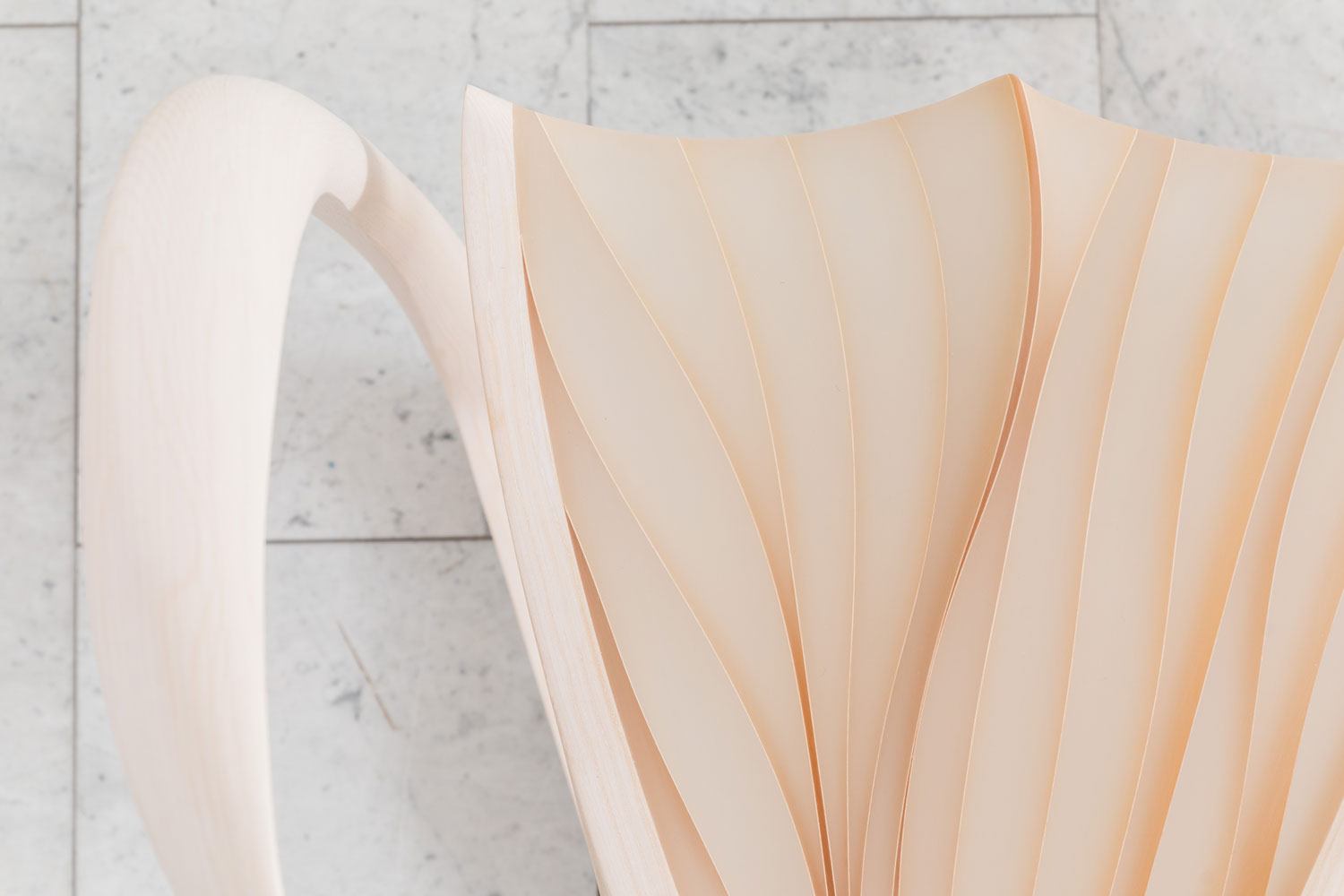 Building up: The studio has been working exclusively with paper-thin wood veneers for the past decade, with each evolution leading to a new product design. "You do one thing, and it leads to something else," Fish tells Galerie. "Now we're doing a new series of Ethereal lights."
The team moved to a new 8,000 square foot studio in March 2020. One of the introductions to come out of the new space is the ombre-like Stratum cabinet, the first piece the studio has created entirely of resin. "Ethereal is really catching the imagination of people at the moment and that's really good, but we have to think what's next. What will we be making in two years time," says Fish, who is also working with his team on items made with recycled plastic and 3D printing, as well as more sculptural objects.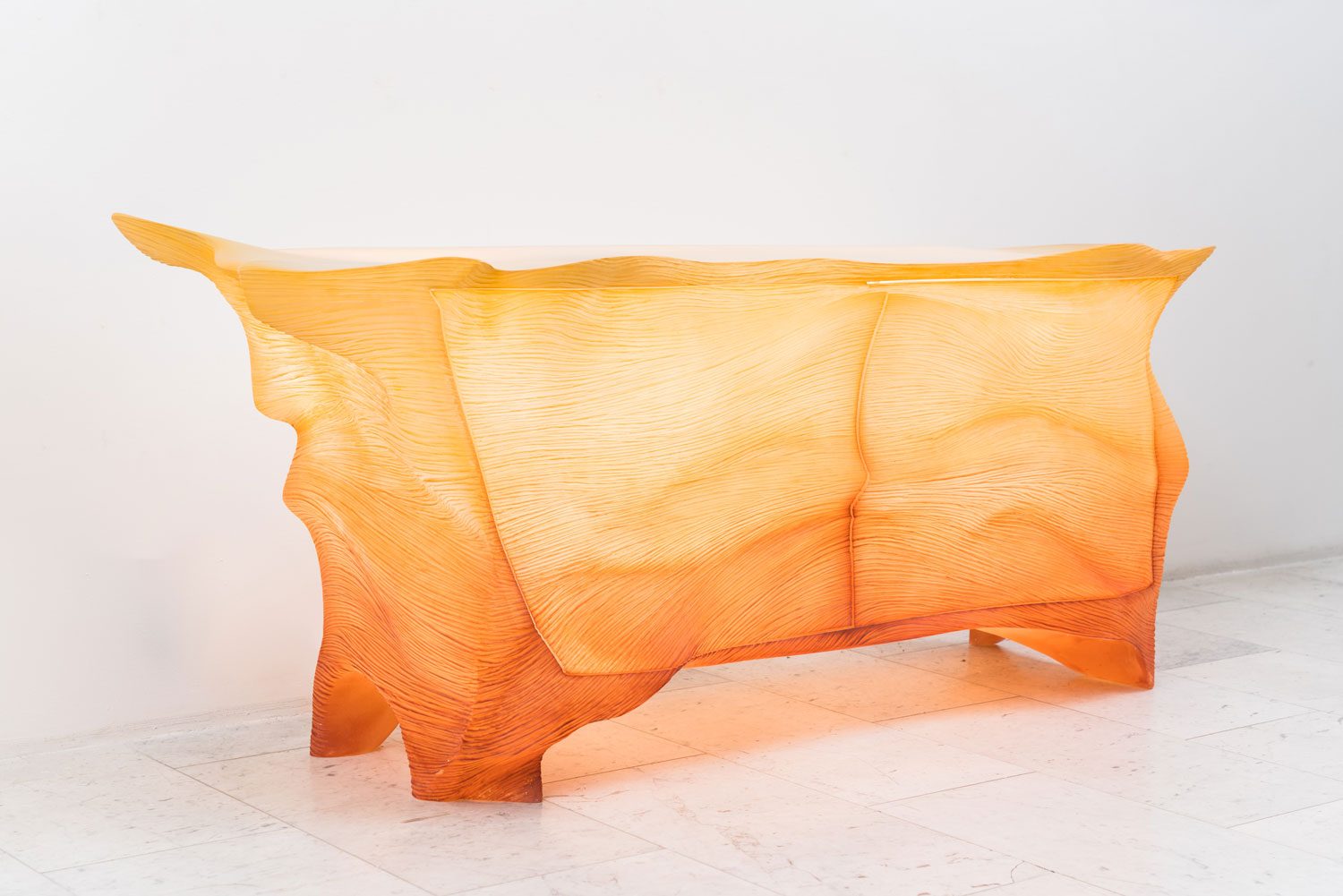 Maker's mark: "I'm at my happiest at a bench with a few tools and some materials, playing around," says Fish. "I really enjoy getting involved with materials and making things. That's kind of what I've tried to make my role here—somebody that gets to play with materials as often as possible."
Next Post