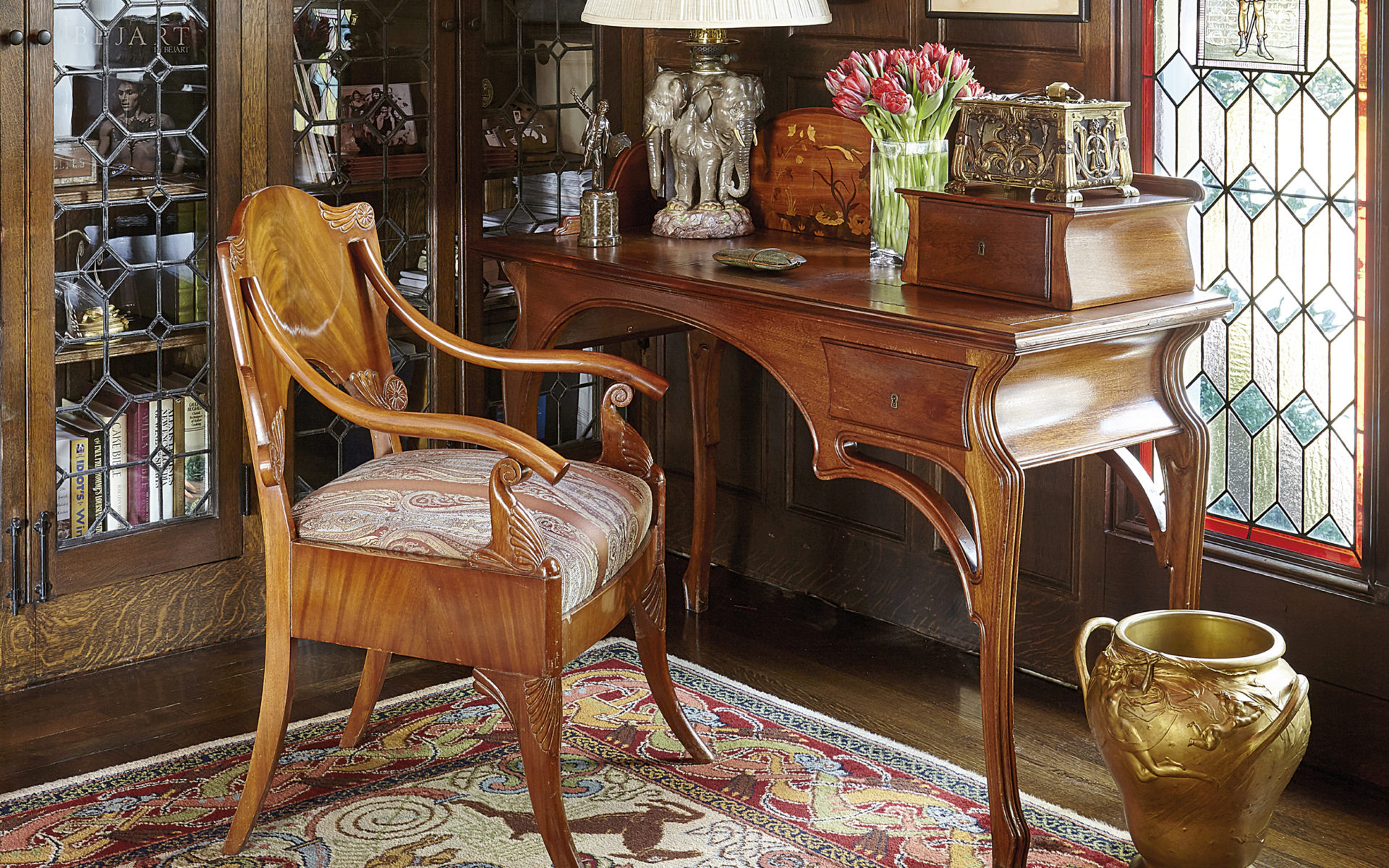 Newel's Lewis Baer Shares His Private Collection of Antiques
The esteemed antiques dealer opens up about his ravishing trove of Art Nouveau treasures
Unlike many of his peers, Lewis Baer is not the type of antiquaire who will entertain offers for what's in his home. For decades, the third-generation owner of Newel, a six-story Ali Baba's cave of antiques on New York's Upper East Side, has kept his most beloved pieces away from prying hands. "I'm a dealer, but I don't like to live in a revolving shop," he says. At his mid-1920s home in Englewood, New Jersey, Baer dotes on his very own collection of decorative arts, which ranges from a British ceramic-elephant oil lamp (converted for electricity) to a massive Art Nouveau bronze floor vase from France.
"Given my profession, I must appreciate all periods and styles," Baer explains. And he truly does, as his oak-paneled library amply proves. There, an inlaid walnut Art Nouveau desk, acquired from Newel for his first New York studio apartment, coexists with a vibrantly colored Arts and Crafts rug and an early-19th-century Russian mahogany chair, whose curves remind him of the same period in France. Even one of the room's windows testifies to his collecting passion: When a storm sent a tree flying through the original panes, Baer replaced them with British Renaissance Revival stained glass, which his wife, Lorraine, helped select from the shop's vast inventory.
Though Baer never formally trained in the decorative arts (he majored in accounting), he acquired a deep knowledge of antiques "by osmosis," he says, after he began working at Newel in the summer of 1969. Today, with his son Jake taking the reins as Newel's CEO, the company looks with equal pride on its distinguished past clients, such as Jacqueline Kennedy Onassis, Babe Paley, and famed decorators Billy Baldwin and Mark Hampton, as well as serving as a go-to source for the set designers of such popular television shows as Boardwalk Empire, Saturday Night Live, and Blue Bloods.
When pressed to pick a favorite style, Baer balks a little, then replies, "I like all periods, but I prefer the looseness of Art Nouveau." While petting his daughter Gabriella's 50-pound English bulldog, Sugarbear (himself a collector—of 104,000 followers and counting, on Instagram), he adds, "I'm just not a stiff and formal guy."
Next Post