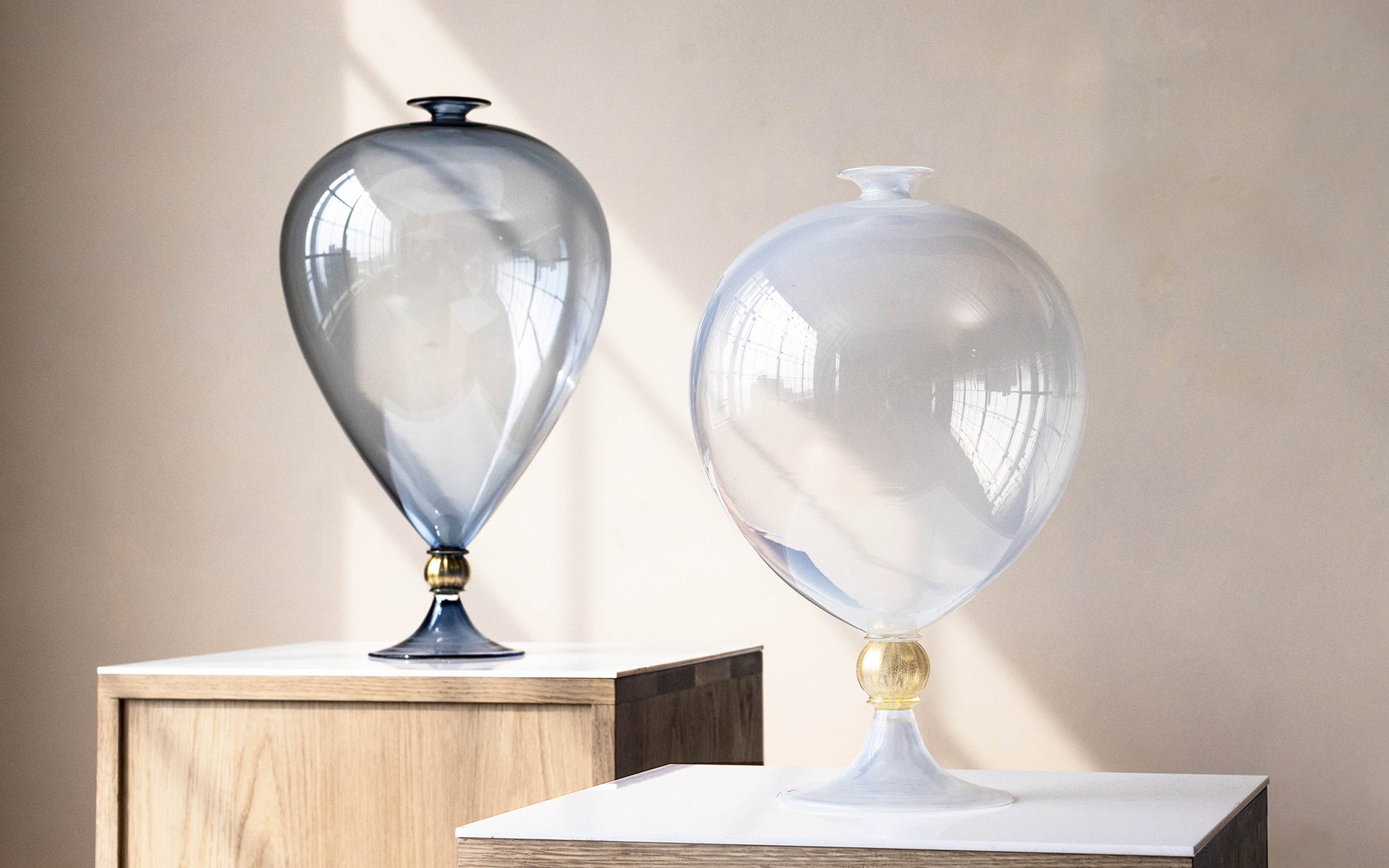 5 Must-See Collectible Design Shows on View This August
Discover sculptural lighting and furniture by Alexandre Logé at Ralph Pucci and ethereal glass vessels by Hyunsung Cho at Guild Gallery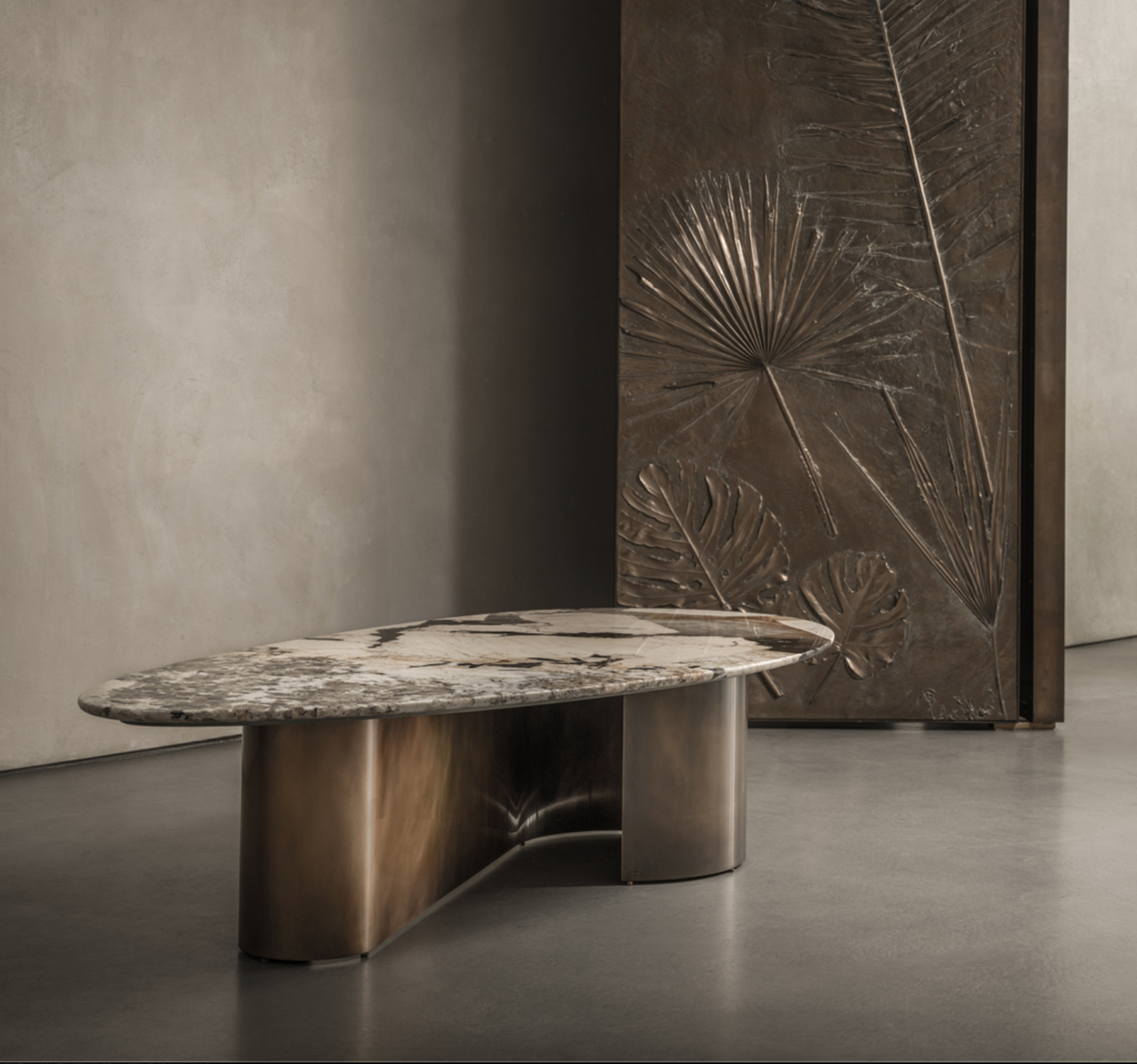 1. "Listening to Stone" at Les Ateliers Courbet | New York
Harnessing the inherent beauty of natural stone, Italian artist and designer Gianluca Pacchioni produces sculptural, functional works that seamlessly balance juxtaposing themes, such as being both strong and delicate at the same time. His latest eye-catching creations are now displayed in the exhibition "Listening to Stone" through August 25 at Les Ateliers Courbet in Manhattan. The title refers to how the Milan-based talent has perfected the ability to coax out the most spectacular version of his source material, be it onyx, marble, or granite, then pair it with a symphony of metals such as brass, bronze, and highly polished stainless steel. On view here are new additions to existing collections Cremino and Cusi, as well as his latest series, cheekily dubbed Under the Sheets and inspired by his wife's silhouette.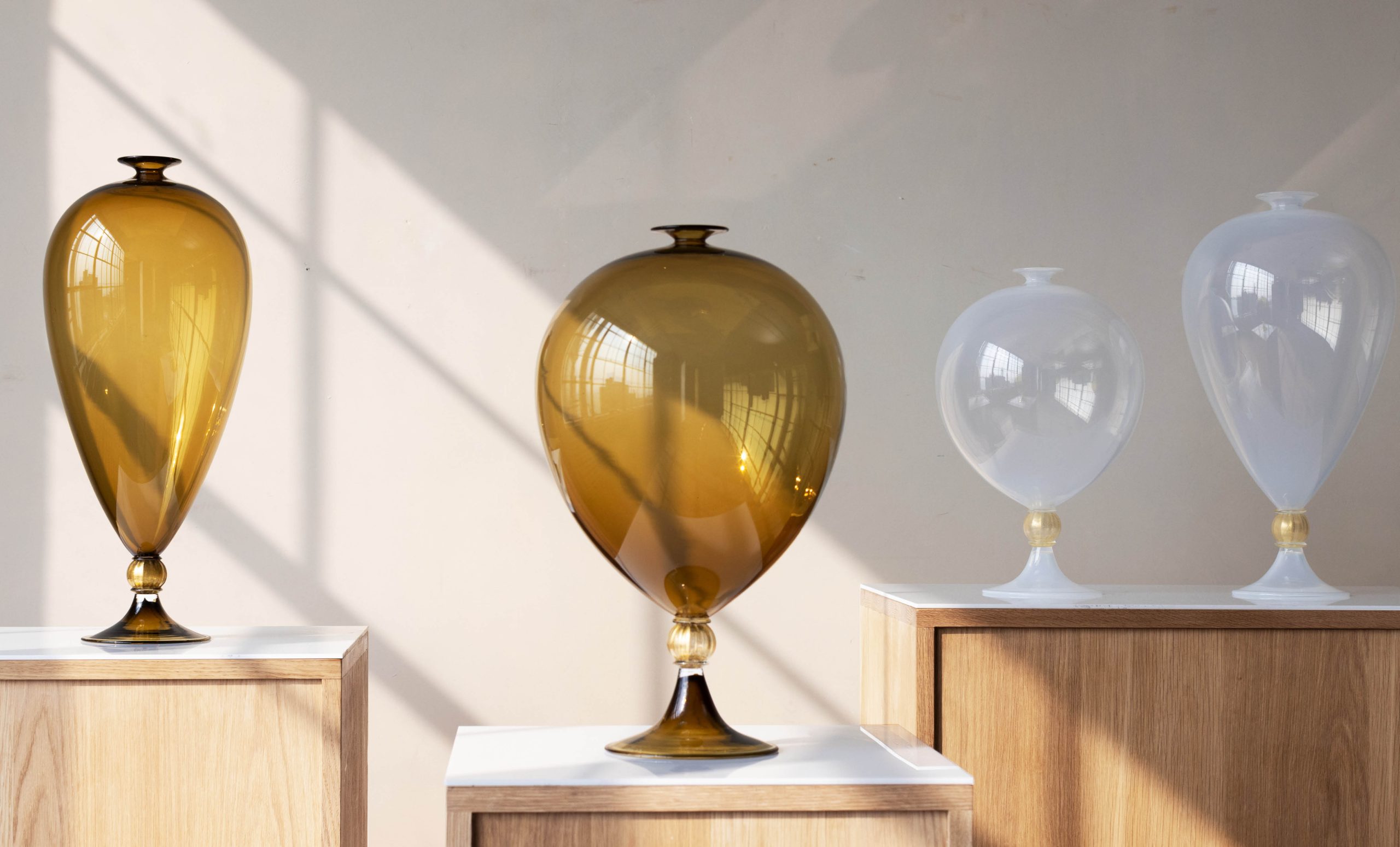 2. "Hyunsung Cho" at Guild Gallery | New York
The elegant teardrop shape and fascinating history of the classic Veronese Vase so captivated Seoul-based glass artist Hyunsung Cho that he has spent the past decade exploring the mythic vessel, invented in a work by Renaissance painter Paolo Veronese before glassblowers could technically create it. On view through September 2 at Guild Gallery in New York are Cho's most recent treasures inspired by the silhouette, ethereal glass orbs of varying shapes, colors, and sizes informed not just Murano craftsmanship but his own Korean heritage. To add even more symbolism, he's also incorporated gold leaf into the base, giving each piece a gleaming bulb from which to blossom.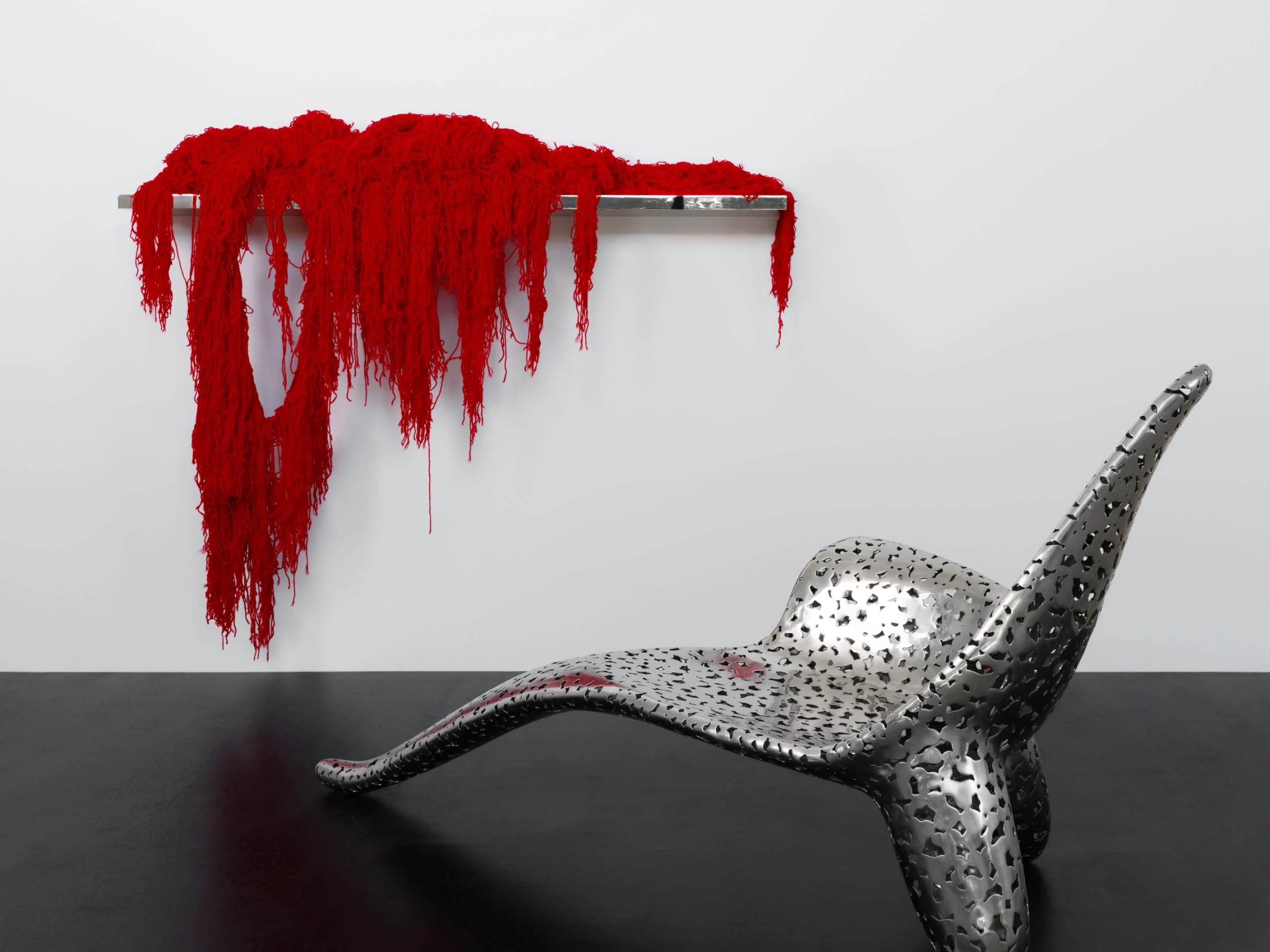 3. "Chaos" at Carpenters Workshop Gallery | Los Angeles
To mark the one-year anniversary of its Los Angeles outpost, Carpenters Workshop Gallery enlisted Alexander May, founder of West Hollywood's Sized Studio, to curate a group show of work by 20 creative luminaries, among them Ingrid Donat, Sterling Ruby, and Vincenzo De Cotiis. On view through September 1, the resulting exhibition, dubbed "Chaos," includes contemporary art and design pieces from across the material spectrum in unlikely dialogue with one another. A Rick Owens stool made of plywood and moose antler, for instance, plays off of a monumental Wendell Castle ash sofa next to an industrial chair by Spencer Daly. Such vignettes, which also include standout pieces by Wonmin Park, Atelier Van Lieshout, and Steven Haulenbeek, explore not only the tension between styles but allows space for them to work together in harmony.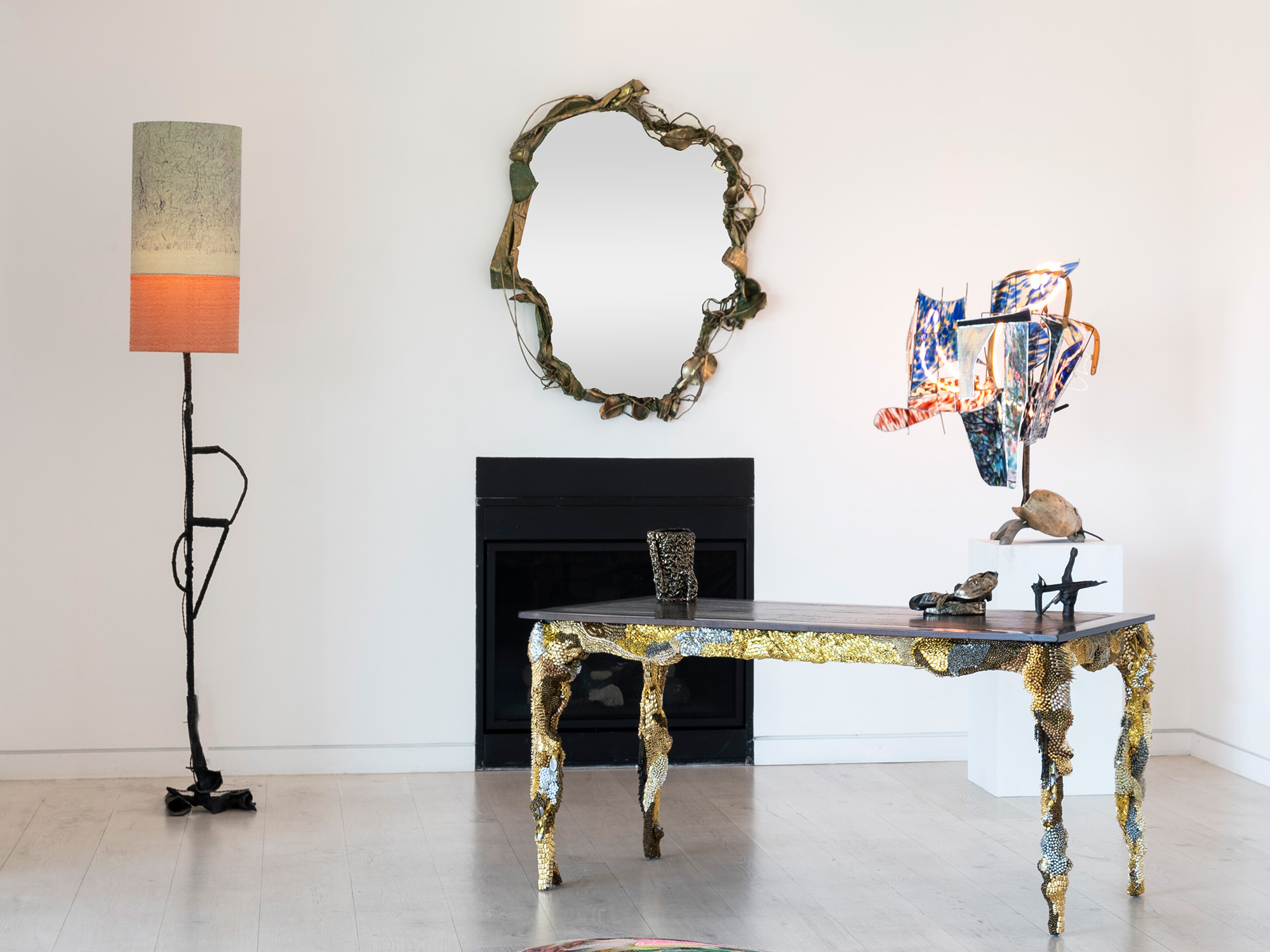 4. "Chorus" at Friedman Benda | Los Angeles
There's only a week left to catch the Los Angeles solo debut of Farrell Hundley, the buzzy design duo composed of artists William Farrell and Elliott Hundley, who began collaborating in 2019. A follow-up to their Miami show at Nina Johnson gallery earlier this year, this Friedman Benda exhibition features an array of functional objects cast in bronze using the lost-wax technique that pay homage to mythology and ancient civilizations. Discover the hand-embellished quality evident in everything from the Lydian desk, which is adorned with scores of glittering spikes, to the Cyclops mirror, essentially a giant eye surrounded by mutated, branch-like forms. There's even upholstery, with the trippy Polydorus bench featuring a down cushion swathed in felt, silk, and cashmere.
5. "Echo" and "Etna" at Ralph Pucci | New York
Two esteemed talents are showcasing their first collections for Ralph Pucci, transforming a section of the penthouse at the company's New York gallery until October. Known for covetable creations with a sculptural simplicity, French designer Alexandre Logé is introducing the Echo series of lighting and furniture, some of which are rendered in Plasterglass, Pucci's proprietary material, as well as parchment and lacquer. A standout is the Hanabi pendant, which features leaves in three shades of bronze that catch the light in subtly different ways. Interior designer Nina Seirafi, meanwhile, is presenting Etna, a series to ten angular furniture pieces that make use of eclectic materials including lava stone and crystal.
Next Post