Glitter and finger painting have never looked so sophisticated. While Scottish designer Christopher Kane is no stranger to color and artful patterns, his spring/summer 2021 collection feels like pure sculpture in wearable form. Despite runways going virtual due to COVID-19, Kane used pandemic restrictions to fuel his creativity—with heavy-handed glitter unleashed in the process. "I would spend most of my day painting faces and mindscapes. Painting during lockdown replaced the void of making collections," the London-based designer said in a statement for his new Home Alone collection. "It became a way to escape my own mind—no rules, deadlines, or pressures. I paint with acrylics, glue, and glitter. The paintings are sticky, messy and the outcome always uncertain. I think that's why I love it so much."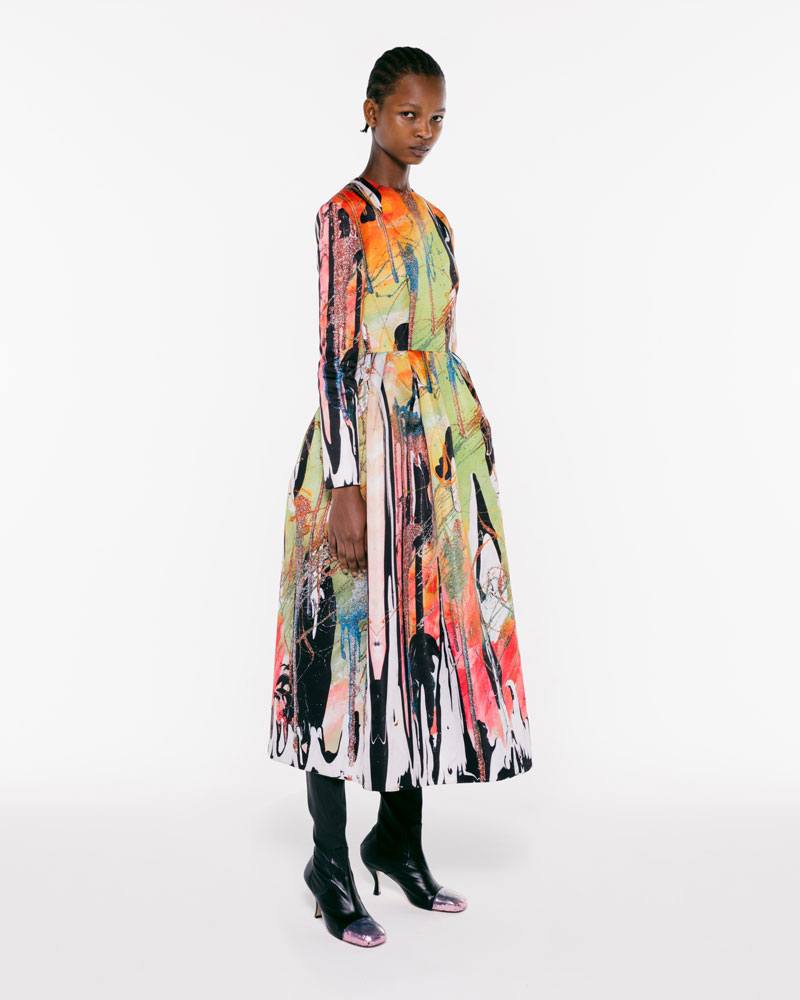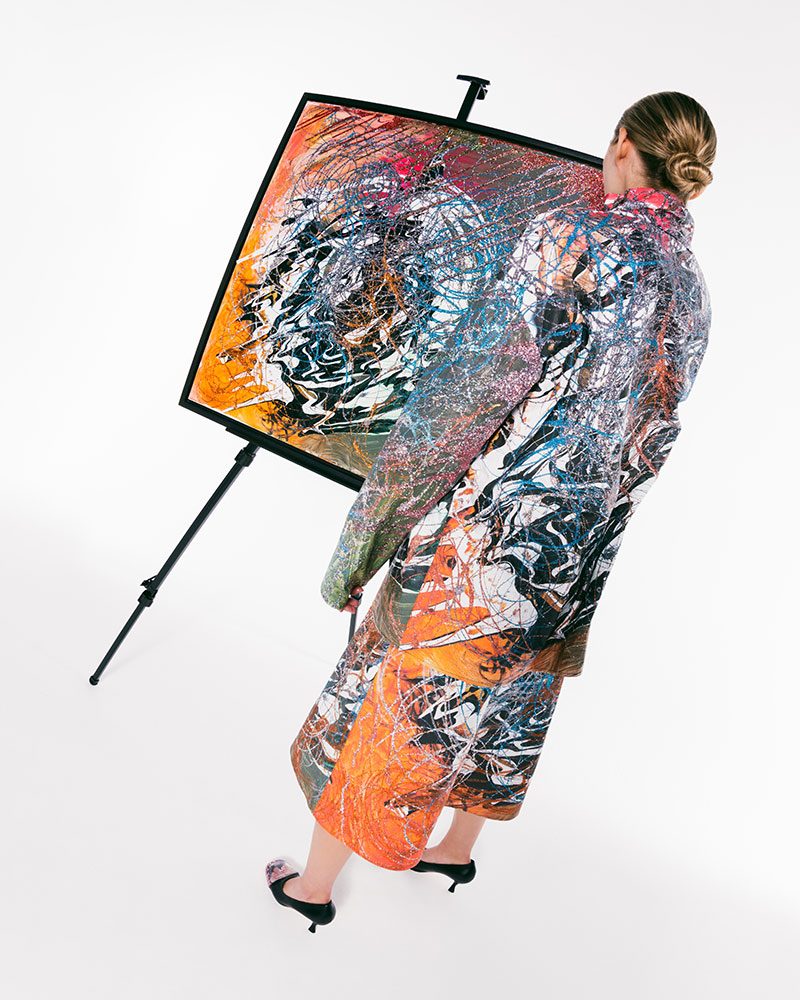 Having not picked up a brush in 14 years, Kane decided to paint again after one month of quarantine, when, like many, he found himself glued to the TV. Painting in his studio and garden became a cathartic outlet and a deeply tactile one at that. Finding it hard to access large quantities of paint because he was not the only one seeking a new quarantine hobby, the designer turned to glitter, a material he had on hand, thanks to his nieces, and one he'd used previously to paint portraits of his mother.
The sense of liberation born out of spontaneity and a childlike abandon come through vividly in his lockdown-made paintings, which served as the basis of his garments' prints. The art can be grouped into two bodies of works, "The Brats," portraits inspired by his family and fashion-industry acquaintances, and "Mindscapes," which evoke the wide range of emotions the designer felt during quarantine: from frustration to joy, boredom to chaos. In regards to the former, Kane also painted a self-portrait, as well as the likeness of his sister Tammy, the brand's co–creative director and cofounder, whom he could not see for six months.
In both series, Kane got his hands dirty by using his fingers to apply glue, acrylic paint, glitter, and rhinestones in kaleidoscopic patterns. A palette knife carved away layers to provide a fresh canvas to fill with more shimmering materials. If his Eco-Sexual spring/summer 2020 ready-to-wear collection was more about Monet- or Klimt-like wildflowers, Home Alone could be best described as a freer, abstracted combination of Pollock splatter, Warhol diamond dust, and Richter squeegee.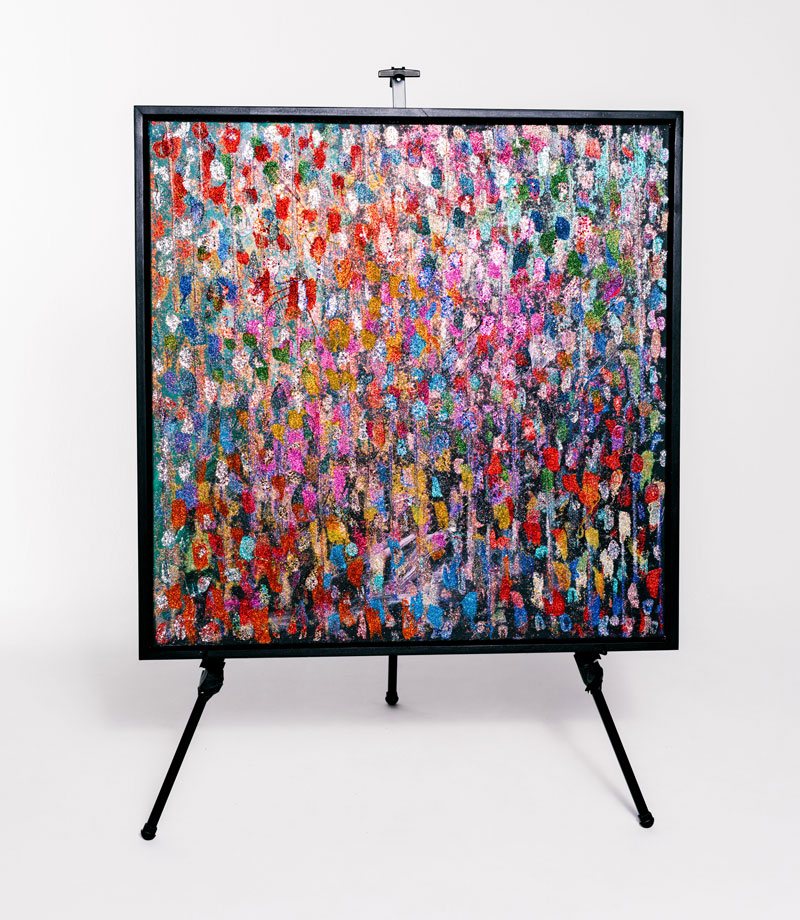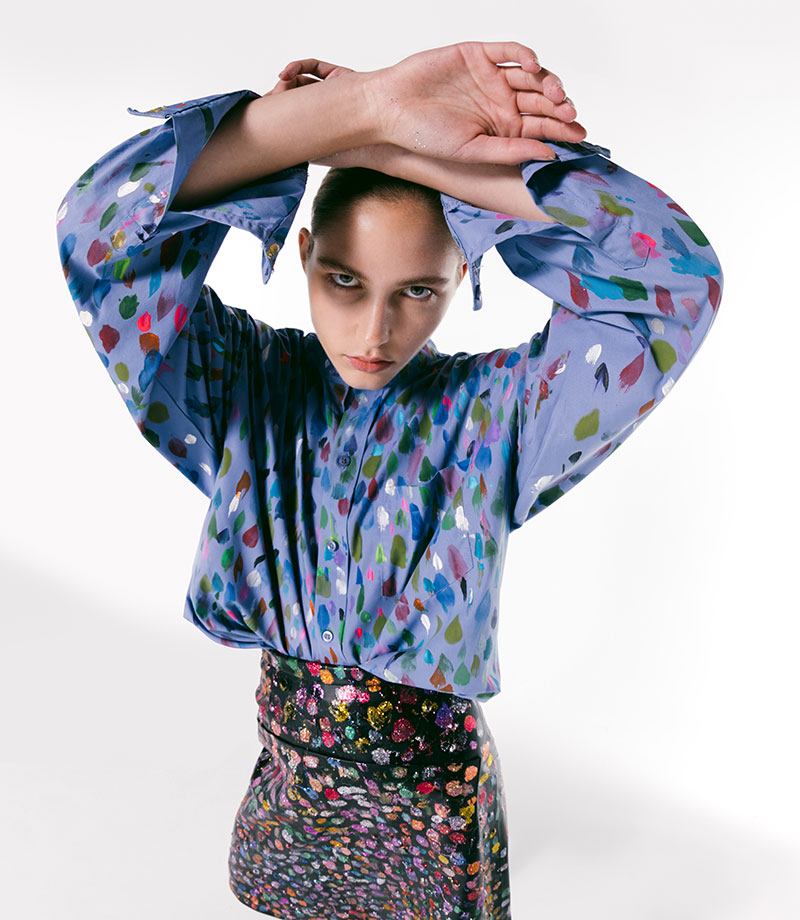 While some garments were digitally printed, others were hand painted, resulting in an intimate, one-of-a-kind collection. Fabrics range from duchesse satin and leather to cotton, Tyvek, and crystal mesh, which was linked by hand to form a stripe design.
"Lockdown has changed the way I want to work. For SS21 I had zero desire to create a large collection, I want to simplify and reduce output," said Kane, who displayed the garments and the art from which they were derived on a weeklong exhibition at his London flagship store on Mount Street. With new depths of creativity unlocked during the designer's quarantine, there's no telling how his artistic touch will mark future collections.
Next Post