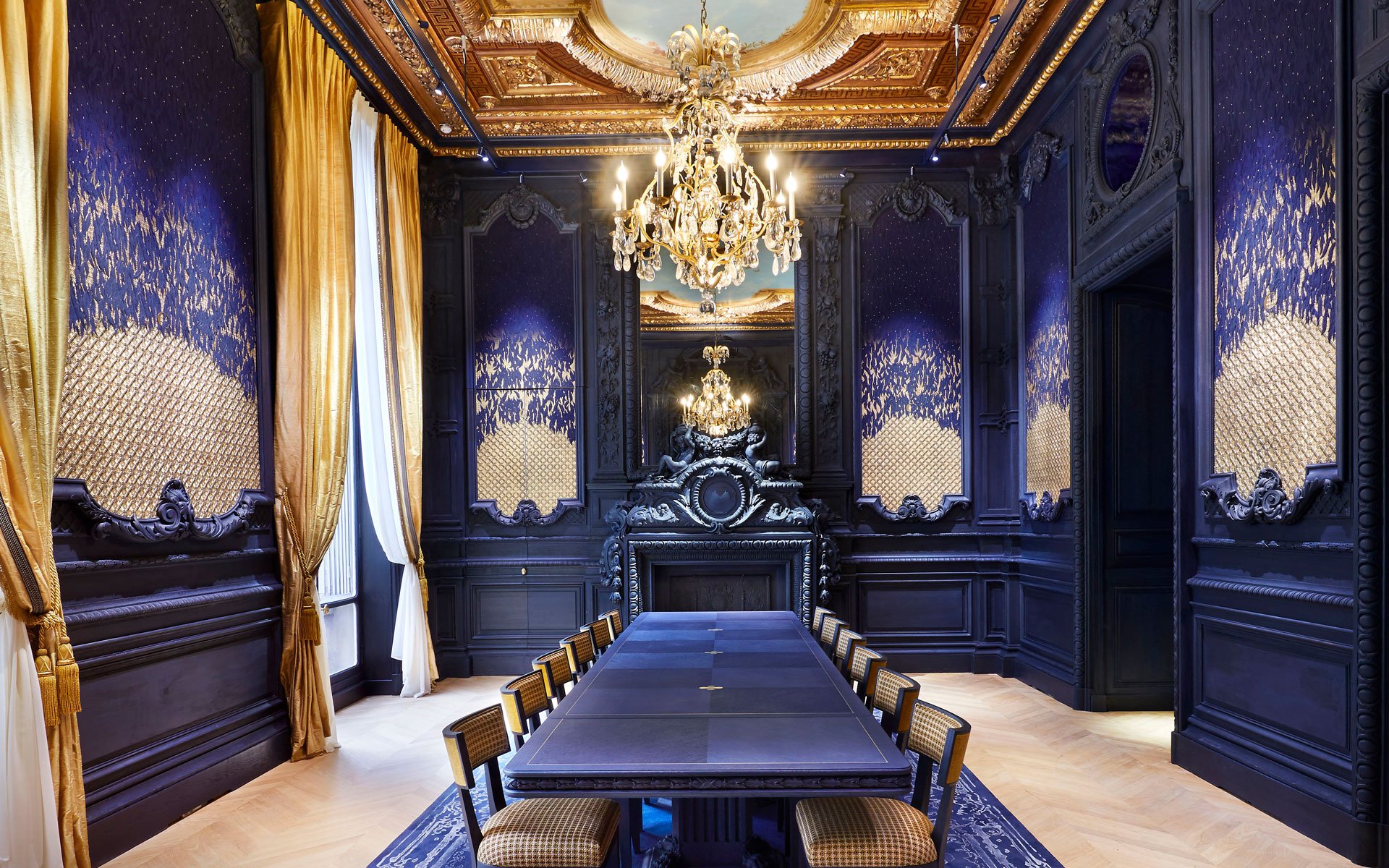 Inside Chaumet's Revamped Paris Flagship: Tiara-Filled Walls, Love Stories, and Landmarks
To celebrate its 240th anniversary, the maison transformed its famed hôtel particulier so that every detail would reveal a part of its beguiling heritage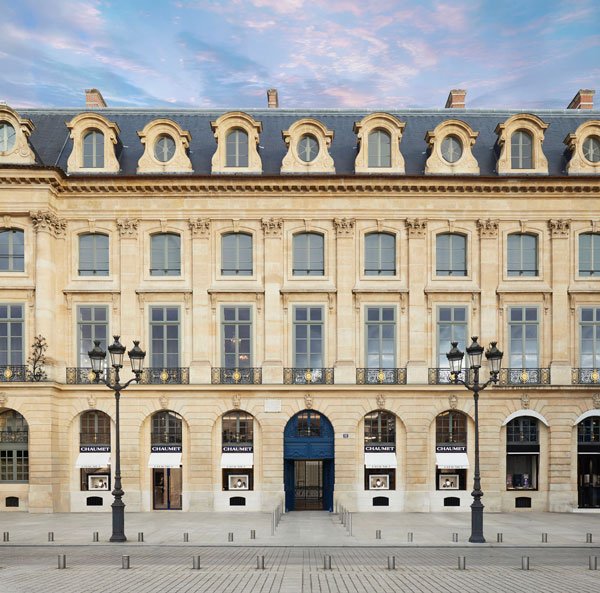 As jewelry houses branch out into new markets across Asia and South America, Chaumet's recently renovated Paris flagship reminds the world of Place Vendôme's eternal splendor. The maison was the first to open on this famed jewelry square in 1812, at which point it had already achieved notoriety as a jeweler for the court of Napoléon Bonaparte; his wife Joséphine was the company's first major client. Since 1907 Chaumet has proudly occupied the same hôtel particulier (12 Place Vendôme) as it does today, but for the brand's 240th anniversary this year, the space was entirely reconceived to pay proper tribute to its illustrious heritage and cater to the 2020 consumer.
Overseen by Patricia Grosdemange, LVMH artistic director and designer, Chaumet's revamped flagship comprises a boutique, atelier, event space, and myriad museum-esque salons, including a registered historical landmark that, for such reasons, remained untouched. Beginning with the ground floor, which displays the brand's Joséphine, Liens, and Jardins collections, every pocket of the hôtel particulier offers a surprising take on elements of the brand's history.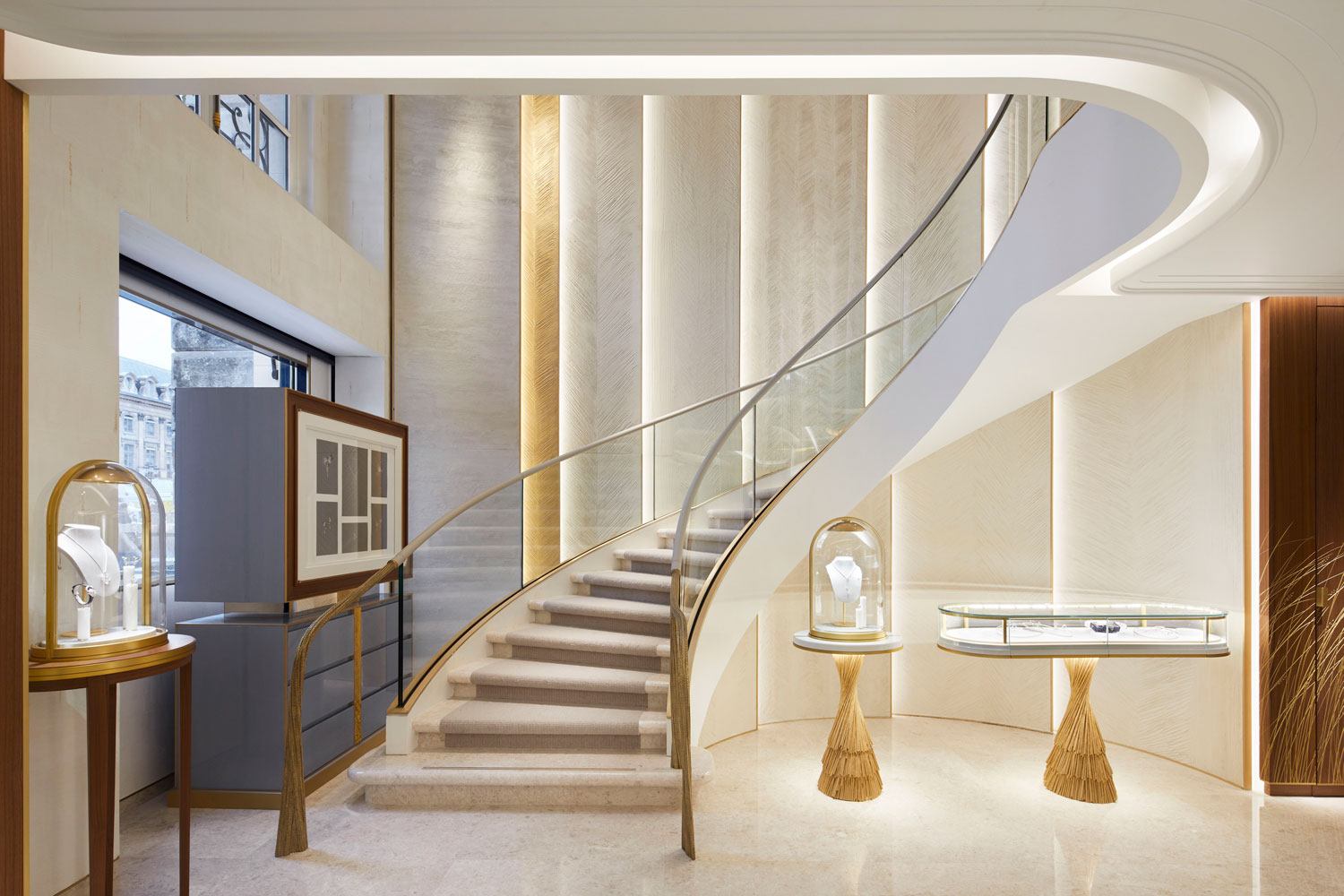 "There are many small stories hidden in the details," Grosdemange tells Galerie. A standout is the undulating plaster staircase whose panels are engraved with excerpts of passionate letters between Napoléon and Joséphine. In its design, the flagship also juxtaposes the empress's love of jewels with her interest in botany. For instance, Grosdemange employed natural materials like straw to bring a sense of modernity to the interiors and to provide a counterpoint to the glittering diamonds and precious stones.
"I prefer to work with artists and craftsmen to create textures and interesting materials rather than complicated shapes, which are not timeless," explains Grosdemange about the decision to keep display cases and furniture relatively streamlined in favor of using surfaces as places for experimentation. "The right material can provide vibrations and emotions throughout the space."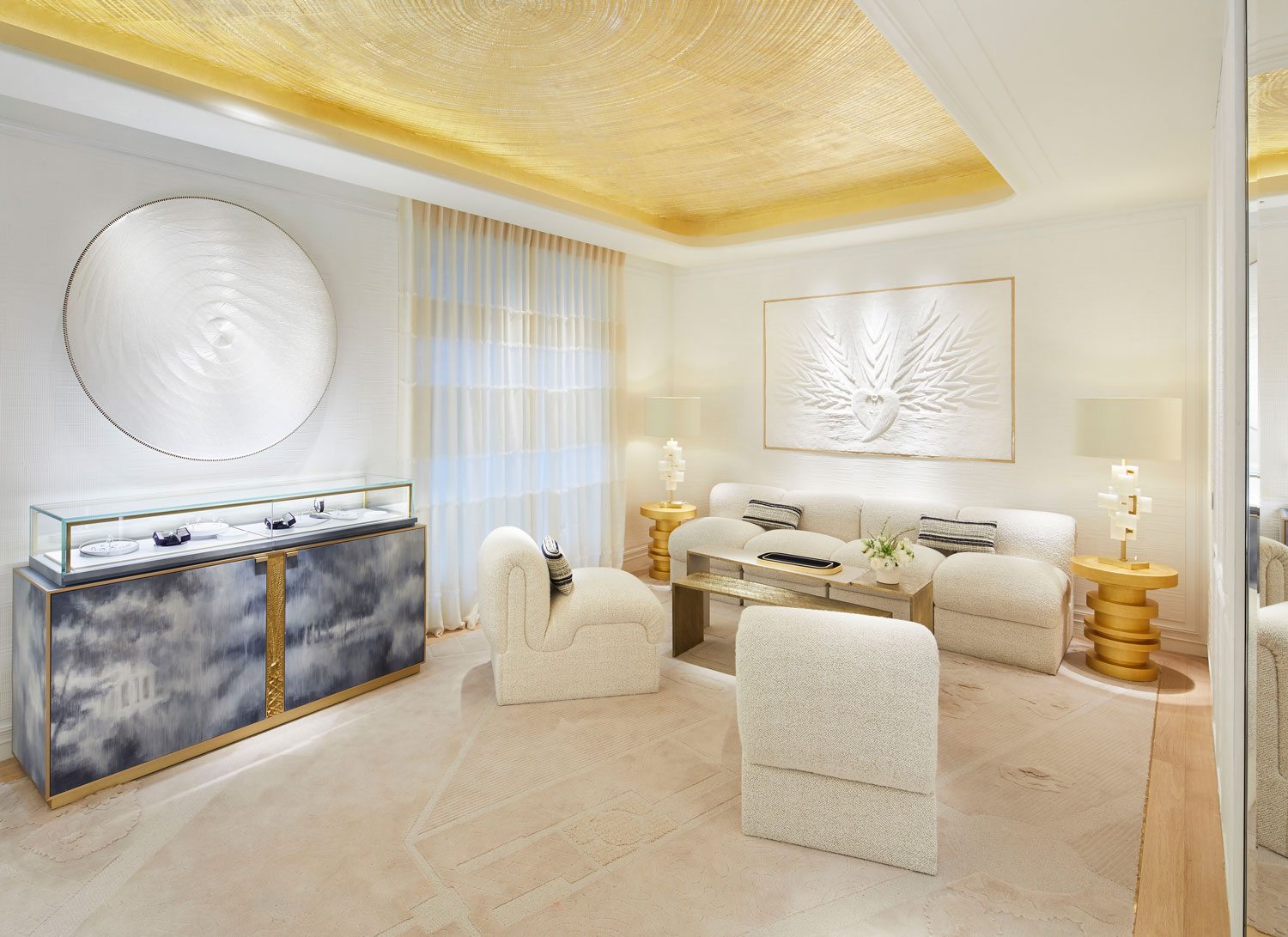 With her launching point being a circa-1810 tiara resembling ears of wheat—Chaumet's emblem—blowing in the wind, Grosdemange incorporated the motif in Maison Lesage embroidery on upholstered walls, engravings on walnut paneling, gildings on stone, and sculptural supports for jewelry vitrines. "I was fascinated by the modernity and timelessness of this beautiful creation," she says. "For me it really represents Chaumet because it's very strong and classical, but at the same time there's movement coming through. There's poésie."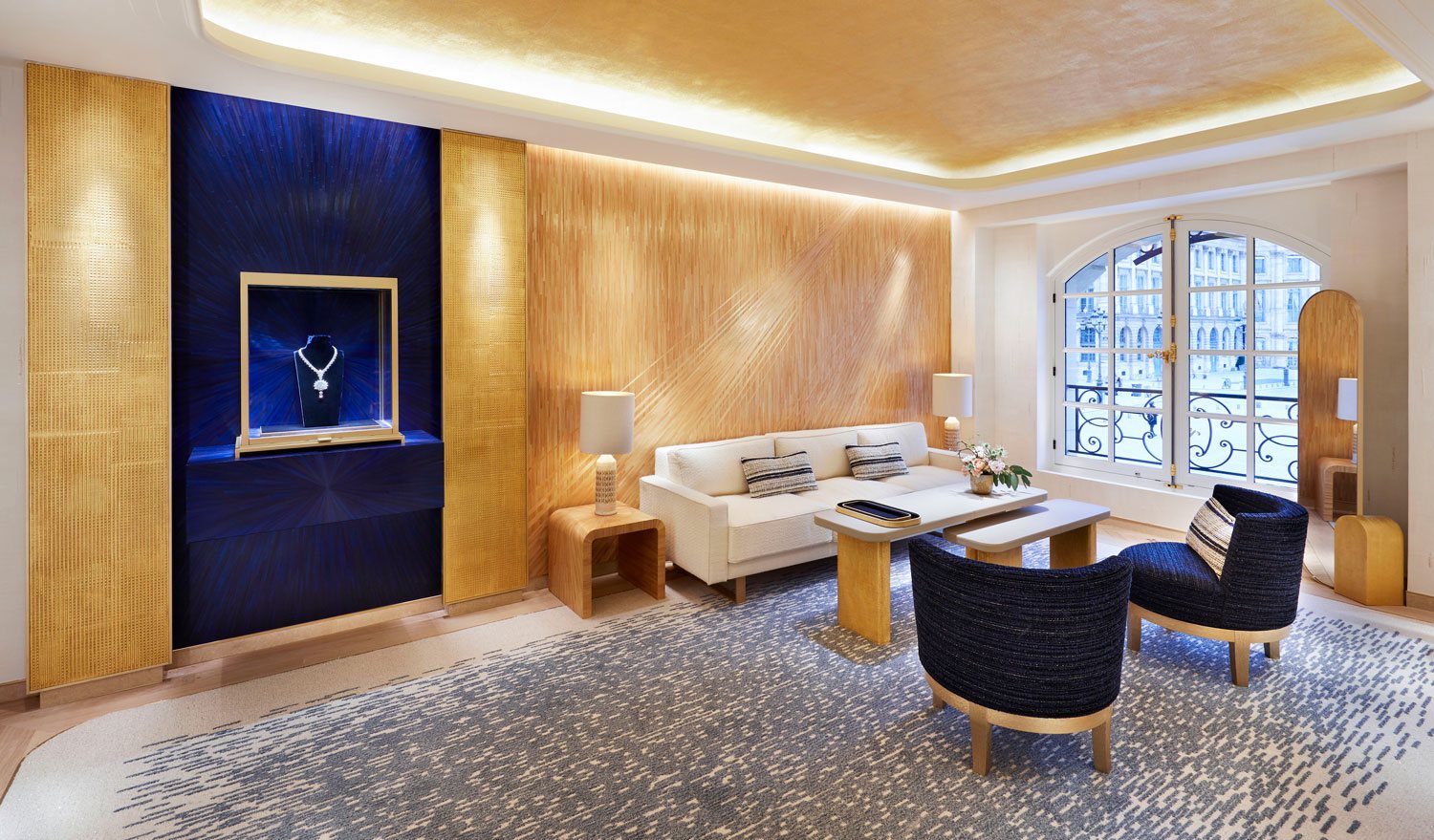 Nature-driven statements continue upstairs in the Salon des Joyaux, where customers can view Chaumet's high-jewelry collections surrounded by straw-marquetry walls specially crafted by the Jallu Straw workshop to resemble rays of sun. Grosdemange's love of texture also comes through in the space's art. In the Salon Malmaison, an elegant, white room designated for brides to be, Cecilie Bendixen's circular kinetic work, Moon Disc–Rays from East, serves as a focal point, its strings evoking a wedding dress.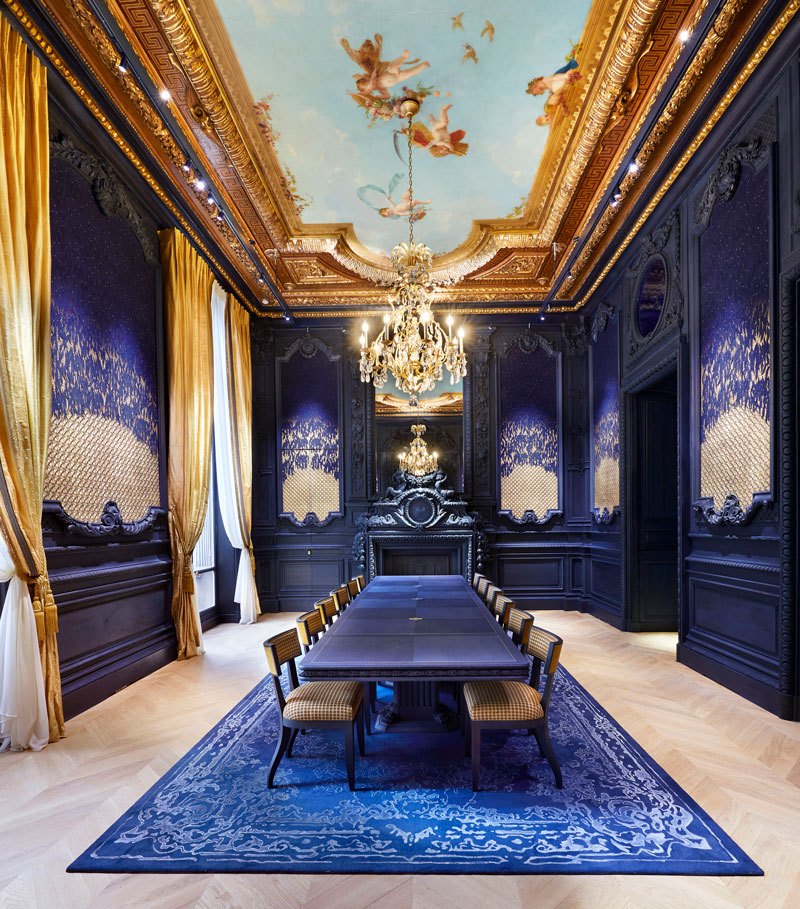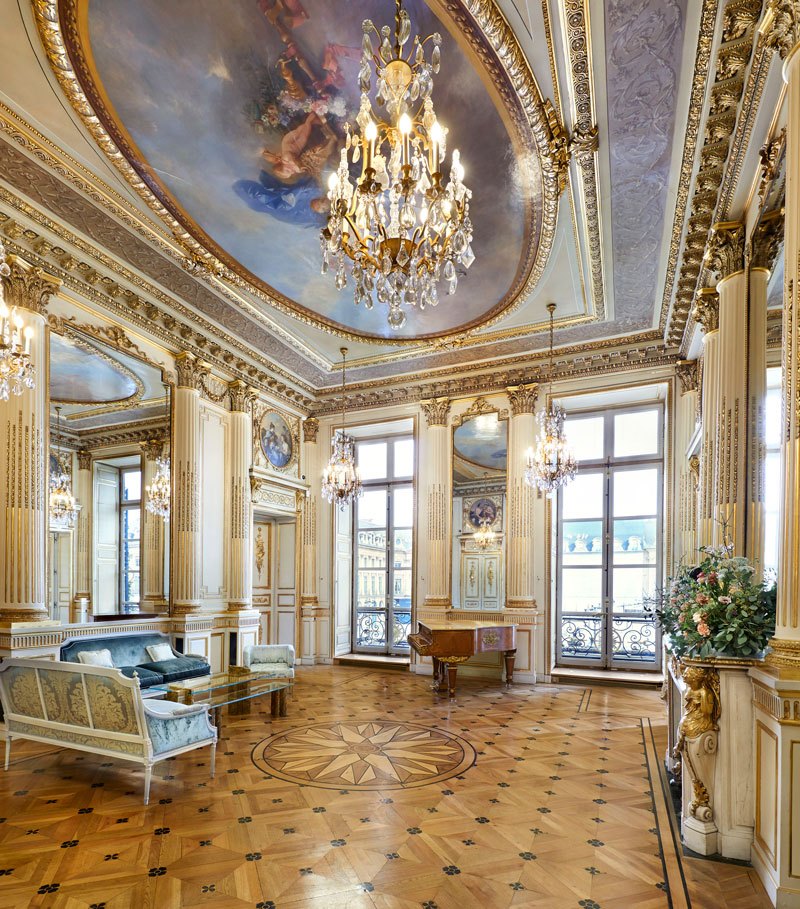 One of the most striking and intimate spaces, the Salon des Perles, features another impressive textile piece—a carpet whose tiara- and nature-inspired pattern was painted directly in the space by artist Alain Billon. Originally serving as the hôtel particulier's dining room, this salon later because the room in which Chaumet artisans worked with pearls. After finding it in a state of disrepair, Grosdemange decided to return it to its former glory as a small events space.
Here, guests can dine amid gold and deep-blue walls conjuring baroque mysteriousness and romance, all further enhanced by the pastoral ceiling scene painted by 19th-century artist Pierre-Victor Galland. For those seeking a full time-capsule experience, the landmarked Salon Chopin can be found within the flagship's own walls. Designed in 1779 for the building's original owner, this architectural jewel is also where the pianist composed his final mazurka.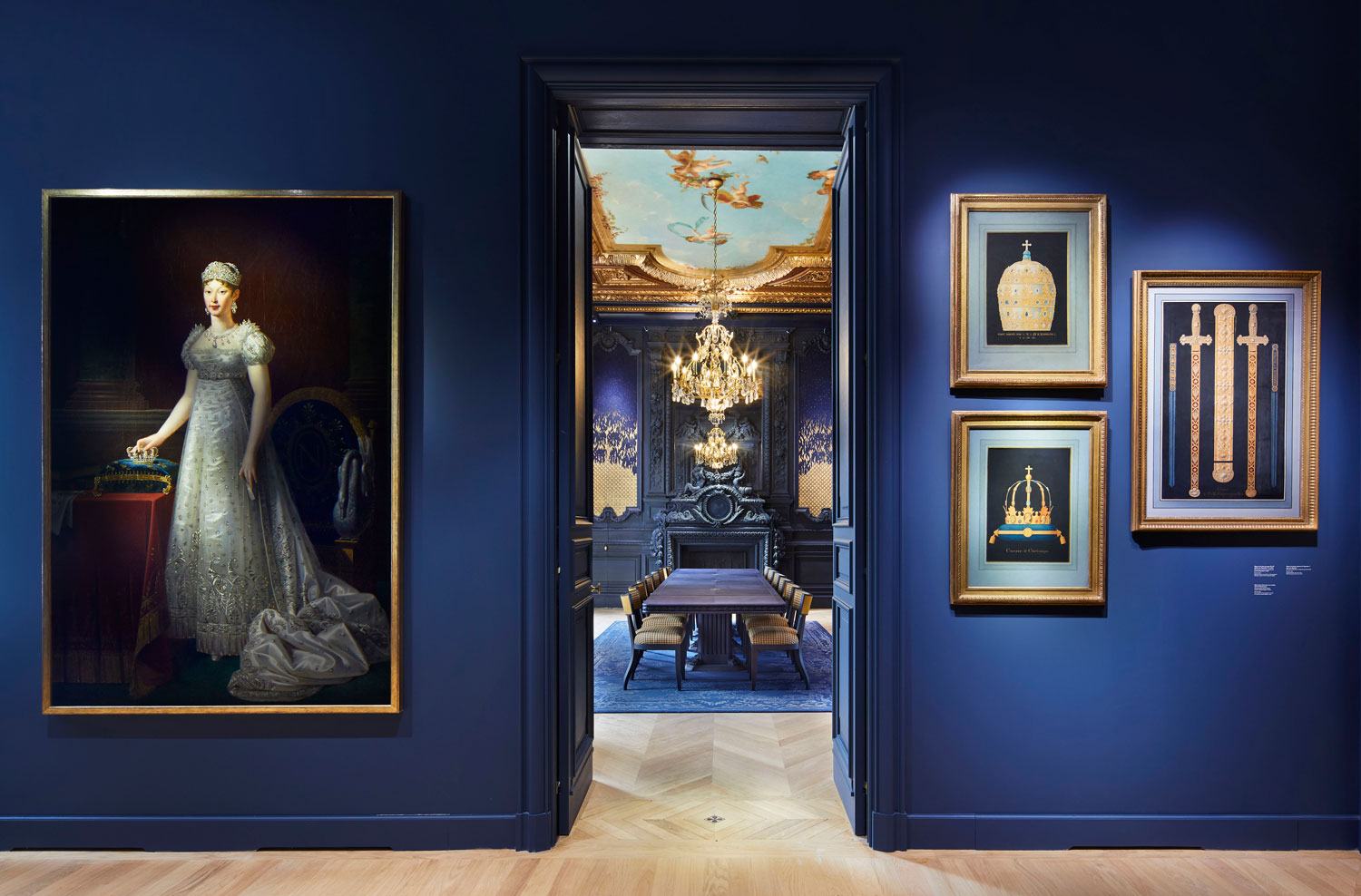 Among the additional new or reworked spaces are the Cabinet des Portraits (a showcase of Chaumet's major clients throughout its history), the Salon des Dessins (an exhibition space dedicated to the maison's archives), the Salon Arcade (where Chaumet's more contemporary-style jewels are on offer), and a high-jewelry atelier (where setters, polishers, and apprentices can be seen at work).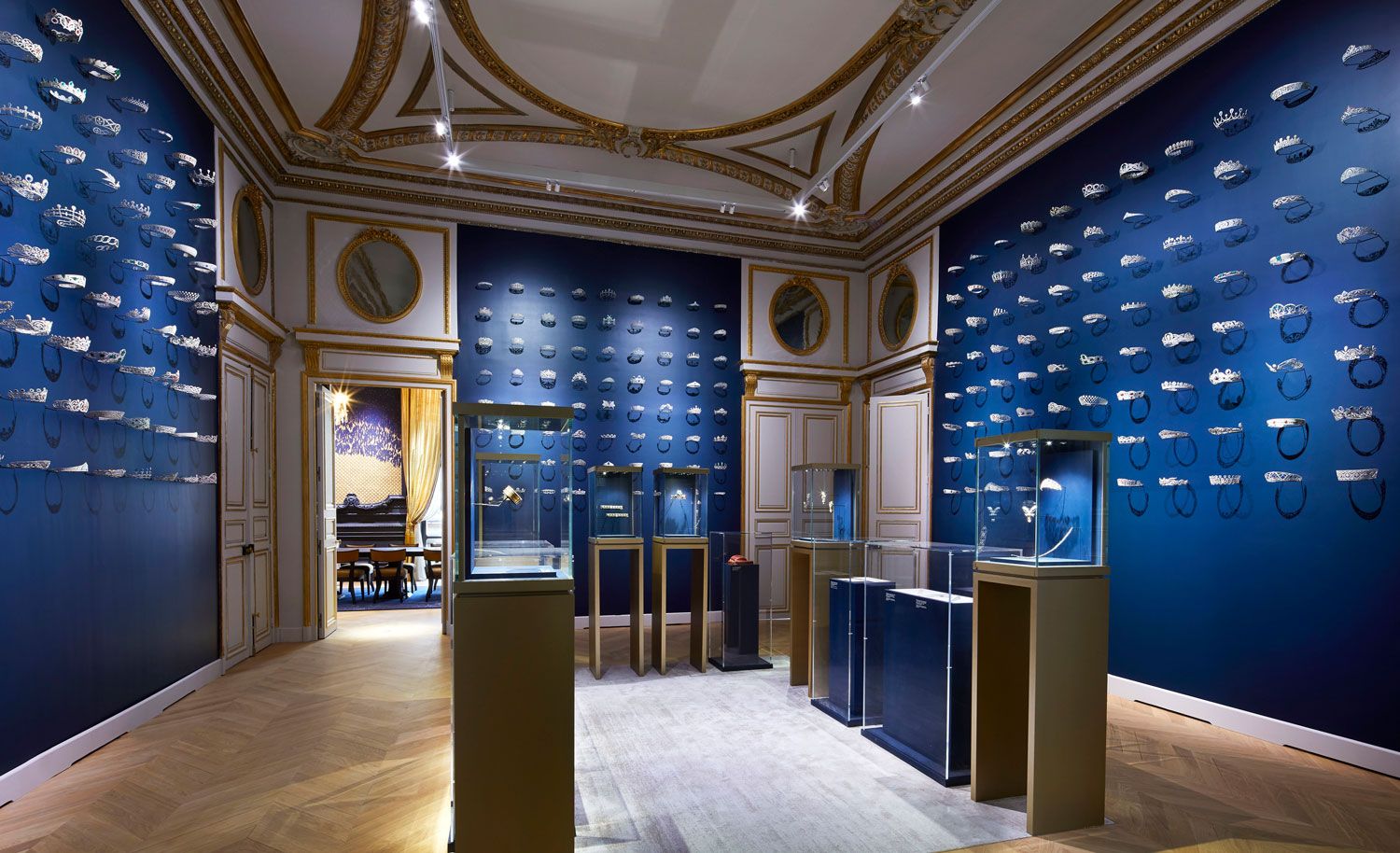 Of course, Chaumet could not do justice to its history without a room dedicated to what it does best: On display in the revamped Salon des Diadèmes are hundreds of nickel-silver preparatory tiaras—including those made for grandes dames such as Countess Mountbatten of Burma and Gertrude Vanderbilt Whitney. As tradition has it during the tiara-making process, Joseph Chaumet would first present clients with three-dimensional models made of an alloy of copper, zinc, and nickel, which would then be hand-painted to reflect the color of the chosen gems.
While Chaumet's 12 Place Vendôme flagship is temporarily closed in correspondence with government-imposed lockdowns due to COVID-19, there is no doubt that even those who simply view the awe-inspiring space in photographs will feel transported to another era filled with great love stories, gold-laden interiors, and diadems for days.
Next Post