Having presented sculptures by Ai Weiwei, Jenny Holzer, and Yves Klein, among others, Blenheim Palace in Oxfordshire, England, is no stranger to art exhibitions. However, in its first show dedicated to contemporary painting, the UNESCO World Heritage site lets its hair down like never before. The first painter in 100 years to have an exhibition at the palace where Winston Churchill was born, Cecily Brown has turned three centuries of British history on its head in what is undeniably one of her most captivating, boundary-pushing shows yet.
Originally scheduled to open in April 2020, "Cecily Brown at Blenheim Palace" presents more than 30 site-specific, never-before-seen works that mark an epic series of firsts for both the estate and the artist. On view through January 3, 2021, the show juxtaposes Brown's expressive, vividly colored paintings nearly two years in the making with the landmark's 18th-century Baroque architecture and the Spencer-Churchill family's renowned collection of Old Masters and traditional decorative art.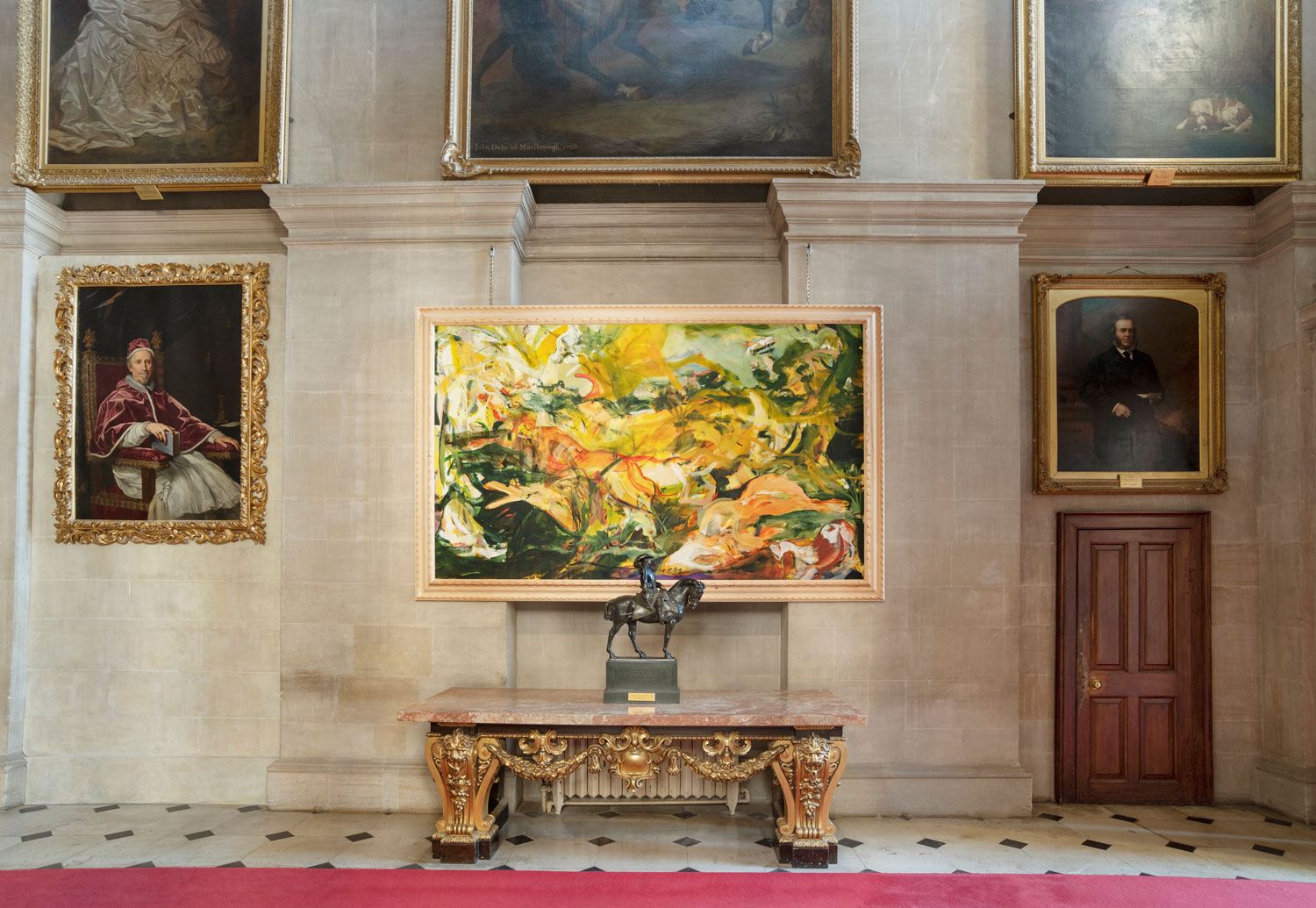 "Cecily is an artist whose work constantly refers back to the rich tradition and history of painting, so I was sure that she would engage with Blenheim and its collection in a meaningful and exciting way," Michael Frahm, Blenheim Art Foundation's director, tells Galerie. For the first exhibition in the foundation's program to be comprised entirely of new art, Anders Kold, head of acquisitions and curator of Cecily Brown's 2018 retrospective at the Louisiana Museum of Modern Art in Humlebæk, Denmark, served as a curatorial consultant. "Cecily's body of work for Blenheim, despite being a visual contrast, is in conversation with the palace."
"I want visitors to do a double take, to think for a second that my work belongs there, but then to see that it's a slightly distorted vision of the world depicted around them"

Cecily Brown
Maintaining her signature fragmented style, Brown has masterfully woven in ties to Blenheim's collection and British history at large in a way that modernizes the palace's interiors without feeling garish or incongruent. In an interview with Frahm, Brown explains: "I've chosen traditional subjects like the hunt, the kind of genre painting associated with old country houses, because I want visitors to do a double take, to think for a second that my work belongs there, but then to see that it's a slightly distorted vision of the world depicted around them."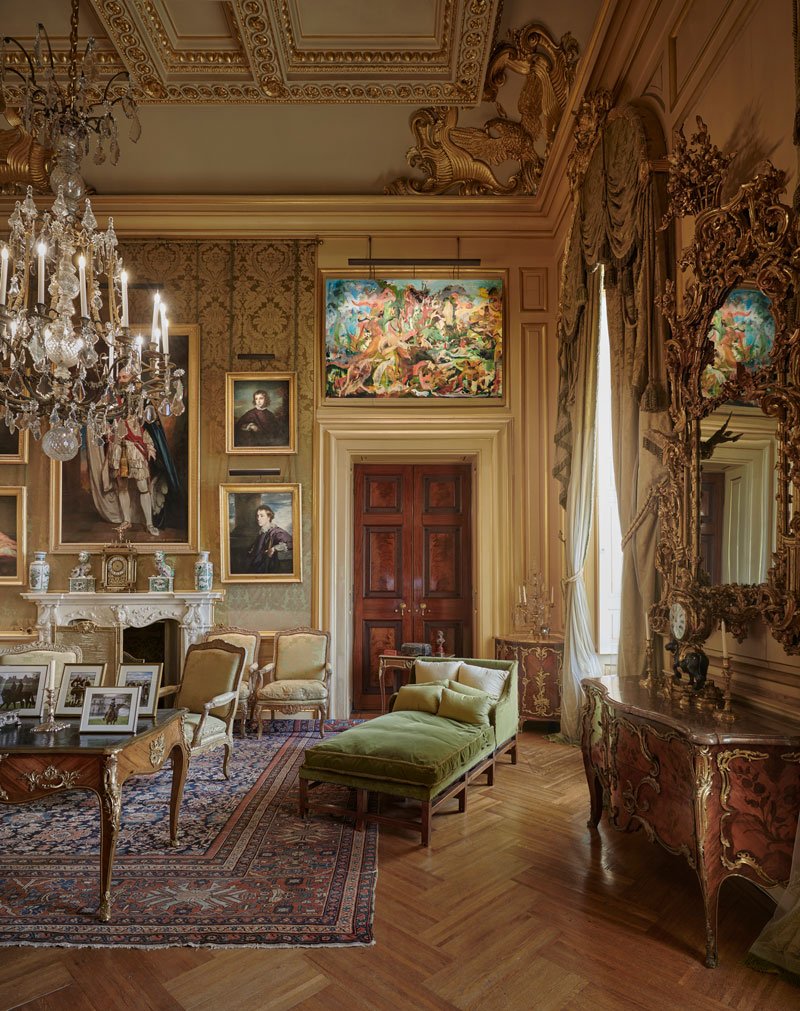 While certain works remain purely abstract, others are quite figurative, directly referencing the estate's collection, whether it be a painting by Anthony Van Dyck or Blenheim's family heraldry and armorial banners. With morsels of humor and irony in the art's titles and on the works themselves, Brown both honors and critiques British history as it is perceived and romanticized by its own people and the world.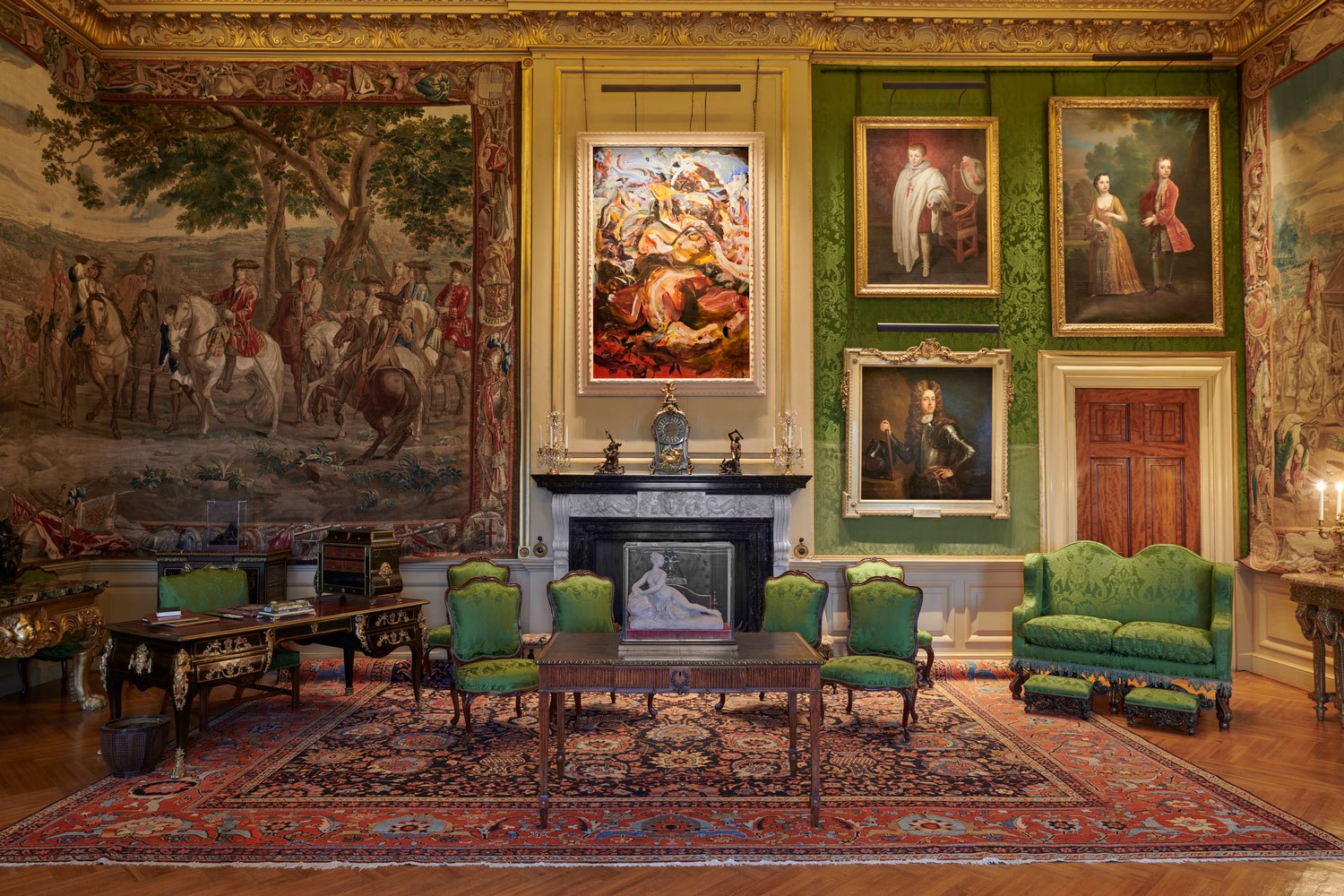 Entering Blenheim's Great Hall, visitors get a rare look into Brown's creative process, which typically involves flooding her studio floors with printouts of source material. A vitrine contains her drawings, watercolors, and photographs of the palace, as well as nostalgic imagery evoking Brown's childhood during the 1970s in Surrey. Fairy stories and the Beatles' Yellow Submarine are found alongside stills of the battle scenes from Stanley Kubrick's 1975 Barry Lyndon, a movie that not only Brown says she is "obsessed with" but also happened to be filmed at Blenheim Palace.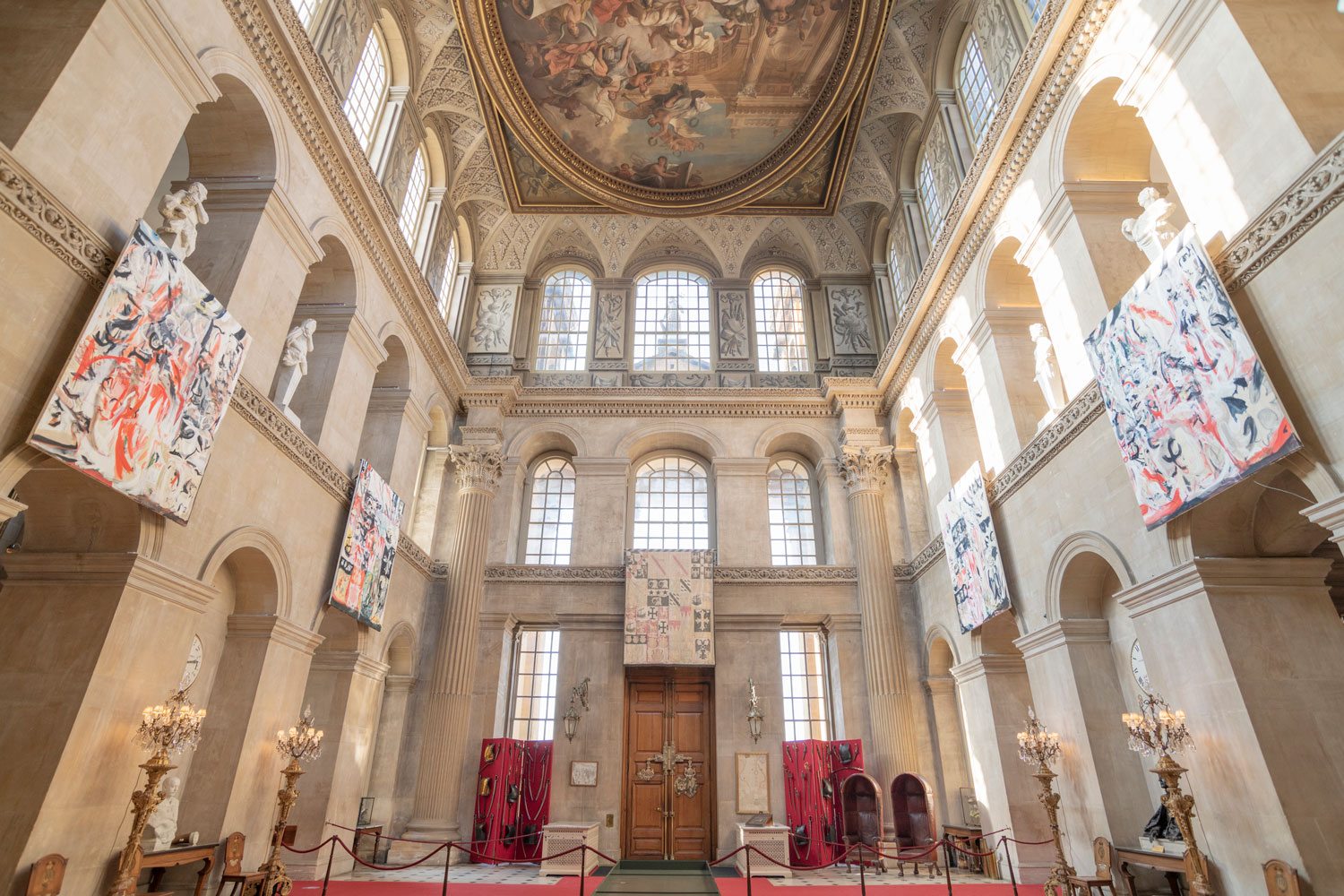 "I started working very directly from Richard Dadd, the great fairy painter. So basically all the paintings—and particularly Cornets and Coronets and The Forest Festival—started to become my version of his masterpiece The Fairy Feller's Master-Stroke," explains Brown in her interview with Frahm. "I like that dichotomy between the battle and the utopian fairyland, the long-lost Elysian Fields where fairies coexist happily with animals. There is definitely a wistfulness and melancholy to it."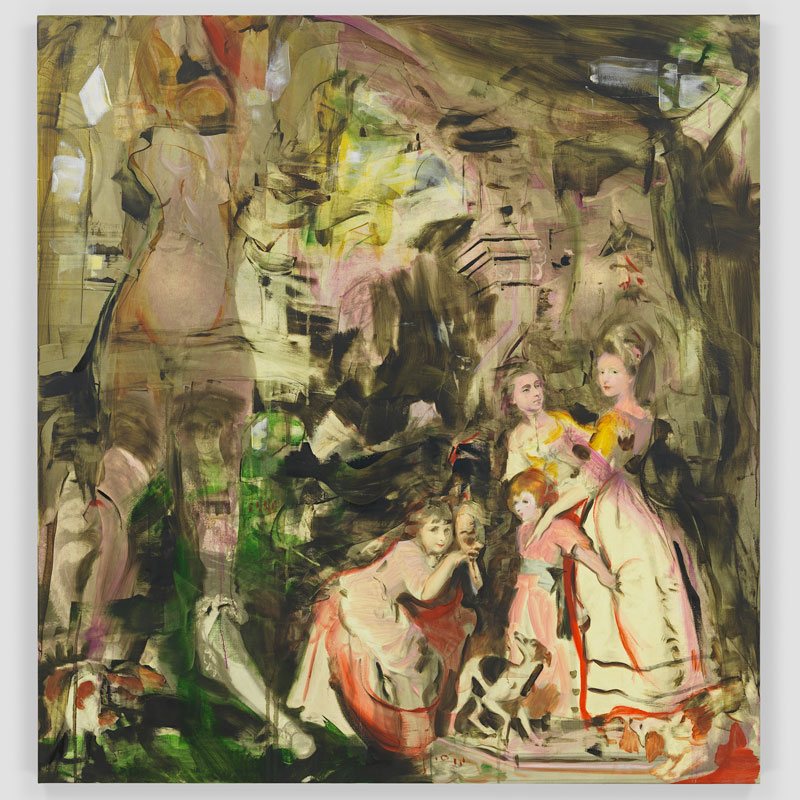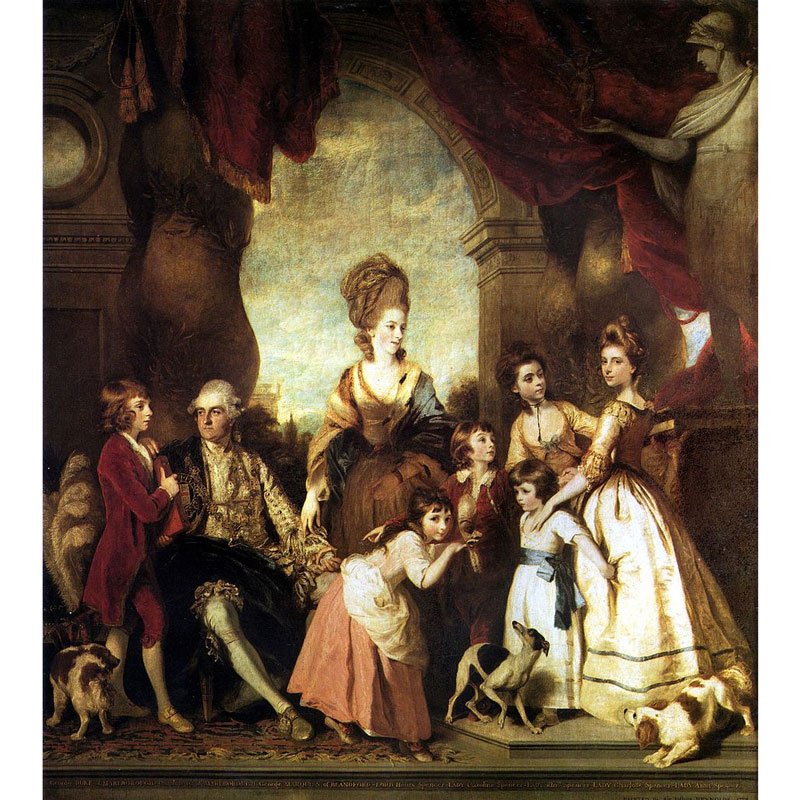 One of the exhibition's most direct references to Blenheim's collection is Brown's The Children of the Fourth Duke, which features imagery from Joshua Reynolds's The 4th Duke of Marlborough and His Family in the estate's Drawing Room. "Rather than making a freehand copy, I employed a printing technique that's new to my practice where I print an image onto the canvas before I start painting," explains Brown. "I'm never going to be able to paint like Reynolds, so I'm just going to cheat! All art is cheating."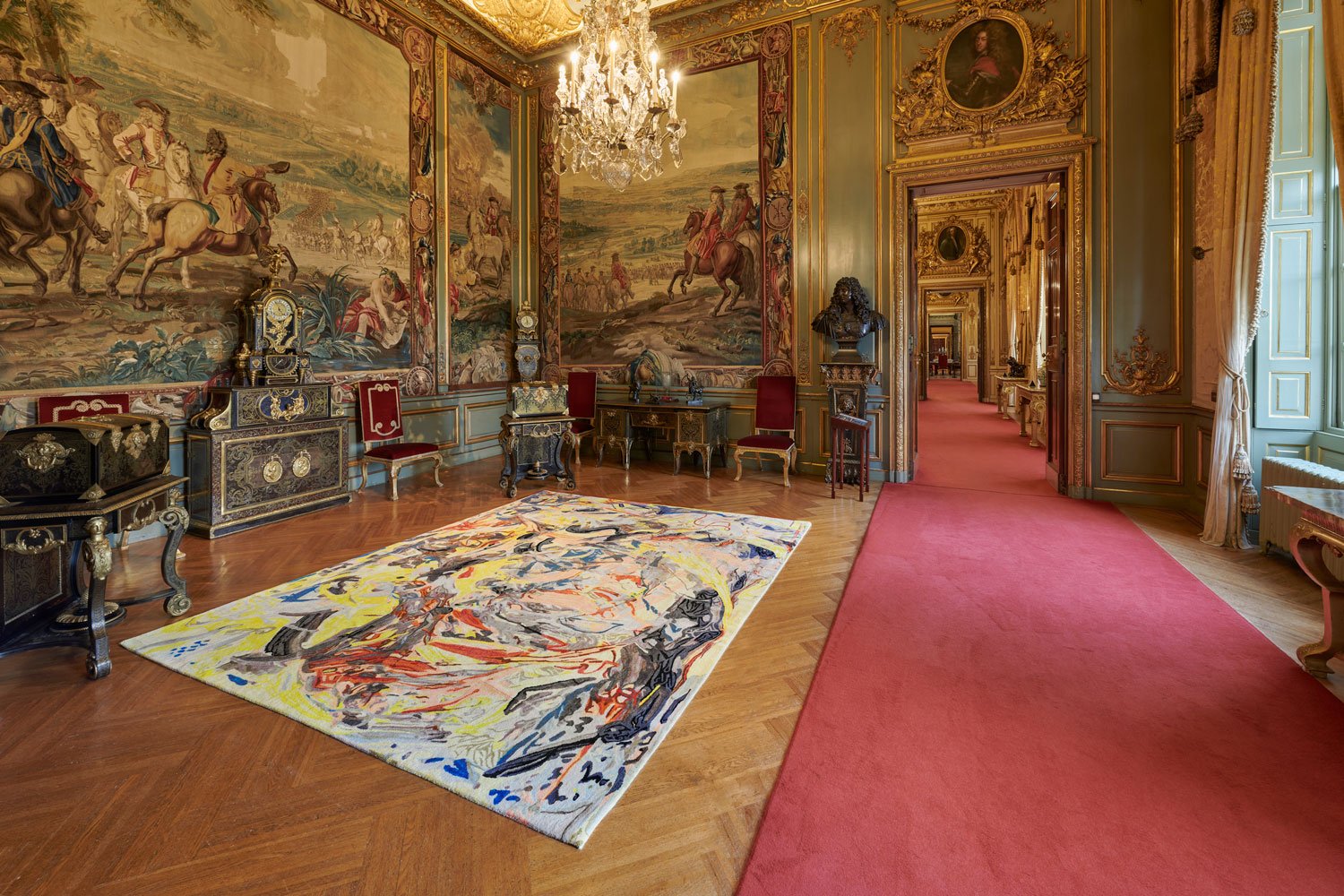 Another highlight is Brown's first-ever textile work, in the Third State Room. Her visually explosive woven carpet takes inspiration from the space's surrounding tapestries, as well as one of Brown's Armorial Memento paintings nearby.
Walking into the Long Library, visitors will not be able to miss Brown's final painting in the exhibition, which is also her largest to date. Painted in four parts and assembled on site for the first time at the palace, The Triumph of Death is a convergence of many of the show's British historical motifs, plus a hidden dose of humor. "My secret comic relief moment is invisible to viewers, but I like knowing it's there: Some tiny figures escaping from the palace carrying a golden loo," Brown tells Frahm in regards to her apocalyptic painting, which also includes a damaged Blenheim Palace in its background.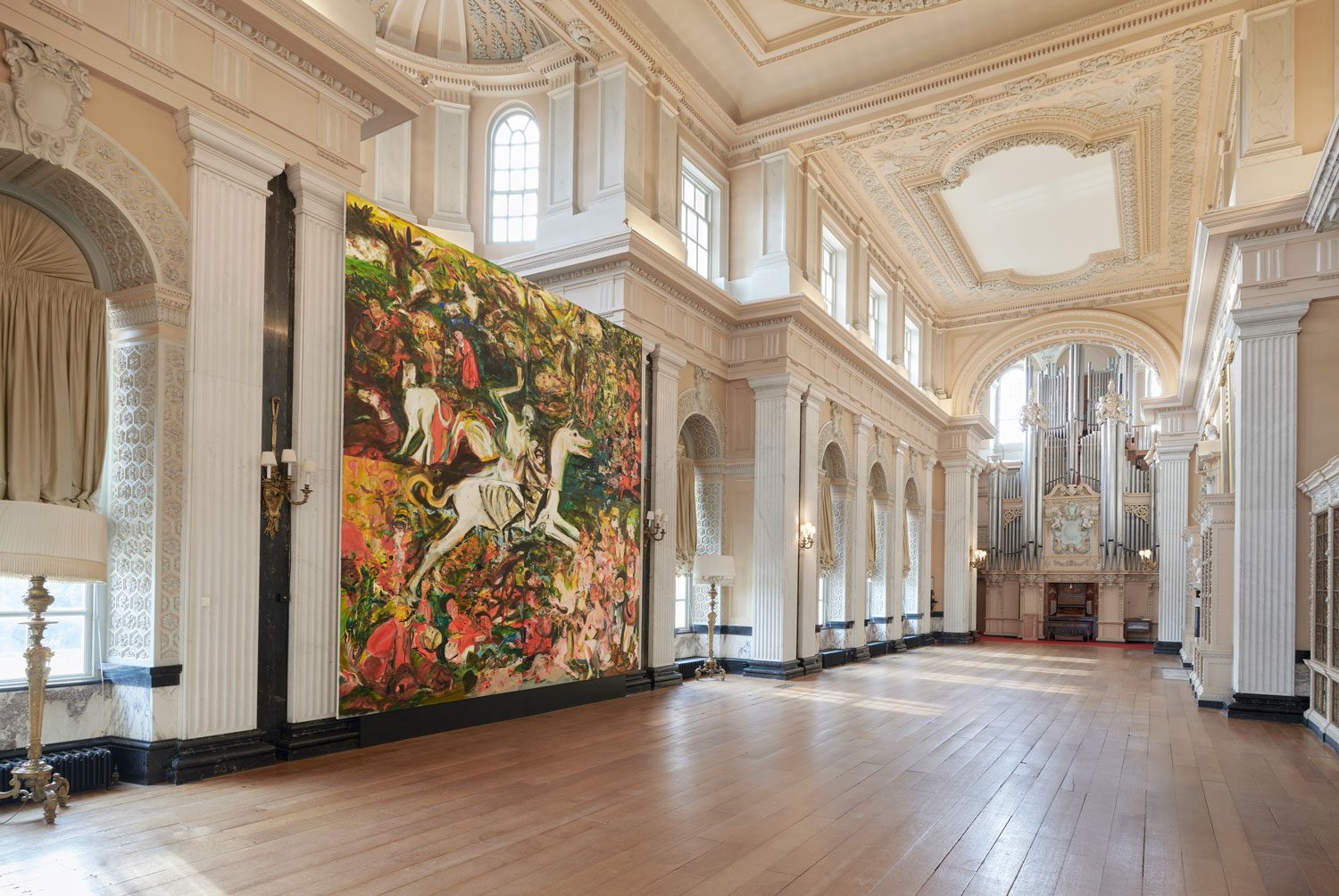 By examining how the British public today views its heritage and identity, Brown grapples with her own. "Despite being 'in exile' in America for 26 years, I love England; a tiny island that is still culturally huge," Brown, who is based in New York, said in a statement. "This is a moment of turmoil, for Britain as for the rest of the world. It was compelling to play within the walls of a place like Blenheim, which gives the perspective of passing time: You go through bad patches, but hopefully come out the other side."
Cecily Brown at Bleinhem Palace is on view through January 3, 2021. 
Next Post