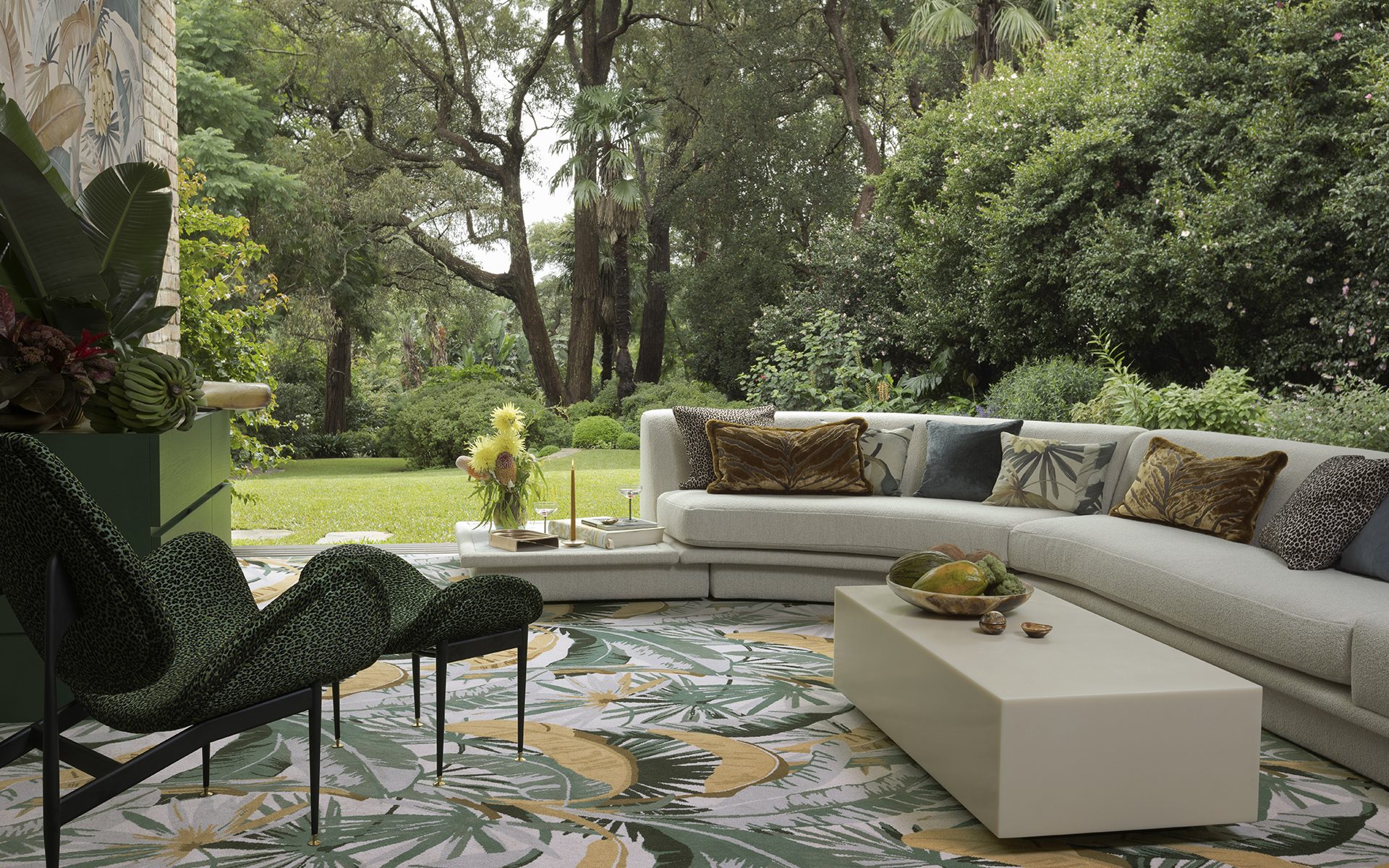 Catherine Martin's Exuberant New Collection for Mokum Takes Cues from Elvis
See how maximalist patterns and prints from Baz Luhrmann's summer blockbuster sparked a bold line of wallpapers and textiles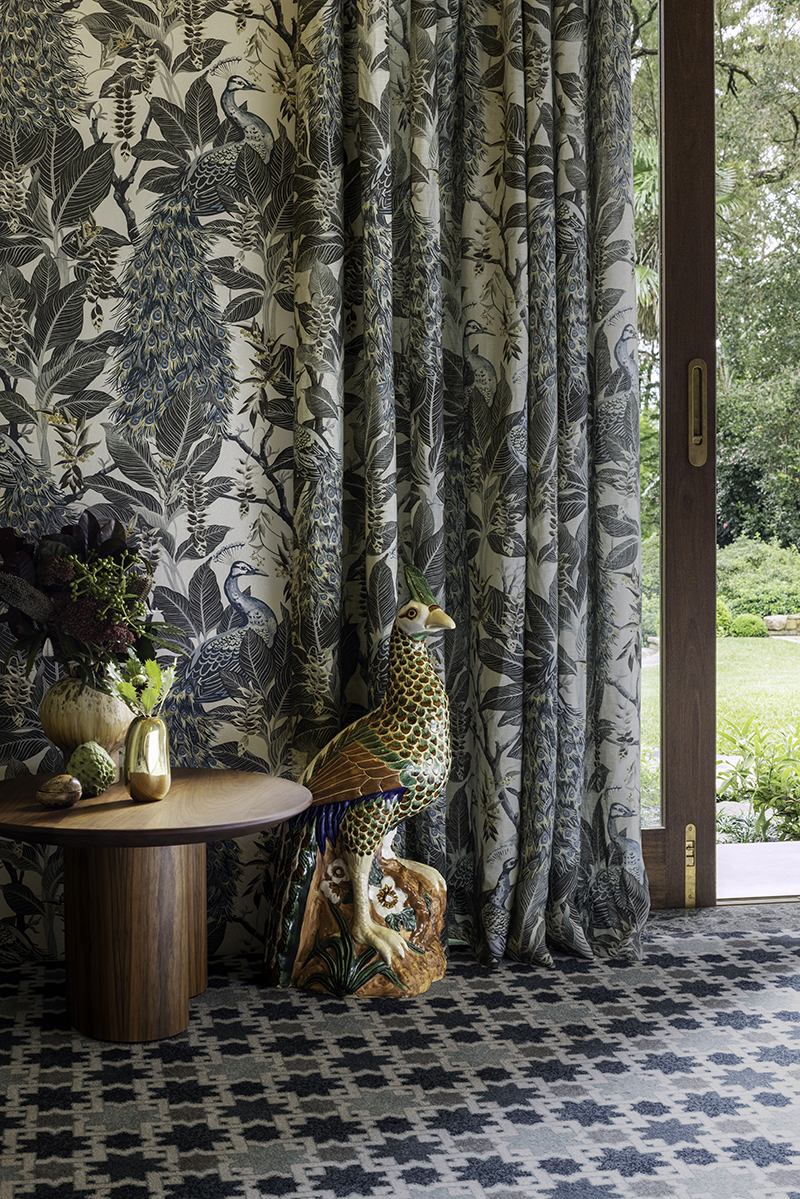 In bringing Elvis Presley's larger-than-life persona to the screen for what is sure to be one of summer's biggest films, Australian director Baz Luhrmann once again looked to his Academy Award–winning collaborator, wife Catherine Martin, who helped recreate the King's rhinestone costumes and over-the-top Memphis estate, Graceland. In the process, Martin found inspiration for patterns and prints now found in her fifth collection with Mokum, the Royal Menagerie.
"The peacock stained glass windows that are so iconically linked to Graceland, as well as the porcelain monkey statues that are dotted throughout, became touch points for the collection," Martin tells Galerie. "I took these motifs that are so very closely associated with Graceland and reimagined them into wall coverings and fabrics that reflect my design journey that is heavily influenced by the decorative aesthetics of the 19th and 20th century."
Indeed, Elvis-era ornaments are given a modern nudge with sultry animal prints such as Bengal Tiger, which is rendered in velvet jacquard, and classic Leopardo, now presented in five colorways. A climbing jungle cat is captured in a textural weave called Kat King Velvet, while the decorations discovered in Presley's famed Jungle Room are translated into an exquisite embroidery that carries the same name as its inspiration.
Even the collection's more docile neutrals feature an added exuberance, like the Tennesse Tussah, a nod to the handwoven silks popular in the 1970s, and nubby Grande Boucle.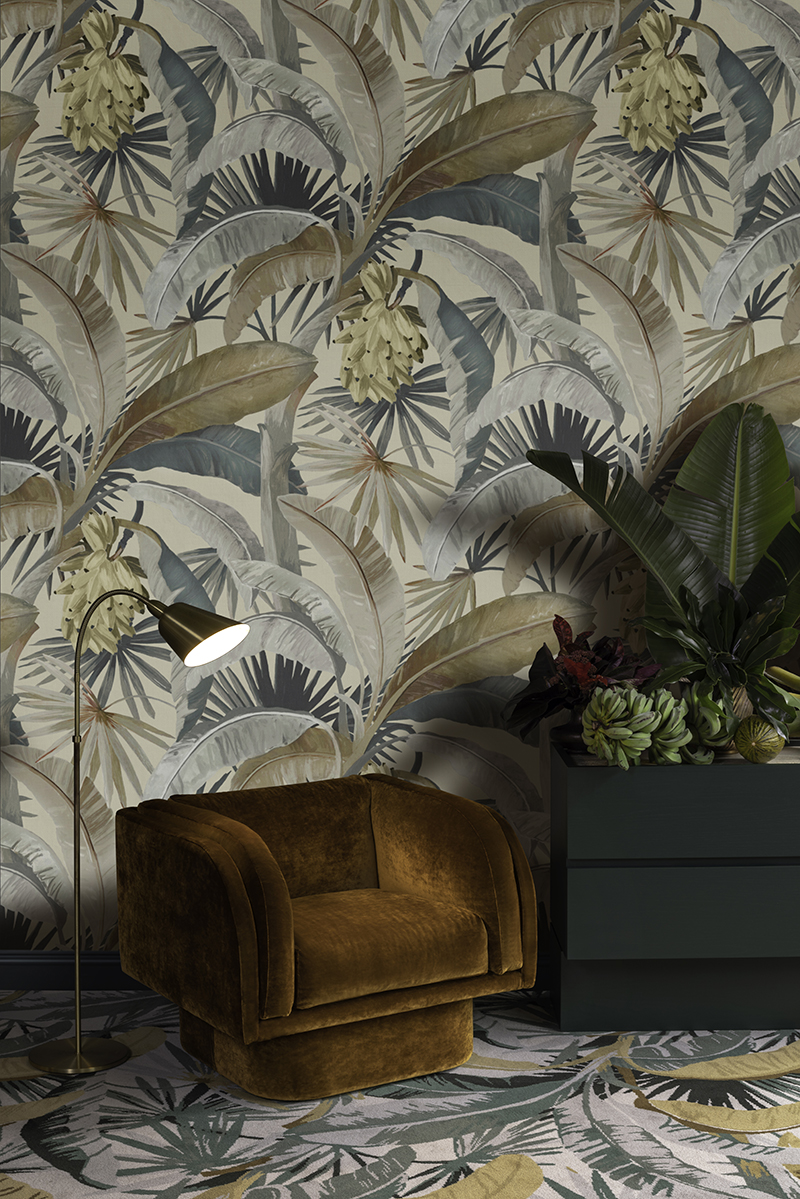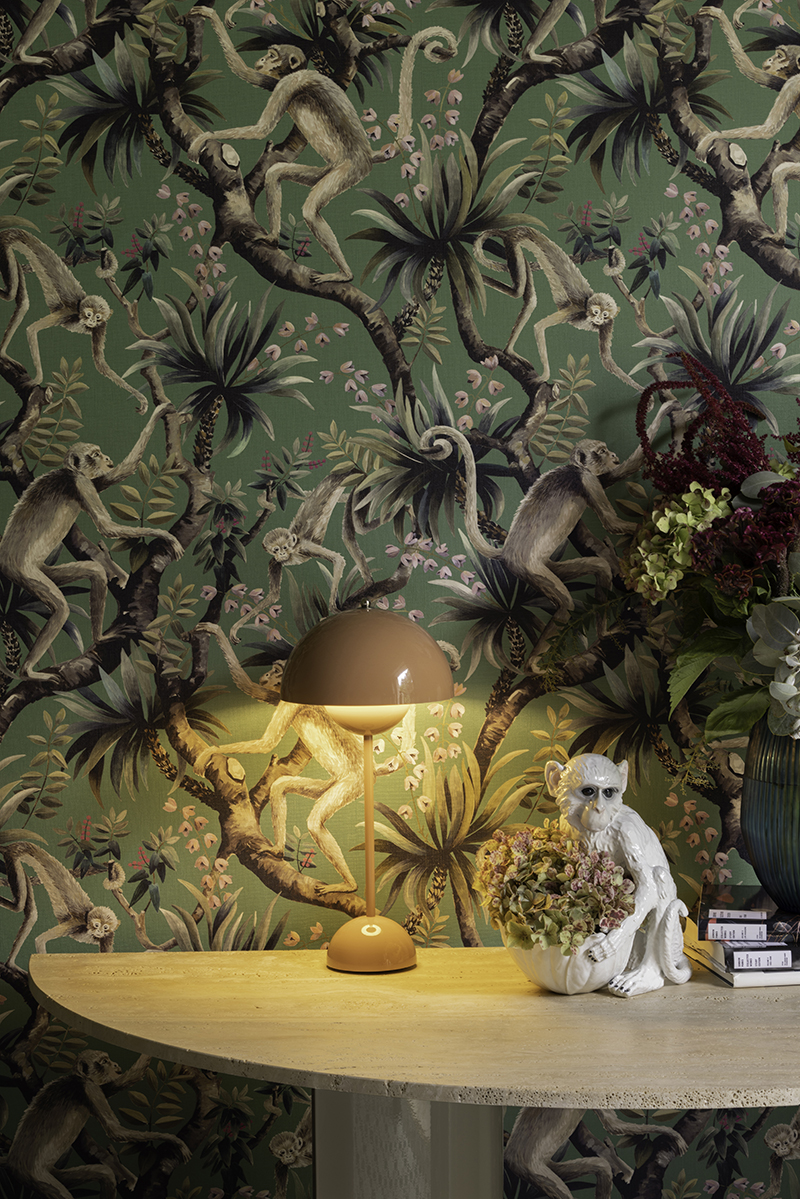 "As a child of the '70s, I grew up surrounded by patterned jacquard sofas and chairs and embossed wallpapers, as did Catherine who has embraced a maximalist aesthetic throughout her interior design style and approach to film projects," Stephanie Moffitt, Mokum Design Director, said in a statement. "The Jungle Room was Elvis's personal escape, full of decadent resort-inspired decor and furniture from the '50s, '60s, and '70s."
"I believe pattern is transformative, it can completely and utterly change the dynamic of an interior space"

Catherine Martin
"All of my collections with Mokum have leaned into pattern and texture," explains Martin. "As partners, our desire is to create products that are luxurious, functional, and don't take themselves too seriously and put a smile on people's faces when they are used in interior spaces. I believe pattern is transformative; it can completely and utterly change the dynamic of an interior space."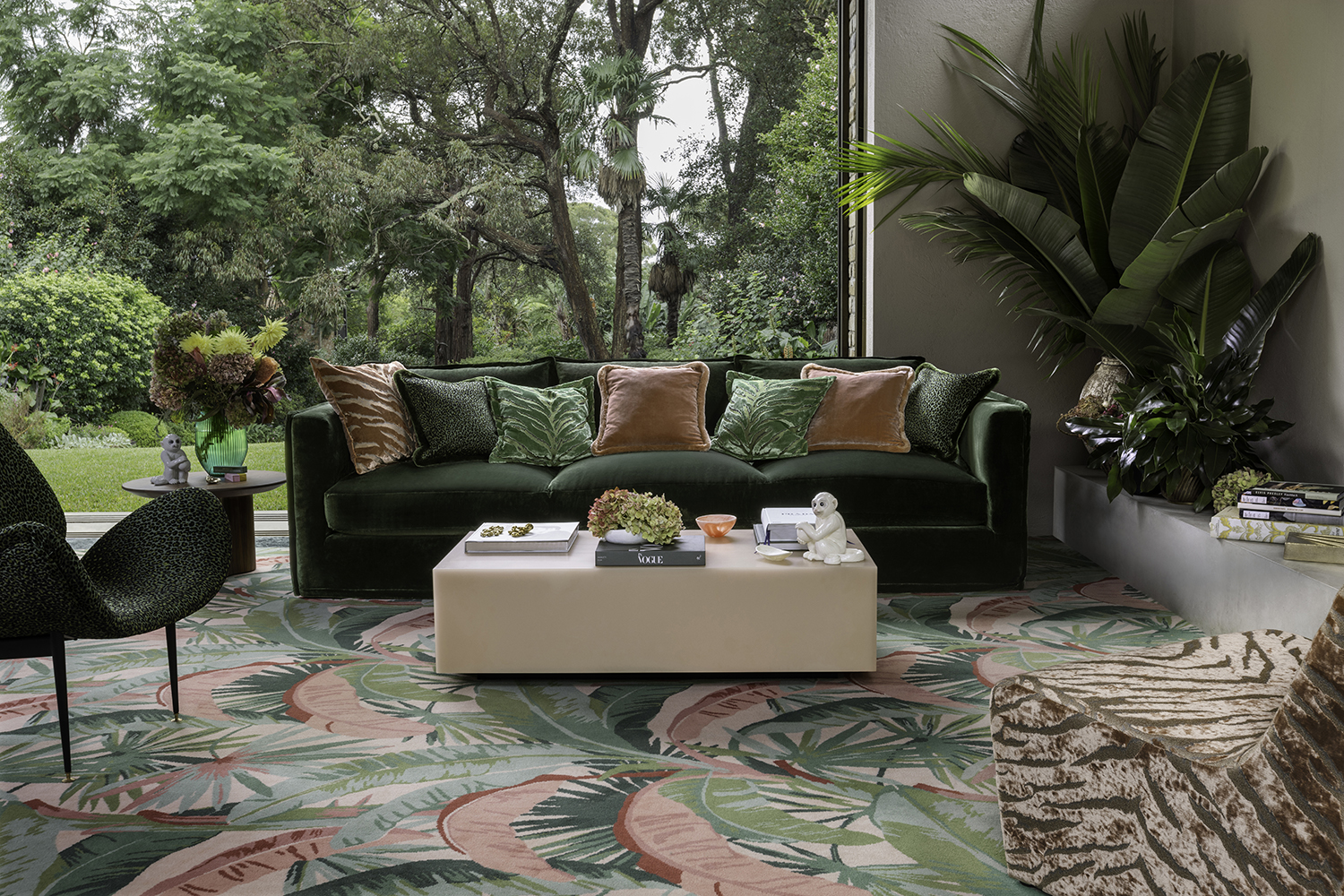 Also making a major impact are the collection's large-scale wallpaper panels, for instance Midnight Symphony, which is inspired by the hand-painted murals seen at Graceland. The exotic landscape combines towering palms, lush plants, and tropical birds—illustrations that are echoed in complementary designs La Palma, Monkey Business, and Royal Peacock.
"The Royal Menagerie is a play on the idea of decadence, luxury, and maximalism. We're presenting a sophisticated, contemporary interpretation of the quintessential 1970s Las Vegas glitz and glamour and a reimagining of Elvis's Graceland home," states Moffitt, who visited Martin on the Elvis film set. "I'm thrilled to once again be collaborating with the genius that is Catherine Martin. She is both a hero and a friend, and it is always such an incredible experience to have an insight into her world and the rich quality of her work."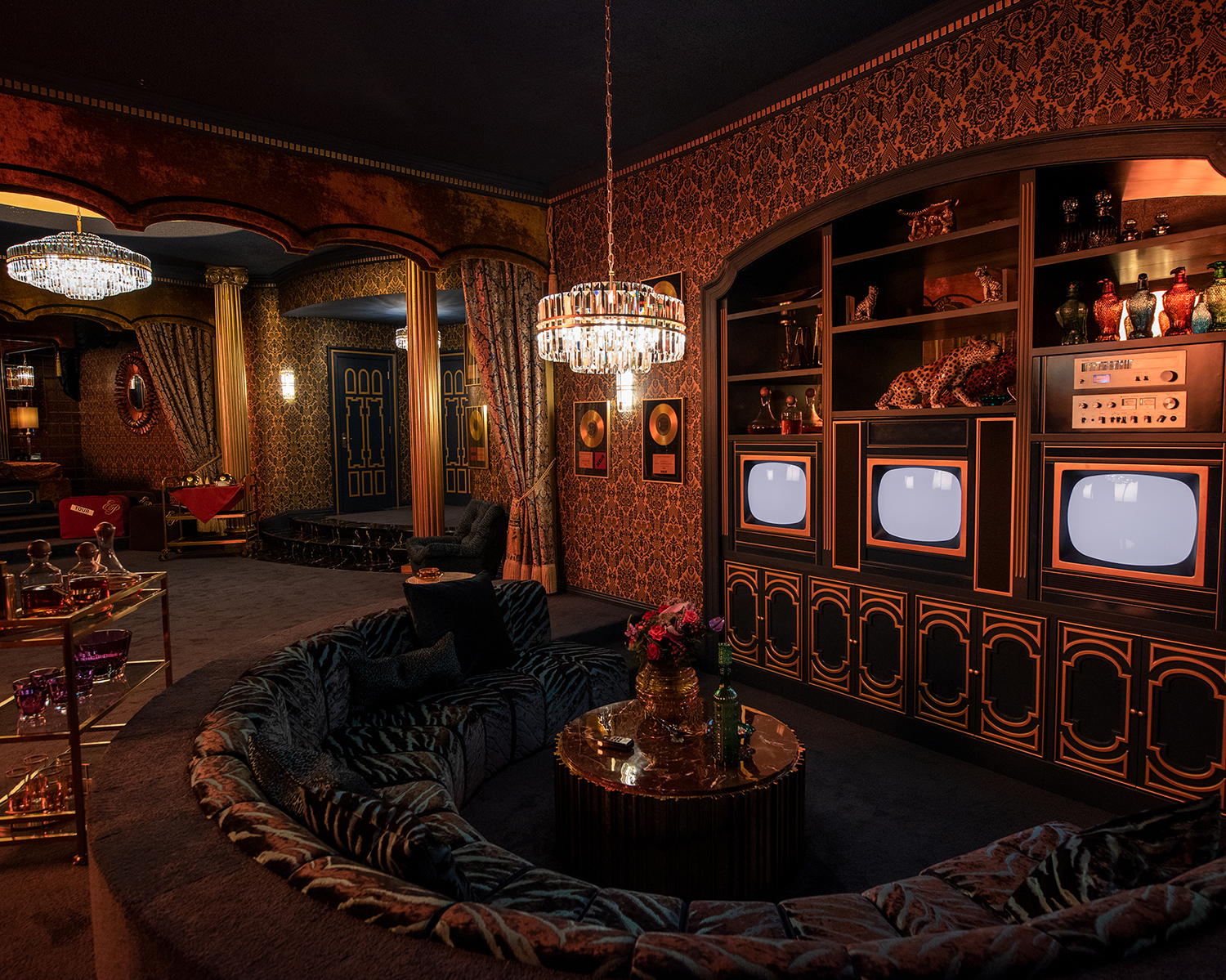 Available in stores in July, this latest offering builds on earlier collaborations such as Majorelle, but the designer is already imagining its possibilities. "I'm looking forward to papering my bathroom with the Royal Peacock patterns and upholstering dining chairs with Panthera, centering the leopard as if he is climbing up the back of a chair," says Martin.
Next Post